Health & Wellness
8 of the (Absolute) Best Sustainable Activewear Brands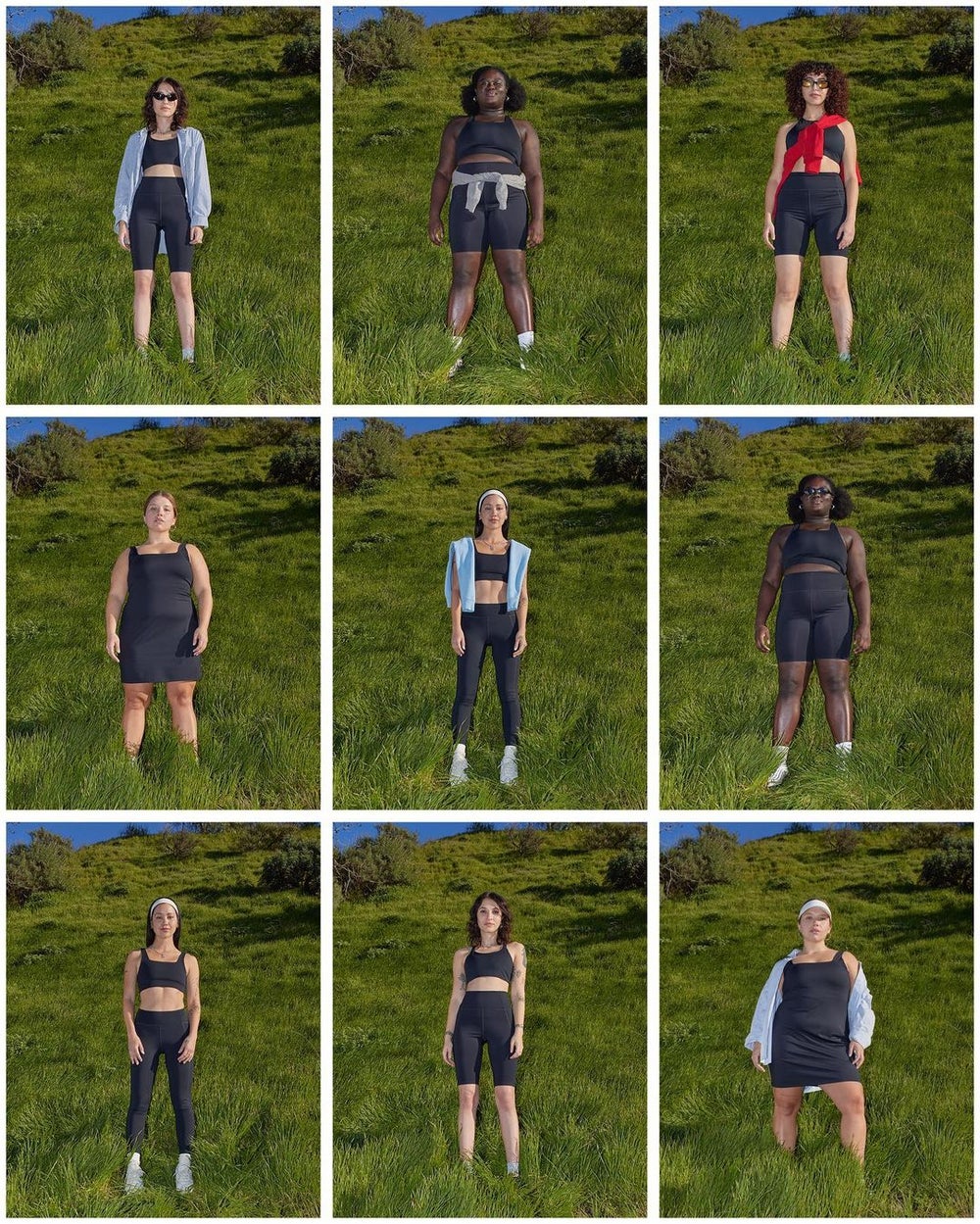 @GIRLFRIEND
by Jana Shakhashir
6-minute read
August 9, 2022
From your downward dog to your high-intensity intervals, your activewear is giving Mother Earth the workout of a lifetime. We've found eight sustainable brands that help you stay fit while keeping your carbon footprint petite.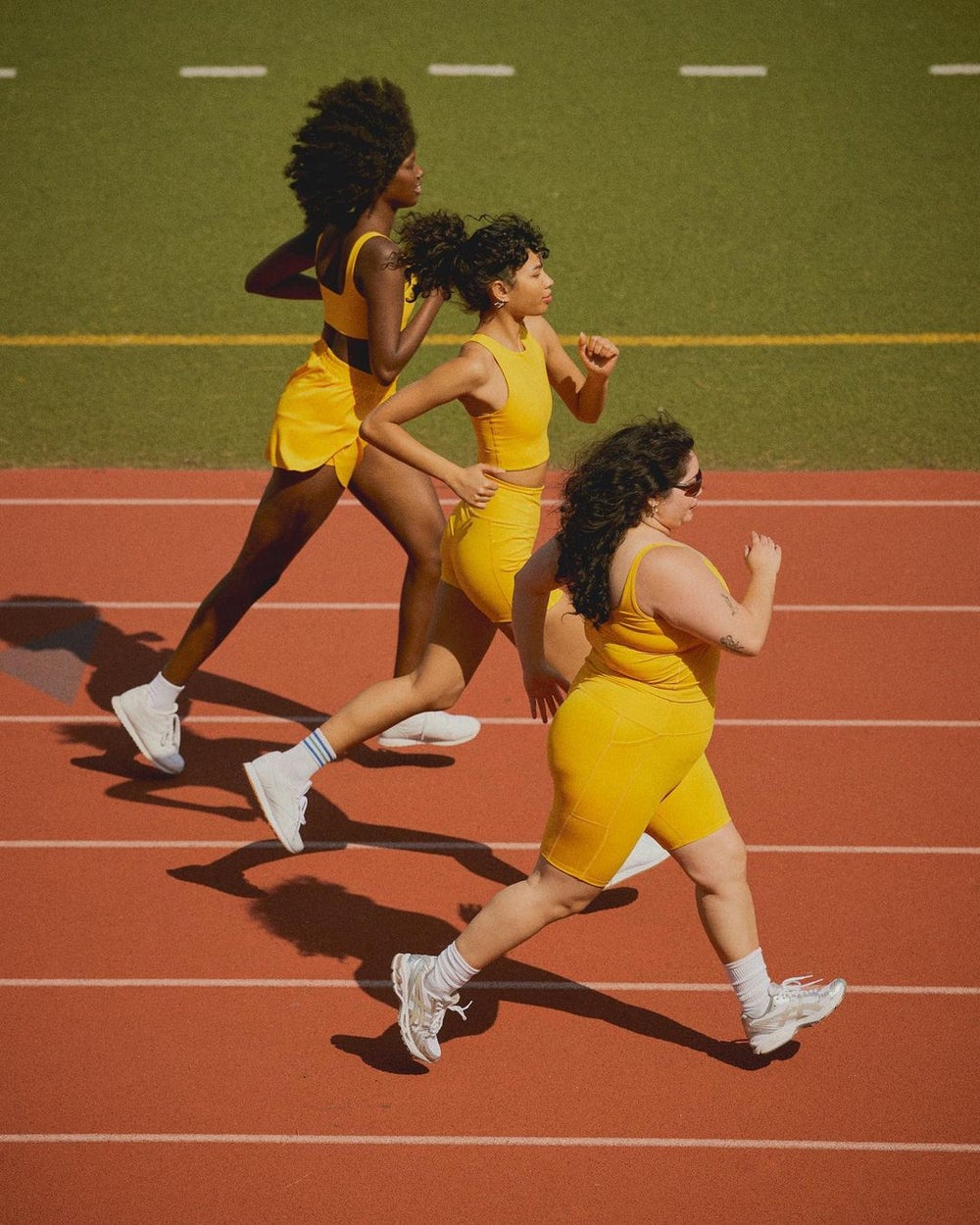 @GIRLFRIEND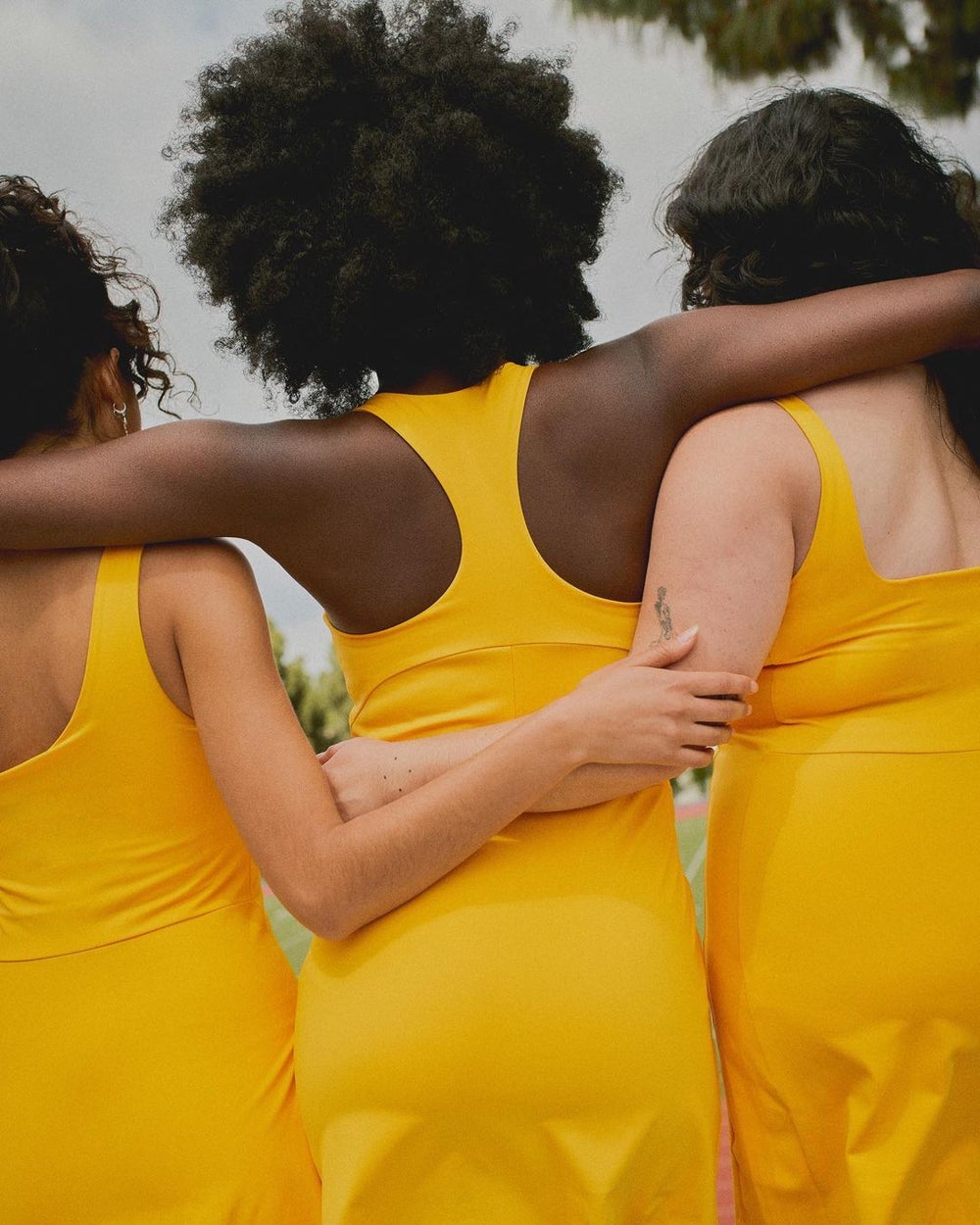 @GIRLFRIEND
After a long, drawn-out toxic relationship, it's time to commit to our breakup with fast fashion. This means not shopping from brands that are underpaying and exploiting workers, polluting water supplies, and pouring textile waste into landfills without batting an eye. Canceling Zara isn't enough. You have to take every piece of clothing into consideration, and that includes your workout clothes.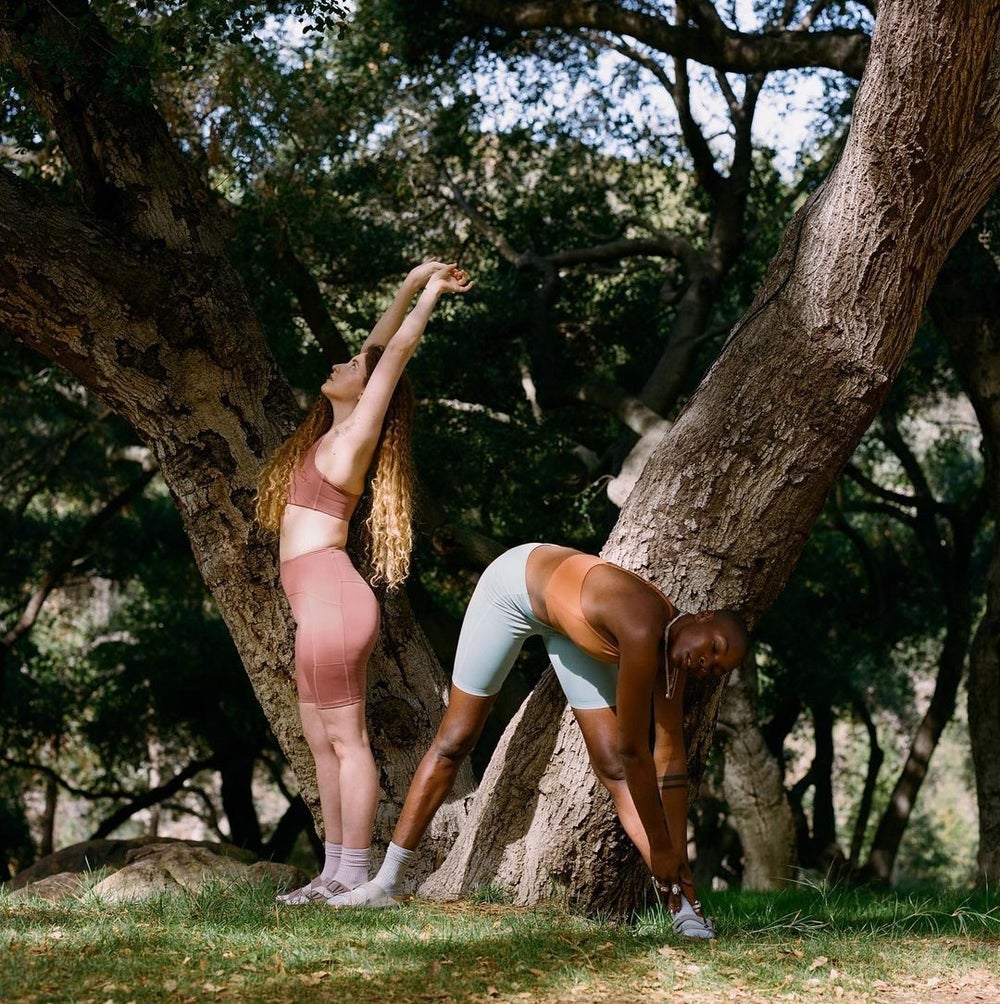 @GIRLFRIEND
All types of sportswear are made of one or more synthetic fibers, and although they are the perfect choice to equip you for any workout, they bring about major problems for the environment. This is because 63 percent of synthetic fibers are sourced from "virgin" plastic, or non-recycled materials, even though plastic-based textiles can easily be sourced from recycled plastic. We as consumers then continue to pollute the waters, because every time a garment made from synthetic fibers is washed, it releases around 1.7 grams of plastic microfibers that ultimately end up in the ocean.
So why aren't more sportswear companies sourcing waste? They have an opportunity to help reduce the amount of plastic waste floating in the ocean or sitting in landfills, not only making their supply chains less harmful but actually contributing to solving the global waste problem. With help from Goodonyou, an app that provides brand ratings, articles, and expertise on ethical and sustainable fashion, we have compiled a list of vetted brands that produce sportswear in an ethical and environmentally friendly way.
Pro tip: If you're questioning how sustainable a brand is, check their website, and if you're still uncertain, it probably means they aren't taking meaningful action towards caring for the Earth. Transparency is key. If a brand is committed to sustainability, it will make it very clear in its marketing materials — and you won't be questioning the ethics of its practices.
Cult brand Pangaia quickly became the poster child for sustainable athleisure after its launch in 2018. The brand uses a high proportion of eco-friendly materials including upcycled materials which, as a result, limits the amount of water and wastewater used in production, and uses low-impact non-toxic dyes in all of its products. Pangaia recently came out with a plant-powered activewear line (using castor beans, seaweed, and eucalyptus) that puts fast-fashion brands to shame.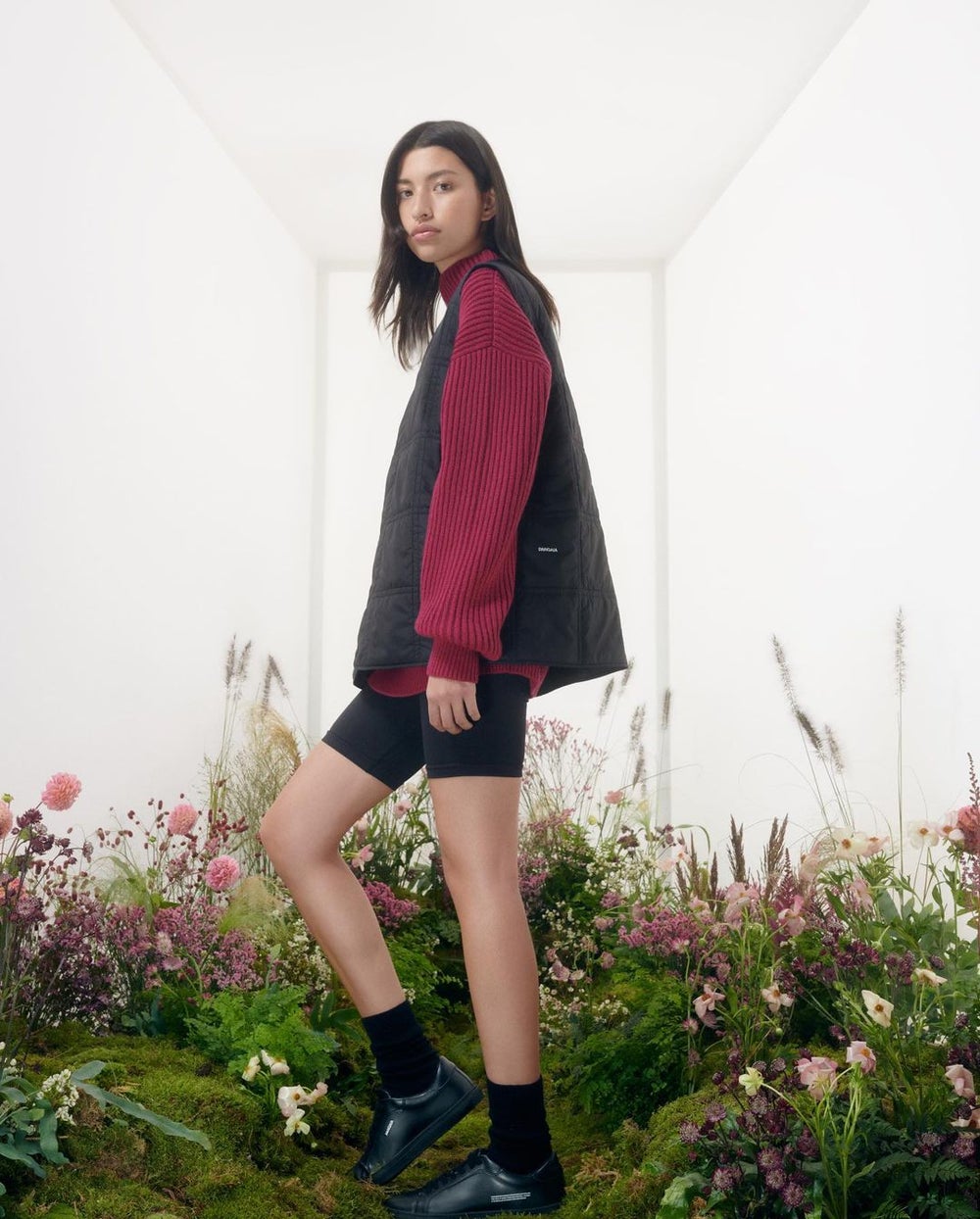 @PANGAIA
Sustainable activewear brand Wolven is for more than just yoga. The women- and minority-owned brand truly Makes Sustainability Sexy(™) by making sustainable choices and honoring the earth. Founded by half-Indian half-Pakistani Kiran Jade, the brand's inspirations vary from the plants around us to patterns on her family members' henna. With activewear made from plastic bottles, the clothes are not only "less bad" for the environment, but are actually helping reduce the global waste problem.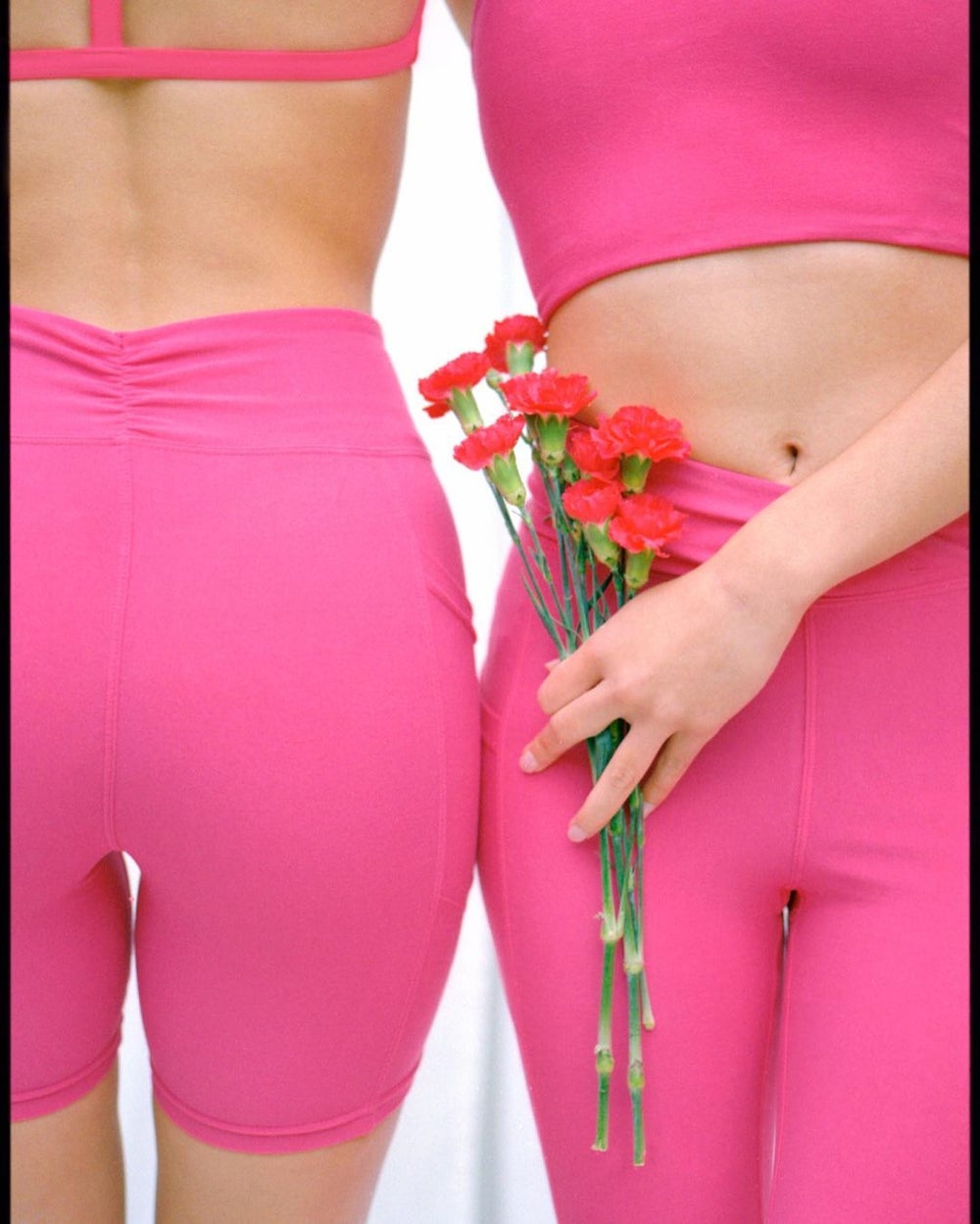 @WOLVEN
3
ADIDAS BY STELLA MCCARTNEY
Stella McCartney has earned her place among fashion's eco-warriors, being one of the first big designers to make her business more eco-friendly. She is leading the way when it comes to sustainable fashion, making use of several eco-friendly practices in the adidas by Stella McCartney women's sportswear range. Her pieces are made from post-industrial and post-consumer waste like plastic bottles – empowering the highest-impact performance with the lowest impact on the planet.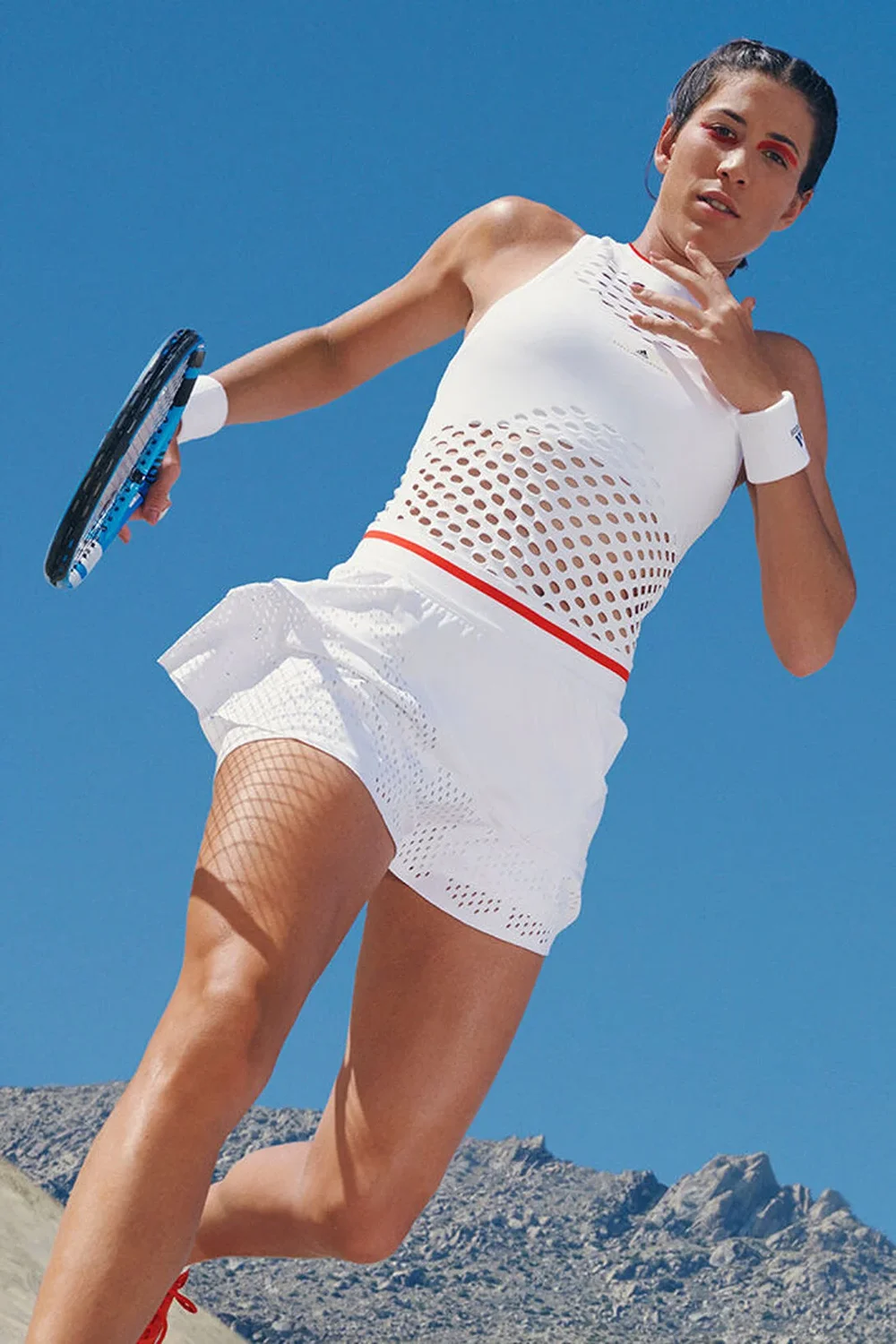 @STELLAMCCARTNEY
If Apple and Nike had a baby, this would be it. Brainchild of veteran designer Raphael Young, Public Serv-ce combines futuristic biotechnologies and plant-based materials to create seasonless, unisex, and 100 percent eco-sustainable athleticwear. The garments are enhanced with antimicrobial, odor-proofing, and breathable qualities for optimal comfort for the wearer, without any chemical treatments.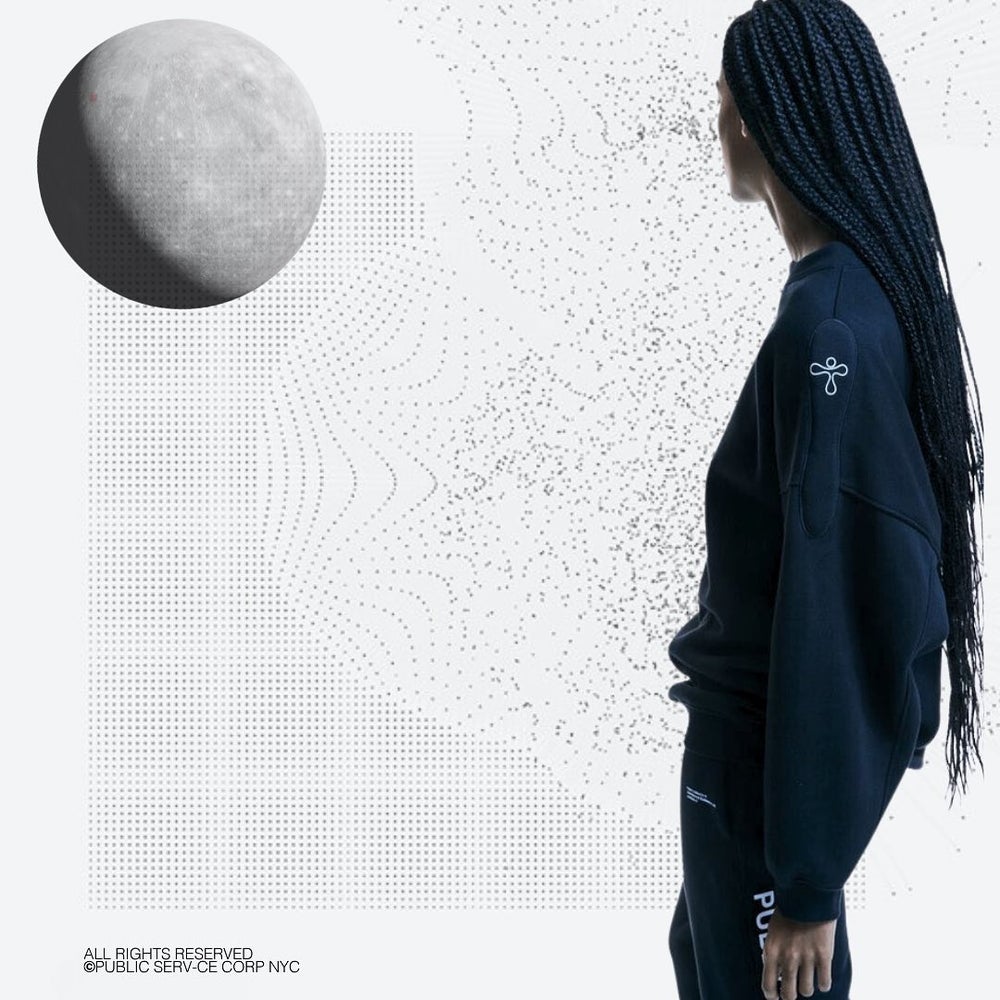 @PUBLICSERV_CE
Not only does Girlfriend Collective create clothing using post-consumer water bottles, but the brand is also incredibly inclusive in terms of sizing and diversity of models. The amount of information on its about page is confirmation that sustainability truly is one of the brand's priorities. Girlfriend even reuses some of its offcuts to minimize textile waste and ensures wastewater in its supply chain is treated and discharged properly when creating clothing made for movement or leisure.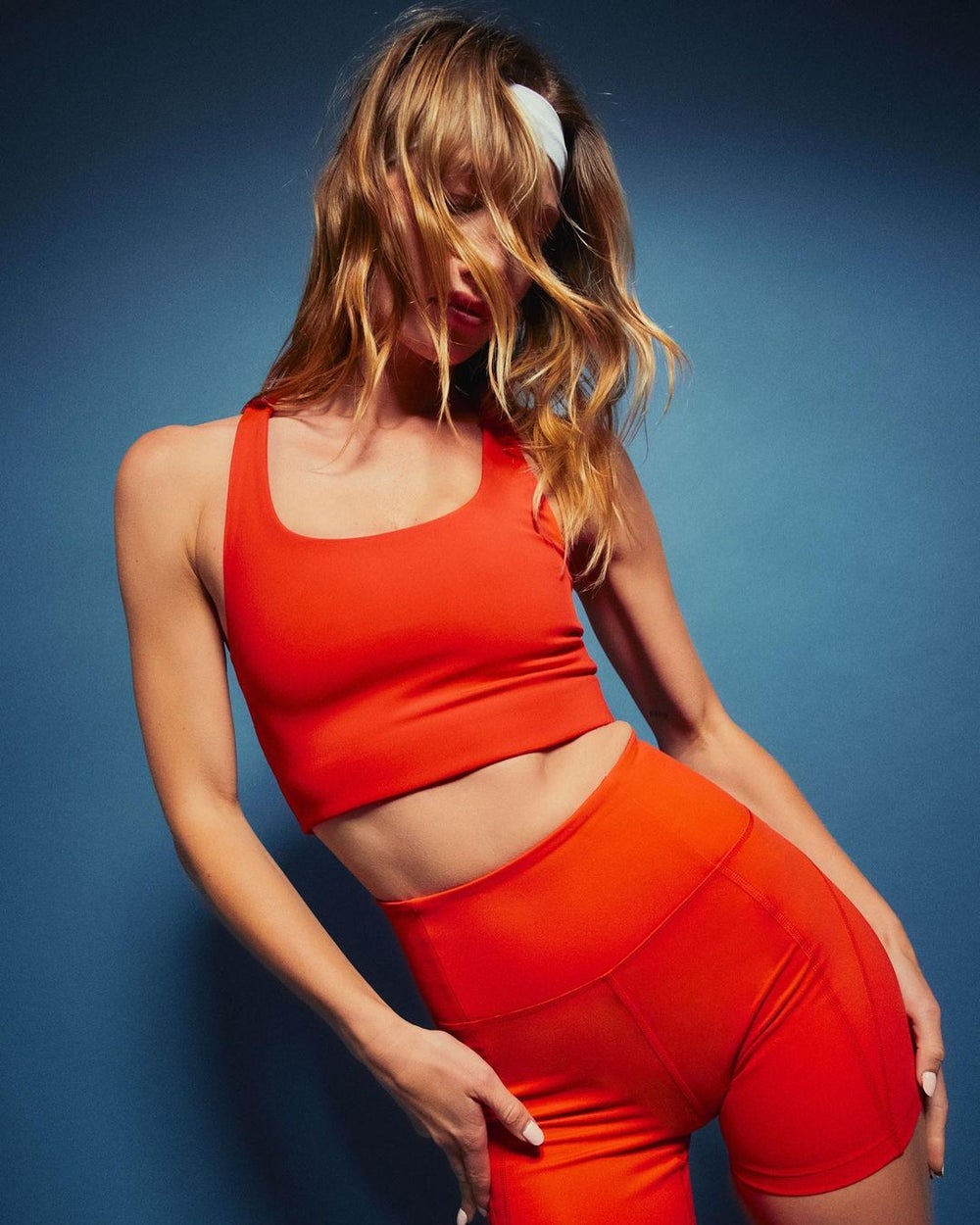 @GIRLFRIEND
We all know Reformation may be the most fashionable eco-friendly brand there is, but did you know it also has an activewear line? In keeping with the brand's eco-friendly philosophy, Ref Active is made from Repreve, which uses 100 percent post-consumer recycled plastic bottles and is GRS & Oeko-Tex Certified. It is also 100 percent traceable, from plastic to polyester each step of the supply chain. Whether you're more 'ath' or 'leisure', you can choose from the 'EcoMove' line for working out, or 'EcoStretch' for working from home.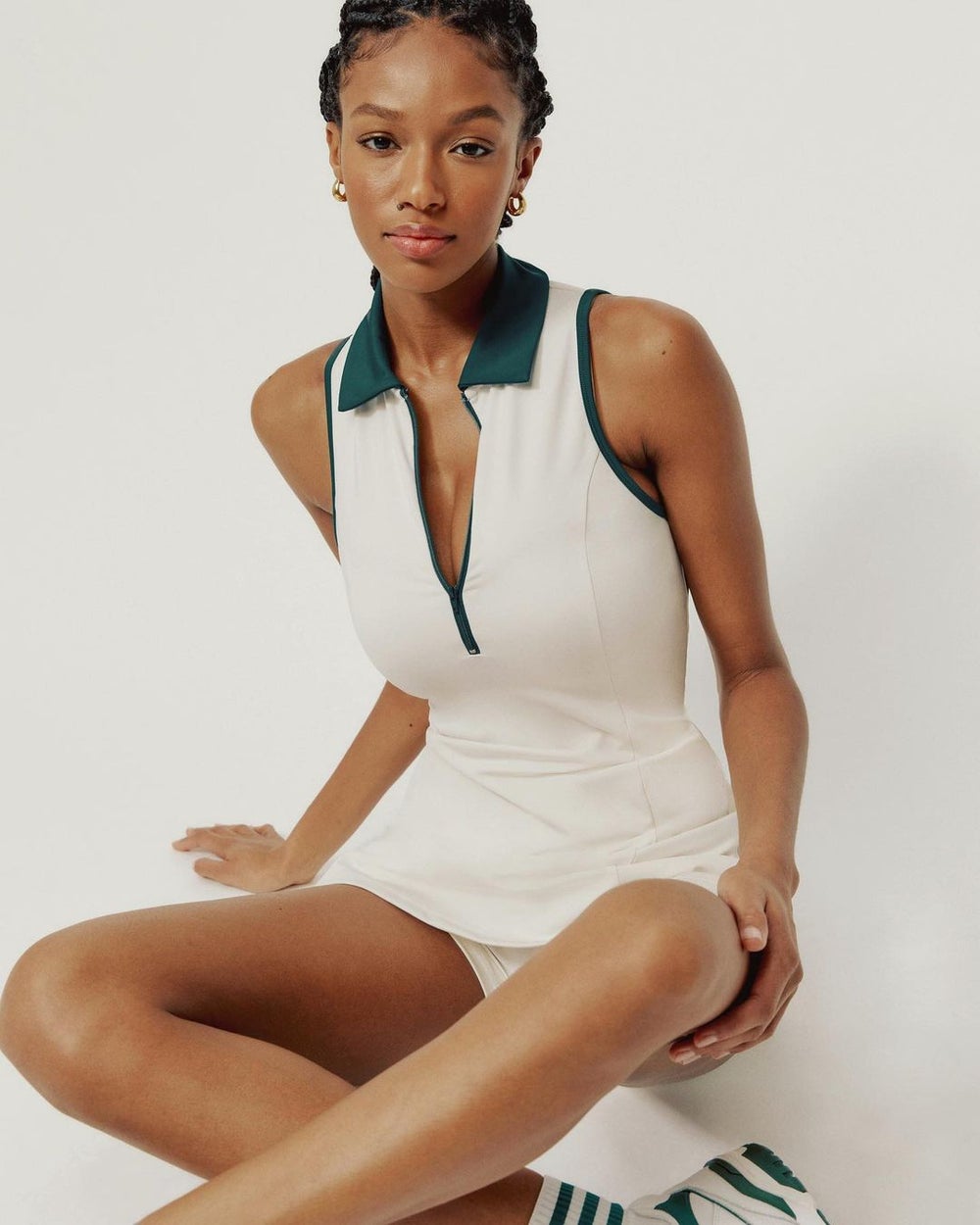 @REFORMATION
Organic Basics is our go-to for sustainable basics in the softest organic cotton. The brand stands by the #1 rule about making clothes: to design everything to last. It even uses renewable energy in its supply chain to further reduce its climate impact! Even the brand's website is low-impact, meaning it actively reduces the amount of data and electricity required to shop online, emphasizing a genuine purpose and commitment to lower its carbon emissions in every way possible.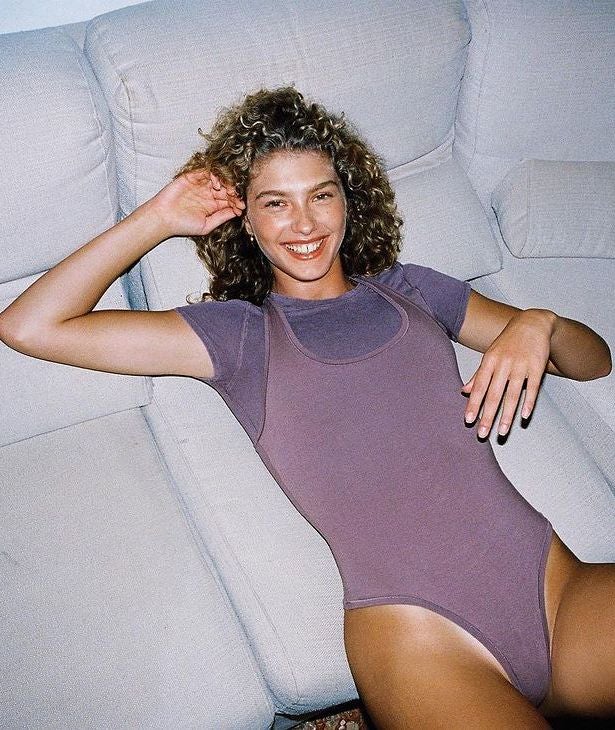 @ORGANICBASICS
Kaira Active was founded with a goal to clean and protect the world's oceans, and this is embedded in every aspect of the business. The brand's business model is built around sustainability without sacrificing style, with bold patterns, flattering cuts, and quick-dry technology. Its fabrics — made out of ocean plastics and fishnets — will equip you for any type of workout, lounging around, or running errands, guilt-free.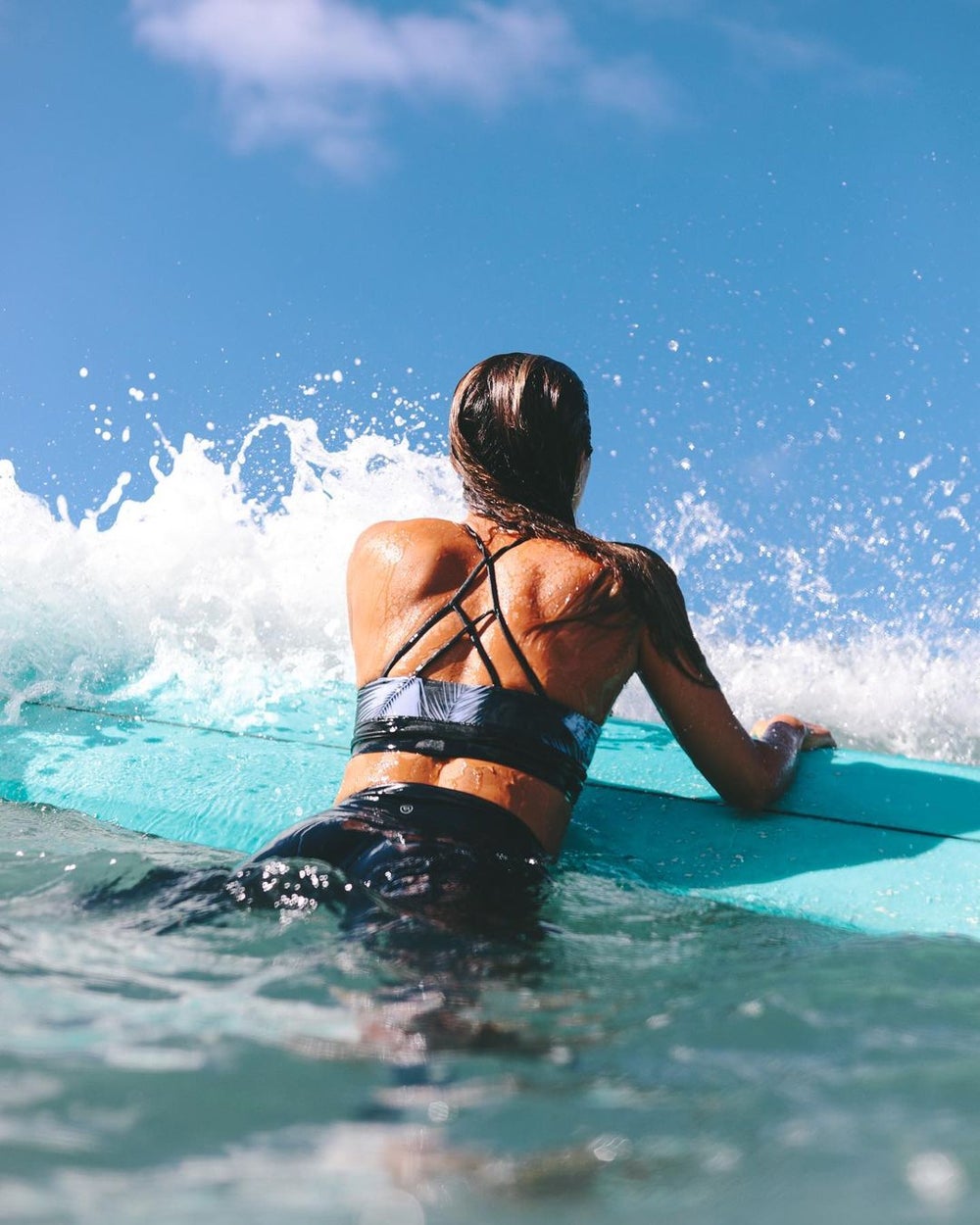 @KAIRAACTIVE