New York Fashion Week
All the (Major) Highlights from New York Fashion Week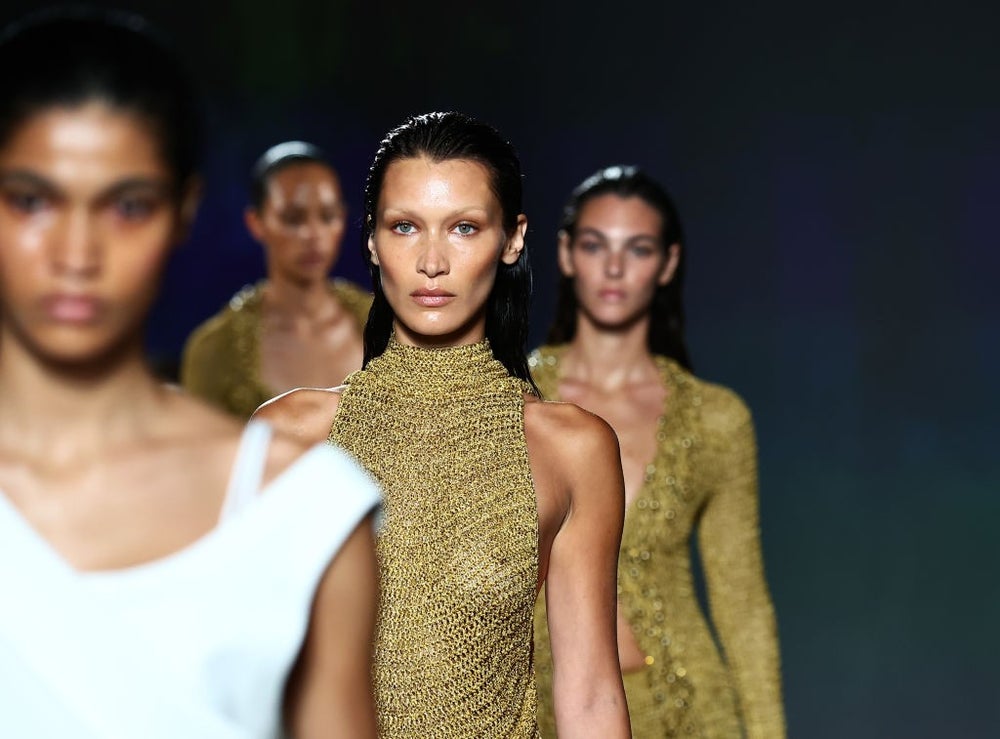 by Hanadi Merchant-Habib
8-minute read
September 15, 2022
All the (Major) Highlights from New York Fashion Week
As New York Fashion Week started off with a bang this month, it gave us plenty of wow moments – be it with the collections or with the front-row attendees. Tommy Hilfiger returned to the runway after three years, and it was the talk of NYFW. Aside from debuting a brand new logo and a capsule collection in partnership with Richard Quinn, a shirtless Travis Barker closed the show by playing the drums on a rainy New York evening. Meanwhile, at Marni, sitting front row was Kendall Jenner with her on-again-off-again boyfriend Devin Booker, as well as Madonna. In typical New York style, the runways set the tone for next season's biggest trends – whether it was Siriano's old-world glam, Carolina Herrera's garden party chic, Proenza Schouler's off-duty knitwear or Coach's flirty gingham dresses.
At Christian Siriano, the glamour was plenty. With old-world Hollywood icons like Elizabeth Taylor and Audrey Hepburn serving as inspiration, how could it be anything else? Presented at Elizabeth Taylor's former townhouse with Janet Jackson sitting front row, it already set the tone for what's to come. Bold pantsuits with extra-flared pants paired with wide-brimmed hats rated high on our list, while a red evening gown with a sheer bodice, oversized peplum, and a bubble chapeau was both dreamy and dramatic. Plenty of tulle followed, but it was the voluminous shocking-pink mini dress that stood out the most. Restraint came in the form of a sublime high-necked white dress and another white number with draping on the bodice and a flowy sleeve. Come red carpet season, we know where the celebrities will be flocking.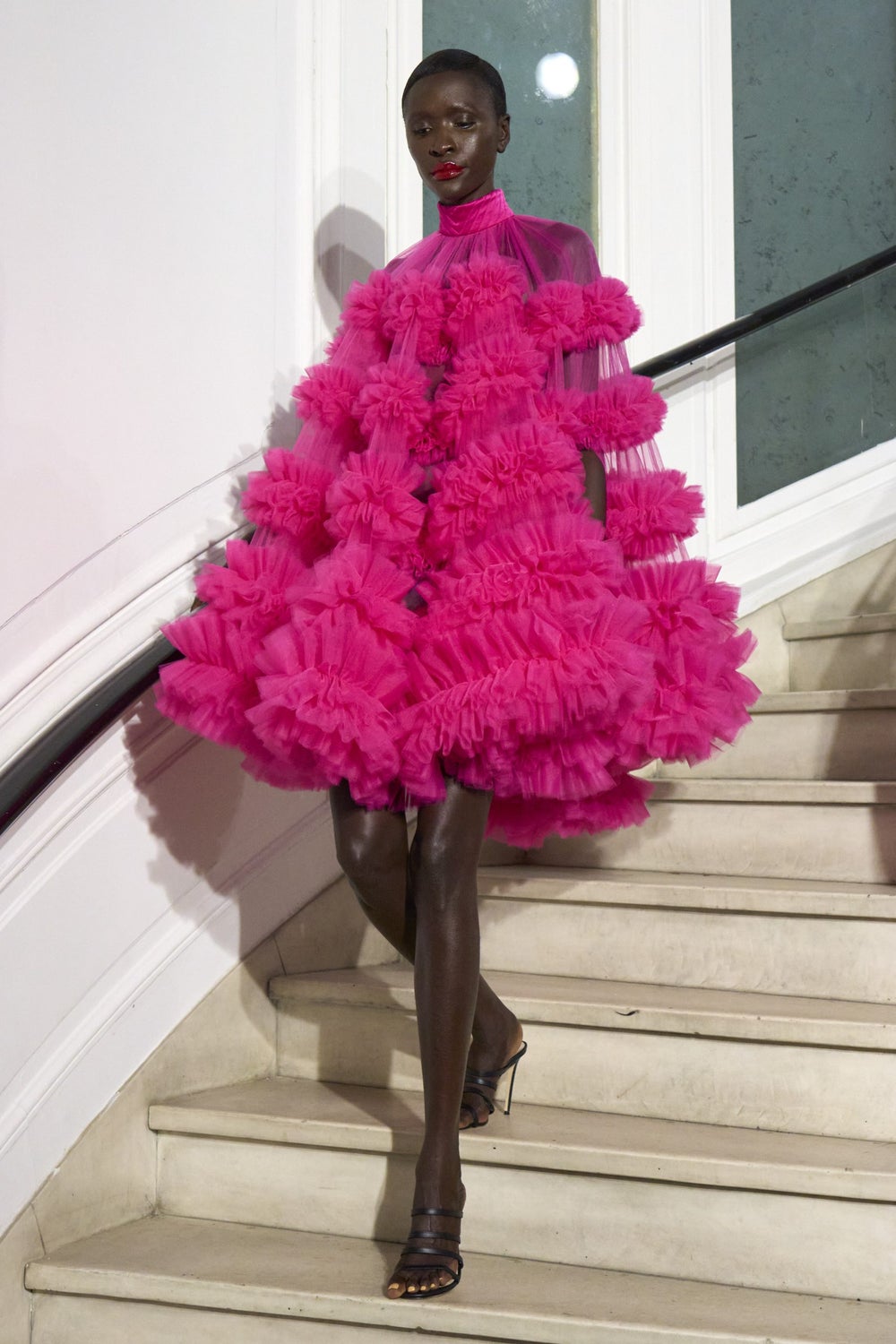 Christian Siriano | Launchmetrics
Elsewhere, Proenza Schouler's Jack McCollough and Lazaro Hernandez celebrated two decades since their Parson's collection was bought by Barneys. For the upcoming season, the duo took cues from Hernandez's Latin heritage. Dramatic looks were served in the form of fitted dresses with flamenco ruffle sleeves that extended to the model's calves, or bell-bottom pants with a generously voluminous flare. Plenty of sheer looks followed, but if we were to pick a favorite, it would be Bella Hadid's gold crochet skirt with a fringed hem. Meanwhile, the tweed coats that were slightly nipped in the waist with gold buttons would make a fine addition to the closet – the mustard-yellow number, in particular, is on our wish list. Our only disappointment? The lack of any size representation, which we have grown accustomed to from our favorite New York designers.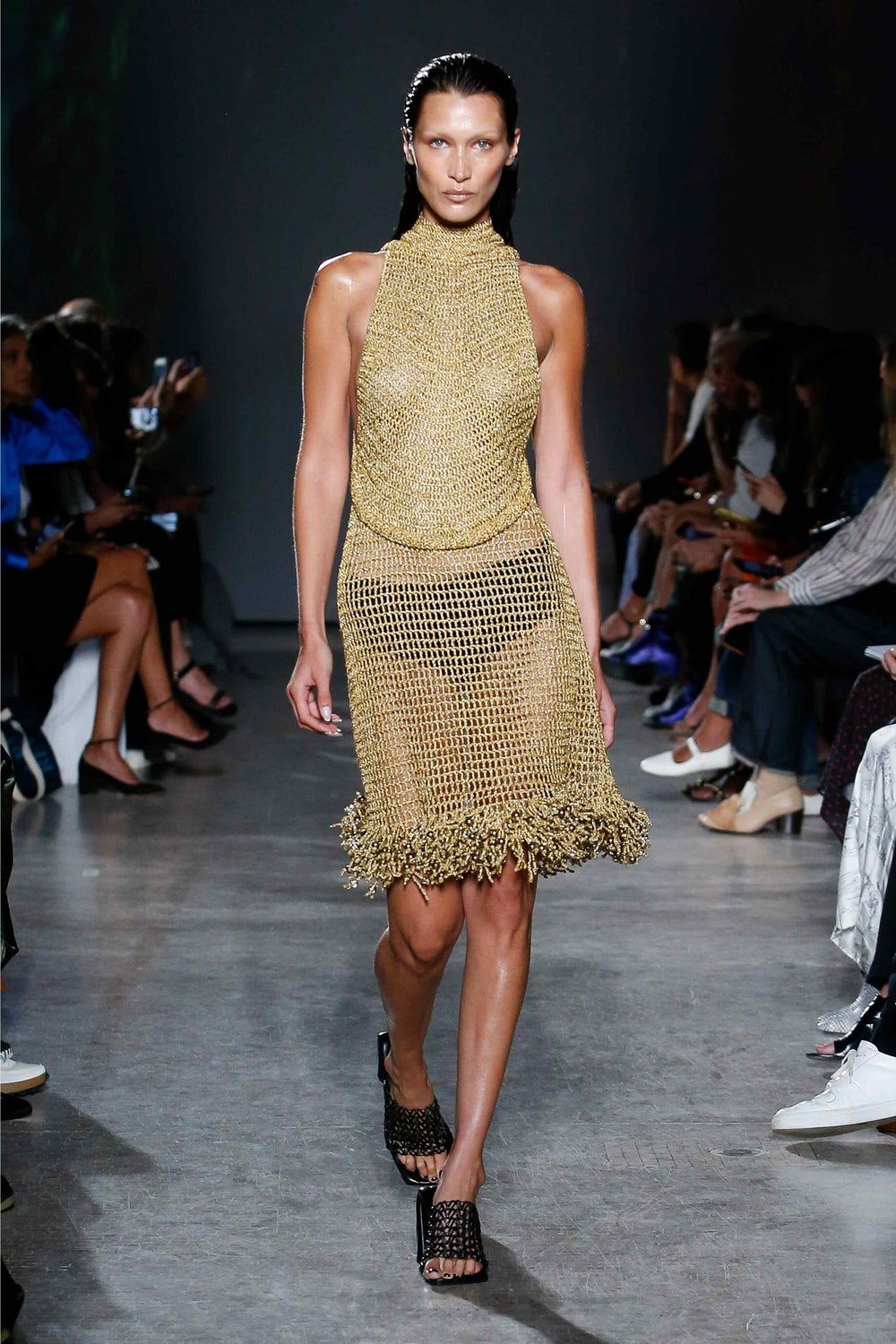 Proenza Schouler | Launchmetrics
At Prabal Gurung, the designer amped up the sexy quotient. With a very vibrant colorway – think hot pinks, lavender, and mint green – the clothes were all about being seen. Plenty of sheer looks dominated the runway – from see-through chiffon blouses to lacey bra tops and corsets with sheer fabric on the bust. There were suits too, and some came with a cropped bolero-style blazer – the white one really stood out.
Acid-wash denim was given the couture treatment. Case in point: the fitted denim blazer and the off-shoulder denim corset top with hints of pink in it. Tulle ballgowns closed the show – featuring exquisite draping and a glimpse of the bustier, they came paired with fetishistic leather gloves. For a designer who's dressed Kamala Harris, we do think this bare-all collection seemed a little too outlandish.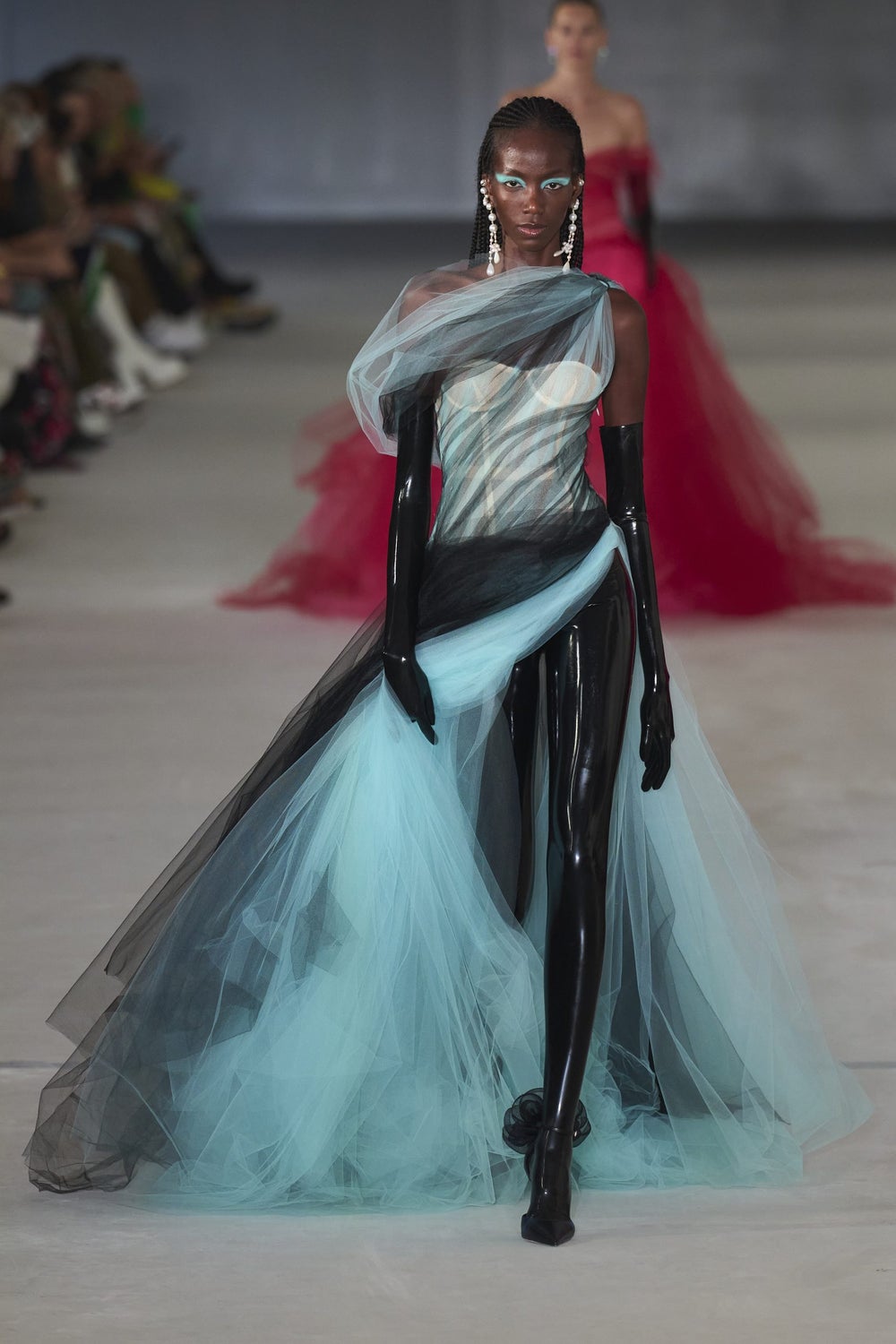 Prabal Gurung | Launchmetrics
For Marni's first show in New York, creative director Francesco Risso sent down an array of clothes in sunset hues and a recurring sun motif. Risso was inspired by the colors of the light from dawn to dusk in the Italian countryside. The result? Flowy tank dresses with cutouts perfect for a three-day music festival, maxi dresses with sleeves trailing to the floor, midriff-baring tops with giant circular cutouts on the chest, and lots of knitwear. Leather, in its softest form, appeared in the form of jackets, trousers, skirts, and dresses alike. Elsewhere, a mohair patchwork jacket in a blend of psychedelic colors caught our eye. There were tailored looks too – the purple trousers with a matching coat would make fine closet staples.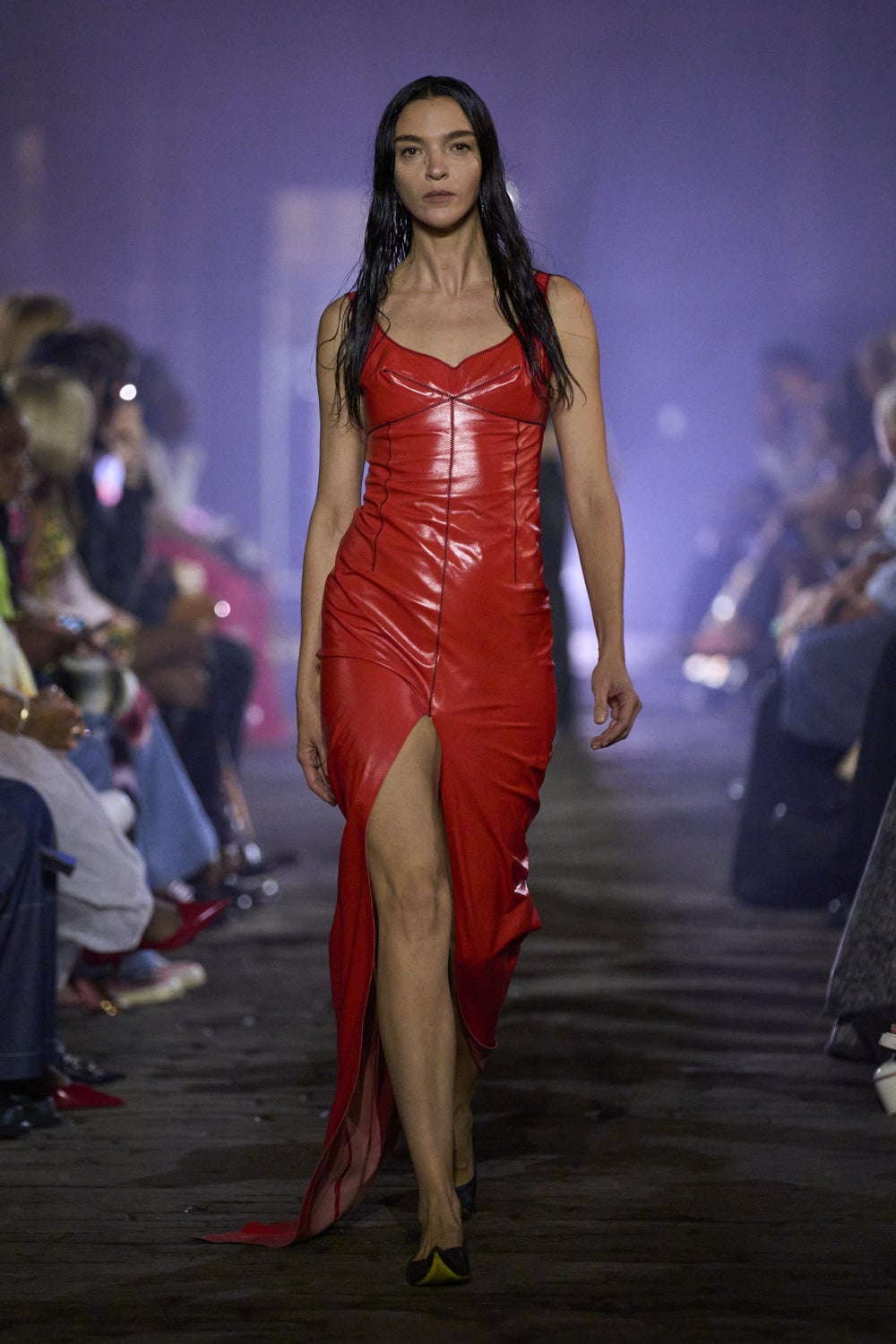 Marni | Launchmetrics
With a lineup that included Lila Moss, Ashley Graham, and Winnie Harlow and a front row filled with celebrities like Kourtney Kardashian and Travis Barker, Tommy Hilfiger's Fall/Winter 2022 show was one to be remembered. Boasting the label's latest 'TH' monogram designed in collaboration with Fergus Purcell, the clothes brought back logomania with a bang. Silhouettes were a fun take on classic American clothing injected with streetwear. From oversized puffer coats to varsity jackets with a large TH on the front to preppy skirts and extra-long striped polo tees worn as dresses, there was lots to be desired. Color blocking was key to the collection. Case in point: a sporty cardigan in a combination of ivory, forest green, yellow, red, and Bordeaux worn over a striped shirt. The show closed with a series of looks designed in collaboration with Richard Quinn. And so, of course, there were daisies – a quintessential Quinn motif. On a black, white, and red voluminous bomber, the daisies were larger than life, and on a bodysuit, they were scaled down. Quinn also flawlessly mixed grunge with streetwear with a spiked leather jacket – the collection's standout piece.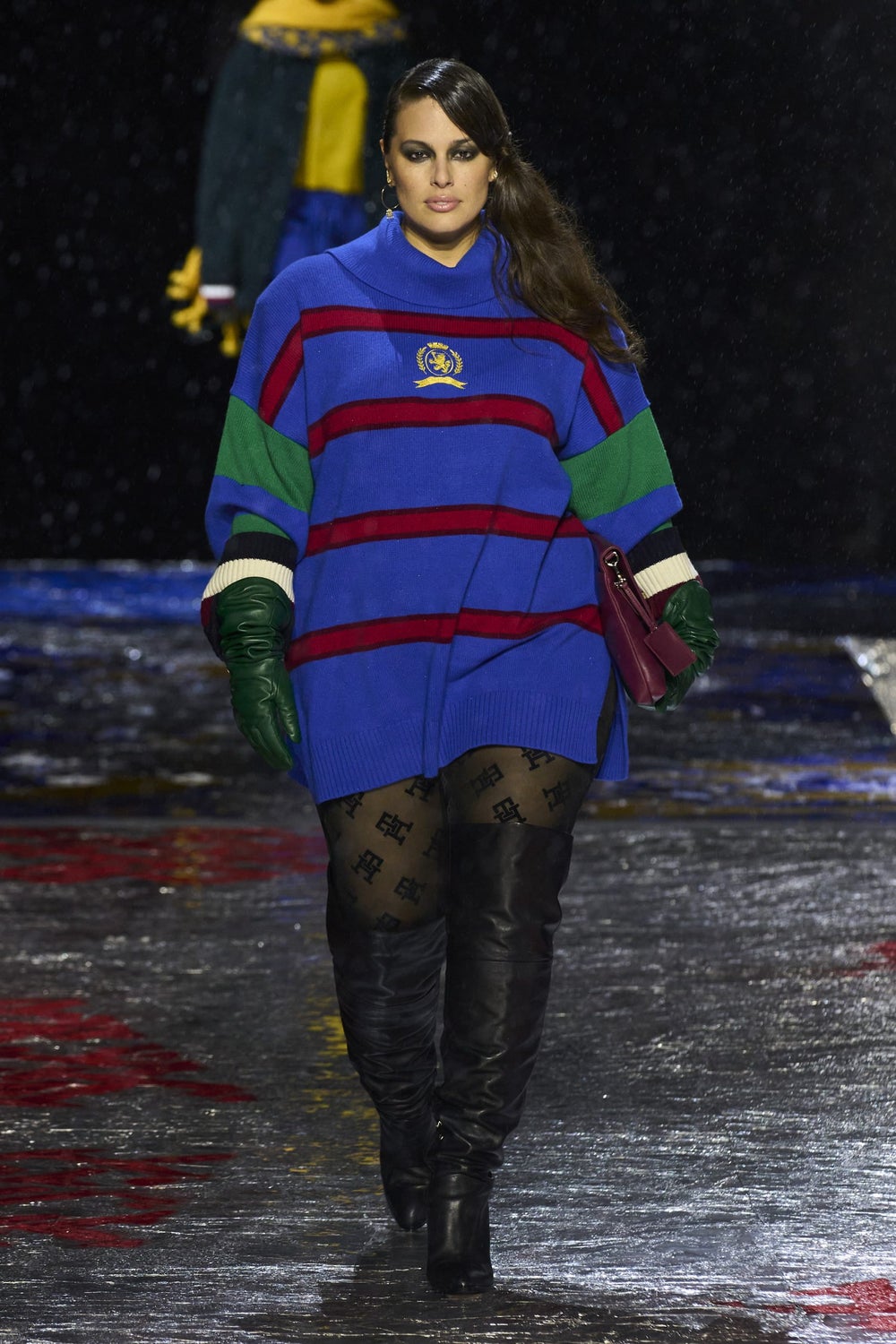 Tommy Hilfiger | Launchmetrics
Carolina Herrera's Wes Gordon sent down 56 looks for the upcoming season, and each one was better than the last. If you came here looking for trendy daywear, you're in the wrong place. But if you want Old-World glam with a contemporary twist, then Gordon has you covered. Classic Herrera shirt-dresses came bursting with florals from top to bottom and cinched at the waist with a wide belt. Elsewhere, the iconic ball skirt with yellow flowers was paired with a striped top. There was a recurring garden party theme throughout the show – on a knitwear look consisting of a pencil skirt, cropped top, and cardigan, the blooms looked slick; on a ruffled chiffon maxi dress, they looked bohemian.
While florals for spring may not be groundbreaking, there were other standout pieces. A black-and-white striped strapless dress, a houndstooth mini with cancan peeking from the bottom, and a dark rinse denim look were all great options to be frolicking in the sun at some faraway exotic destination come summer.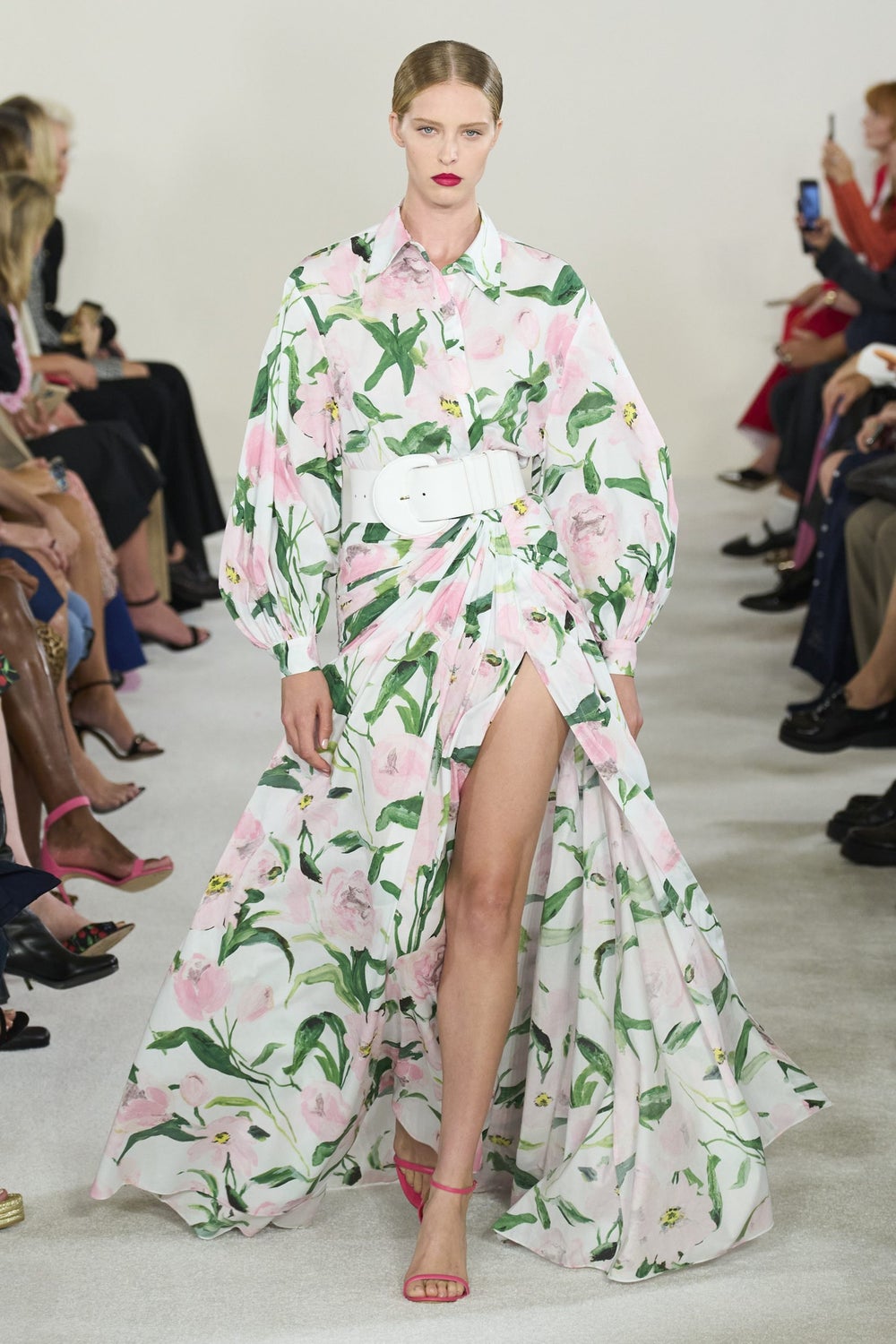 Carolina Herrera | Launchmetrics
At Coach, leather, or rather, repurposed leather was the word of the day. Stuart Vevers sent down an army of models wearing leather in all shapes and colors. A multi-colored boxy shacket. Check. Burgundy short-alls. Check. Leather skirt with large pockets. Check. Elsewhere, gingham minis were reminiscent of balmy summer evenings. With their puffy sleeves and lace panels on the bust, they were girly and sexy in equal doses. Next up were chunky fishermen sweaters with colorful threads knitted into them – the abstract pattern reminded us of paint splattered onto a canvas. Rating high most notably on our wish list was the jelly reiteration of the Tabby bag.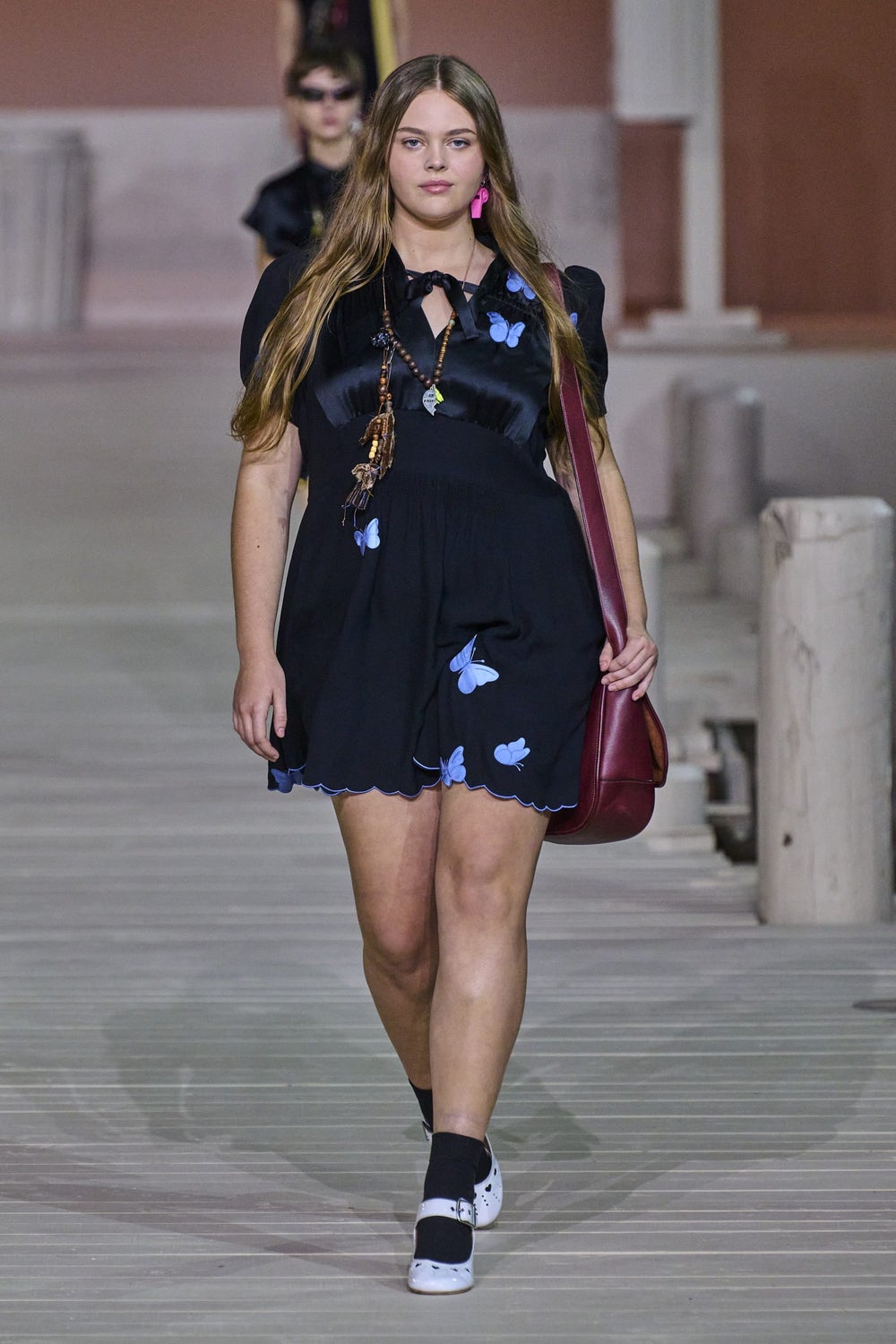 Coach | Launchmetrics
Brandon Maxwell mastered the art of relaxed glamour for his Spring collection, and we ate it right up. Think square sequined tees reminiscent of a shiny disco ball paired with simple trousers. Or a fully sequined silver skirt worn under an understated cream high-collared shirt. Elsewhere, there were minimalist skirts that were tied to the side – the draping here was perfection. Overall, the clothes rated high on wearability. Case in point: a black strapless dress with a zipper running down in the middle, the nude blazers, and the lilac leather skirt. This is one collection we think will be flying off the shelves once it hits the stores.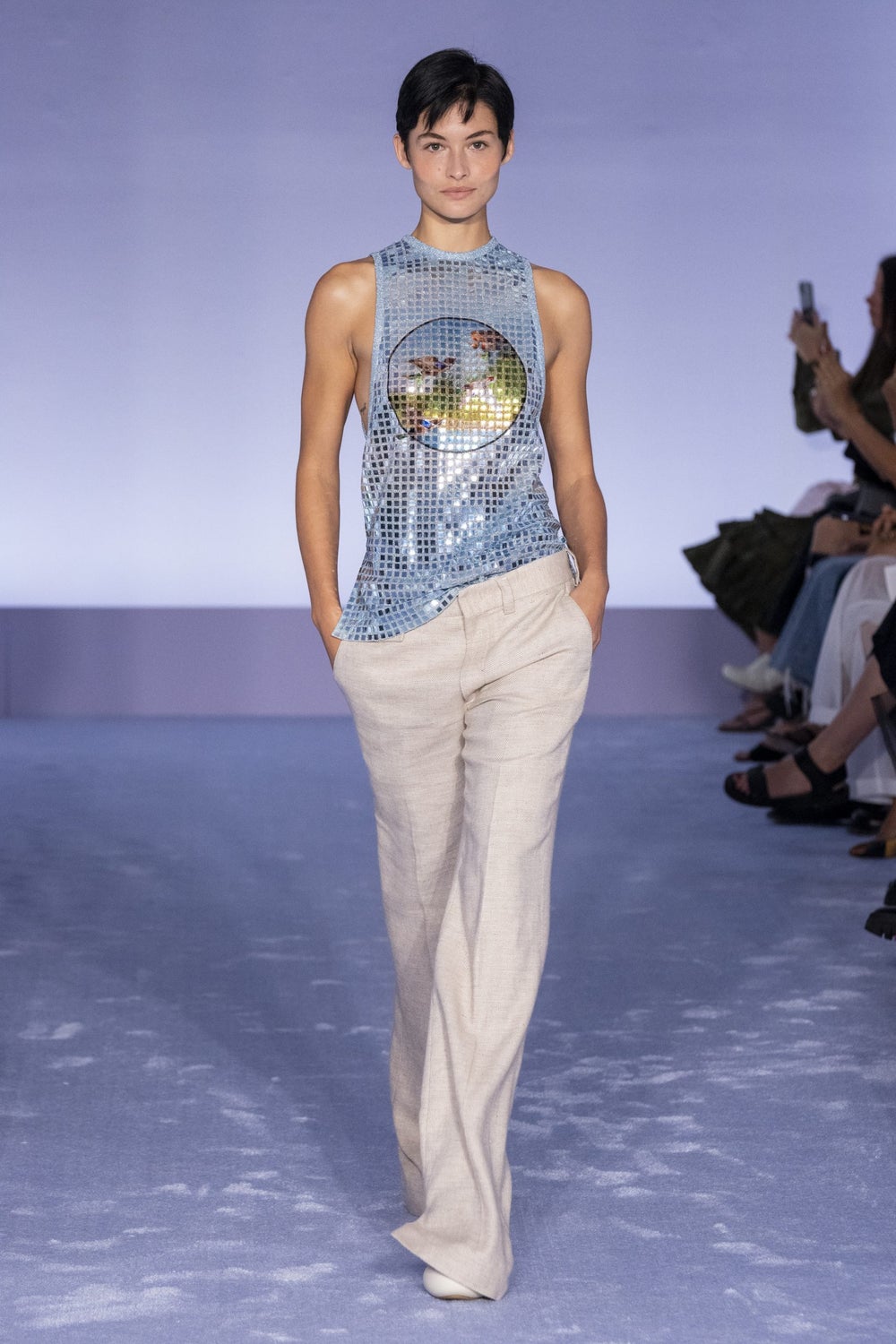 Brandon Maxwell | Launchmetrics
At Tory Burch, the clothes were all about understated glamour, comfort, and freedom from restraint. And so everything was stretchy – from the miniskirts (that either appeared with a sheer underlay or with 90s style capri leggings) to the body-con tops they were paired with. There were jackets too – some were mid-calf length and more voluminous, while others stopped at the thigh. A more formal lineup followed, and the V-necked blouses with an exaggerated collar and rolled-up sleeves were divine. Elsewhere, there was an obvious Indian inspiration – dresses made from Banarasi brocades screamed luxury without being loud. And those sleeveless and collarless hourglass jackets? Well, those were just fabulous.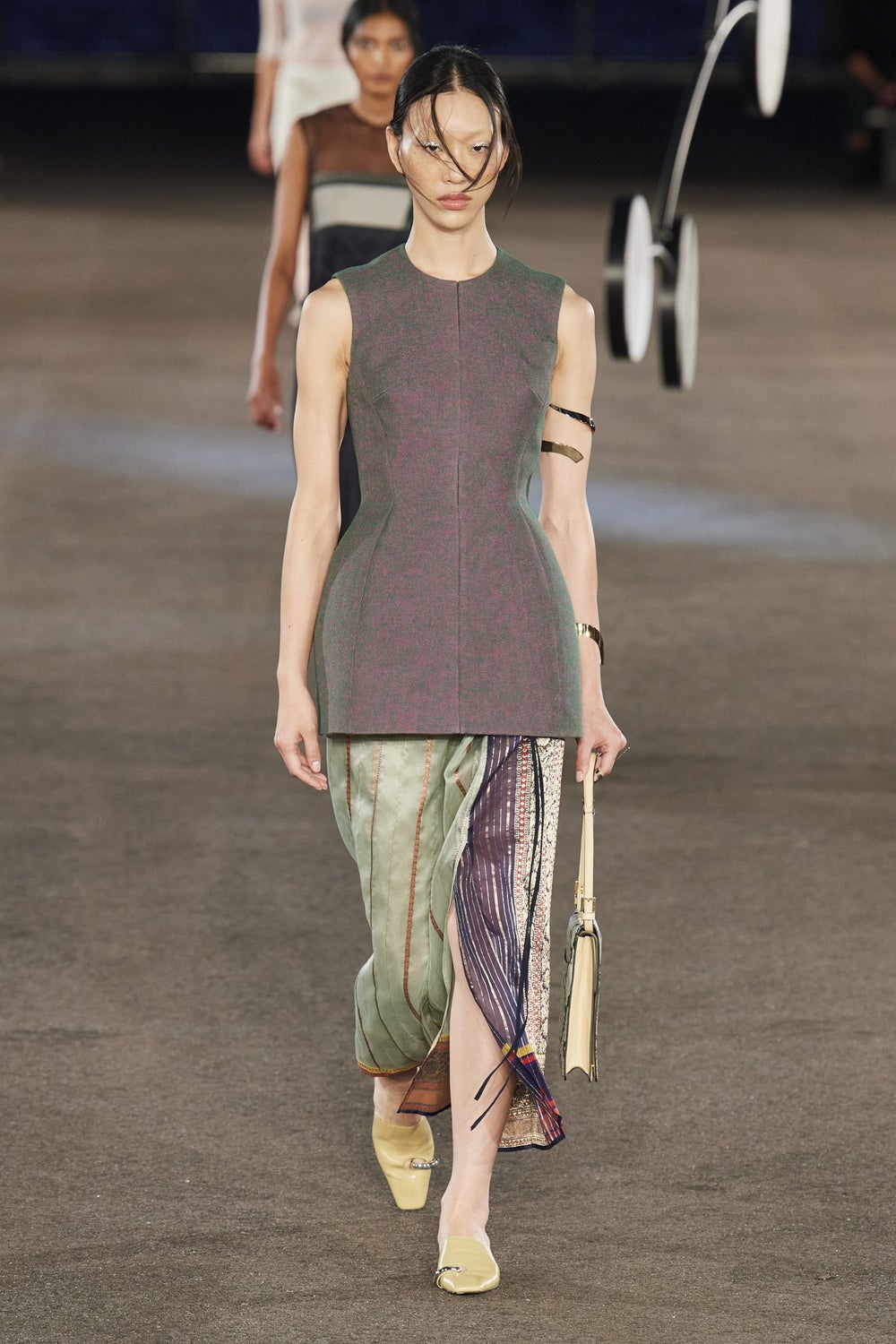 Tory Burch | Launchmetrics
Michael Kors really knows how to put on a show. With Serena Williams and Anne Hathaway sitting front row and veterans like Bella Hadid on the runway, we knew what to expect. Chic and sophisticated separates came in the form of long blazers and pleated high-waisted trousers – all extremely versatile and timeless. Fuss-free silhouettes were key here. Case in point: a sublime red kaftan dress accessorized with a gold cuff on each wrist – it would make anyone look like a goddess. Elsewhere, an oversized buckle reincarnated from his Spring/Summer 2002 collection adorned most of the looks. Eveningwear was aplenty, but with a resort spin to it – think glittery sarong skirts paired with bodysuits or a one-shoulder stretchy blue gown with cutouts on the side paired with flat sandals.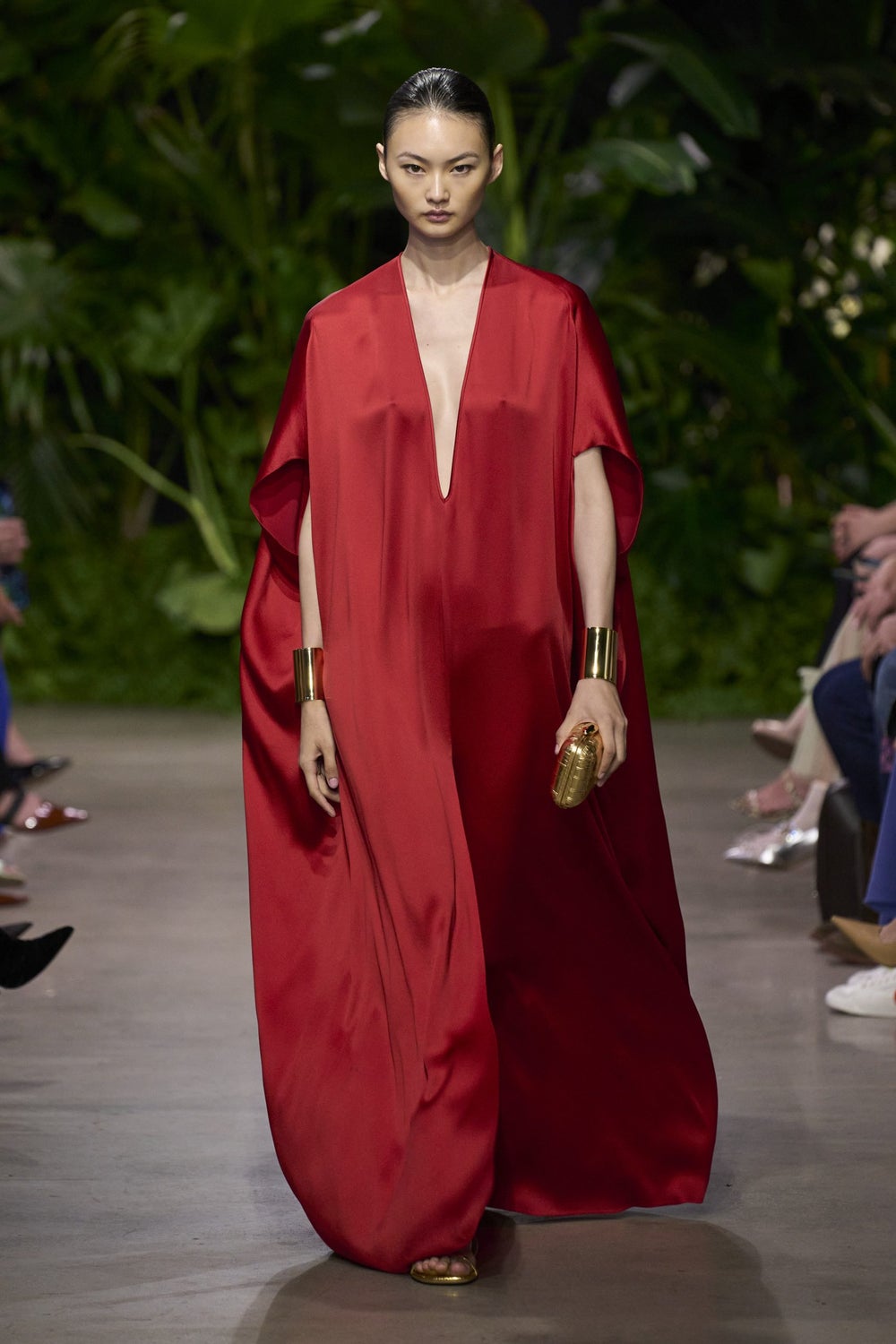 Michael Kors | Launchmetrics
Very few can do sexy as Tom Ford does, and in true Ford style, this Spring/Summer 2023 collection was exactly that. A sheer bra with stars on the front, embellished netted tops, lacey underwear – it was bare-all-or-go-home kind of situation. Elsewhere, the Hadid sisters' slinky cutout sequined gowns and the lamé shorts and blazers brought the disco fever. There was an obvious nod to glamorous sportswear too – an embellished metallic bomber, crinkly gold running shorts, a leather skirt with a drawstring closure, and buttons on the side were all very commercially solid pieces. But it was the crocodile leather coat worn with matching boots that stole the show — maybe even the entire week — for us.
Tom Ford | Launchmetrics