Interview
Even If Rosamund Pike Is Late, She's Right on Time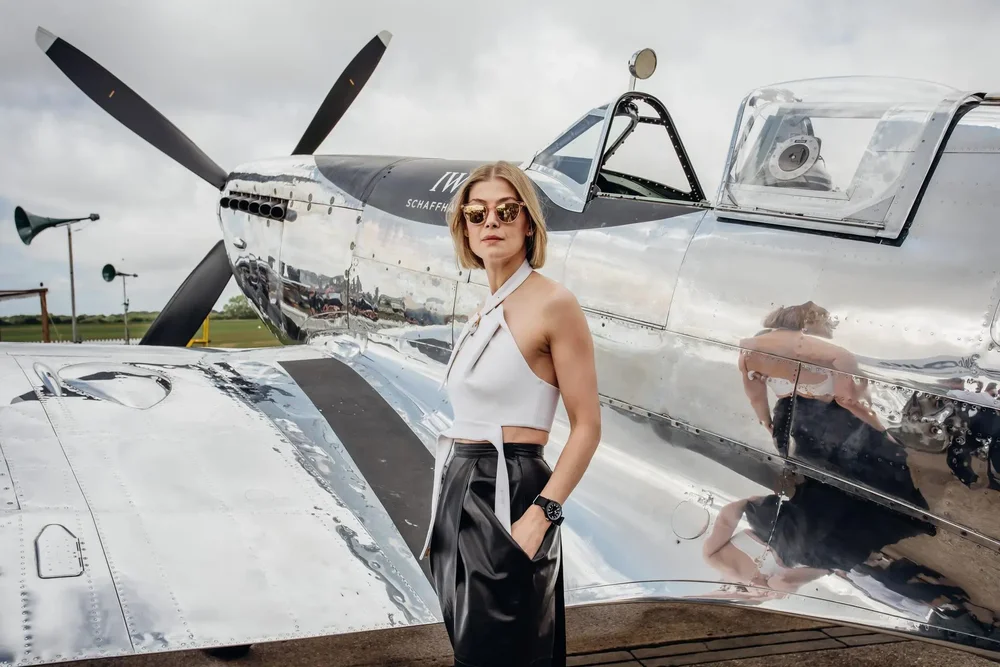 REMY STEINER/GETTY IMAGES
by Grace Gordon
9-minute read
February 12, 2019
Empathetic, adventurous, and outrageously talented, IWC's brand ambassador Rosamund Pike takes time with us to explain what makes her tick.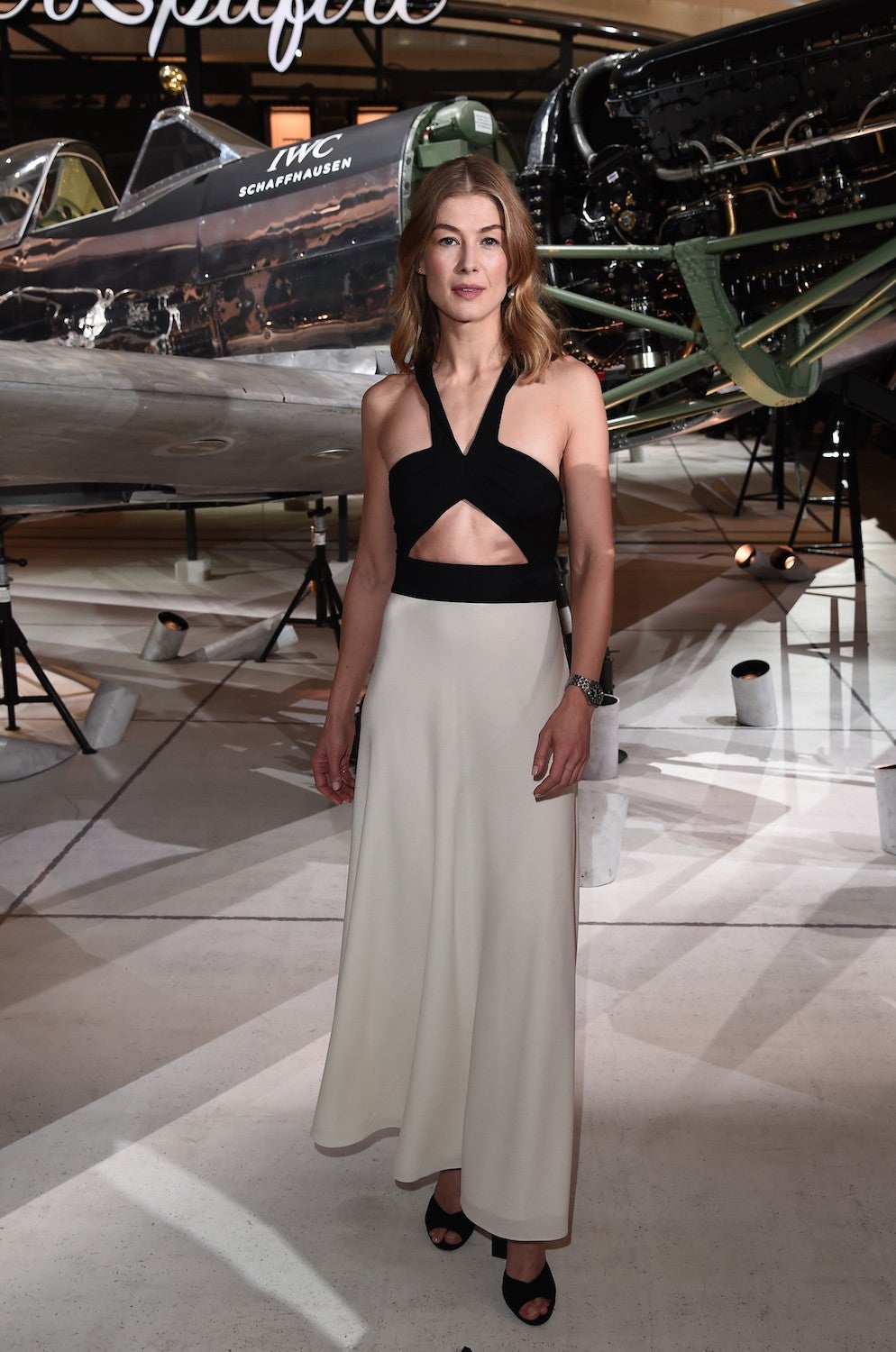 GETTY IMAGES
Rosamund Pike is late.
She is also right on time.
It is both ironic and perfect that – in addition to her Oscar-nominated turn as Amy Dunne in Gone Girl and Golden Globe-nominated portrayal of fearless war correspondent Marie Colvin in 2018's biopic A Private War – Pike is an ambassador for luxury watch brand IWC Schaffhausen. Considering she's a self-professed "terrible timekeeper", a prestigious and precise timepiece perpetually ticking on the wrist is exactly in order.
When she arrives – gliding in wearing a striking black-and-white Givenchy dress with an elegant coat slung around her shoulders – time seems to stop.
Carried on the mantle of her slight shoulders is an aura of self-possession so dense that it has its own gravitational force. The magnetism she is associated with on-screen is even more pronounced in person. And as she settles into a large leather chair at a massive wooden conference table after pouring me a glass of water, she manages to find a ray of light that illuminates her entire face.
When Pike speaks, she tends to glance away, focusing on some distant point as she muses beautifully and thoughtfully about whatever is on her mind. "I refuse to ever acknowledge there are 60 minutes in an hour. I always try to do too much, I want to squeeze the life out of every moment. I've been like that ever since I was a child. I was late for you, wasn't I?" she laughs, her eyes flashing with mischief. All is instantly forgiven.
I refuse to ever acknowledge there are 60 minutes in an hour. I always try to do too much, I want to squeeze the life out of every moment.
That she considers the schedule of others – no matter how pressed for time she is herself – is a rare quality in a celebrity of her caliber. Her care translates from her personal interactions to the incredible methodology with which she approaches her on-screen performances. She is nothing if not considerate.
"Marie Curie respected time," she points out, referring to her impending project playing the physicist and chemist in a forthcoming biopic. "She had to because she was measuring it precisely, measuring the strength of magnetic fields through a beam of light using a stopwatch." She pauses, an idea flashing across her face. "I should see if IWC will make me a stopwatch." She chews over the idea.
I interject, "And name it after you and put it into production."
"Or call it the 'Curie'," she cries. "The radioactive watch! I love it! We're cooking up a campaign!"
In many ways, Pike is the perfect ambassador for IWC, a luxury Swiss watch brand associated primarily with big, strapping, masculine watches worn by adventurers, pilots, and enthusiasts alike. After all, she is a woman who (casually and not as a stunt for a film) clung to the wing of a biplane in free fall, feels most at home diving into an unknown lake, and once attended a Daybreaker rave at 6 a.m. while eight months pregnant. In fact, as far as watches go, a demure piece simply will not do.
"I have always worn IWC's smaller 'Pilot' watch – the 'Pilot Automatic 36' actually, which is quite hard to find. I have it here," she says, reaching for a small box clutch on the table. "If you look closely, you'll see it is made with a stainless steel strap that is half-polished and half-matte, so it's quite unusual. It crosses that line between the masculine and feminine, which I really, really like. There is something kind of intangible about it."
She manipulates the dial in a beam of sun that has pierced the room, highlighting its spectacularly reflective surface. Yet, it almost sounds like she's describing herself – unusual, intangible, line-crossing. "I really like the 'Pilot' collection, especially how the numerals that were on the original were kept intact. See, I swim. I can't pass a river or lake without getting into it. If I see a sign for a lake, I'll divert the car, drive there, and jump in. This watch can survive all of that. And it's also the watch that has kept me on time. Or tries to, at least."
If I see a sign for a lake, I'll divert the car, drive there, and jump in. This watch can survive all of that.
Speaking of Pike's derring-do and commitment to adventure, IWC's latest activation has more than piqued her interest. "The Spitfire collaboration is very exciting to me," she exclaims. "I met the pilots last night, and I made a promise last night to be the only person to greet them in Northern Russia on one of their stops. I thought, 'Where is the most unlikely place I could meet them?' because I would love to be part of this journey and see them. Maybe I could meet them with a spoonful of caviar off the plane in Northern Russia."
Such is the quixotic nature of her interests.
From playing Marie Colvin in A Private War to her forthcoming portrayal of Marie Curie, there is another fearless pioneer who has caught Pike's notice. "The pilots told me the history of the Spitfire, and Mary Ellis who was one of the women who flew the Spitfire during the war. Women weren't actually allowed to be in combat, but they would deliver airplanes to the front line, from the manufacturers to army air bases. And Matt, the younger pilot, flew Mary Ellis when she was 102. He took her up in the Spitfire again, which she hadn't flown in since the 1940s. I found this very emotional, this story, and he said the Spitfire is a very emotional airplane – it has a strong effect on people. There is something very beautiful about its whole concept. It's so iconic. It's a flawless design."
I REFUSE to ever acknowledge there are 60 minutes in an hour. I always try to do TOO MUCH, I want to squeeze the life out of every moment.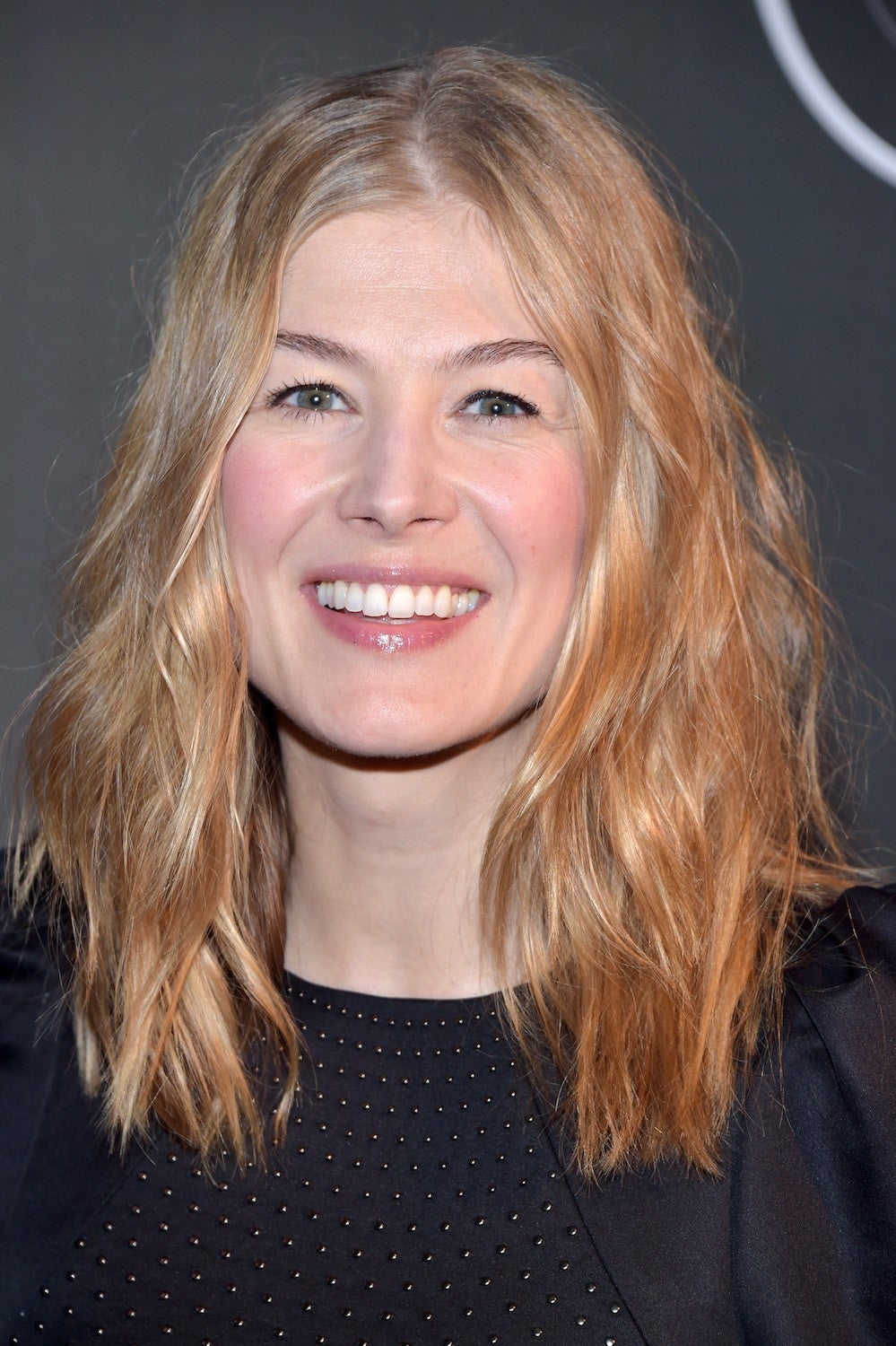 GETTY IMAGES
Later that evening, at a gala affair hosted by IWC inside an airplane hangar at Palexpo convention center, I will come to see what she means. As a massive metal door lifts, the Spitfire comes rumbling into view, signaling its power with a roar that vibrates the entire arena. In that moment, I am flooded with images of pilots bombing across the sky in Dunkirk, their heads vulnerable and visible in the windows of the Spitfire's cockpit. I remember Tom Cruise's thumbs up flashing in Top Gun. I think of heroes. I think of victory and defeat. But I genuinely can't think of a more iconic aircraft.
Pike has spoken of her attraction to aviation before and, in the past, has even named Amelia Earhart as one of the people she would most like to meet. But in that same breath, she also mentioned Marie Colvin. This was back in 2016, well before A Private War had started shooting, and a year before she was attached to the project. That she would later come to play her in this poignant film seems, in hindsight, like an inevitability.
"Anyone who lives such extremes – I was saying this to the pilots last night – I am attracted to. I am attracted to what it means to do a job that takes you to extremes and what the cost of doing that is." For Colvin, the eye-patched journalist who was killed in Syria in 2012, the costs were huge. First her eye, then her life.
"With war correspondents, there is no way you can be exposed to what she was exposed to, and not feel it," Pike leans in, the intensity of her connection to the story transmitted by her desire to draw closer. "And, of course, it's because you're exposed to so much grief and trauma, and yet, it's not yours. You're the observer, not the victim. You feel like you don't have a right to feel it, and yet, you obviously do feel it. On the film, I wasn't working with actors by and large. I was working with actual refugees, Syrian refugees, who had escaped the war. It made for a completely different environment, one that I had never experienced before. I just didn't know where to put my feelings. If I talk about it, it will come flooding over me again."
And it does.
A sudden change of mood overtakes the moment. A micro-expression crosses her face, and I can't help but read it as grief. "I felt just a short window of an experience that Marie Colvin had for nearly 40 years. When you're exposed to that sort of grief – as a human being with empathy – you feel it, my god," she confesses. "Yet, Marie's capacity for empathy was boundless, but so was her optimism. She saw all of this, but still believed in the human spirit."
It seems ridiculous to assume that once an actor – especially one as wholly committed to embodying her roles – plays a character, the experience can easily be shared, compartmentalized, and stowed away. "It lingers, you know," Pike's eyes lower. You can practically feel her remembering. "With acting, there's a dividing line between you and the character in your mind, of course. But I do believe that when you do it well, and truthfully, the body produces chemicals, like adrenaline and all of the stress hormones – whatever we've got in us that make us the cocktail of humanity that we are. I think that, sometimes, the body remembers things as lived experiences."
She gives a vivid example. "I did a film, Hostiles, with Christian Bale, and my character lost three children. I would be doing press, and I'd be here and there, traveling. I'd be miles away from the movie, not thinking about it at all, and then a journalist would ask me about the character. And suddenly, I would be completely seized and not even able to talk! I'd think, 'This is crazy because you know it's not real.' Yet your body has lived something. Things linger. It's not like there's ever any confusion in your mind. The body is a sort of unknown vehicle of feelings."
The body, in fact, will drive itself occasionally, steering you unbidden in whatever direction it senses is right. Fight or flight, and all that. For Pike, it is what gets her out of bed in the morning. The most exciting aspect of her job is getting her mind out of the way, embracing the animal. Sometimes, when you're living so fully in the moment, things like time and schedules and expectations get in the way, but for now, we are suspended in a cocoon of quiet, away from the frantic pace of SIHH and its bustling corridors.
It doesn't last long. Soon, she is whisked away by people with serious expressions, photographed at the IWC salon in front of the Spitfire and, finally, wrapped in a pristine white gown for her red carpet appearance at the evening's gala. Yet the experience of her singular presence? It lingers.