Editorial
Halima Aden: From Refugee Camp to the American Dream
by Grace Gordon
13-minute read
November 25, 2018
Halima Aden's rise is the true definition of meteoric.
JEREMY ZAESSINGER/SAVOIR FLAIR
You can hear Halima Aden coming from miles away because an entourage of laughter follows her wherever she goes. In the center of the cloud of mirth that surrounds her, a high-pitched squeal breaks out, louder and higher than the others – and that's Halima's. Her delighted shriek is her signature, and it precipitates an infectious giggle, a warm gush of feeling, and a story so funny that you'll be clutching your sides. If she wasn't such a successful fashion model, she could easily grab the mic and transition into the realm of stand-up comedy.
Dress and earrings by Gucci, boots by Fendi (hat and turtleneck, stylist's own)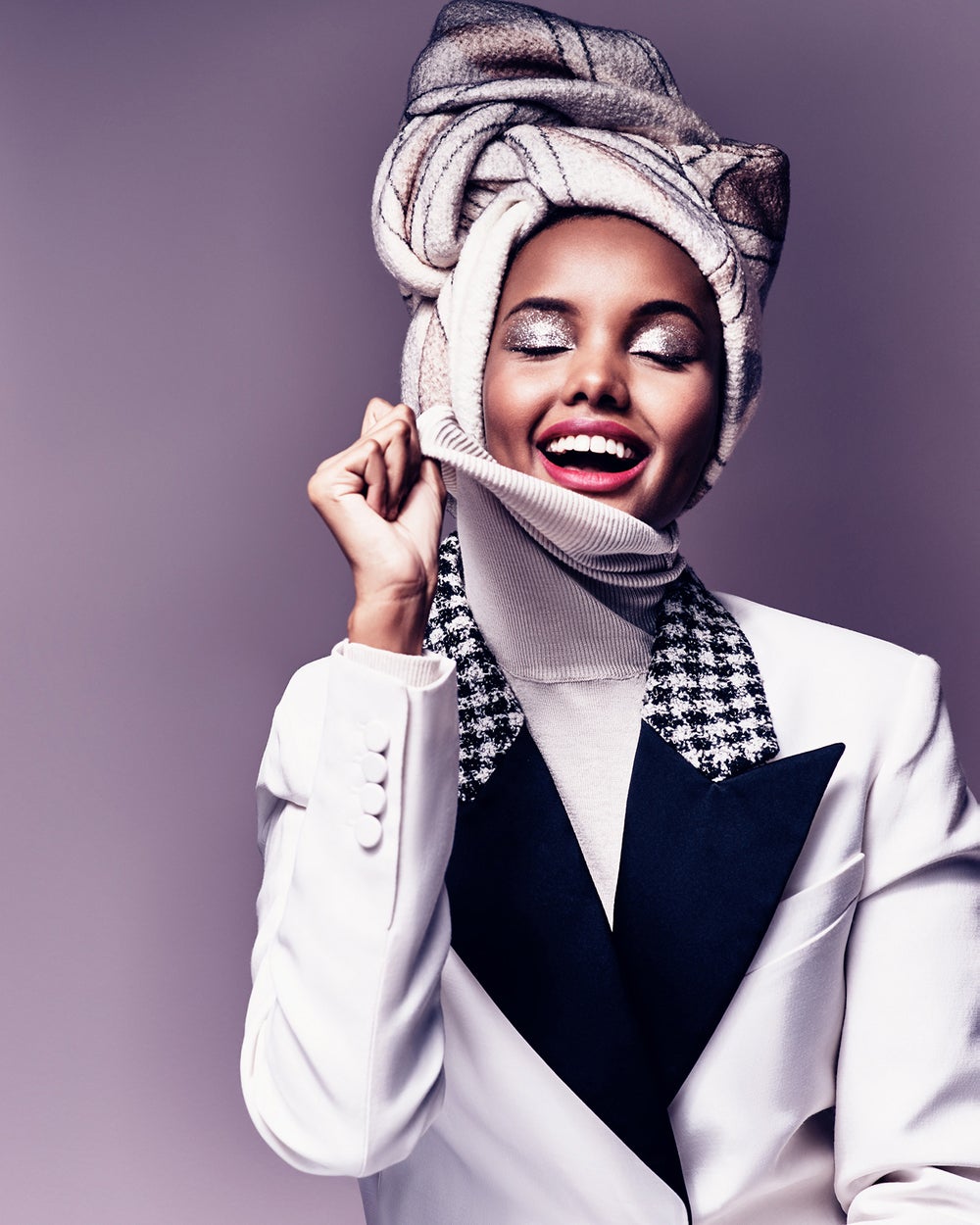 Jacket and turban by Louis Vuitton (turtleneck, stylist's own)
It's strange that during such divided times — as brother fights brother at the holiday table and nations toe the line of civil war — the world would rally around a young, black, female, Muslim, hijabi model who happens to be a former refugee. But that is distinctly what has happened and what she is. Aden has become a lightning rod — not for controversy or vitriol, but for compassion and inclusivity. As unique as her story is, you would assume that people would view her through a narrow and specific lens, but the truth is the opposite. She is a prism, and people from every walk of life imaginable see a piece of themselves reflected in her.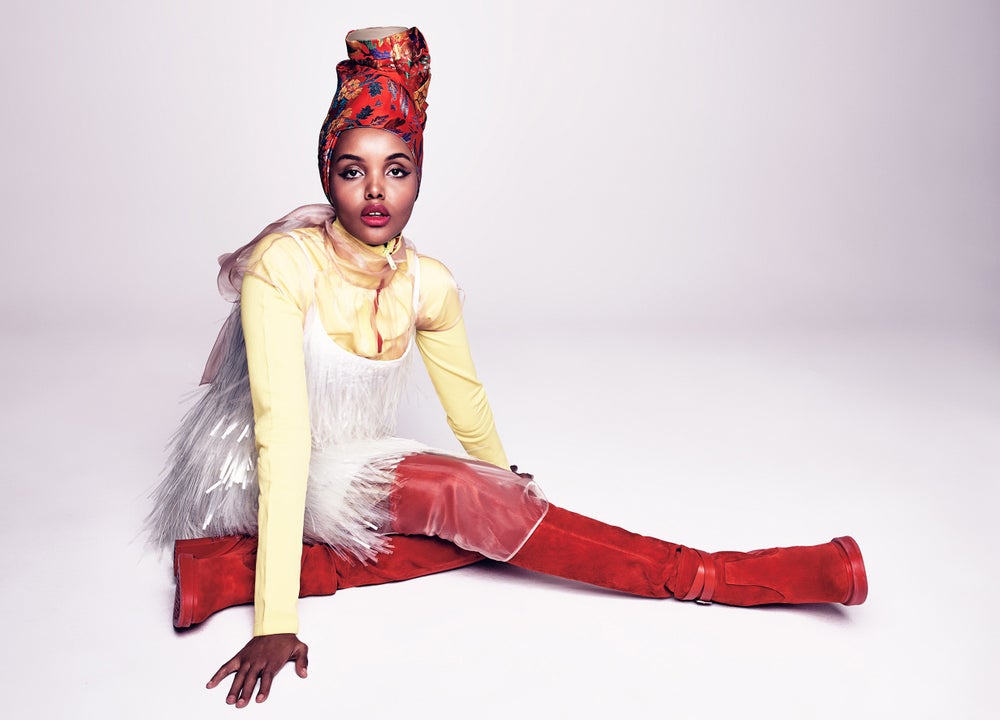 Dress by Prada, trousers by Etro, boots by Hermès
Suit by Etro, shirt and turban by Gucci, scarf by Hermès, boots by Bottega Veneta
Dress and coat by Bottega Veneta, scarf by Hermès (earrings, stylist's own)
Coat by Max Mara, scarf by Gucci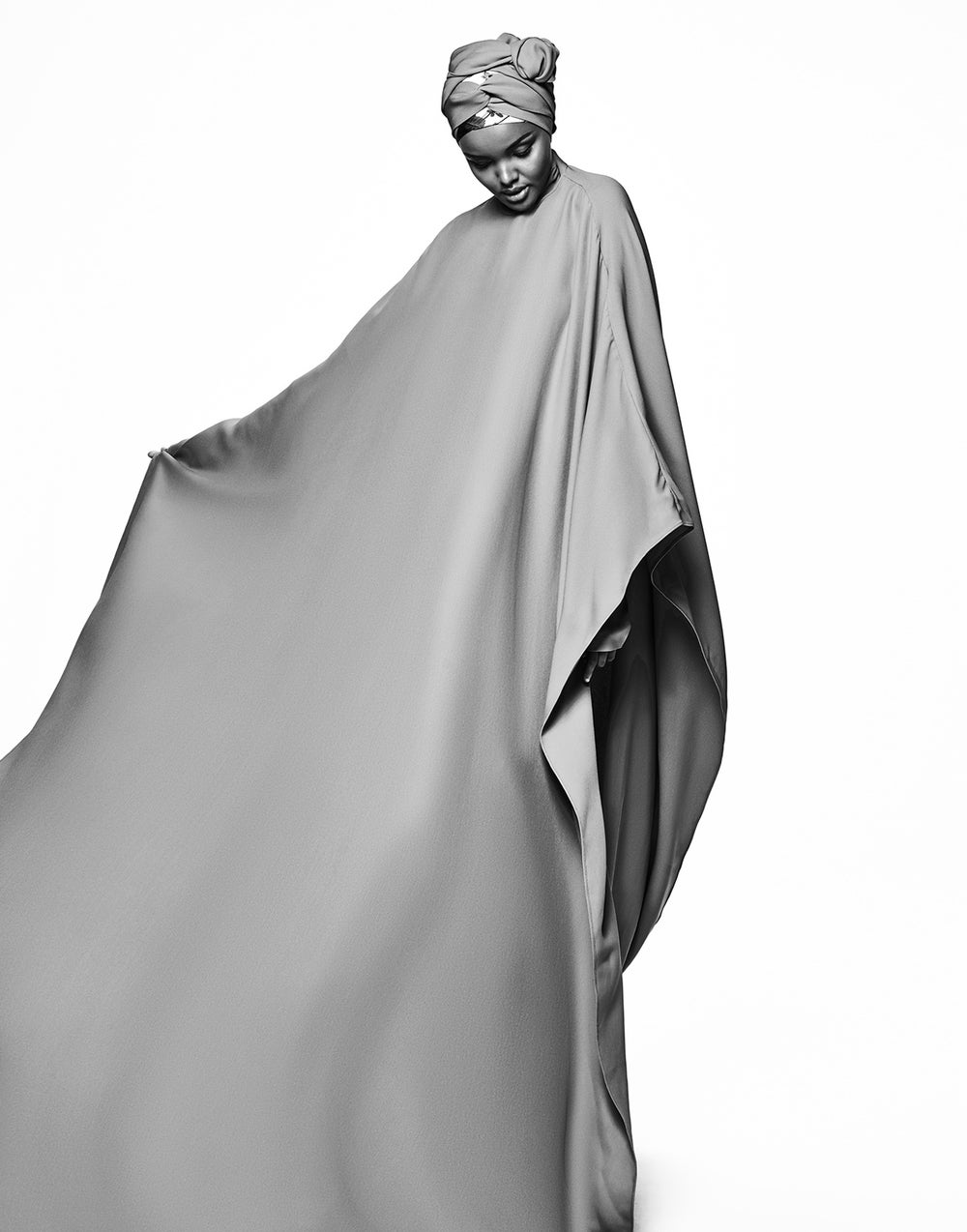 Dress by Valentino, scarf by Gucci, gloves by Chanel | JEREMY ZAESSINGER/SAVOIR FLAIR
"I will get messages from girls who don't share my background nor religion, but do live in the Midwest and relate to my story because I made it as a model from a tiny town in Minnesota," she shared while on set shooting with Savoir Flair. "I'll also get messages from other girls who relate to the fact that I started out in a refugee camp. Others see me as an African-American woman and reach out because they've never seen a black hijabi being celebrated before," she continued. "I've gotten messages from white, Christian parents who tell me they've shown my magazine covers to their little girls and told them that my modesty is beautiful. I've been blown away by what people connect with in my story."
I've been blown away by what people connect with in my story.
Gifted with an incredibly generous spirit, Aden is attuned to the good in people. Where you would expect to find bitterness at difficult beginnings, she spills over with tales of an exuberant childhood spent running around all day long with a pack of friends from myriad backgrounds before rushing home at sundown for dinner — except home was a shack made of scraps in the Kakuma Refugee Camp of Kenya, and dinner was a humble bowl of maize or lentils or, sometimes, nothing at all. But that's not how she remembers it.
Aden is used to people flinching when they hear about her refugee upbringing. She is accustomed to their sympathetic gaze, but in her words, "I had a good childhood. I had lots of friends, and growing up so close we mixed everything — our clothes, our languages, even our religion." In a way, the naivety of childhood was bliss, offering a blanket of protection against the realities of the camp, which were ravaged by poverty and disease. She had freedom to stretch her legs, to run and explore, to probe the boundaries of her world.
She pauses to tell a hilarious story that illustrates the chasm between her reality and her experience of it. "One of my best friends since second grade, I had never told I was born in a refugee camp. When all of these articles were being written about me, it was the first time I shared that I was born in a refugee camp. She pulled me aside and said, 'The way you used to talk about your childhood, girl, I thought you were some kind of Kenyan royalty.' And I was like, 'What do you mean?' She replied, 'You would say, when it would rain in Kenya, our house would wash away and we would just build a new house. You said you had three houses!' And I said, 'We did have three houses!' It's because that's what I called a house, even though it was made out of paper!"
At eight, Aden and her family made it out of Kakuma, relocating at first to St. Louis, Missouri. And as the years went by, her memories of the camp started to fade. "I wondered if I remembered it right, running around after critters in the middle of nowhere until the sun was going down and then racing back home," she shares. "It was so different growing up in the States, where you weren't allowed to run around because people were scared you would get kidnapped. I was worried I was remembering my childhood wrong, but then I went back [to the refugee camp] and that's exactly how it was."
The culture shock of living in the States extended beyond protective parenting. Aden recalls watching her nieces and nephews watching other kids on YouTube playing with toys rather than going outside and playing themselves, and the feeling of joy she experienced when setting foot in Toys 'R' Us, which has practically disappeared from the American landscape altogether. Missouri also made for a difficult transition. Aden's family arrived into a very impoverished community with no ESL programs, which meant she had no way to catch up to her peers. However, like many African cultures, Somalis are collectivist, which means everyone is distantly or at least tangentially related, and information is passed oratorically.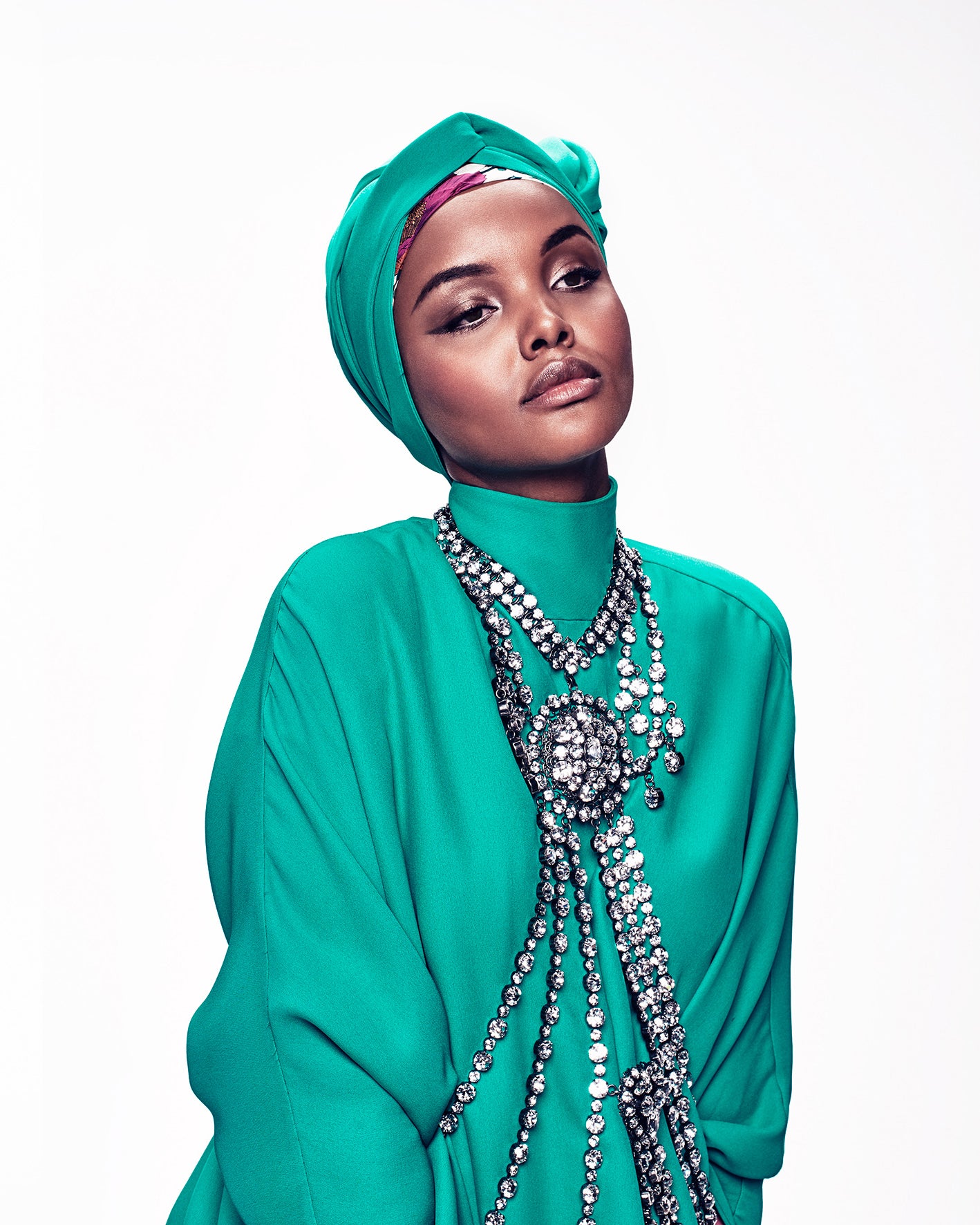 It wasn't long before Aden's mother heard about a small Somali community in St. Cloud, Minnesota — just six families, but offering enough familiarity and opportunity to support a move. The family relocated to the city in 2006 and, in 12 years, the Somali community has grown to become the biggest in North America. Aden still lives there, in fact. She notes that it was hard for Minnesotans to embrace the demographic change in their community at first, but it is now common to see them shopping in Somali stores or eating at halal restaurants. "It works the other way too," she laughs. "Look at me, I did a beauty pageant! That isn't part of Somali culture at all!"
It is almost preposterous that Aden has become one the fashion industry's most incredible success stories, given her origins, her journey, her 5'5" stature, and her unprecedented breakthrough moment standing on stage at the Miss Minnesota pageant in a hijab and burkini, completely juxtaposed against a sea of fair-skinned, bikini-clad teenagers. It is a striking image, one that sizzled down the newswire and made her an overnight sensation. She was the first hijabi female to ever participate in an American beauty pageant, and one who refused to compromise her faith to do so.
Although she didn't win, she caught the eye of Carine Roitfeld. In a head-spinning turn of events, the famed fashion editor tapped Aden for the cover of CR Fashion Book and the rest, as they say, is history. As the modest movement gained global traction, the image of Aden on the cover was powerful and timely. For millions of women around the world who are covered, it was the first time they had ever seen someone who looked like them in a fashion editorial. The outpouring of support, especially after Gigi Hadid posted the stunning black and white image from the shoot to her personal Instagram page, was swift and huge.
Hadid went further and personally took Aden under her wing, and has been instrumental in helping the young model navigate the runway – literally. "My first Milan Fashion Week was nerve-racking," Aden shared. "I couldn't believe I was there. I didn't even know how to walk in heels before modeling. My first show was the Alberta Ferretti runway, which was in a zig-zag pattern! And I kept turning the wrong way in rehearsals. I was like, 'I don't want to blow my first Milan Fashion Week show!' Gigi pulled me aside and said, 'It's okay if you make a mistake, the audience doesn't know the walking pattern.' And hearing that chilled me out. I am extremely happy that I've gotten to meet her. She's an all-around amazing person."
While Aden has won the support of Hadid, Roitfeld, fellow Somali model Iman, and brands like Max Mara, it is at home that she struggled to convey the importance of her work. "It was challenging at first to get my mom to come on board because she didn't know what a pageant was, she didn't understand why I needed to compete," she confessed. "It reminded me of when I was in high school, when she found out I was nominated by my peers to be my school's first Muslim homecoming queen. What she said to me was, 'Why do you need a crown? You're a grown woman. Are you six years old? You're going to school to learn!' I think it was cultural. She couldn't understand because it wasn't what she grew up with."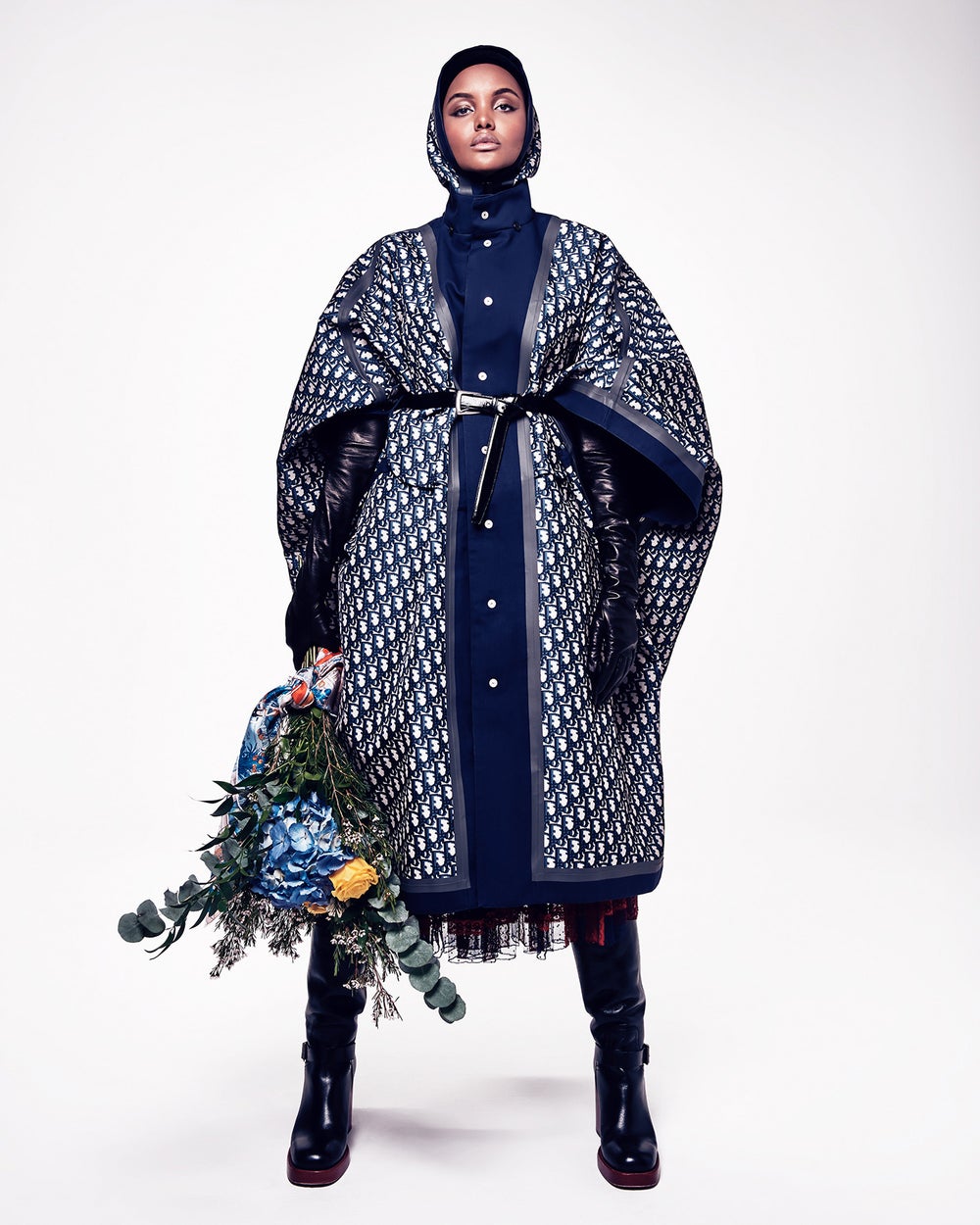 Coat, skirt, and boots by Dior, belt by Saint Laurent, gloves by Max Mara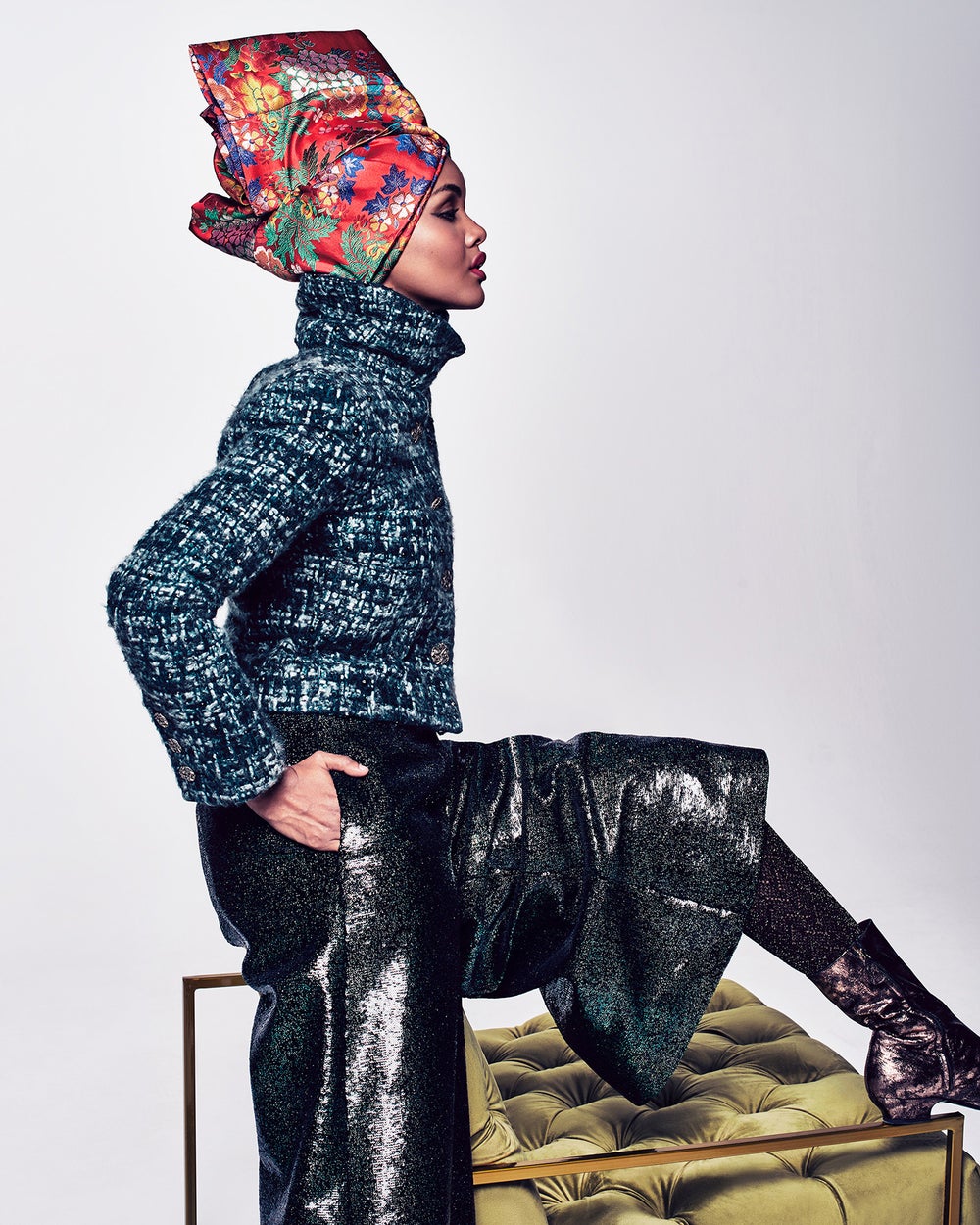 Full look by Chanel, trousers by Etro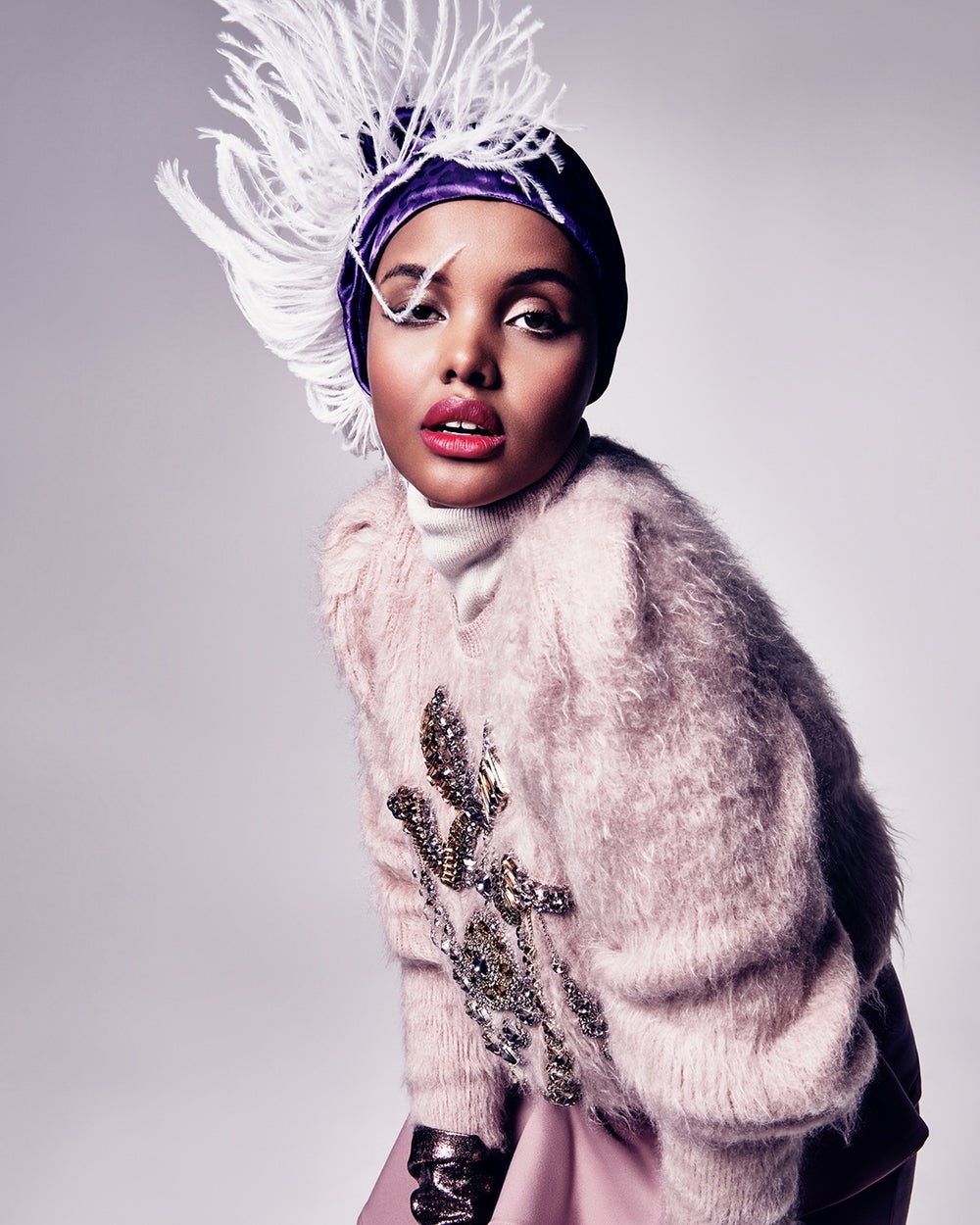 Sweater by Elie Saab, turban by Taller Marmo, gloves by Chanel
JEREMY ZAESSINGER/SAVOIR FLAIR
Aden's intention in competing in the pageant wasn't to become the first Muslim hijabi to compete in a burkini, gain international media notice, or end up on the cover of 11 fashion magazines in just over a year – all she was trying to do was get a scholarship to go to college. The fact that everything else happened was as shocking to her as anyone, but it also conveyed to her that she was in the right place at the right time, that it was imperative to ride the wave as it crested. As a young girl living in the States, she and her cousins would play dress up and pretend to be on America's Next Top Model. Little did she know that she would get there all on her own, without the aid of a reality show, a talent scout, or a wealthy benefactor. In an industry where true "started from the bottom, now we're here" success stories are as elusive as a sale on Chanel handbags, Aden is a touching example.
Yet, for her, being a model has very little to do with being beautiful, wearing clothes well, or having famous friends. She is here because she consciously seeks to represent young, Muslim women who have been shunned and ignored by the fashion industry from time immemorial. She bears the mantle of this responsibility very deliberately, yet getting her mother to understand what she was doing remained difficult, even after her successes began piling up. "She didn't understand why I was excited about things like magazine covers, and then would remind me to wash the dishes. She was so nonchalant about it all."
As frustrating as this was, Aden finally learned the way to her mother's heart. "When I showed her the cover of CR Fashion Book a year later, as a UNICEF ambassador, wearing the UNICEF shirt with Gigi Hadid, she was crying and very overcome with emotion. I think I've found the sweet spot with my mom, and that's combining fashion with things that truly matter to her, like activism and supporting UNICEF. That is when she is most proud of me." Using her platform for good brings things full circle for Aden. Her family received support from UN staff while residing at the refugee camp in Kenya, so it is pure poetic symmetry that she would return one day as part of a UNICEF mission – not as a refugee, but as an ambassador.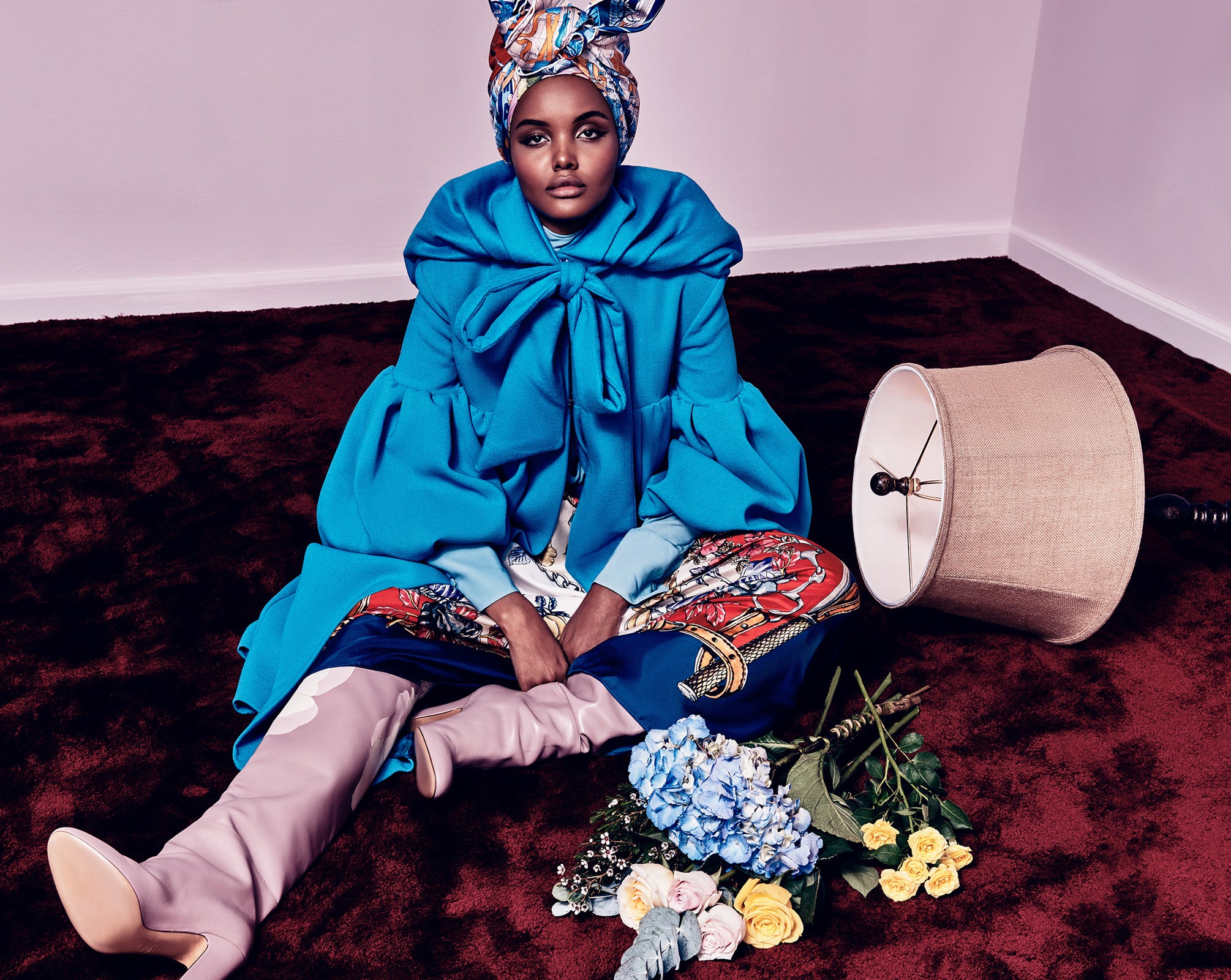 "Like this, every interview, every job, every publication, I mention UNICEF because it's very personal for me," she affirms. "I was a child who benefited directly from UNICEF [programs]. They are the reason I am here today. Also, sharing my story offers hope. They need food, drinking water, vaccines, but they also need hope. As a child, you need to dream, to hope. Don't let a border define you. I wish I had that growing up." Aden's version of hope is providing examples of a future outside of the camp, an improbable but completely realized future where a young girl from Somalia would one day star in an ad campaign for Max Mara, land on the cover of a magazine, and be held up as a role model for millions of young women.
On her return visit to Kakuma, she brought with her copies of CR Fashion Book to show the children, but like many of Aden's stories, this one is also injected with humor. "I give the magazine to the kids, and the boys are grabbing it, opening it. One boy has a horrified look on his face, and I realize it's a photo of Madonna, completely topless. And I am like, 'Oh my god! What have I done? I have traumatized these children! I am a terrible person!'" At this point, the interview pauses; we are so helpless with laughter that it takes several beats to recover our senses.
Aden's good-natured charm makes her easy to fall in love with, which is a clue to why the fashion industry's infatuation has been so deep and steady since she first appeared on the scene. She says she has never been criticized for her faith nor put down by the people she works with in any way. "In fact, for me, it's the complete opposite. I know people think it must be hard and that I must have to fight on things because I am a hijabi, but I really have to give the industry so much credit – I've been met with nothing but respect since I started. People have been very sensitive to the fact that I am a hijabi. Photographers ask for image approval, while stylists have multiple options. They make sure things aren't too tight, too short, too sheer."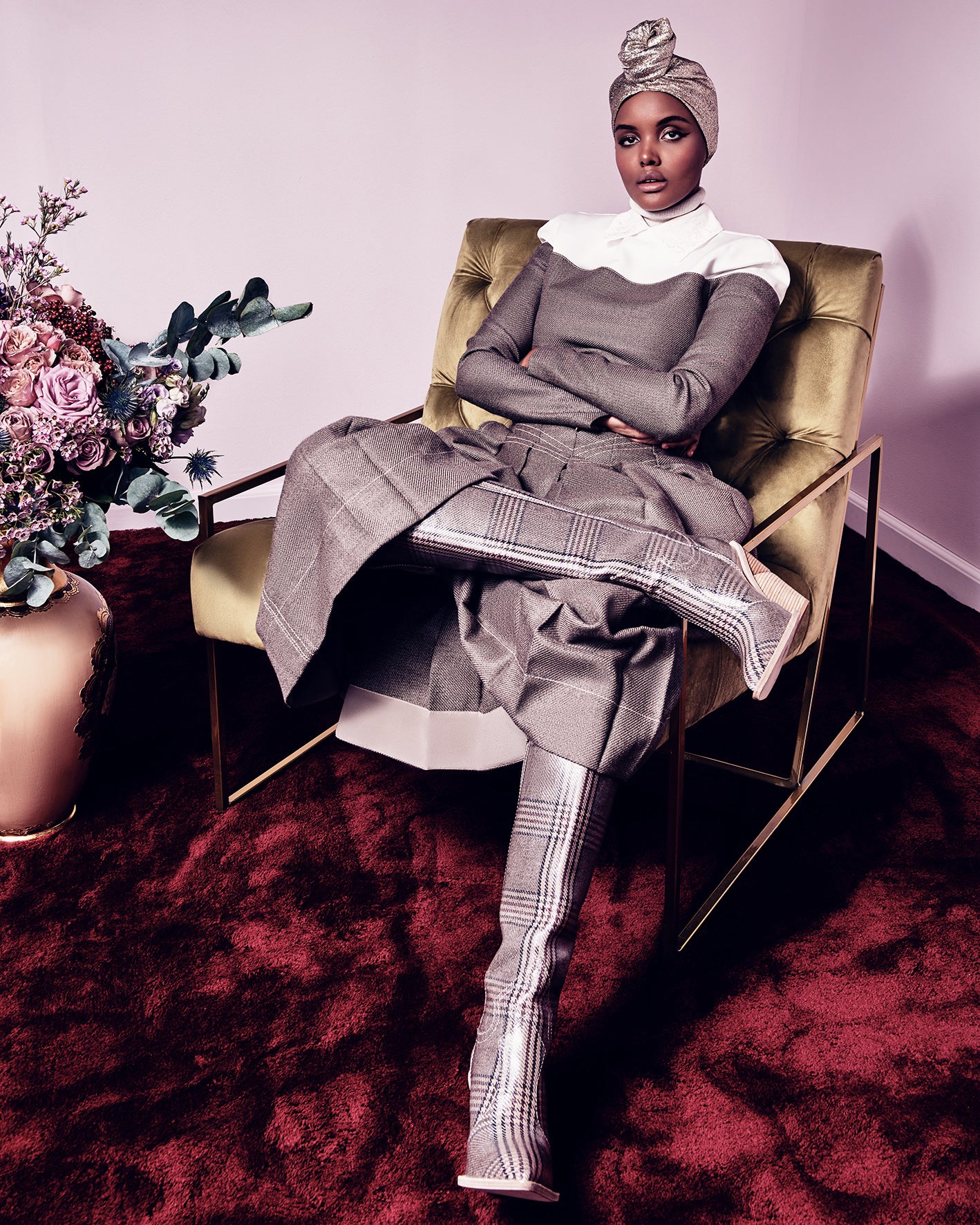 Since day one, during the busiest moments of Fashion Week, Aden was provided the respite of a private dressing room at every show. She also shares, "People are almost hyper-sensitive. They ask questions like, 'Is it okay for your feet to show?' and 'Can we do your nails?' and 'Can we play music backstage?' I'm like, 'Yes, yes, yes!' I could feel that they cared about me and wanted me to be comfortable, and I wasn't there just because they wanted a hijabi on the job. To be honest, I don't know what I did to deserve all of this." When we ask what she expects the future to hold, she gushes, "Sometimes, I feel like I can't even hope for more because I have already achieved and surpassed all of my goals in a very short time."
It is that type of radiant humility that really sets Aden apart from the rest of her peers because after all of her success, her advocacy, her activism, her Tedx talks, her magazine covers, and her campaigns, she still wonders if she deserves it. At one point in our conversation, she laments the fact that there was no guidebook on how to become a young hijabi model navigating the unknown side of the fashion industry, but we were quick to point out that she is the one writing the book. The significance of being the first isn't lost on her.
"I would say, someone needed to be the first," she admits. "I always challenge people, if you see a field or industry where no one looks like you or no one feels relatable, take it upon yourself to be that person. It's not that people don't want to be in that field or that space — it's that they might be sitting at home too scared to be the first to try. I might have been the first, but I am not the last."
Editor-in-Chief Haleh Nia Head of Content Noor Tehini Junior Producer Maria Popova Photographer Jeremy Zaessinger Stylist Amine Jreissati Hair and Makeup Artist Manuel Losada Set Stylist Samantha Francis Baker Photo Assistants Abuzar Samo and Fiel Montes Model Halima Aden