London Fashion Week
All the (Major) Highlights from London Fashion Week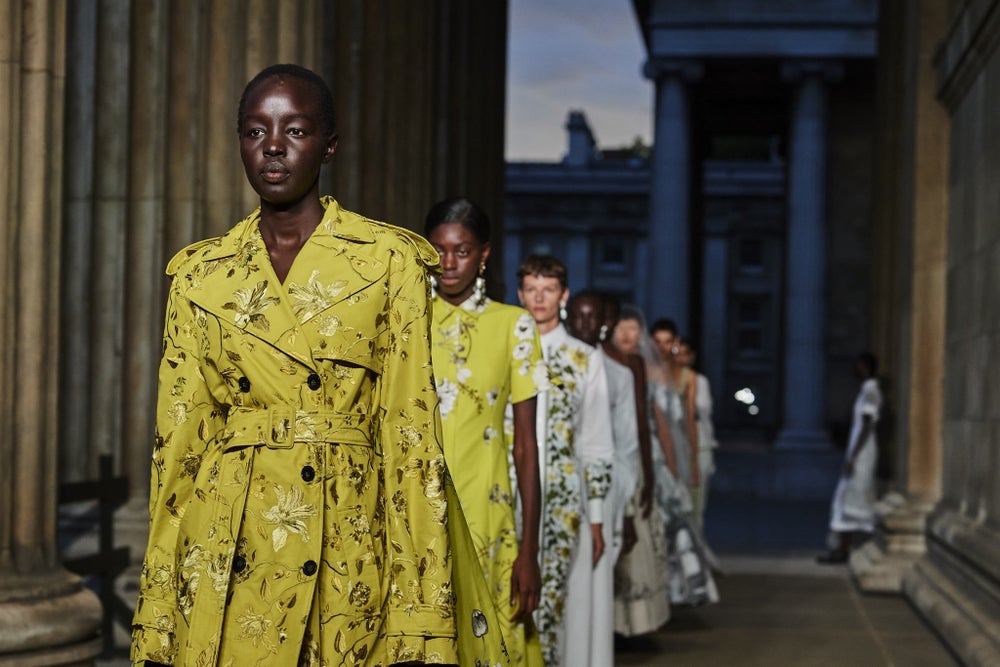 ERDEM/LAUNCHMETRICS
by Hanadi Merchant-Habib
8-minute read
September 21, 2022
A heavy mood settled over London Fashion Week after the Queen's death was announced, but for some, the show went on.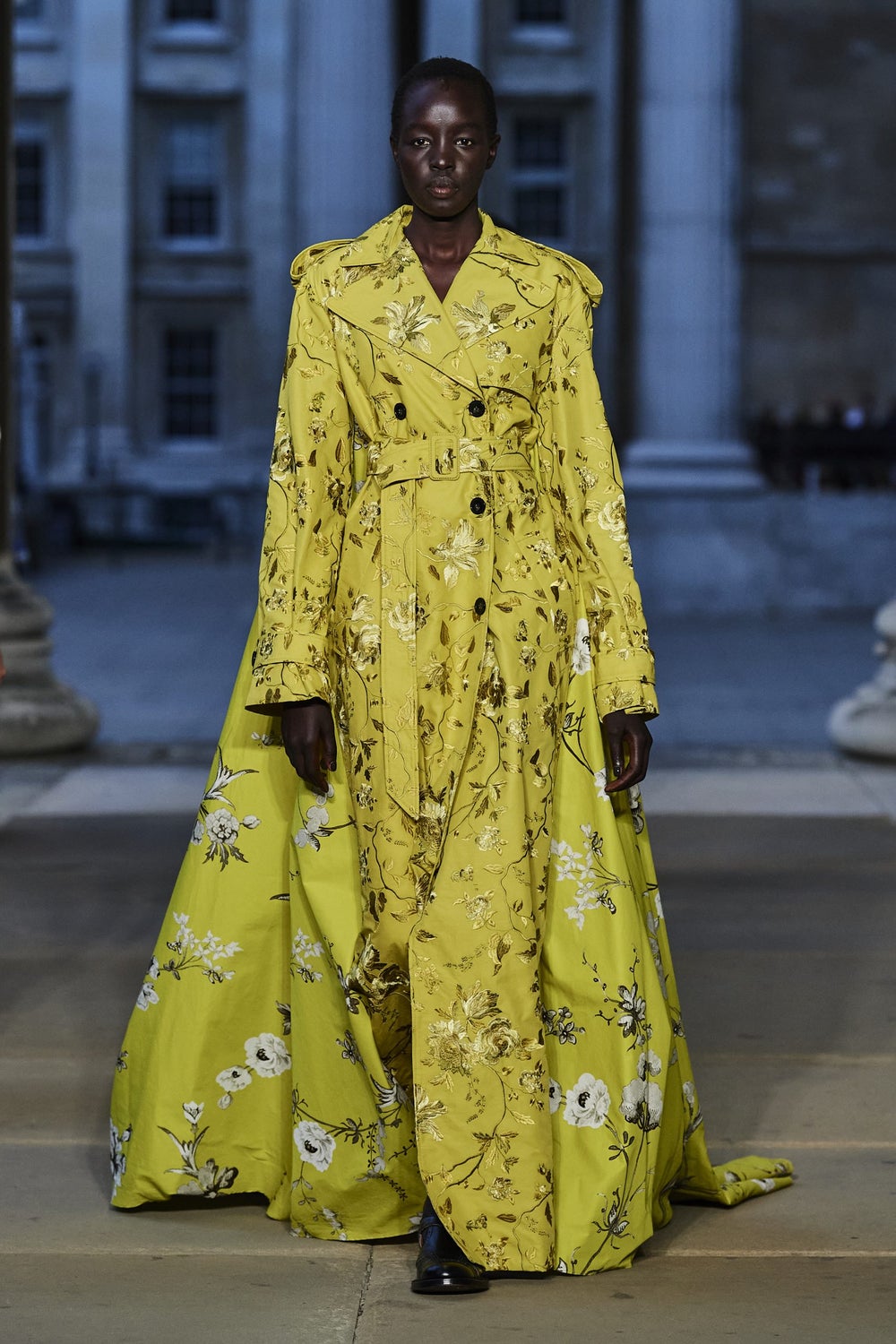 ERDEM/LAUNCHMETRICS
With the passing of Queen Elizabeth II, London Fashion Week began on an eerily somber note. Burberry and Raf Simons canceled their shows out of respect, and no after-parties were held, given that the nation was in mourning. Still, the show must go on, and it did. From Simone Rocha's resplendent tulle-filled clothes to Erdem's prints inspired by centuries-old paintings, Savoir Flair takes you through a recap of some of the best shows at LFW.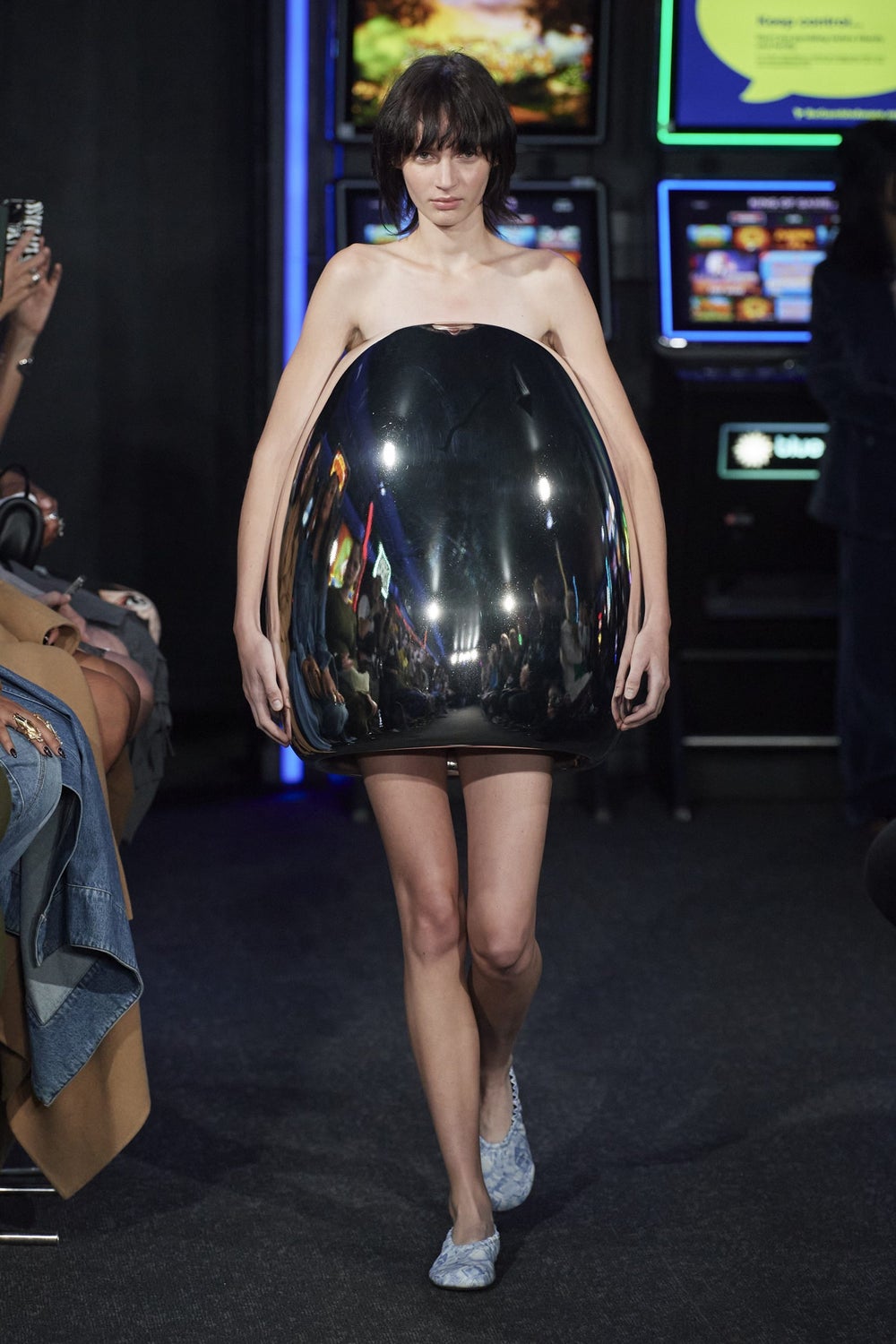 J.W. Anderson
Amping up the eccentricity factor at London Fashion Week was JW Anderson. A top made from computer keys, sweaters worn upside down, metal clothing hangers serving as decoration – it was clear that nothing is too bizarre for the designer. Not even the garbage-bag dress that was knotted on one shoulder with a fish on the midriff. There was a museum-worthy piece too – a sculptural metal strapless dress with a mirror-like surface that reflected everything in the background. This is JW Anderson's world, and it's a fun place to be in.
Of course, there were the more commercial looks that would work for the slightly less quirky client. Lace-trimmed slip dresses, crumpled T-shirts bearing a larger-than-life washing label on the front, crinkled maxis, an oversized hoodie that can double up as a mini dress, and sequined jackets with matching shorts were all excellent options. He also updated his 'Bumper' sandal with gladiator straps for next spring – we'll be in line to buy those. The show closed with a tribute to the late Queen – a model walked the runway wearing a simple black T-shirt that read "Her Majesty The Queen, Thank You".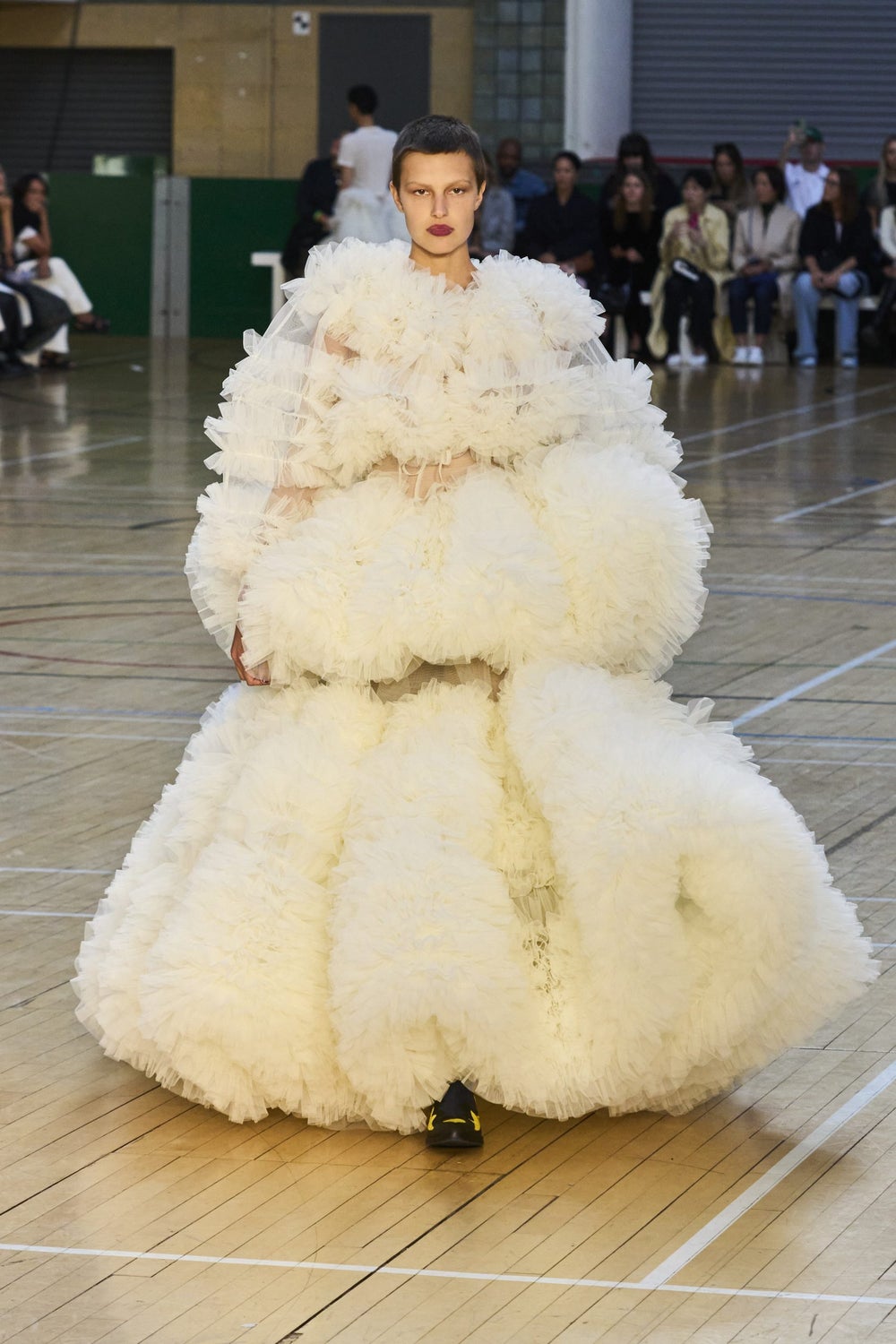 Molly Goddard
Molly Goddard was thinking about the red carpet before the advent of the internet – of simpler times when being on the red carpet was all about having fun versus non-stop posing. And so there were intricately cut evening dresses – made with cotton – which made for a more relaxed approach to eveningwear. Case in point: The simple lemon-yellow maxi with lots of ruffles at the bottom, or an ivory top paired with a flouncy skirt that was plain yet beautiful. Jersey came in the form of a ruffled pink gown that made a strong case for comfort. There was lots to love here – a top and skirt with her signature 'Twinky Horse' motif, trousers with the same print, and a lovely pink smocked top with ruffles all rated high on our wish list.
Tulle came in with full force towards the end of the show. In bright colors and lots of volume, the dresses were worn with contrasting tops – think neon-green cardigans paired with purple, or a bright-orange dress with a pink shirt. The standout piece was a sheer green off-shoulder dress worn over a striped bandeau and briefs. However, while we appreciate the meticulous garment construction and the craftsmanship of the closing look – a three-tier gown with layers and layers of tulle – it seemed slightly out of place with the rest of the collection.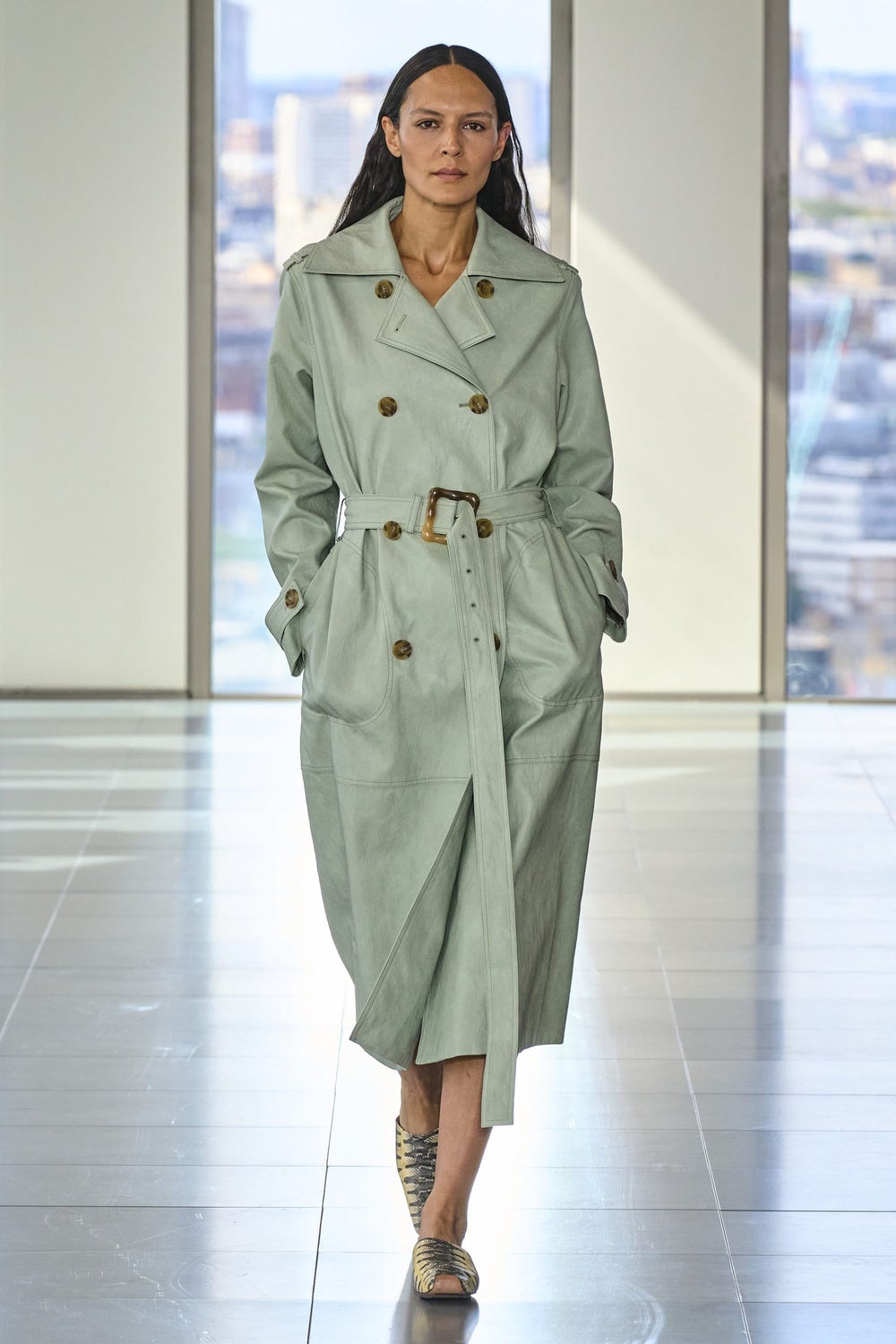 Rejina Pyo
At Regina Pyo, it was all about elevated staples and soft silhouettes. Think tailored and relaxed pantsuits – the loose-fitted nude jacket and trousers along with a full blue suit got full marks. Elsewhere, a mint green double-breasted trench coat with tortoiseshell buttons and a brown one in vegan leather stole the show. Plenty of separates followed – a red blouse with trailing ribbons, a sheer pistachio-green skirt, and a denim shacket were among our favorites. There were dresses too – the black slip dress with a gold buckle just under the shoulders will transition easily from day to night, while the ivory one-shouldered number would do well at a work event or a fancy restaurant. Overall, it was a commercially solid collection, but there was a certain blandness to it – which is often the case when designers play it too safe.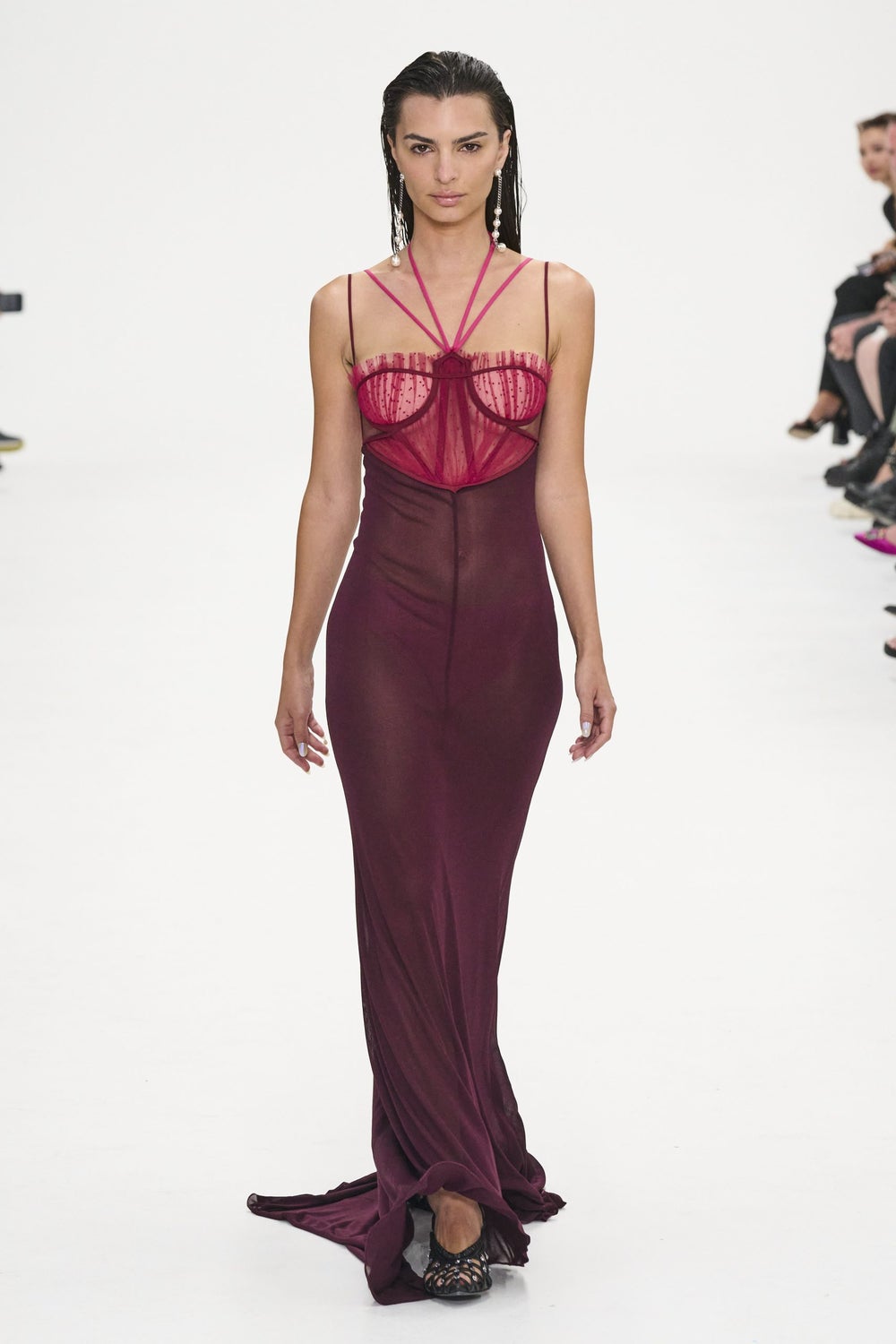 Nensi Dojaka
Nensi Dojaka created quite a buzz on social media with a flirty and ultra-sexy spring collection. With a line-up of clothes that isn't for the faint-hearted, she sent down an array of the type sophisticated, barely-there looks that have become her signature. The LVMH prize winner for emerging talent drew upon her love for lingerie-style clothing, and so there were lots of slip dresses. A black one with lace on the chest area and along the side of the dress was a favorite. Other slinky dresses followed – some came with ruffles on the breast cups, while others came with heart cutouts. There was some shimmer too – a pale pink strapless dress, in particular, stood out. Evening looks (again, all sheer) were aplenty – Emily Ratajkowski's part purple, part Bordeaux chiffon dress with delicate trimmings will definitely grace the red carpet. For the more demure dresser, there was an extremely well-tailored blazer and a cool pair of straight-cut, two-toned denim pants.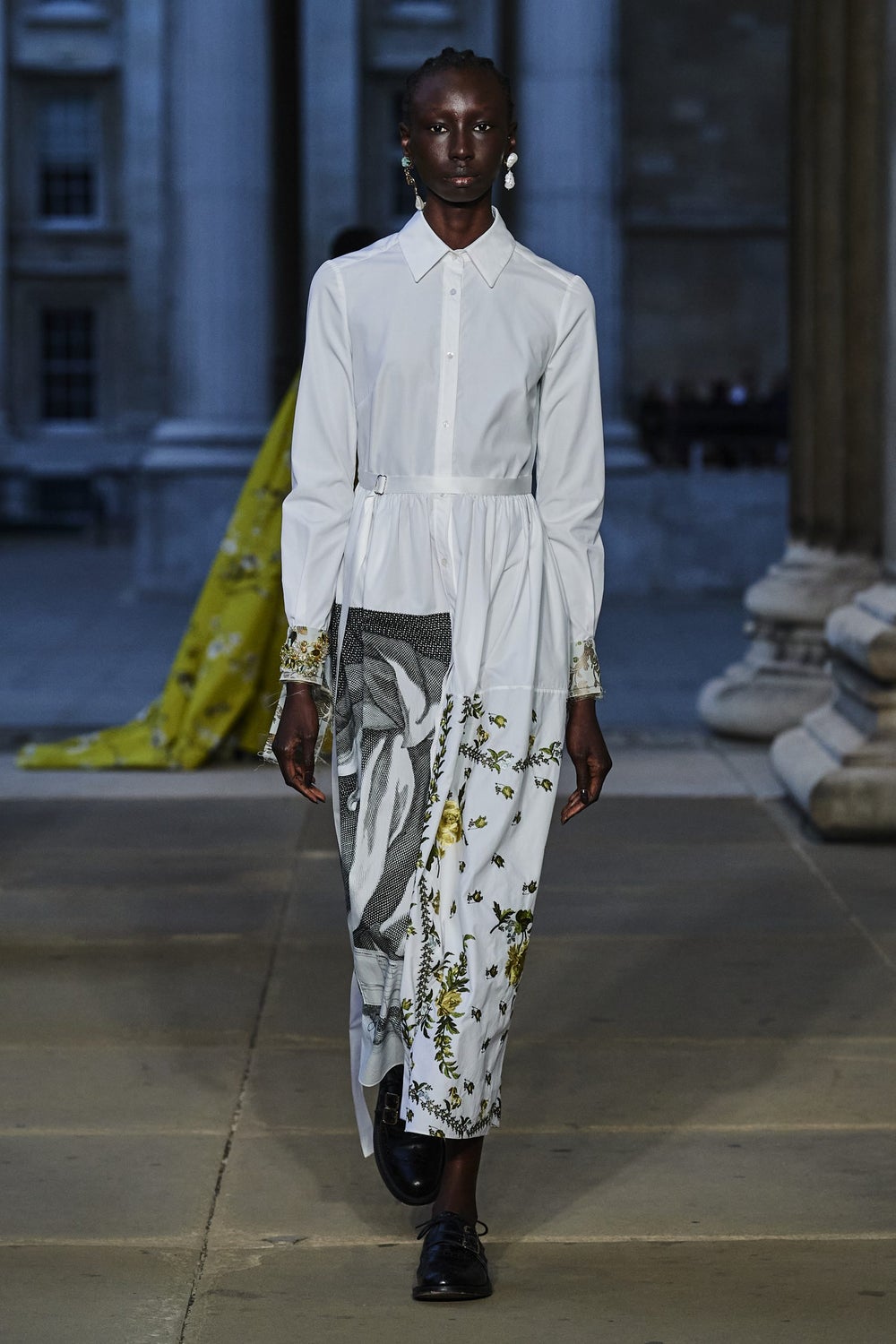 Erdem
In true Erdem style, this was yet another divine floral fantasy, but delivered with a little restraint. This was a collection that revolved around the painstaking works of museum restoration experts, which the designer actually started researching at the British Museum. Two poplin shirt dresses caught our eye – one that was slightly oversized with flora and fauna trailing from top to bottom, and another, cinched at the waist with a trailing belt and a big black-and-white print on one side. Romantic silhouettes followed – from A-line dresses with nostalgic florals on them to bustier tops with similar prints and lace evening dresses. A bright-yellow, trench-coat style gown with large epaulets, complete with a train, stole the show, as did the coral-colored dress with a white tulle overlay. The show closed with three tulle ball gowns – all with a black veil on top – an obvious yet understated tribute to the Queen, whose state funeral was held the day after.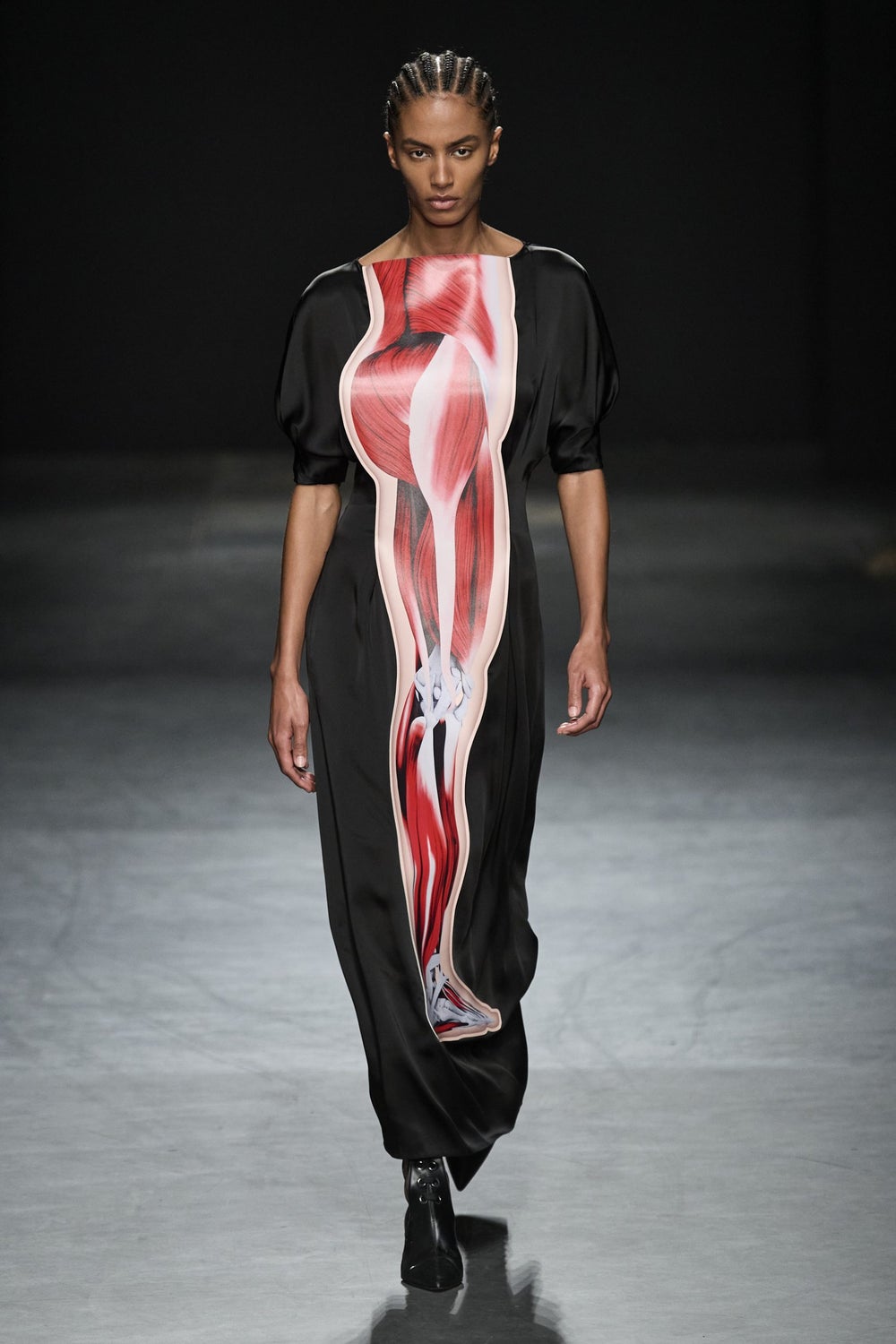 Christopher Kane
At Christopher Kane, vinyl was the word of the day (and so was human anatomy). Feminine elements like lace were juxtaposed with some kink. Case in point: The transparent PVC material was seen on top of bras, as closures on cardigans, and sometimes even mimicked the rib cage! It's hard to put down in words – let's just say Kane knew how to raise eyebrows – in a good way. There were some really pretty clothes here, especially the pastel-colored skirts with lace trims in varying hemlines – all very classy and all very wearable. Other collectibles included a cashmere cape-like cardigan which looked like it had casually been thrown over the shoulders and held together by the metal hardware on the clavicle.
Next up was the human body – an eccentric choice for decoration – but with Kane, one never knows. A black maxi dress came with a ginormous anatomical sketch of the human body from the waist down, and a pink evening dress had a sketch of human hands on the shoulder. There was also a reference to his fantastic Fall/Winter 2014 collection – the swathes of yellow organza, cut to perfection and put together like the pages of a book – except this time, underneath the fabric, there was plastic. The enfant terrible of London fashion week has done it again. What. A. Show.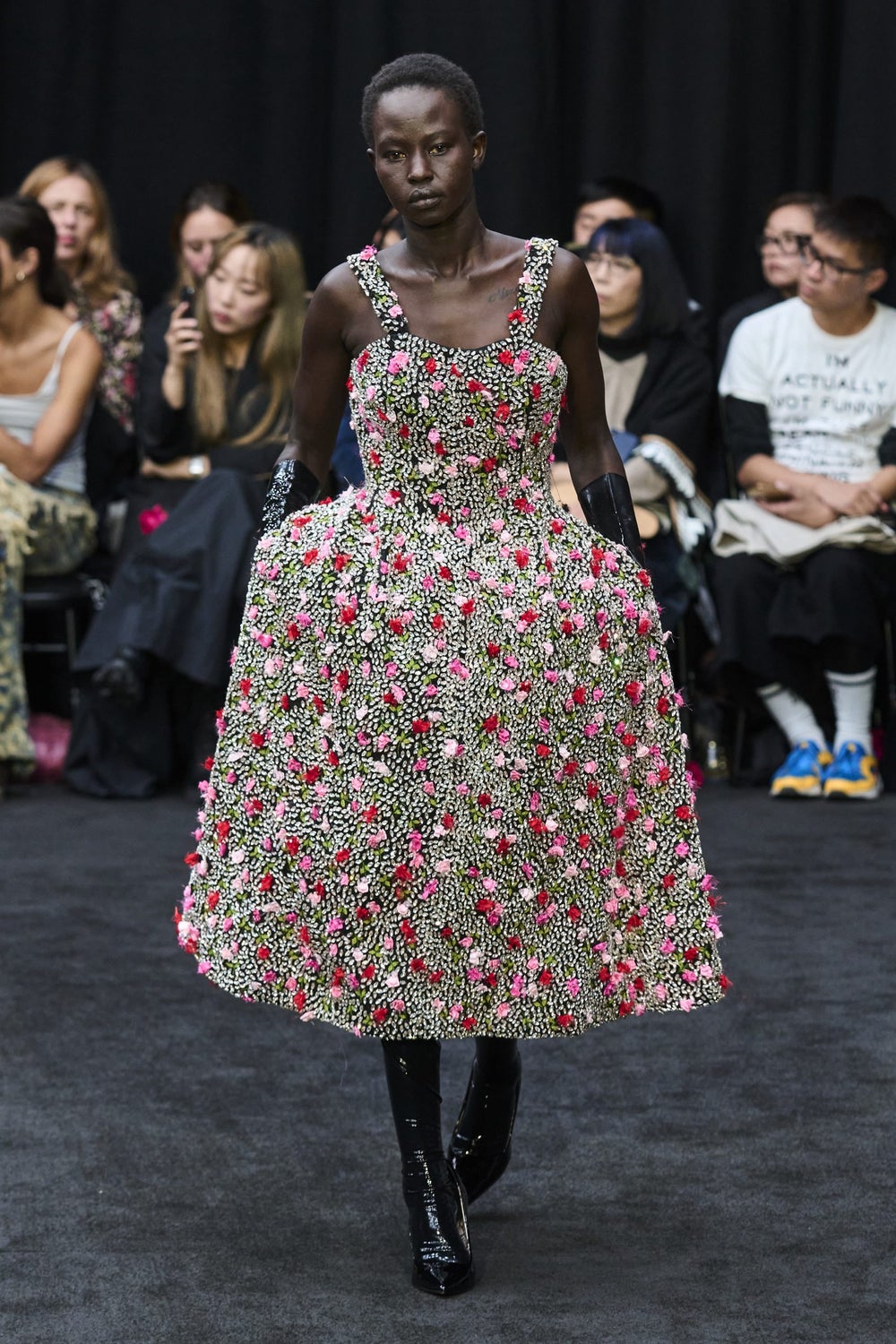 Richard Quinn
At Richard Quinn, the mood was melancholic. The designer was mourning the death of Queen Elizabeth II, and he made that clear with the clothes – after all, the Queen had sat front row at his debut show back in 2018. Twenty-three of the 49 looks he sent down were all black. Amidst an installation that played continuous footage of the Queen, the models walked covered in black — some with their faces hidden behind a veil, and some wearing a black crown. As soon as her death was announced, the designer and his team worked tirelessly for ten days to get these clothes ready for the show – it was his way of mourning – for an extremely emotional tribute and the most powerful moment of LFW. There were obvious references to the royal family's closet from days gone by. The long veils were similar to what Queen Elizabeth and the Queen Mother wore to the funeral of King George VI in 1952. A long, A-line dress with lace and voluminous sleeves was reminiscent of Queen Victoria's mourning clothes.
The mood changed in the second half of the show – quintessential Quinn silhouettes started to appear. Structured dresses with shoulders so high — they almost enveloped the models' faces — were paired with latex leggings. A blue-and-white floral number, in particular, stood out. Some looks even came with an oversized black corsage on the lapels. Elsewhere, a black-and-white dress made entirely of feathers and worn over mint green latex leggings was spectacular. The couture-like craftsmanship here was unmissable. A bulbous dress covered with embellishments and a magnificent yellow cape dress with tiny sequins all over were the ultimate show stoppers. Bravo Richard Quinn, Bravo!