Milan Fashion Week
All the Major Highlights from Milan Fashion Week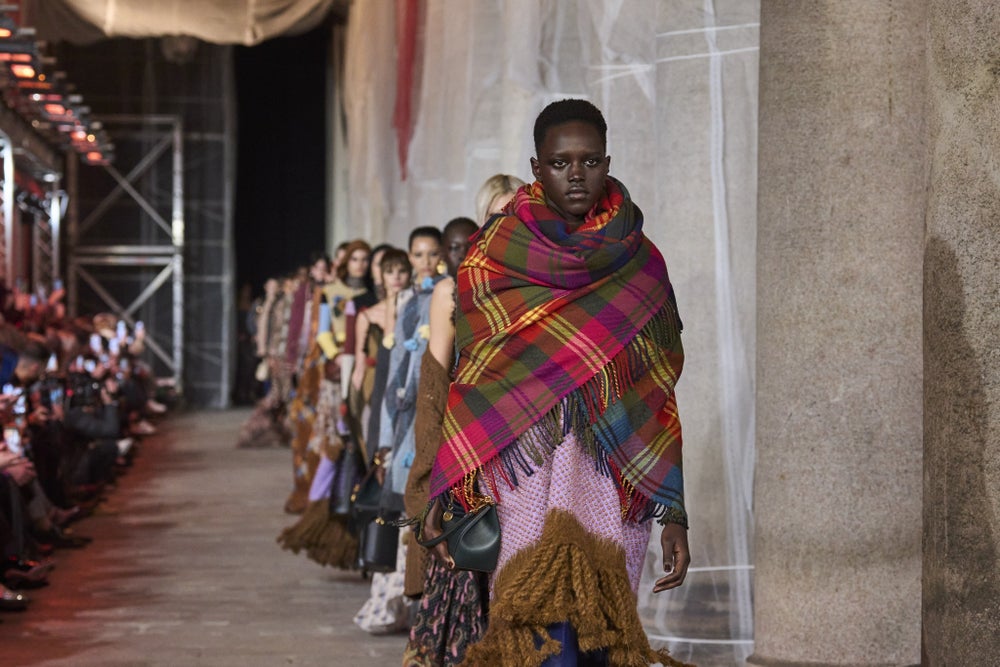 ETRO | LAUNCHMETRICS
by Hanadi Merchant-Habib
9-minute read
February 28, 2023
Discover the highlights from Milan Fashion Week Fall/Winter 2023, including Moschino's surrealist-meets-punk collection, Diesel's artisanal lineup, and Max Mara's cozy-chic collection
Diesel should have been awarded as the most viral show at Milan Fashion Week not only because of their wild set design but because Jennifer Coolidge was sitting front row. Except, she wasn't. Using prosthetics and wigs, artist Alexis Stone transformed into Coolidge and fooled everyone. It was all people could talk about that day. At Bally, the show started fashionably late thanks to Adrien Brody, who walked in with Georgina Chapman by his side. As always, there was no shortage of celebrities in Milan.
Beyond the front row, there was plenty to devour. At Moschino, Jeremy Scott fused surrealist references with elements of punk, while Bally's newest creative director Rhuigi Villaseñor ushered the brand into a new era with his lineup of slick exotic skin jackets and faux fur coats. From Max Mara's cozy chic outerwear to Missoni's body con dresses and slinky knitwear, Savoir Flair takes you through some of the best shows at MFW.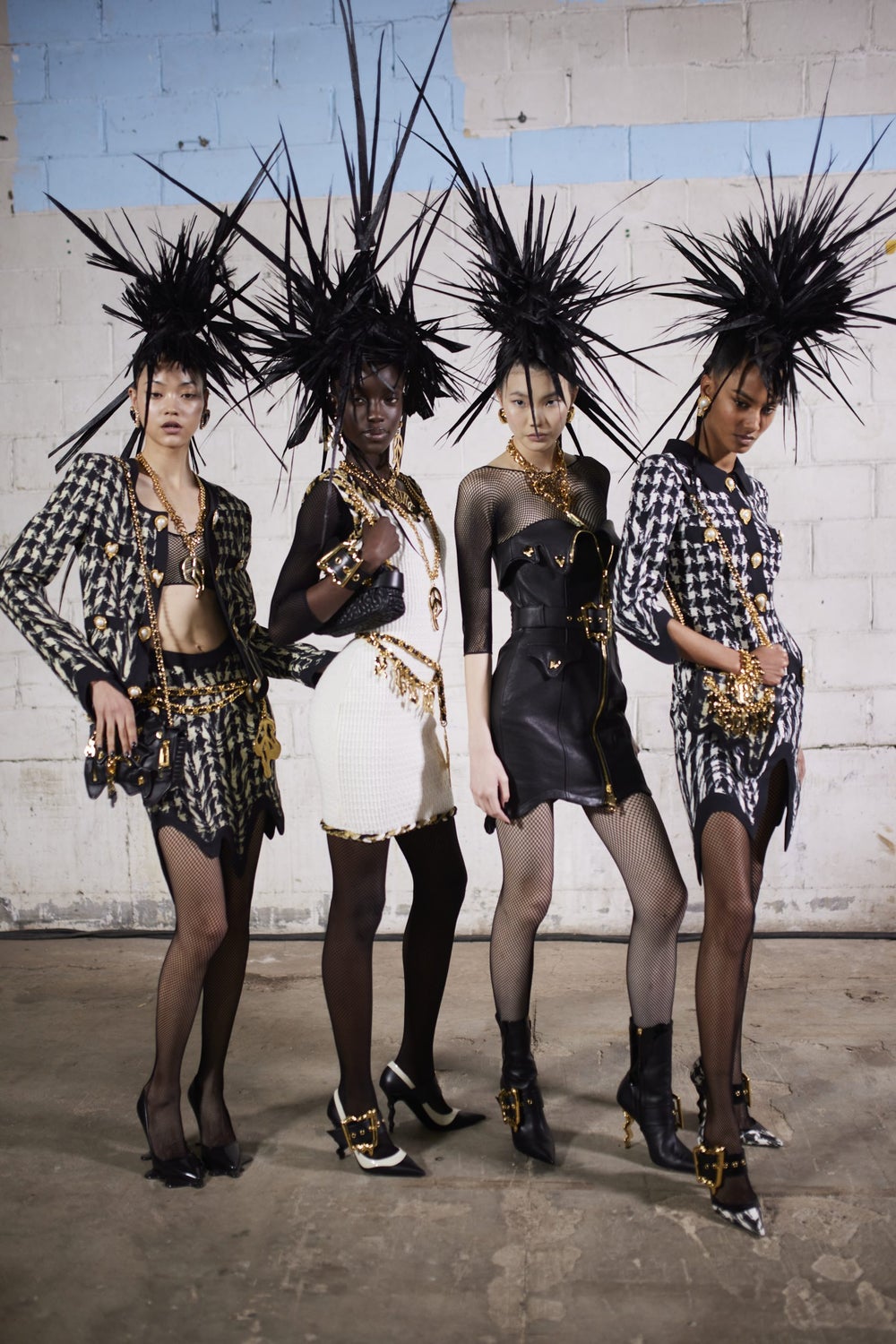 MOSCHINO | LAUNCHMETRICS
Glenn Martens really knows how to make covetable denim. For Diesel's Fall/Winter 2023 collection, the designer gave denim a whole new meaning with his experimental approach. Long skirts, evening dresses, and jeans all came with sheer detailing – devoré denim, as it's called. A full-sleeved maxi dress with trompe-l'œil detailing on the bust was a knockout, as were jersey pieces featuring the same sheer polyester organza patches. He gave distressed denim a new meaning with the degradé separates that looked like a ferocious predator had attacked them.
Elsewhere, skirts and dresses that were quite literally "hanging by a chain" (quite literally) caught our eye. Martens added some humor with glossy skirts and jackets flaunting creepy up-close images of teeth-baring smiles. The ultimate showstopper, though, was an oversized coat made from leftover leather treated to look like it had melted plastic all over it. This was undoubtedly one of the most talked-about collections at MFW; founder Renzo Rosso has struck gold with Martens.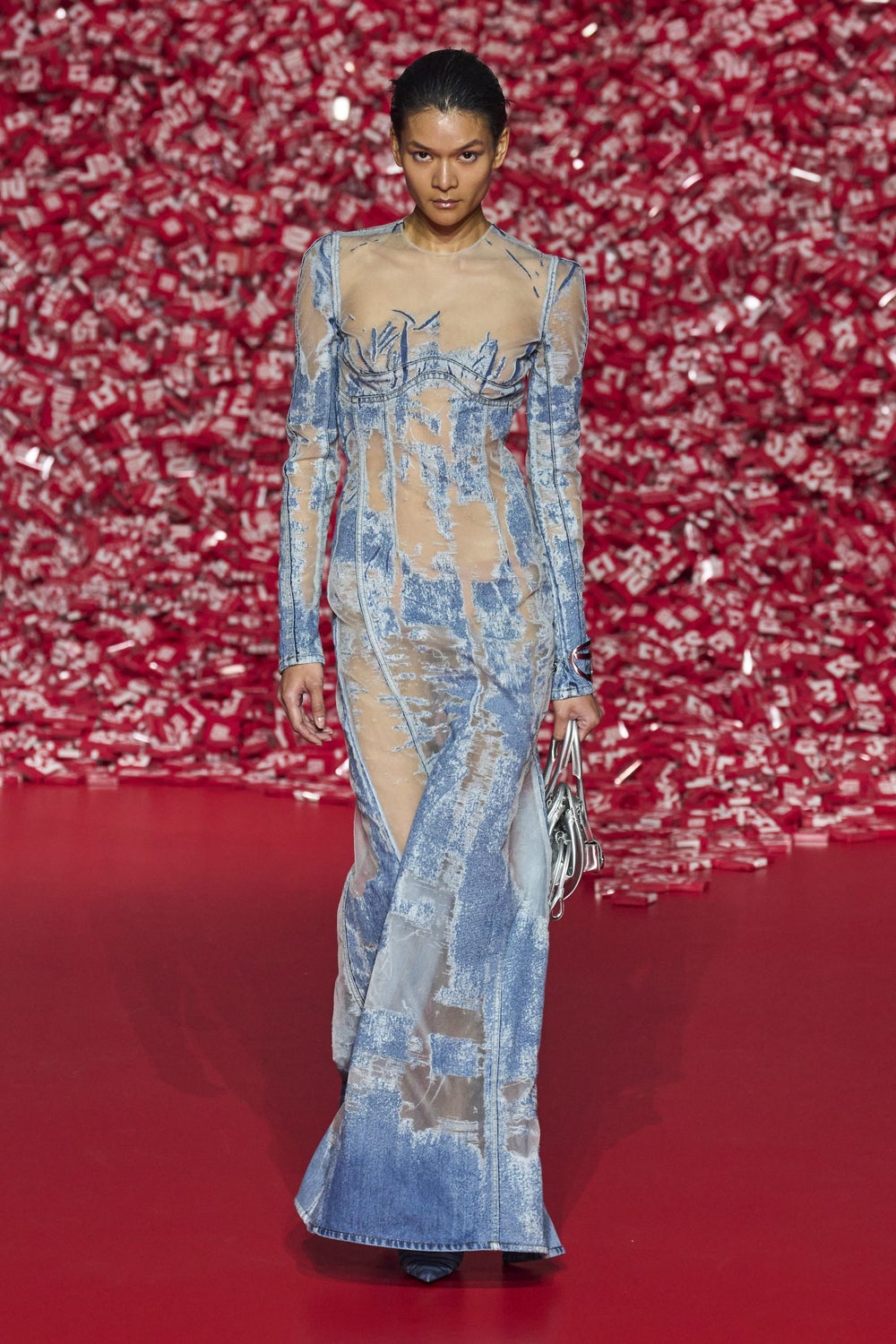 DIESEL | LAUNCHMETRICS
At Del Core, it was all about understated glamour. Designer Daniel Del Core sent down a lineup of 30 looks, and from the puffer jackets (styled off-shoulder) with crisscross leather belts on the bust to the tailored pantsuits and cutout dresses, each look was par excellence. The eveningwear, in particular, was fabulous. A strapless dress with a tulle skirt was bursting with hand-embroidered flowers from his atelier, as was the sequined sculptural black gown that closed the show. There was plenty on offer for the minimalist lover, too. Cue a nude plissé gown, twisted and knotted to one side and a black floor-length number with cutouts held together with hook-eye closures.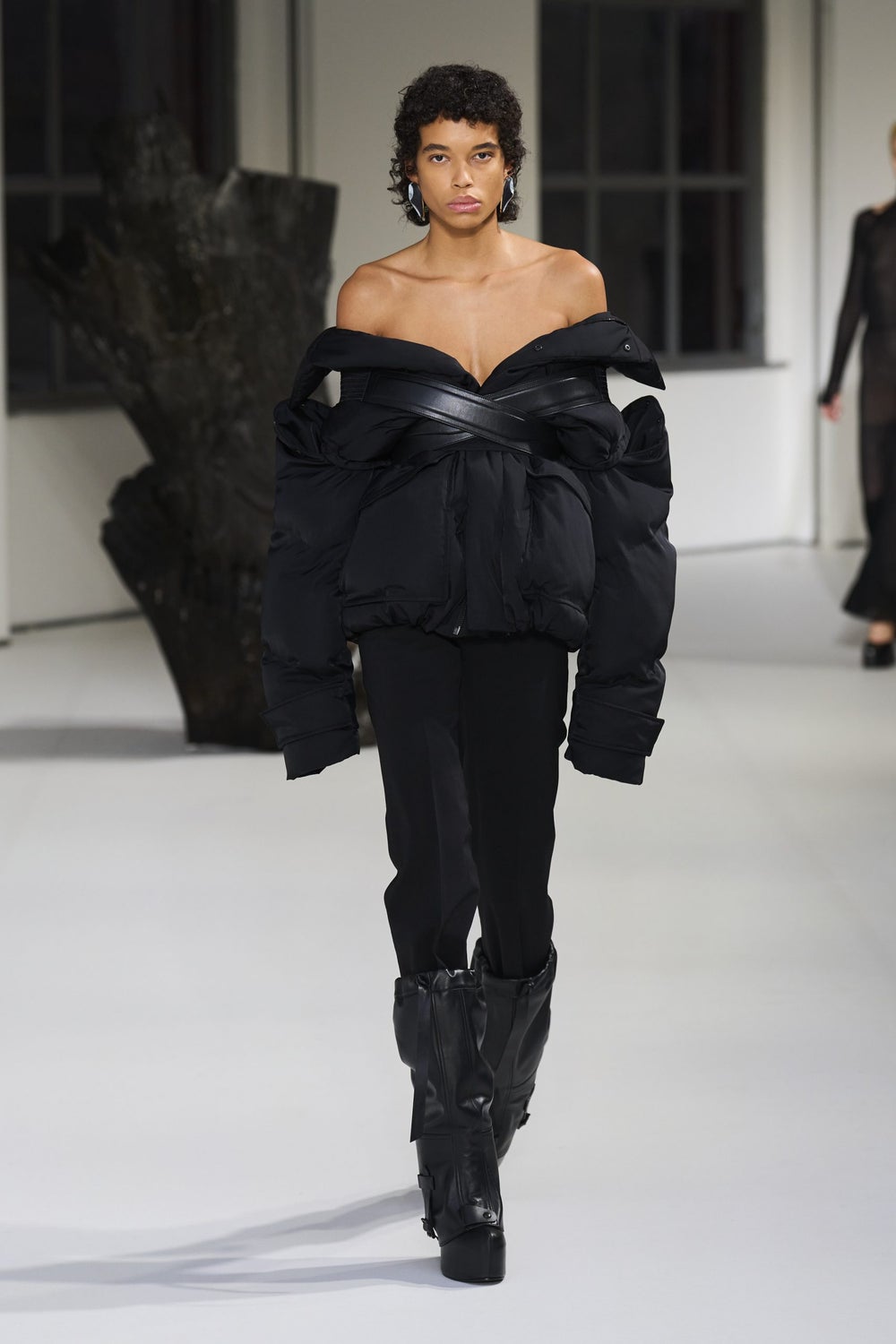 DEL CORE | LAUNCHMETRICS
Etro's Marco De Vincenzo made a strong case for blankets on the go for the coming Fall/Winter 2023 season. In technicolor tartan prints, they were worn over chunky knits and ruffled chiffon dresses. Elsewhere, mid-thigh length oversized cardigans were paired with paisley-printed dresses with plunging necklines and a hint of lace detailing. Comfort was key here as silhouettes were predominantly loose and fluid, as seen from flared pants (in denim, corduroy, and wool) and (extra-large) pussy-bow blouses. Additional richness came in the form of tailored suits in velvet and brocade – complete with paisleys. Not to be missed were U-shaped double-breasted jackets without any lapels in all sorts of delicious textiles, including tweed and leather. Absolute hits.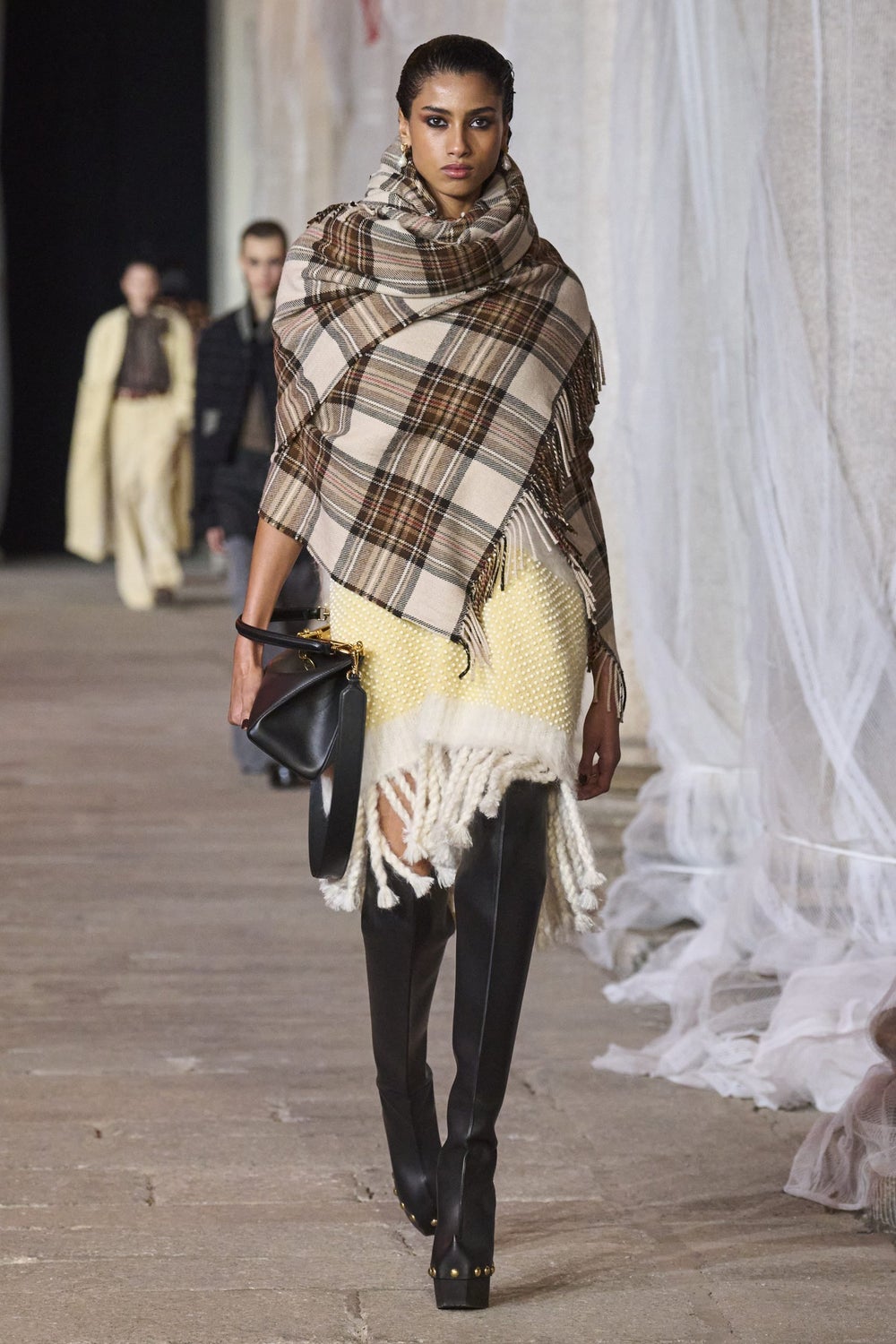 ETRO | LAUNCHMETRICS
As always at Max Mara, Ian Griffiths' lineup of outerwear was unparalleled. Teddy coats in pink, turquoise, and lavender, a duster coat with quilted lining, a hooded caramel parka, a luxe velvet bomber, and a puffer jacket with a knitted front – there was so much to be desired here. Elsewhere, Griffiths referenced 18th-century silhouettes – there were pannier skirts in rich brocade and even a double-breasted cashmere dress with pannier pockets – all looked relevant circa now. Lots of knitwear followed. A series of dresses – one-shoulder, strapless, and sleeveless – held by cross-body belts were surefire hits, as were recurring corset belts. Other separates included long, flared pants and utilitarian maxi skirts, of which the brown trousers with a wrapped waistline stood out. Overall, this was a commercially solid collection with contemporary pieces that will do well once it hits the stores.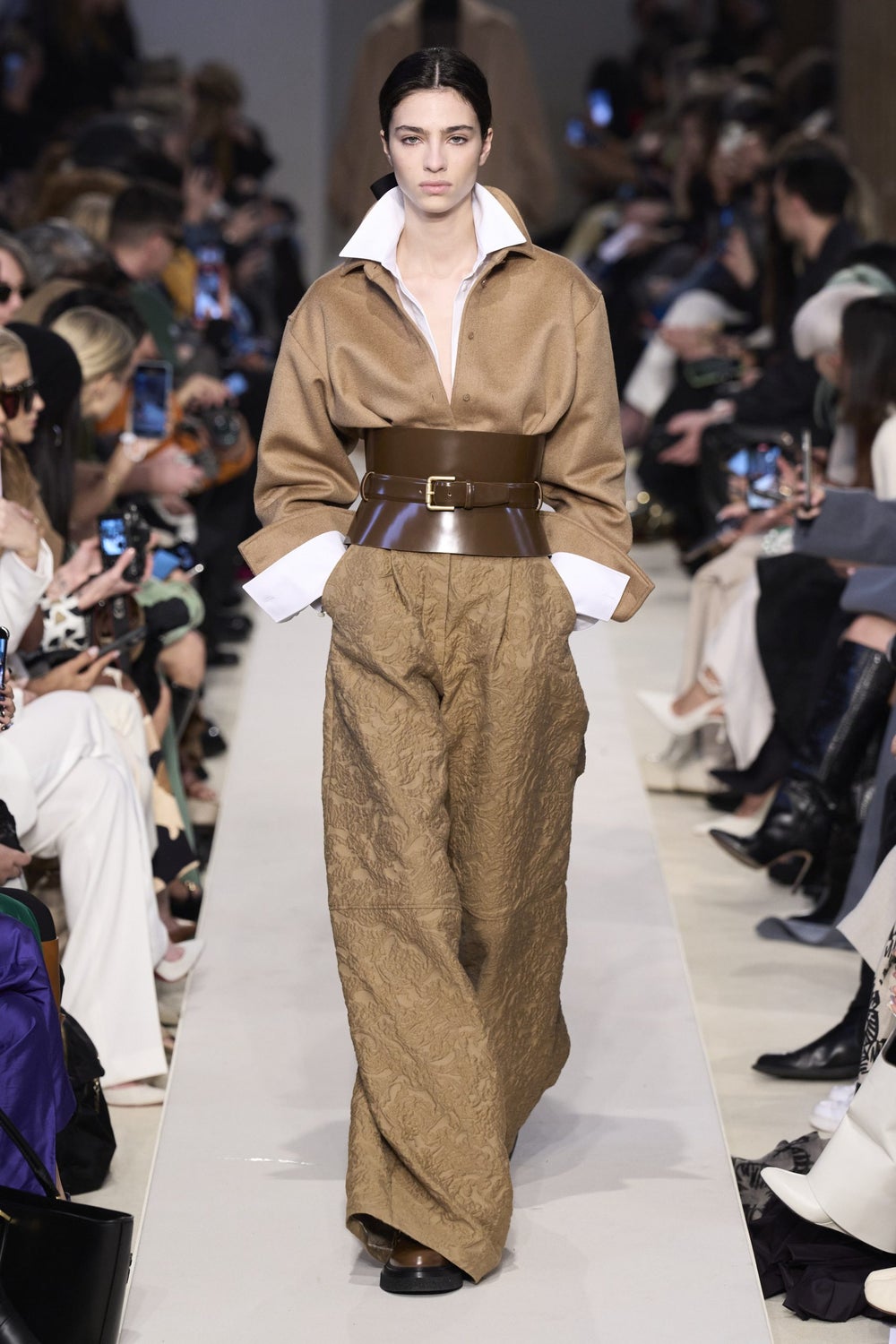 MAX MARA | LAUNCHMETRICS
Velvet seemed to be a popular fabric on the Milan runways. It was no different at Alberta Ferretti. Deep burgundy velvet dresses and a double-breasted velvet coat were real winners. The designer also experimented with a somber grey textile for suits, even transforming it into a minimalist strapless gown with internal corsetry. The outerwear, too, was strong – be it the cropped and belted leather puffer with shearling details, sweeping dusters in leather and wool, or cocoon coats. Ferretti dove deep into glamorous lingerie style looks towards the show's end. Of the lace and mesh slip dresses, the black one knotted to one side was very sexy, as was the mini fishnet skirt with a sequined border. Boudoir dressing can be very risqué – it can look trashy or classy depending on how it's designed. Ferretti's offering was the latter. A long black skirt paired with a sheer top and a short structured jacket was pure class.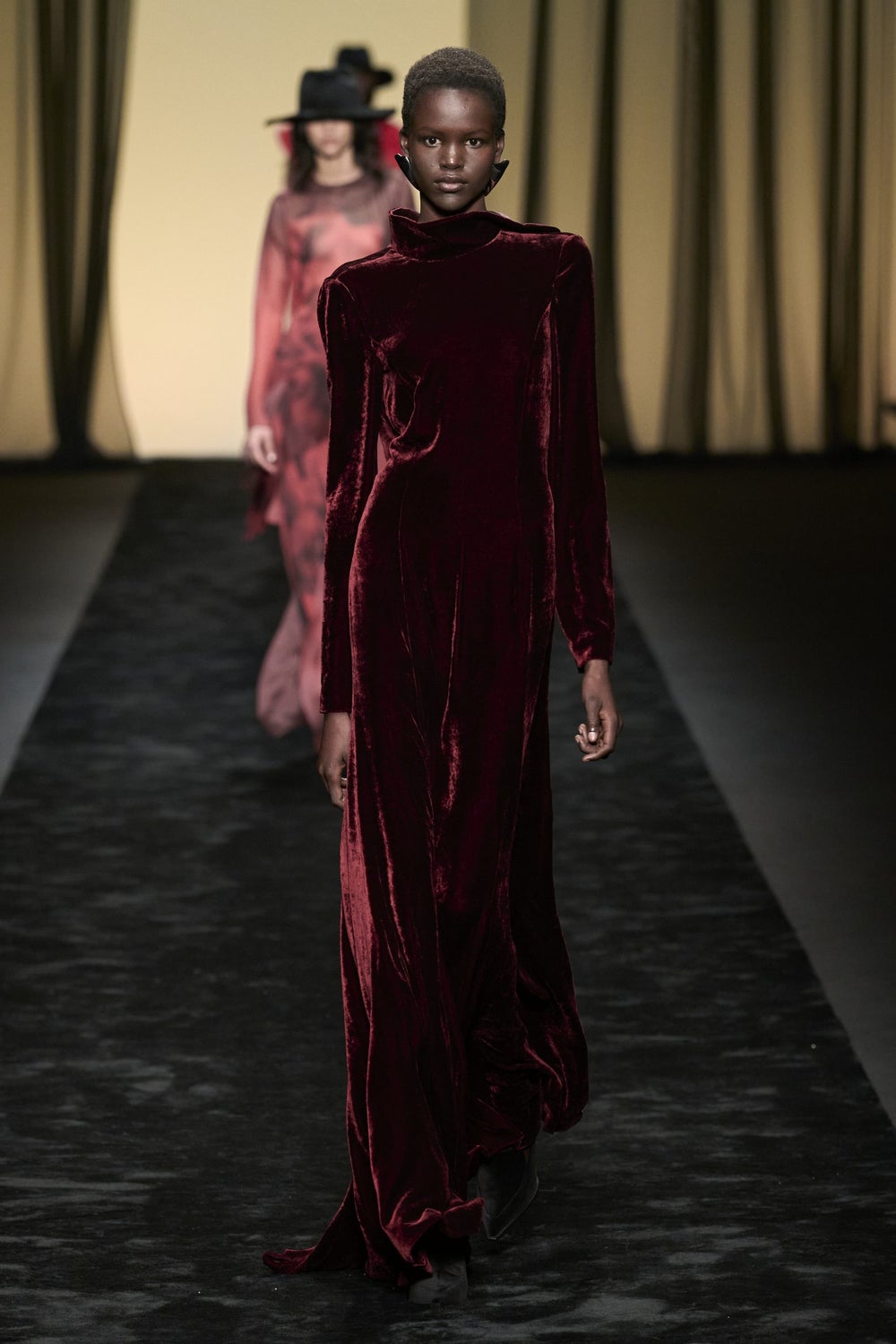 ALBERTA FERRETTI | LAUNCHMETRICS
If we're playing "word of the day" games, then at Blumarine, it was shearling. In abundance, it decorated the collars and cuffs of leather jackets, circling miniskirts, and the borders of buckled bustiers. Next up was metallic jersey – as second-skin leggings, tops, skirts, and beautifully draped mini dresses. The gold one, in particular, was sublime. Creative director Nicola Brognano used stretch jersey and molded it into body con dresses paired with matching leggings. A grey cowl-necked number with frayed hems accessorized with studded leather cuffs accessories was cool and fierce. Eveningwear options included a few ruffled dresses and a spectacular frayed georgette gown in bright red. However, it is those insanely cool cargo pants with buckle detailing on the knees we have our eyes on for next season.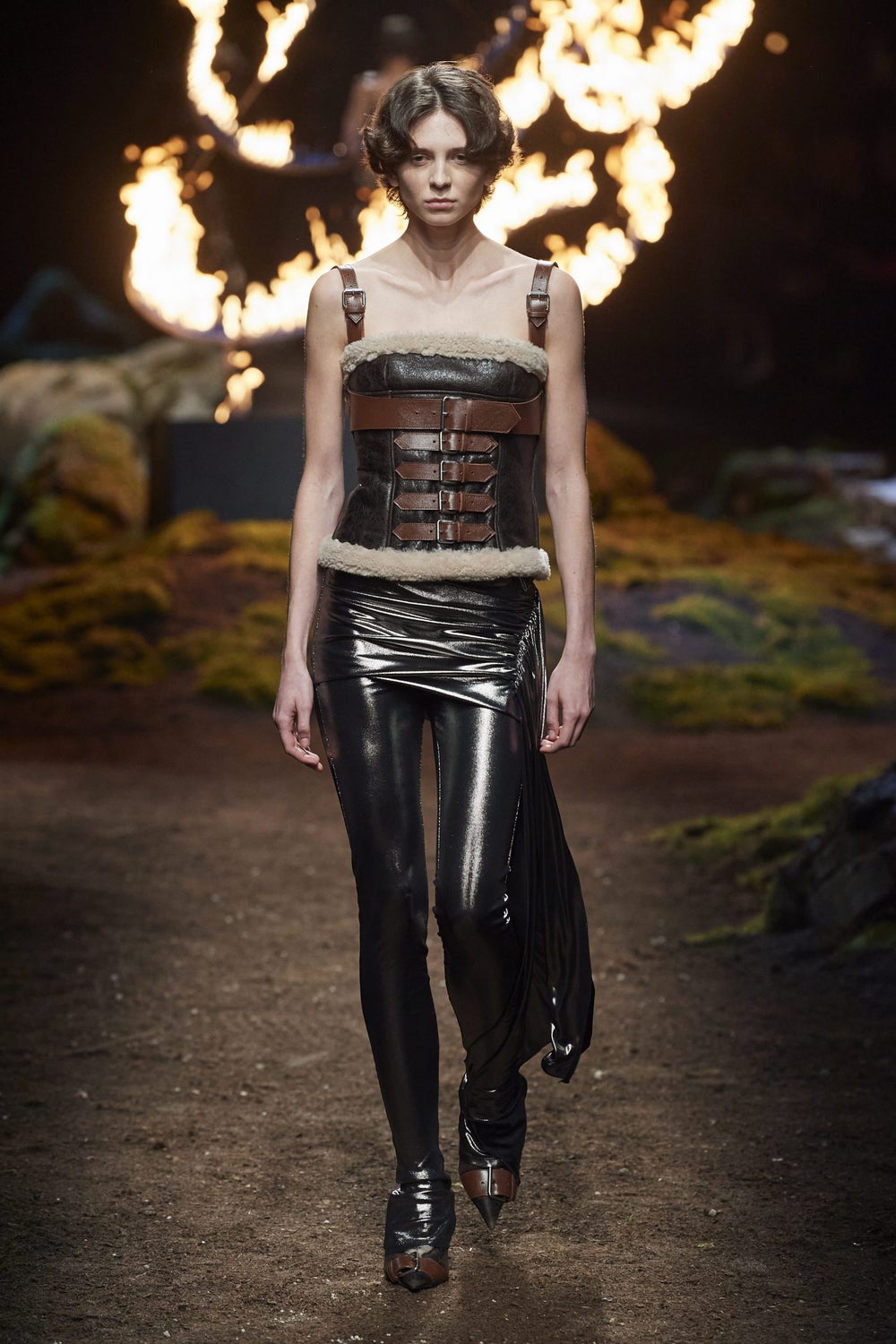 BLUMARINE | LAUNCHMETRICS
Jeremy Scott knows how to put on a show, and this time it was surrealism with a side of punk for the Moschino Fall/Winter 2023 collection. Wavy hemlines seen on his signature biker jackets, cropped boleros, skirts, and dresses added to all the fun. The "ladies who lunch" skirt suits came with a distorted houndstooth print reminiscent of Salvador Dali's The Persistence of Memory – a reference point for the collection. Elsewhere, there were oversized jewels – adorning the pockets of jackets and as buttons in other looks. This is Jeremy Scott's Moschino, and there's no room for minimalism here. And so came the oversized spikes – going down the sleeves of a jacket or as weapons of mass destruction jutting out at odd angles from an evening gown. Finally, the eveningwear crafted with couture-like precision was the cherry on top. A Cinderella-style tulle ballgown was exploding with jewels, as was a slinky mesh number, while the jewel-toned taffeta dresses were screaming "red carpet".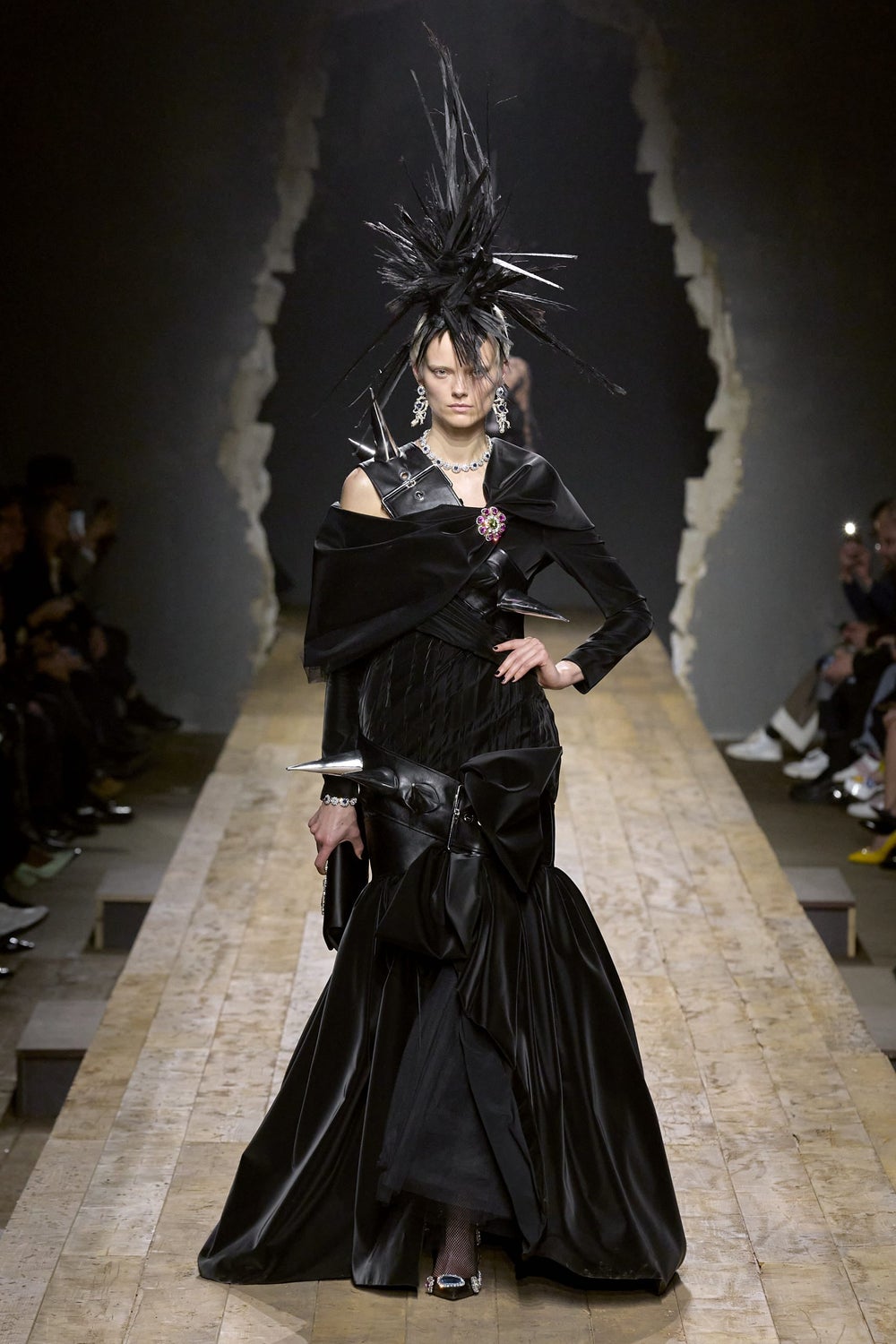 MOSCHINO | LAUNCHMETRICS
If there's a brand in desperate need of rebranding, it's Tod's. And we mean this in the nicest possible way – not many walk into the boutique thinking ready-to-wear, which is surprising because the offering is quite good. Walter Chiapponi's fall lineup boasted the same superior craftsmanship seen in the brand's accessories. Overall, the silhouettes were elegant, with broad shoulders being the focal point. There were multiple floor-sweeping coats – some of which had leather-covered buttons reminiscent of the soles of their iconic pebbled loafers. The ice-grey leather coat and full shearling one were absolute knockouts. Elsewhere, shearling-lined nappa leather bomber jackets and long double-breasted blazers in an hourglass shape were very cool. Other separates included paper-bag-waist trousers, short skirts (complete with wide belts with a phone pocket), zip-up polo tops with leather detailing, shirts with exaggerated shoulders, and lovely knit dresses. With a solid rebranding strategy in place, Tod's ready-to-wear can sell like hotcakes.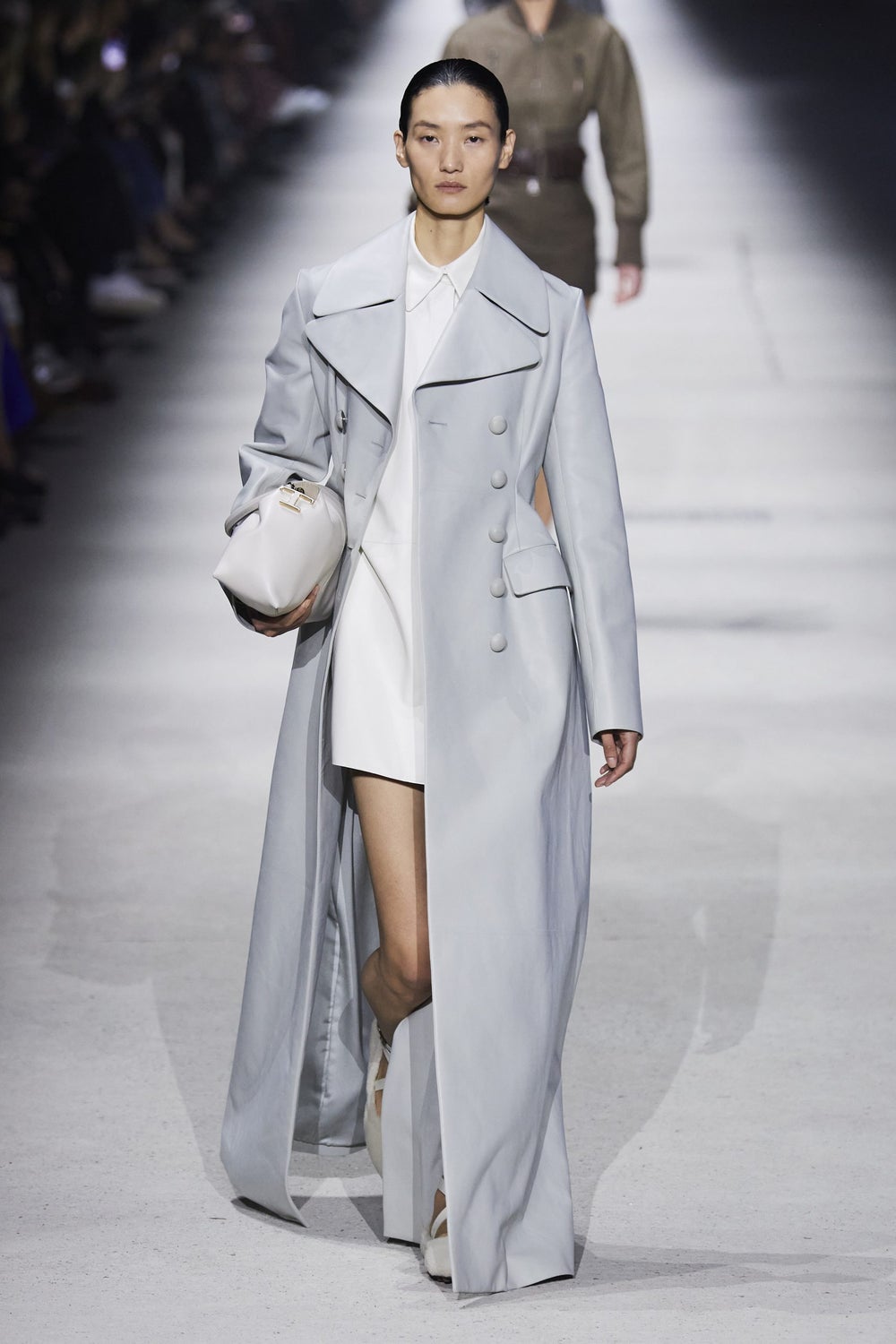 TODS | LAUNCHMETRICS
Rhuigi Villaseñor is certainly doing an excellent job at revamping Bally. His latest collection showcased plenty of outerwear – it is Fall/Winter 2023, after all. Belted faux fur coats (the purple one was just lovely), slick snakeskin trench coats, and a glamorous après-ski puffer jacket were all fantastic. Leather miniskirts further added to the cool. Cue a burgundy crocodile leather number and another black one with gold hardware spelling out the brand's name. Elsewhere, there were chic button-down shirts paired with zip-up knee-length skirts and well-tailored trousers – an ode to fuss-free dressing. The eveningwear was understated yet checked the right boxes. Case in point: Irina Shayk's sophisticated velvet dress that closed the show or Look 38's simple sleeveless black dress with a long slit. And what of those magnificent thigh-high suede boots? We'll take one in every color, please.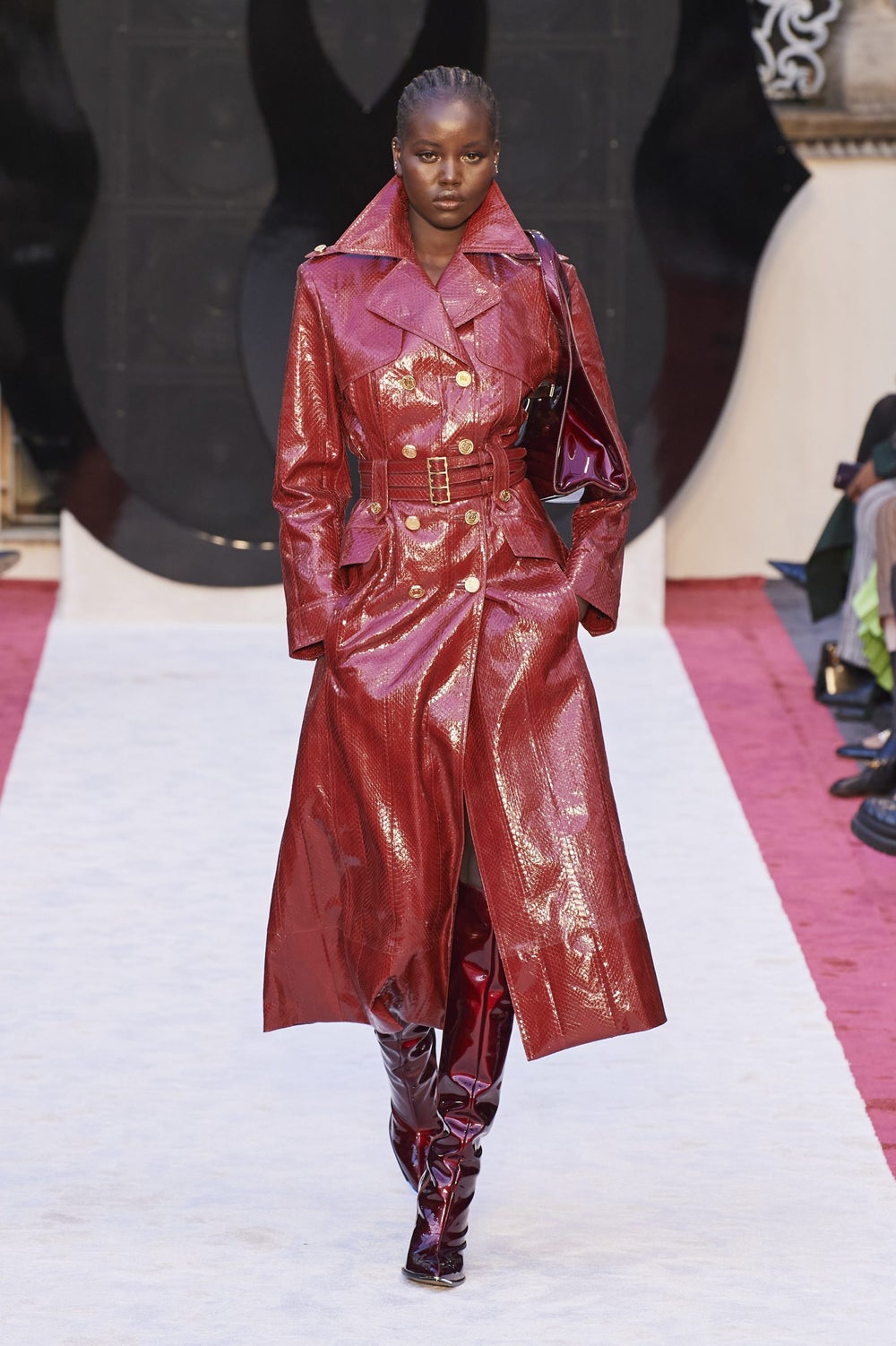 BALLY | LAUNCHMETRICS
Amidst all the outerwear-focused collections we've seen on the Milan runways, Missoni served as a fresh respite with its fun lineup of form-fitting silhouettes. Filippo Grazioli was determined to bring sexy back – and so he did. Body-hugging maxi dresses with cutouts and trailing drawstrings dominated here – a high-necked number with the house's signature zig-zag print and another slip dress glistening with sequins were sexy without being garish. Next, there were shimmery dresses with plunging necklines made from metallic yarn and sheer ones with flower motifs worn over high-waisted briefs. Body con knitwear followed – button-down polo tops, cardigans, and second-skin tops – all great for daytime dressing. Finally, there was outerwear – a shaggy faux fur number with zig zags, a bomber jacket with rose appliqué, and a coat made of silver frayed lamé (a la Christmas tinsel) were all striking.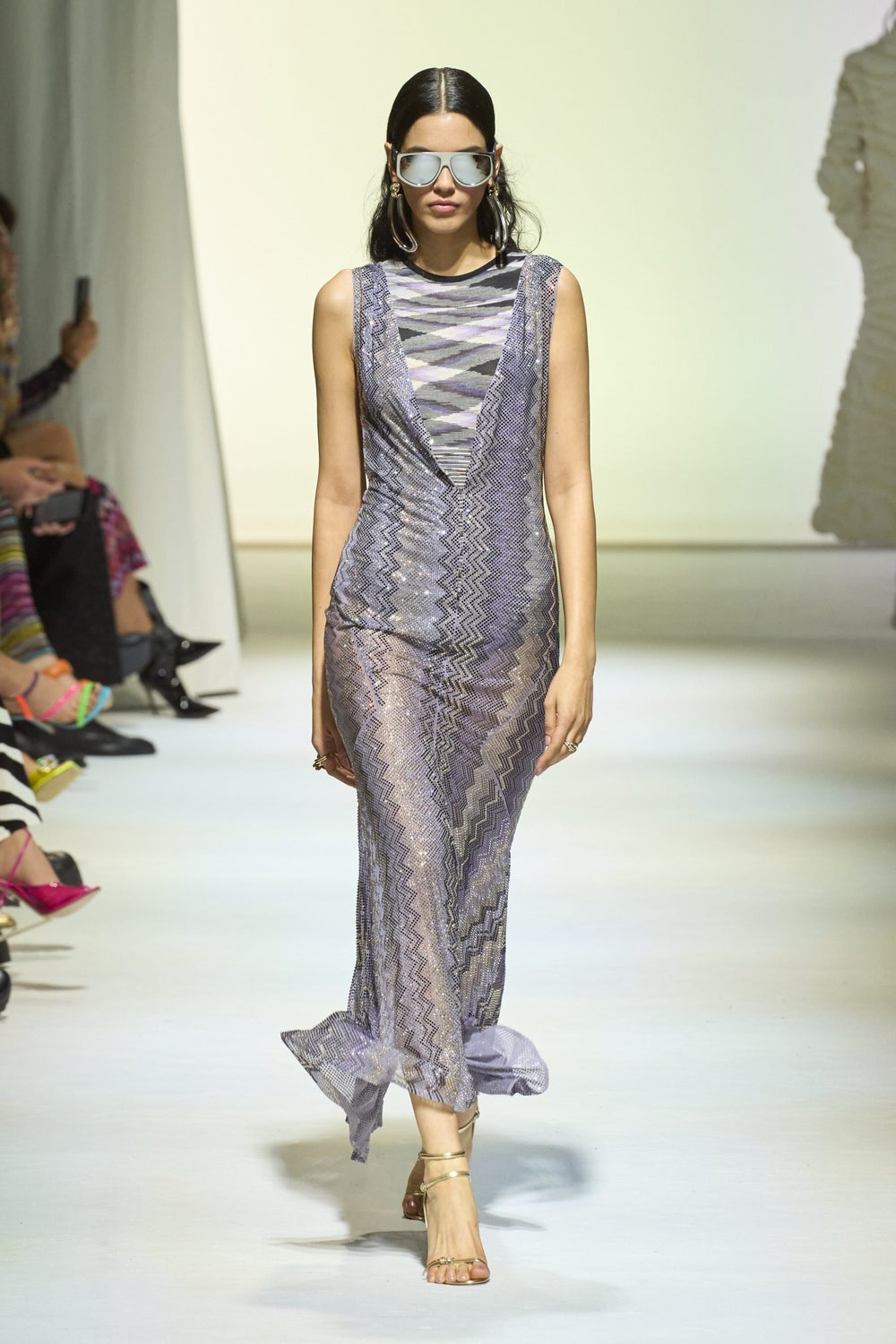 MISSONI | LAUNCHMETRICS
At Giorgio Armani, the clothes were made for wearing. He kept fabrics soft, and garments fluid, allowing for ease of movement. Signature silhouettes like fluid straight-cut trousers were recurrent, as were sharply tailored jackets and languid skirts. There were nude dresses paired with blazers – simple in aesthetic, complex in construction – that would transition easily from day to night. For the outerwear, he injected some fun by playing with textures. Case in point: a sleeveless fur jacket with triangular strips of silk reminiscent of origami or another shaggy number with a bateau neckline. Elsewhere, luxurious silk and velvet wraps with long fringes and fringed caps added to the playfulness. Halfway through the show, blooms began to appear. On an embroidered skirt, they were legion; on a black velvet dress decor came down to a single embroidered flower. Armani has never been one for viral moments – so if you want radical fashion – it isn't here. However, if quintessential Italian tailoring is on your mind, Armani has you covered.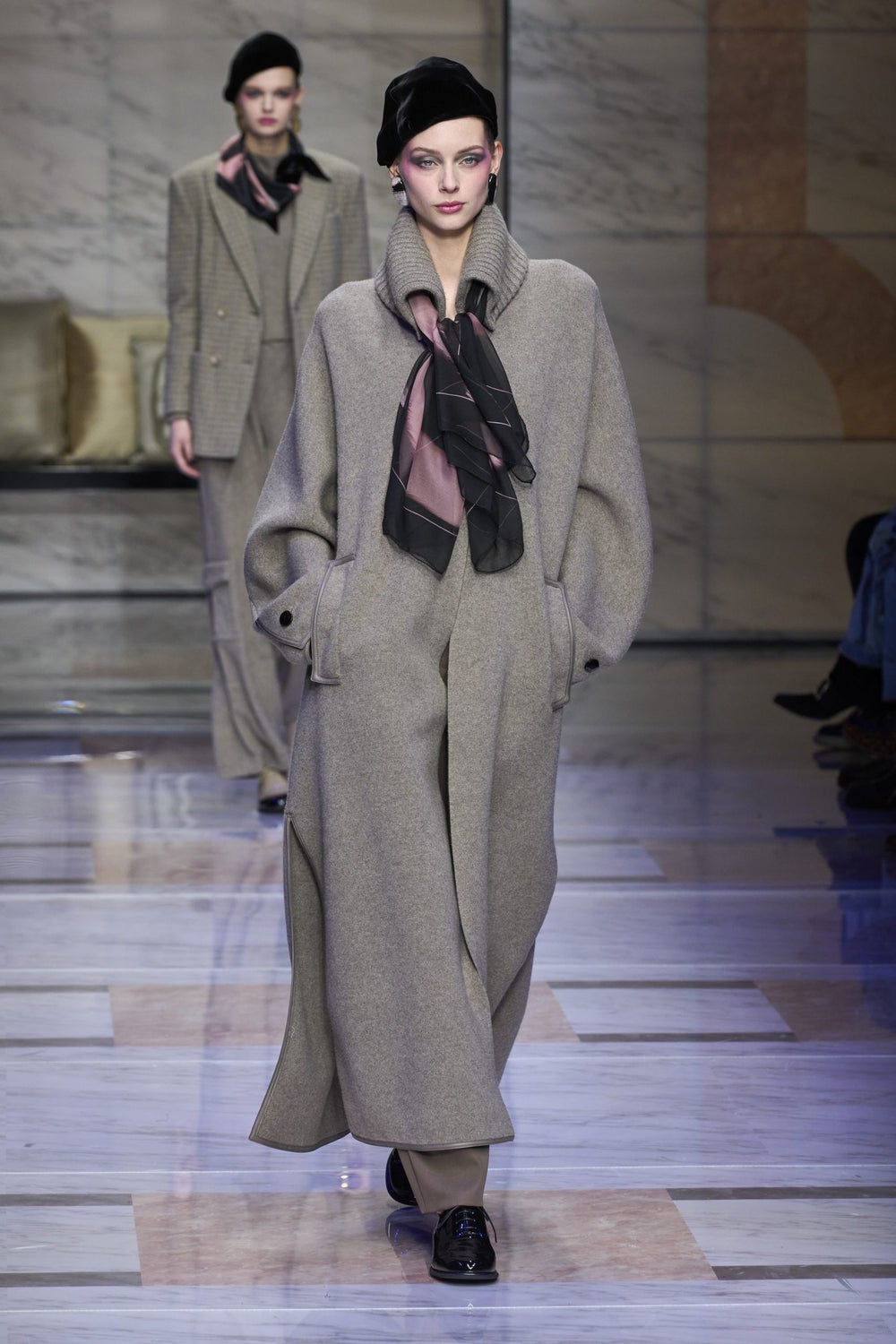 GIORGIO ARMANI | LAUNCHMETRICS
La DoubleJ's JJ Martin had been on a spiritual trip to Egypt last year. Martin's fall lineup was somewhat of a retrospect of her journey. Ancient Egyptian symbols like the scarab beetle decorated shirts, dresses, and tights, while goddess Isis spread her wings brightly printed skirt. Elsewhere, the sacred cat was printed all over a belted trench coat. Rich prints aside, the silhouettes here would complement most body types – straight-cut high-waisted jeans and trousers (the burgundy velvet pair was excellent), chic jersey dresses, and capes. There were collectible shirts, too, of which the button-down one with palm trees and a ruffled high-neck number were our favorites. Additional richness came in the form of a quilted skirt and bomber look and another heavily embroidered dress with a lush ostrich-feather hemline.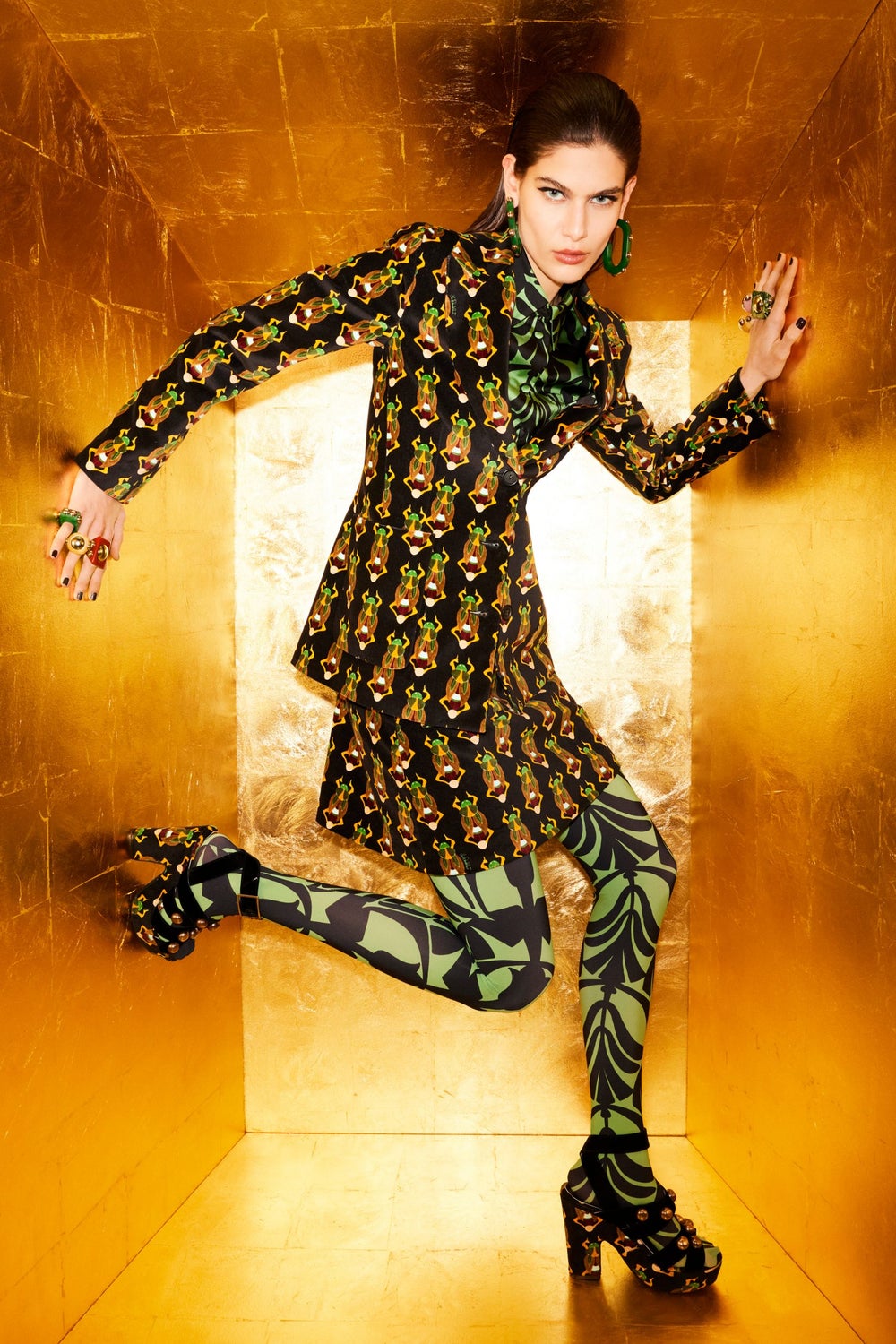 La DoubleJ | La DoubleJ