Op-Ed
How Are Luxury Brands Responding to the Protests? By Doing Nothing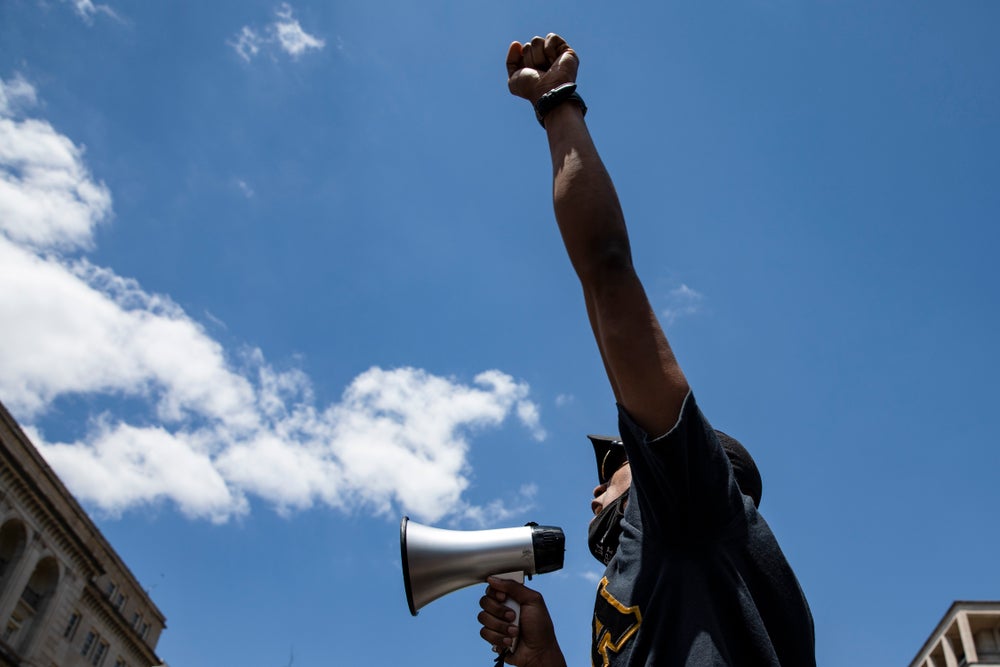 GETTY IMAGES
by Grace Gordon
7-minute read
June 1, 2020
The whole world is watching.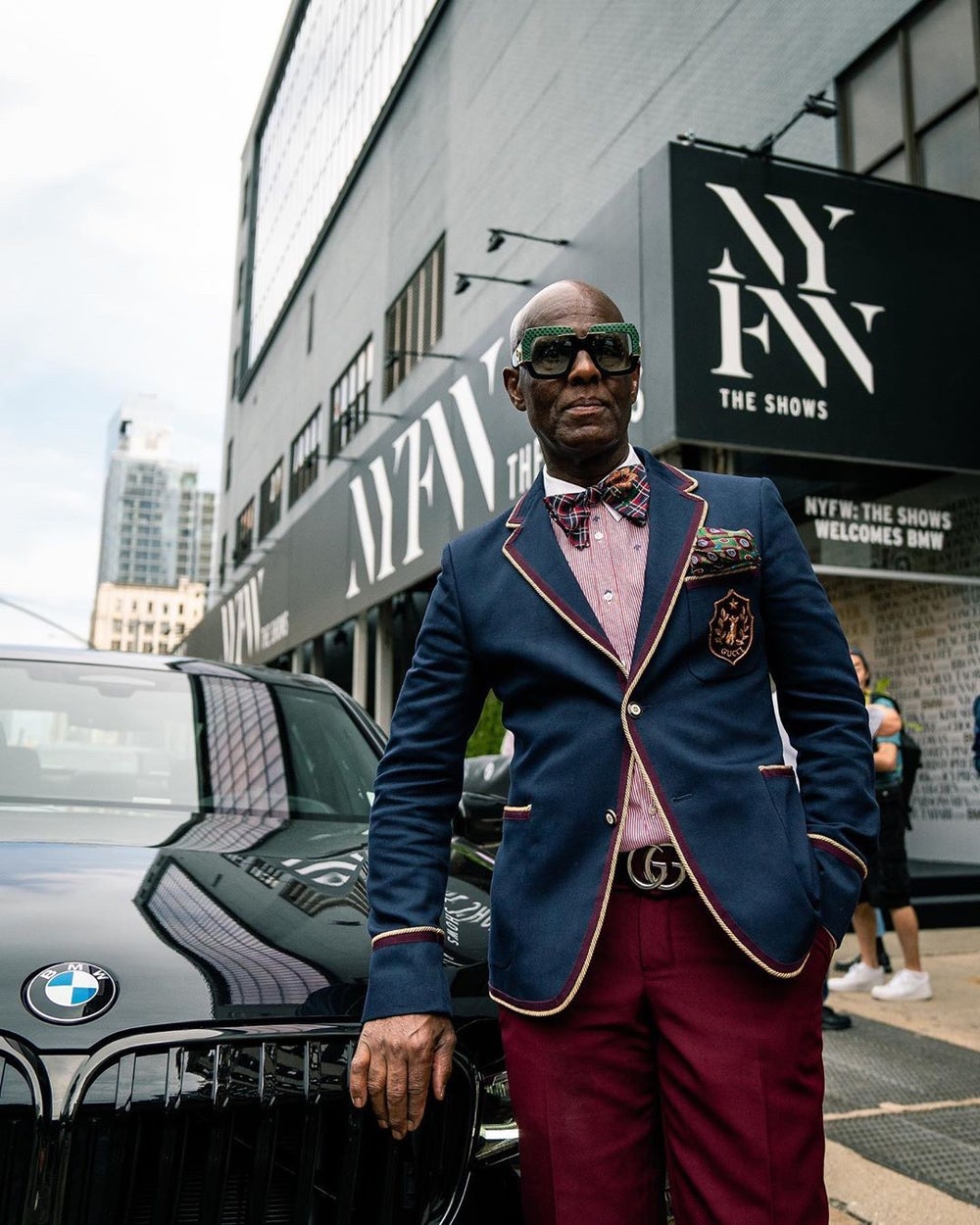 @DAPPERDANHARLEM
In the 80s, you would find Dapper Dan inside his eponymous boutique in Harlem, skillfully reconstituting luxury materials into significant works of couture-level fashion. His logo-printed, voluminous designs walked proudly out of the store on Black youths, budding hip-hop moguls, and NBA players. Some threw hands on the streets, and others like Mike Tyson would do so professionally in the boxing ring . Some of his clients ended up in witness protection, others starred in MTV music videos.
To Black communities at large, Dapper Dan was the Mix Master Supreme, the Grand Vizier of hip-hop culture. His was the ultimate catchall creative label for success and splendor. If you wore Dapper Dan, you were somebody. The luxury industry didn't see it that way. He was sued over and over again for copyright infringement, raided by the authorities, and relegated to the back pages of fashion history. But his story and contributions to American fashion design could not be so easily erased. Twenty-five years after he was forced to shutter his doors, he emerged with a new store and a partnership with Gucci. [Editor's Note: It must be noted that this partnership took shape after Gucci was called out for blatantly copying Dapper Dan's designs.]
The journey of Dapper Dan's rise, fall, and reemergence contains in it a truth that the fashion industry would love to ignore: that Black culture – while significantly shaping the public's relationship to luxury products – was both a boon and an annoyance. Black music name-checked brands in songs, while Black youth made logo-fied streetwear the 'fit of the century, and single-handedly created sneakerhead culture. Meanwhile, the Black population was simultaneously shunned by the very brands it elevated.
The rude truth of the issue is that for decades, luxury brands have exploited Black culture, appropriated it, and commodified it. In fact, luxury brands couched their callousness in terms like "urban" and "non-target customers", which means, if you're Black, you can look but you can't touch. If Black people were to wear high-end luxury brands, those brands believed it would diminish their equity.
The luxury industry, for its snail-pace efforts to adapt to a rapidly changing world, has not always been on the wrong side of history. For example, instead of shunning the Black acolytes of his label, Tommy Hilfiger embraced them from the start, and gave them starring roles in his campaigns, as well as high-profile ambassadorships. Decades later, the payoff of his allyship is clear. Prior to the pandemic, demand for Hilfiger products exceeded analysts' expectations and saw a corresponding rise in profit.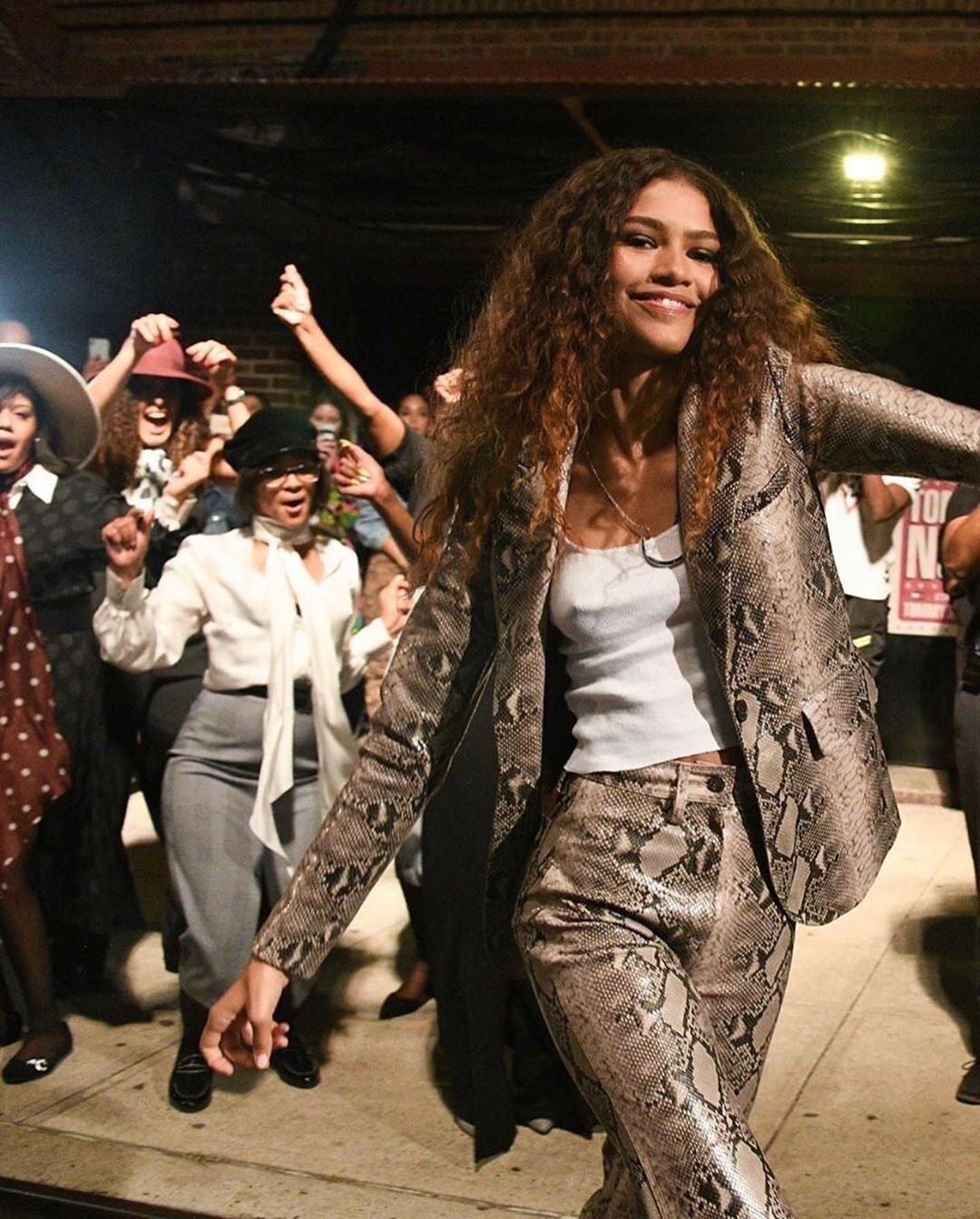 The reality is, the Black market is a significant part of luxury spending, worth more than one trillion dollars in America alone, according to Nielsen's 2019 Diverse Intelligence Series (DIS) Report. Black people outspend their white counterparts by more than 28% on luxury goods. With rap and hip-hop moving from the fringe to the mainstream, the fashion industry took notes. In the past three years, dozens of luxury brands included hip-hop artists in their advertising campaigns. A$AP Rocky posed in his Calvins, and Nicki Minaj put her "Fendi prints on" with an exclusive collaboration with the Italian luxury brand. Cardi B now sits front row at Fashion Week, and Rihanna is the first Black woman ever to become a fashion mogul with her Fenty brand, backed by multinational conglomerate LVMH.
Cheryl Grace, Senior Vice President of U.S. Strategic Community Alliances and Consumer Engagement at Nielsen, explained the significance of the Black dollar, saying, "Our research shows that Black consumer choices have a 'cool factor' that has created a halo effect, influencing not just consumers of color but the mainstream as well. These figures show that investment by multinational conglomerates in R&D to develop products and marketing that appeal to diverse consumers is, indeed, paying off handsomely."
In the United States, the streets are ablaze with righteous fury and the licking flames of protest. George Floyd's unlawful death at the hands of police was a catalyst, buoyed by the perfect storm of mass unemployment, social destabilization, a viral pandemic, and severe economic downturn. This is not the first time that people have marched in the streets in protest of Black lives that have been senselessly slaughtered by the police. They marched after Freddie Gray, Sandra Bland, Philando Castile, and Terence Crutcher.
But, this time feels different. They are marching now for George Floyd, Breonna Taylor, Ahmaud Arbery, and thousands of other innocent lives that were cut down and viciously massacred for the "crime" of being Black. There is lore that says that a person truly dies after their name is uttered on earth for the last time. That is why we say their names now, that is why we remember. We must remember. We must confront. We must change.
Society functions atop a series of systems, and the economy is the primary system that drives the world. If an economic system – composed of companies and conglomerates both public and private – gathers together to enact change, society will change. When fashion decided to diversify and show bodies of different colors, sizes, ages, and proportions, society changed. These same drivers must be put into action to address racial inequity, must call it out, must put funding and research and education behind changing it, and therefore contribute to the revolution against systemic racism.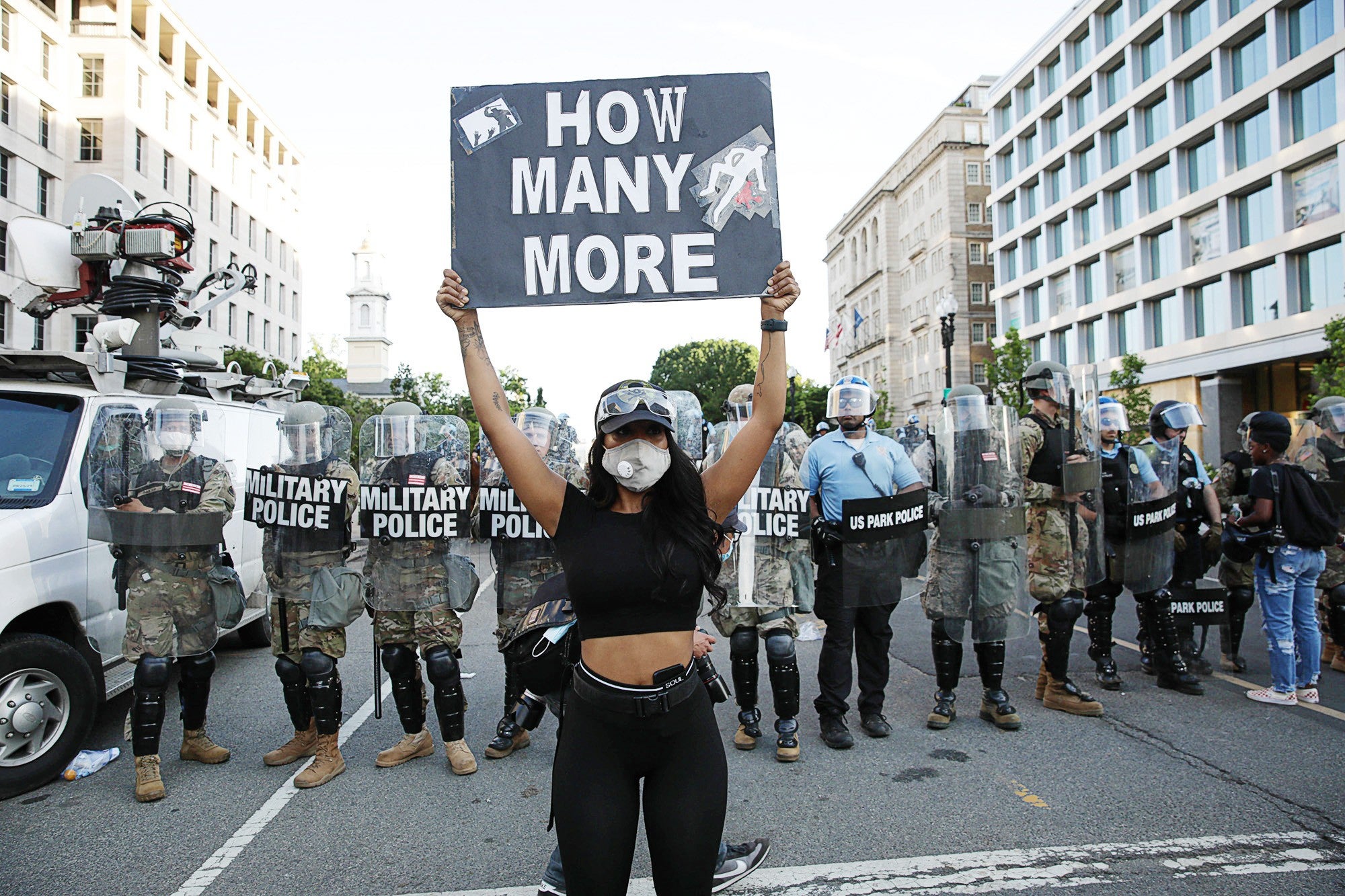 Consider for a moment if fashion brands had failed to respond to the COVID-19 pandemic, if they had chosen not to donate or create PPE for frontline workers. Consider the enormity of the backlash they would have faced had they stayed silent. Protests against racism and police brutality must be treated with the same level of outrage and outreach. In failing to address the crisis beyond a social media post, these brands are effectively saying, "Black lives don't matter."
Racist actions aren't limited to the United States. Racism is everywhere, and it is the responsibility of those with resources and platforms to speak out against it. No change can take effect until we all stand shoulder-to-shoulder tackling the same cause, saying as one to the powers that be, "enough."
Let's consider a case study. In 1989, on another side of the world entirely, and dealing with another oppressed social sector in freefall, Yves Saint Laurent and his partner Pierre Bergé stood for what is right. As the first luxury brand to enter China after it opened its borders, Saint Laurent and Bergé responded to the massacre in Tiananmen Square by ceasing trade in China overnight and opening its original Rive Gauche store on rue de Tournon to political refugees seeking shelter. This is the kind of action – tangential, real, and backed by authentic conviction – that is required of the fashion industry at large.
In all the time it took to write and research this piece, we spent countless hours plundering social media to see who is stepping up. There are plenty who are penning heartfelt missives on social media, but the ugly truth is we only rooted out a handful of fashion companies that were making a substantial effort. Respect is due to Cult Gaia for being the first fashion brand to back its words with action. They have pledged 10% of all proceeds to the NAACP Legal Defense Fund in the month of June.
Rihanna's Fenty has also pledged to donate to Color of Change and Movement for Black Lives. Additionally, Altuzarra, Calvin Klein, Cynthia Rowley, Eckhaus Latta, Ganni, Tommy Hilfiger, and Reformation have also contributed donations or a portion of the proceeds of their sales to defense funds and other organizations related to the protest movement. However, the top luxury brands– primarily owned by multinational conglomerates – have remained eerily silent.
[Editor's Note: Since the time of publication two billion-dollar luxury brands have stepped up. Burberry has come forward with a donation to Black Lives Matter in an undisclosed amount. Balenciaga established an annual donation fund to the NAACP, and a local fund in France, both of which will be funded every year on May 25.]
On Twitter, Emma Hope Allwood of Dazed Digital contrasted fashion's collective lack of effort with how swiftly it moved when a portion of Notre Dame caught fire. While Notre Dame is undoubtedly a beautiful historical monument worthy of repairing, fashion brands haven't met the real crisis of racism, police brutality, and targeted Black death with anything even approximating the same level of effort or energy.
When the iconic French cathedral caught fire, hundreds of millions of dollars poured in for its restoration within days. Yet, days after the protests initially broke out in Minneapolis, brands in America and all over the world have failed to respond with anything more than a post. More than 4,000 protestors have been arrested so far, and those numbers distinctly do not include three of the police officers who were present at Floyd's death.
When you hold resources, power, and a platform, it is at best inadequate and at worst offensive to virtue signal your outrage with a social media post. In fact, it is the very least you can do, and this cause célèbre demands that you do the most. Optic alignment with social messaging is a crocodile tear in an infinite sea. In the words of Shakespeare's Macbeth, it "is a tale told by an idiot, full of sound and fury, signifying nothing." We are tasking fashion companies with tangible effort. The public demands open purses. Pry open your coffers, luxury brands, and start putting your money where your virtual mouth is.
Remember: The whole world is watching.