Op-Ed
How the Broken Fashion System Conversation Got Hijacked by Big Business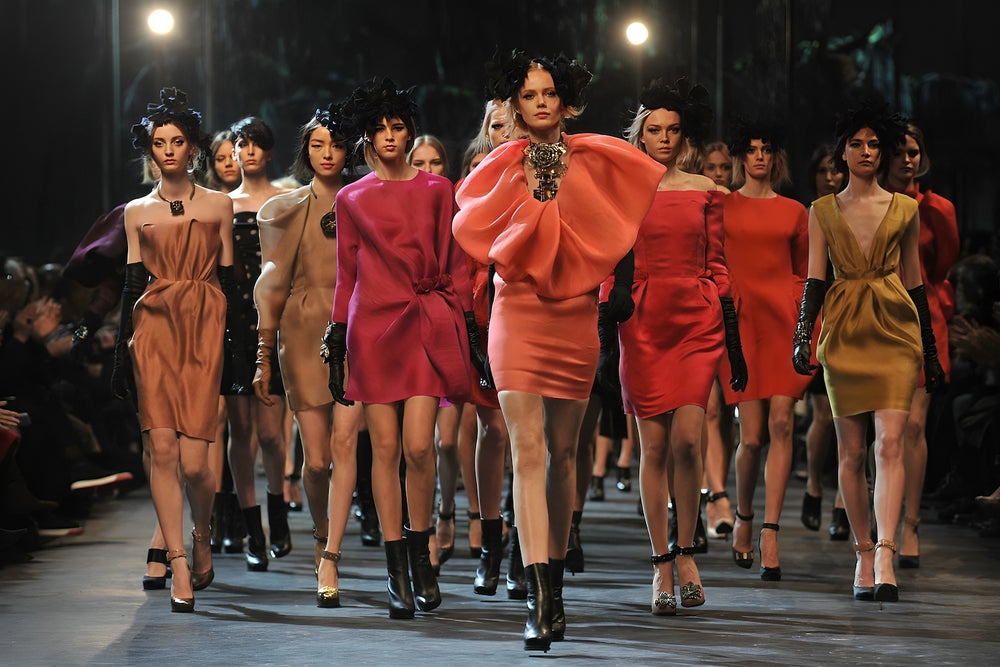 GETTY IMAGES
by Grace Gordon
11-minute read
January 18, 2017
The sudden departure of both Alber Elbaz and Raf Simons from their respective houses has had tremendous ripple effect. Everyone seems to agree that the fashion is system is broken, but few are daring to ask how we got here.
GETTY IMAGES
As a professional journalist, critic, and editor working in a three-trillion-dollar industry, I am accustomed to gritting my teeth and bearing even the most asinine moments of the "zeitgeist". It is my job to observe and report, even when that means writing for the scrillionth time about another Kardashian, Jenner, or Hadid. Furthermore, I must choose to stay mum, even when I want to roll my eyes at the sudden success of Vetements, pretending like I care when a trust-fund socialite posts an Instagram photo pairing a DHL tee with a sequined slip dress.
While "fluff" is a common aspect of lifestyle reporting, it makes up the majority of output, which means everyone now talks about the same things at the same time, creating a bizarre echo chamber on the digital fashion media landscape. For me, fashion is a prismatic creature containing facets of the sociological, anthropological, philosophical, tribal/communal, spiritual, mental, and physical, while simultaneously being a product that is pragmatically utilized and an art form that is meant to adorn and improve the appearance of the human body.
As a non-verbal form of communication, there is nothing more personal than what you choose to wear and, as a status signifier, nothing says more than the value of what you wear. However, with fashion now reduced to a moving part in a detached capitalistic machine, it has become a byproduct of banality. It appears my intense passion for the subject is fundamentally at odds with how the industry treats it.
For example, when I think about Alber Elbaz and his tremendous contributions to fashion while at the helm of Lanvin, I think of how he dared to take into consideration real women, how he shunned the system, and how – in the worst crime of them all – he behaved with ardor toward his subjects, rather than treating them like a business transaction. When I think or Raf Simons, I think of his sonorous, sculptural silhouettes and how he brought real emotion back to the runway when he took over at Dior. The fashion industry, however, thinks of these two individuals as characters in a very dry and humorless script about strategy, corporate acquisitions, and the pursuit of ROI.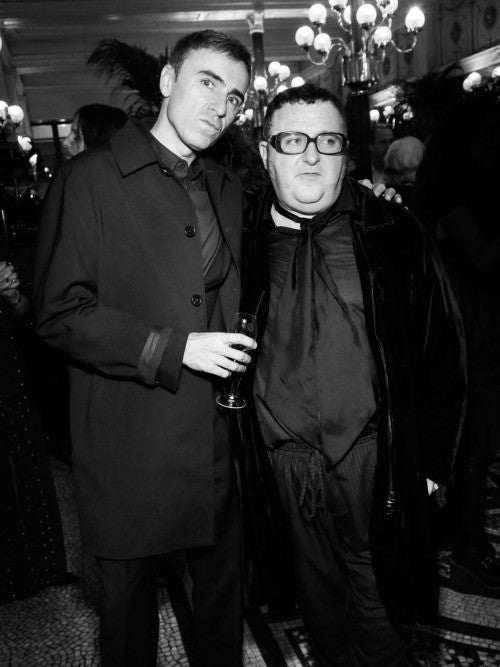 This isn't the first time I've opined passionately about the state of things and what I really think of them. In November 2015, spurred by the departure of Raf Simons from Dior and the sudden announcement of the end of Elbaz's tenure at Lanvin, I wrote a tearful piece called "An Open Letter to the Fashion Industry". Before it was an op-ed on Savoir Flair, it was a diary entry on my laptop as I banged out a passionate missive immediately following the news of Elbaz's departure. My Editor-in-Chief, Haleh Nia, and I had been texting back and forth about it, equally distraught.
"I wrote something," I told her, not intending it for publication, but rather as a mutual catharsis. Upon reading it, she immediately requested to post it on Savoir Flair and I agreed, thinking that maybe a few people out there were feeling the same way: jaded, confused, rudderless. What does it mean when some of the world's most talented minds today could not survive the lust for capital that drives multinational conglomerate-owned brands to sacrifice quality and dignity for the bottom line?
Fashion had gotten away from its raison d'être and instead become another blasé business, churning out endless options for an insatiable consumer (one the industry had created, incidentally, with clever advertising structures) – environment and human lives be damned. Surprisingly, that piece seemed to resonate with a lot of people, both industry insiders and casual fans of fashion. And what brings me to write in a similar vein today is not a seismic shift in the industry but, rather, a dark epiphany.
When I wrote my open letter, a question rippled through the industry: "How do we fix a broken fashion system?" The fact that it was broken seemed a foregone conclusion. No one even had to point out the rising "body count" of designers who had broken up with their brands to make it plain. It just was. Business of Fashion gathered industry professionals for a panel discussion on the topic. WWD compiled a massive list of industry professionals who submitted their analysis of the situation.
There were conferences, backroom meetings, and then there was the Boston Consulting Group (BCG) report commissioned by the Council of Fashion Designers of America (CFDA). The report investigated a myriad of weaknesses in the fashion system, from falling full-price sales and the consumer's decreased perception of newness (i.e. consumer fatigue) to creative burnout among fashion's creative class. Although the BCG's results were isolated to New York Fashion Week, the report felt like a turning point as it indicated a high level of concern within the industry and the supposed intent to improve things.
I've been tracking this story like a bloodhound, only to just now realize that all of the parameters had shifted without my noticing. The fashion system broke when it no longer valued quality, priced itself almost to the point of extinction (thereby creating the multi-billion-dollar counterfeit industry), and betrayed the very people who had created it. Instead of taking responsibility for these factors and trying to move forward in a way that addressed these problems, the fashion industry treated the "broken fashion system" like a superficial wound, rather than the deep cut that it really was. A nearly imperceptible shift took place, one that removed responsibility from the industry itself, and created a system that dealt – once again – exclusively in terms of the bottom line, instead of one that functioned at all levels and benefited all stakeholders.
"See Now, Buy Now" was packaged as the panacea, but only a few brands could afford to take it on due to the insane repositioning of retail chains required. Other brands made small adjustments, testing the waters by only selling a few key, in-season pieces after their shows. Some showed to private audiences of buyers and clients, while others carted the entire fashion press to far-flung locations, courting them with cruises through the streets of Havana and train rides to the English countryside. Social-media engagement increased exponentially in partnership with the Insta-famous. Yet, at the end of the day, the most Googled designers of 2016 were all celebrities with limited design experience. When will brands realize that social-media engagement does not equate to sales?
The last time I was this upset, it was Alber Elbaz's departure from Lanvin that triggered my reaction and, once again, it is Lanvin at the heart of my anger this time around. A recent report on The Fashion Law revealed Lanvin is facing job cuts due to an unexpected net loss of nearly ten million euros in 2016. The brand laid the blame directly at the feet of its new designer, Bouchra Jarrar, claiming that she had "failed to lift sales".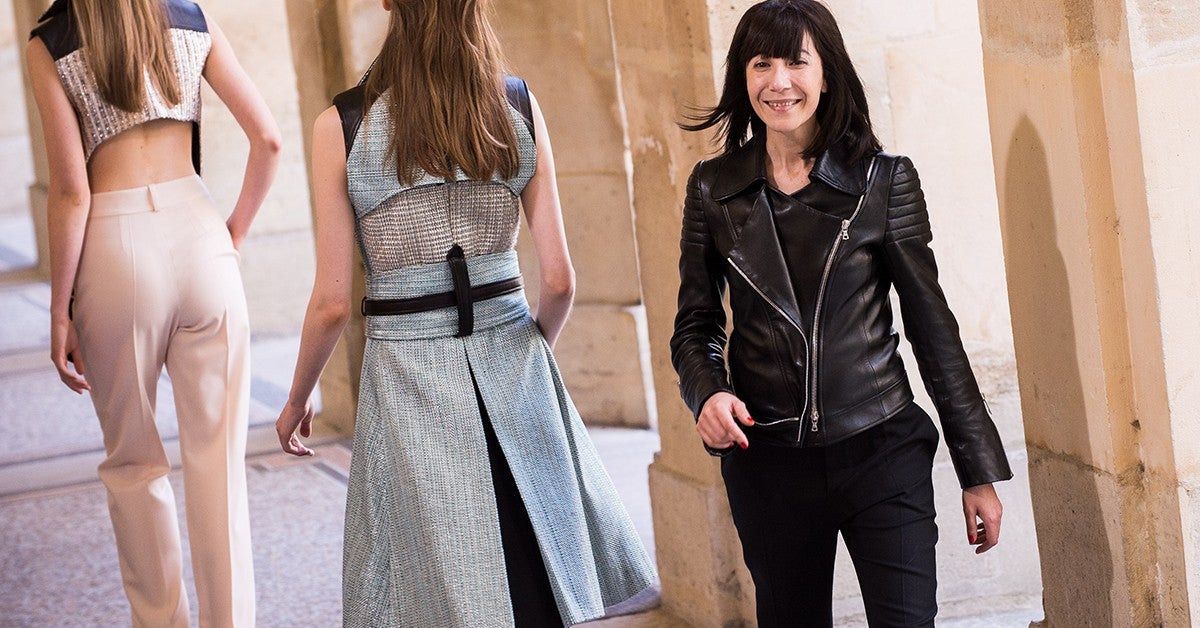 It also listed the downturn in luxury spending in 2016 – a factor that also impacted many luxury fashion brands. When I saw that Jarrar was being blamed for Lanvin's net loss, I was infuriated. She was appointed to the helm of Lanvin in March, produced her first collection for the brand in June for Resort 2017, and debuted her seasonal runway in September to critical praise. In fact, I was one of the critics who delighted in Jarrar's confident new direction. Business of Fashion's report on the impending job cuts at Lanvin offered further "proof" of Jarrar's failings, saying, "Many items on its website are being offered at a 50 percent discount."
Wow. This is why the fashion system is broken. Jarrar has been Creative Director at Lanvin for less than a year, and not a single piece of Jarrar-designed Lanvin merchandise is actually available at any retail establishment – and already she is being blamed for Lanvin's loss? Consider this: when Alessandro Michele assumed the head of Gucci, the brand also put all of Frida Giannini's designs on sale for 50 percent off. Why? To get rid of old merchandise in exchange for the new.
Lanvin's merchandise is currently on sale on retail websites – not because it is "bad" or "uninteresting" to the consumer, but because they are making way for Jarrar's new collections. This is hardly a new retail tactic. Furthermore, when Michele took over at Gucci, the industry had enough patience at the time to wait and see how his collections sold.
"The full complement of Michele's designs won't be in Gucci's boutiques until the third quarter, predicts MainFirst Bank AG analyst John Guy. Revamping the brand's network of more than 500 stores – the second largest among leather-goods makers after Salvatore Ferragamo SpA – will take as many as four years, Bizzarri has said," explained Business of Fashion. It is sickeningly unfair, then, for Wang to blame Jarrar for Lanvin's failings when quarterly earnings reports have not yet reflected her tenure!
We often wonder why Simons, Elbaz, Hedi Slimane, Alexander Wang, and other illustrious designers leave coveted and highly paid positions, but who could stand to be blamed for a corporation's failings? Look at what happened to Peter Dundas at Roberto Cavalli, for example. He was unceremoniously axed because Cavalli's biggest stakeholder, Clessidra, wanted a complete creative and commercial overhaul of the company and blamed Dundas for the brand's net loss in the previous year.
Designers are beginning to look more and more like scapegoats – this certainly seems to be the case with Jarrar and Lanvin. The brand's owner Shaw-Lan Wang refuses to invest in the brand in areas crucial to its growth, and she is fearful of diluting her own stake to make decisions that would benefit Lanvin. While it is easy to blame a well-known designer for a brand's failings, it's much harder to pin the blame where it belongs: on corporate ownership. After all, the one holding the pursestrings makes the rules.
If you ask what led to this moment, you would be pulling at a thread that would unravel in a thousand different directions. Not too long ago, people would buy seasonal, high-quality wardrobes. Now, we consume clothing at the same rate as we shop for groceries. Elizabeth Suzann's viral post "Money Talk" illustrates the shift, saying, "Prices have dropped drastically in the past 20 years. Up until the 90s, it was common to spend $100 on a pair of jeans at the mall, $75-$90 on a thick sweater from Gap, or $200-$300 on a pair of high-quality dress slacks or a cashmere turtleneck at a department store. These are prices from big brands that were, even then, producing en masse with questionable ethics at what were considered low to moderate prices. Still, those were items consumers would typically wear for a year or more, adding a few new pieces to their wardrobes seasonally."
In order to keep up with fast fashion, the rest of the industry addressed consumer demand by simply adding more seasons to the calendar. Before, there was only spring/summer and fall/winter, but now we've added resort and pre-fall to the lineup. The next wave of change came from the internet, with consumers now able to view collections in real time, determine their favorite products, and track them via social media.
The downside? These same consumers may have intended to buy certain products but eventually grew "fatigued" and lost interest after seeing them so frequently on social-media influencers. That means they were tired of the products before they were even available for purchase. "See Now, Buy Now" was one answer to this problem, but like I said before, not everyone can afford to go down this route.
Another major, glaring issue is that brands have been thoroughly diluted by corporate ownership – shareholders don't expect, but demand, quarterly ROI. Failure to do so could result in being sold, fired, "repositioned", or rebranded. At this point, we're dealing with accelerated consumer demand and an overly informed consumer overseen by unfeeling multinational conglomerates that exist only to make money.
While we were wondering how to return fashion to itself, inject the industry with creativity and a fresh perspective again, engage the consumer not just to stimulate sales but create a lifelong relationship, big business slipped in and changed the terms. According to fashion's corporatocracy, all that we should be concerned about is net profit – not quality, not pursuing the craft of Veblen products, not creating a story or a magical universe, not passion, not inclusivity, not diversity.
Speaking to attendees at Fashion Group International's Night of Stars, during which he received an award, Elbaz famously said, "We designers, we started as couturiers, with dreams, with intuition, with feeling. We became 'creative directors,' so we have to create, but mostly direct. And now we have to become image-makers, creating a buzz, making sure that it looks good in the pictures. The screen has to scream, baby. I prefer whispering." Remember, this is the man who big business chewed up and spit out. It's not only a shame; it's an outrage.
Jarrar is another victim of the fashion industry's deceit. The system is still broken, and big business jibber-jabber has distracted us from the real problems that have harmful, real-world correlations. These negatively impact the environment, human rights, individual rights, and creativity. It is disingenuous to pretend that we are concerned with how to fix the broken fashion system if we have not intended to follow through with solutions. If we are to fix the problems, we must stay the course, and – above all – we must hold the right people accountable.