Fashion Month
Savoir Flair Picks the Top 10 Shows of the Fall/Winter 2023 Season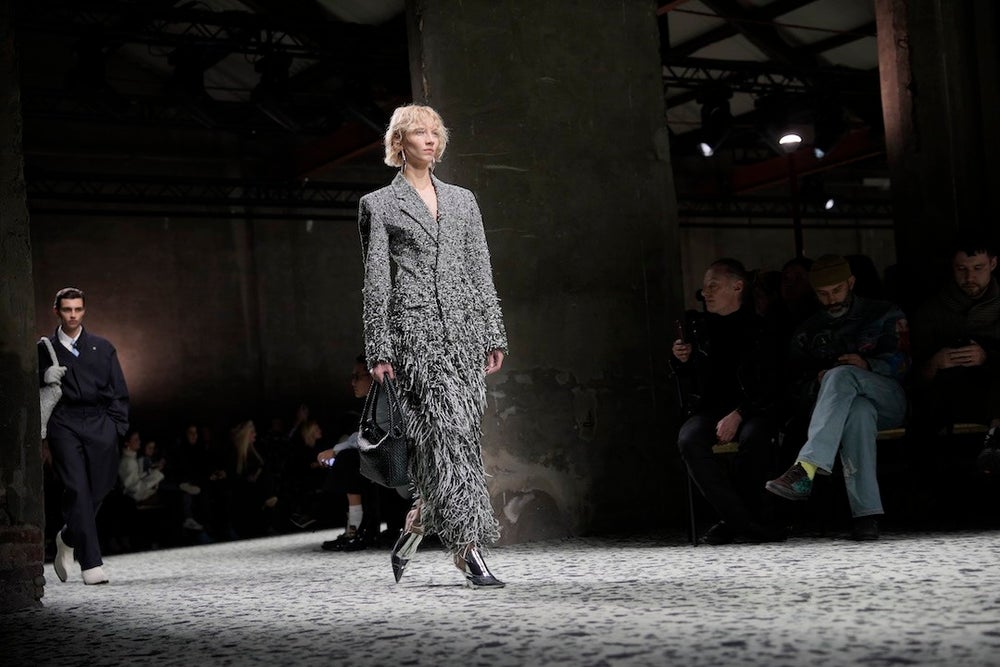 by Grace Gordon
5-minute read
March 9, 2023
Savoir Flair Picks the Top 10 Shows of the Fall/Winter 2023 Season
Between the almost unbearable frenzy for content and screaming crowds outside the shows to the constant social media gimmicks. fashion month has increasingly become a circus. However, as wild as things get, there are many designers who chose to strip things back in an effort to truly deliver wearable, desirable wardrobes. With so many fabulous collections to choose from, whittling it down to the top 10 was a difficult, but enjoyable task. With an eye toward exquisite tailoring, intense craftsmanship, and subversive concepts Savoir Flair picks the best shows of Fall/Winter 2023.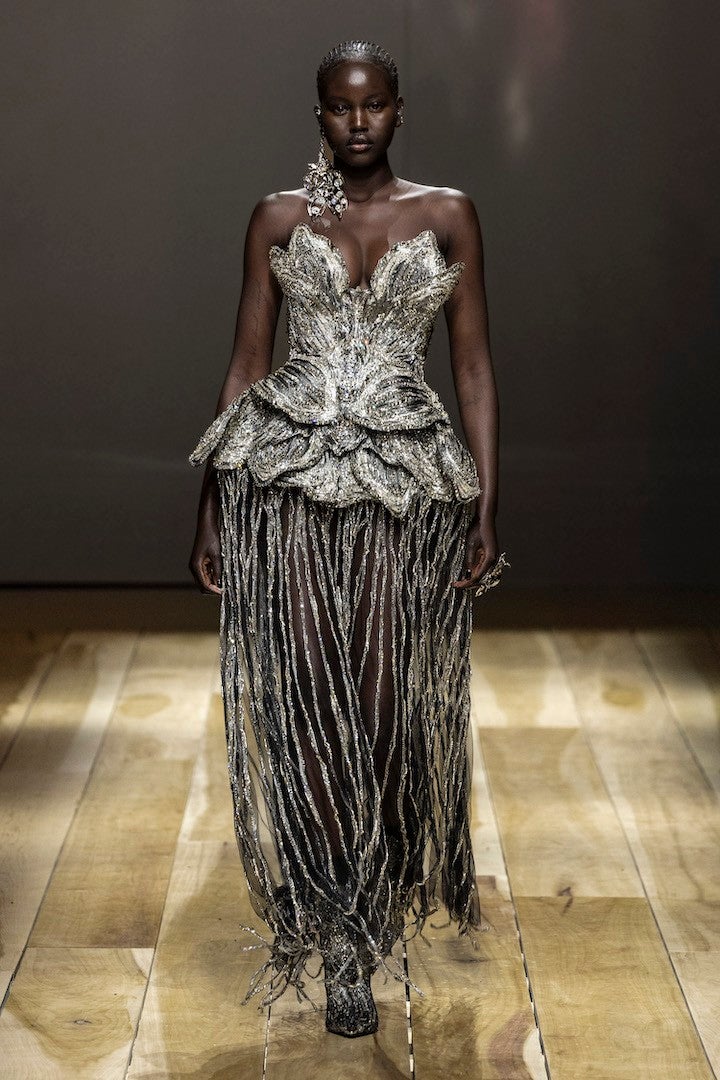 WGSN
Alexander McQueen
I feel like I can sum up my feelings about Alexander McQueen Fall/Winter 2023 in four words: Thank you, Sarah Burton. It's my prediction that this show will go down in fashion history as her best work for the house. Calling up the house's Savile Row origins in precise tailoring and flawless pattern-cutting, the show launched with Naomi Campbell stalking the runway in a noir velvet gown with a pointed bust before diving headlong into a strict series of suits. They were strong-shouldered, double-breasted with roomy trousers, and worn with neat white button-ups and leather ties. Very controlled, very nouveau American Psycho.
Read the full review here.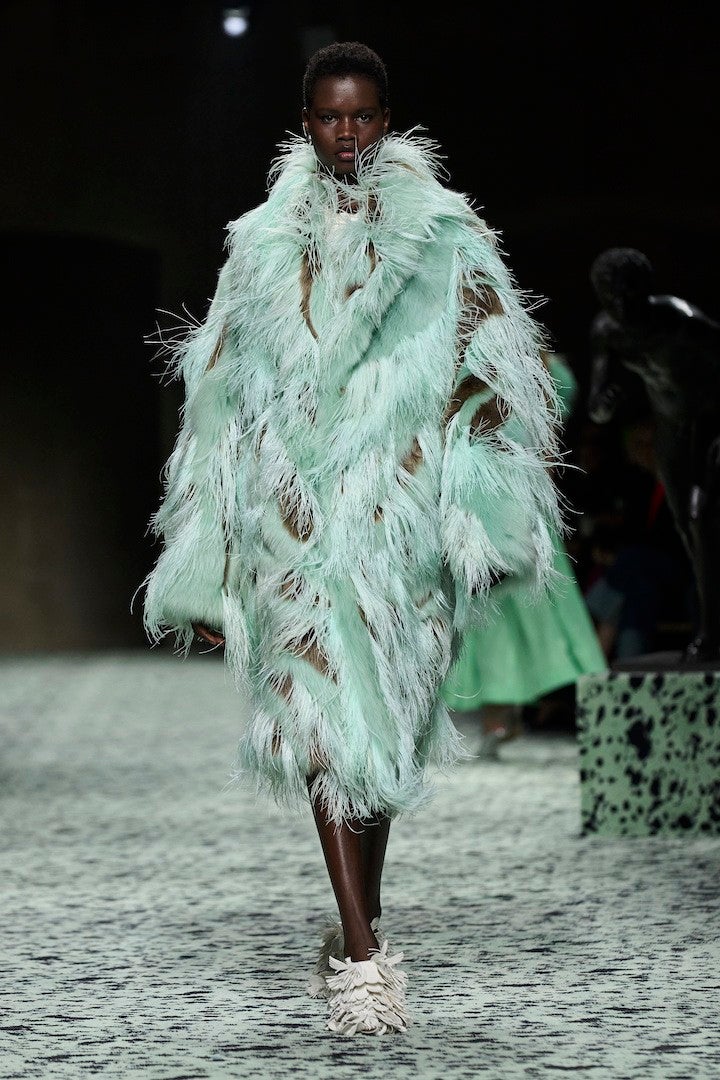 WGSN
Bottega Veneta
Hey, Siri, give me 10,000 synonyms for incredible.
With each collection for Bottega Veneta, Matthieu Blazy ensures a legacy of superlative design abilities, but his latest sees him at his most self-assured. The foundation has been laid: craftsmanship, intelligent look-twice details, quiet luxury. At Bottega Fall/Winter 2023, he erects, brick by brick, a more experimental structure. Everything we love about Bottega is there, but more: more beautiful, more interesting, more daring. Once again there are more casual looks that are actually intricately carved of leather, there is more fashion fantasy that is somehow instantly accessible, and there is more artistry but delivered in relatable forms.
Read the full review here.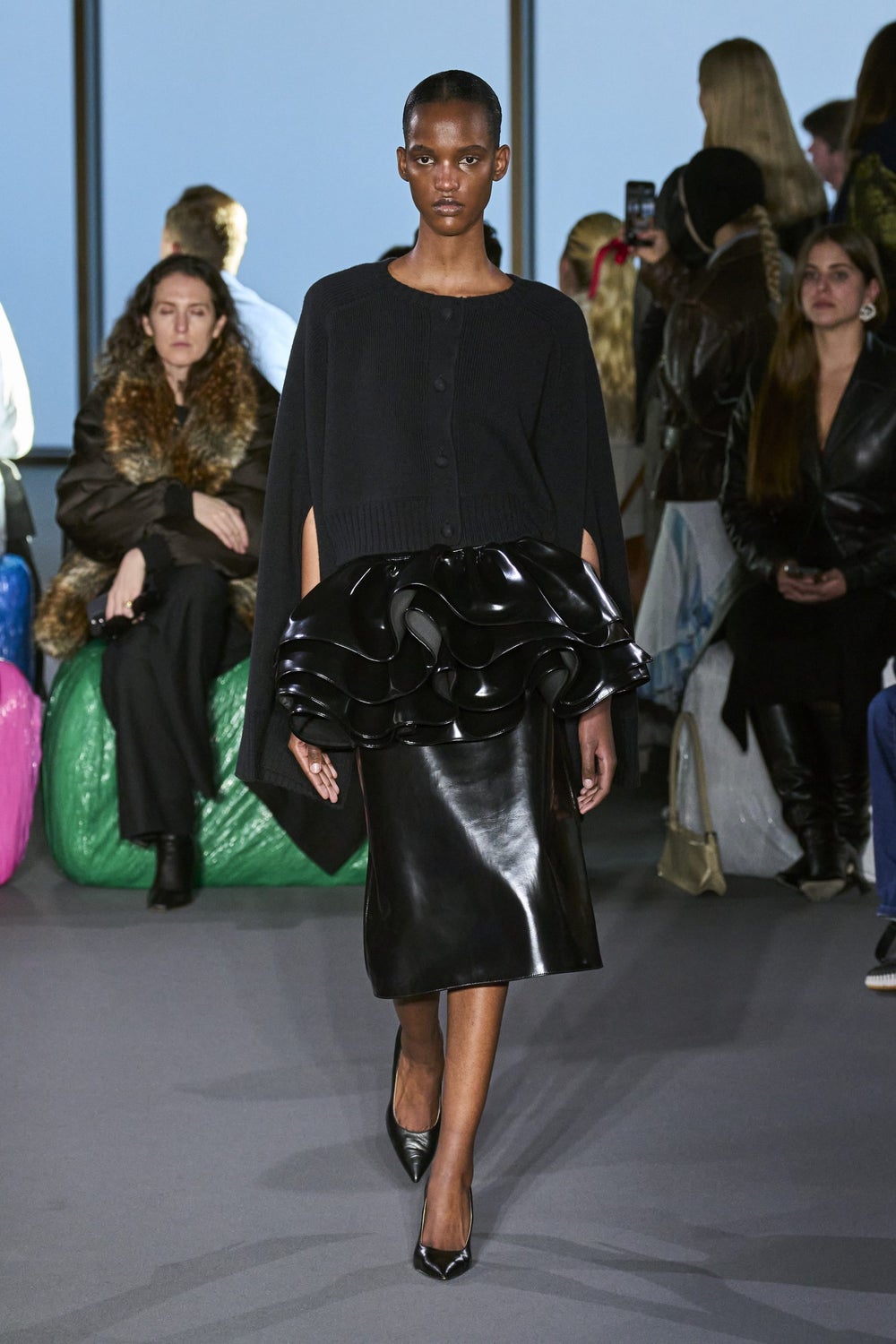 CHRISTOPHER KANE/LAUNCHMETRICS
Christopher Kane
At Christopher Kane, bustles were the word of the day. Seen on many of the dresses and pencil skirts, they added just the right touch of volume. Some of our favorites were the sheer white drop-waist dress with colorful embroidery bursting with bustles and a black vinyl pencil skirt overloaded with exaggerated peplums on the waist. Additionally, he took quintessential grey uniform fabric and whipped it up into elegant offerings like strapless shift dresses with a single flower embroidered at the bottom and a well-cut suit. His knitwear will be wildly successful come winter; the classic yet unexpected silhouettes of the oversized sweaters will appeal to even the pickiest dresser. And the floor-length stretch jersey dresses with life-like rats, pigs, and chickens printed on them reminded us that fashion is most delightful when served with a side of humor.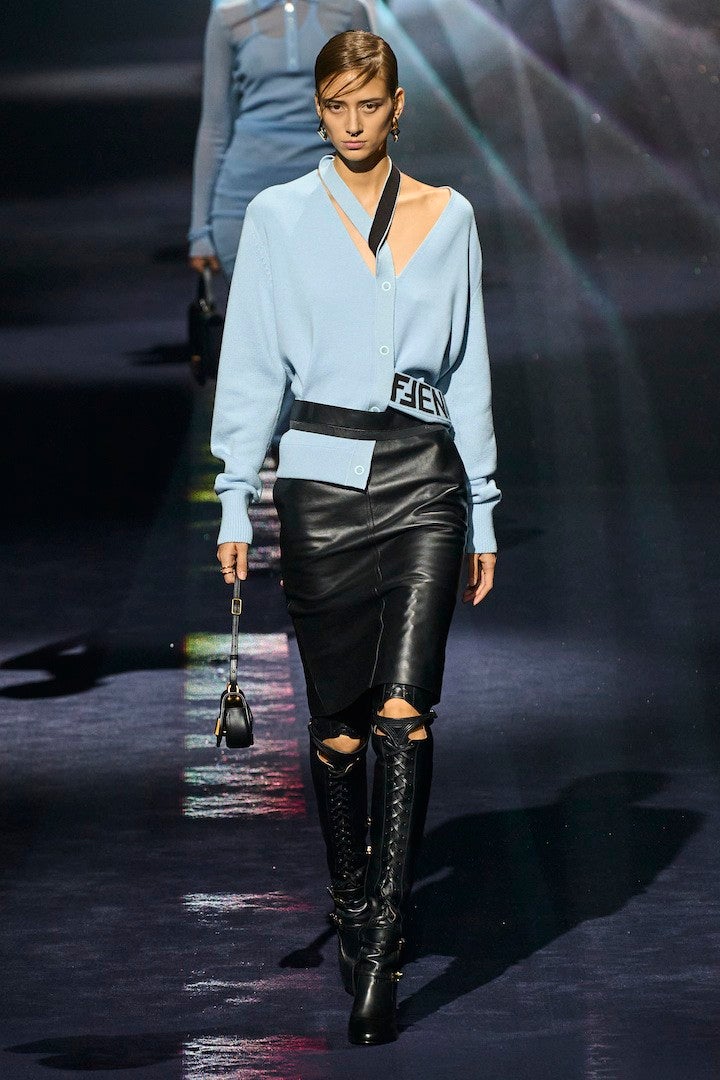 WGSN
Fendi
Look, and then look again. At Fendi's Fall/Winter 2023 show, nothing was as it seemed. While Creative Director Kim Jones held simplicity and sophistication at the center of the collection, he also had in mind complexity and subversion. The fabric seemed to have a mind of its own; it crept around shoulders, double-up on skirts, and twisted up necklines, transforming otherwise straightforward looks into something new and unexpected. There is a core Fendi identity that Jones has been reluctant to stray away from since he took the helm two years ago. Fortunately, that core is the utterly aspirational Fendi women, particularly Delfina Delettrez and Silvia Venturini Fendi herself, whose personal style and wardrobes formed a reference point for Fall/Winter 2023.
Read the full review here.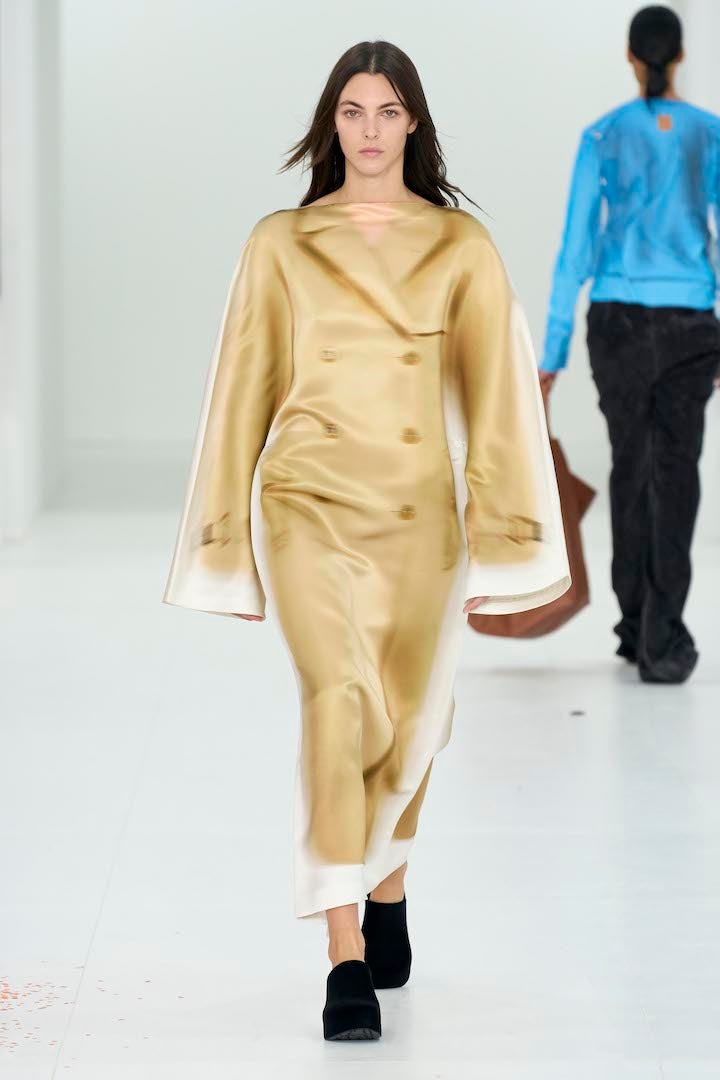 WGSN
Loewe
Following from the men's Fall/Winter 2023 collection, which Loewe called a "reductionist act", Creative Director Jonathan Anderson scaled things back this season but still found plenty of room to design within a more minimalist framework. Reminiscent both of the 'Show on a Shirt' he did for menswear during the height of the pandemic and Martin Margiela's iconic Spring/Summer 1996 collection, Anderson cast the "ghost" of clothing onto silk dresses and knit cardigans, impressing upon them the blurred outline of trenches, housedresses, and floral frocks. Very meta.
Read the full review here.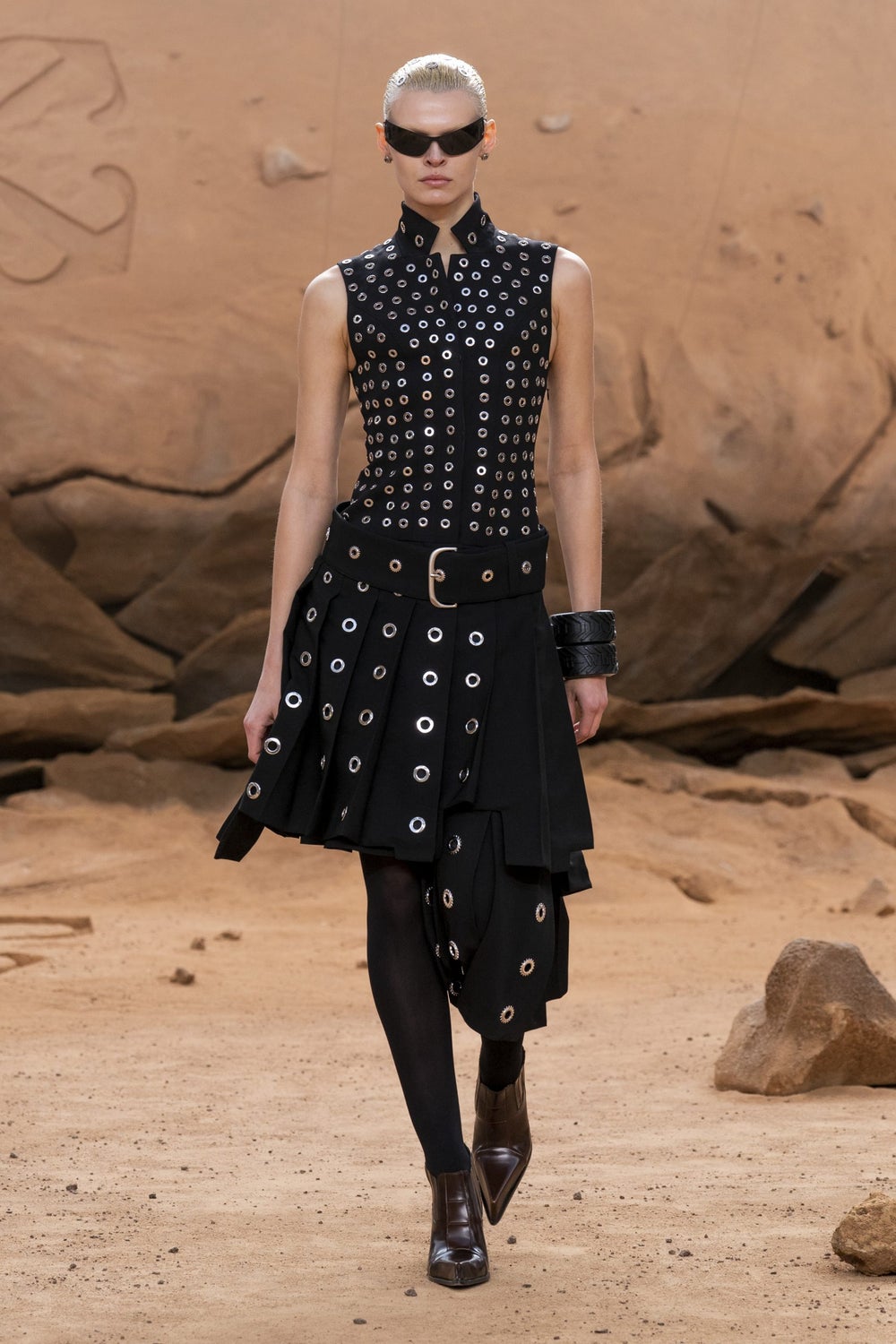 OFF-WHITE/LAUNCHMETRICS
Off-White
Ibrahim Kamara's second collection for Off-White was exhilarating from the get-go. The mood was futuristic with a dash of punk; metal holes adorned most of the clothes, and tires were used as bracelets. On leather harnesses, the ruffled hems of dresses, and the sharpest knife pleat leather skirt, those holes were an extension of the late Virgil Abloh's meteor cutouts, and Kamara's metal versions were cool. A terracotta jacket with matching culottes punctured with holes was striking, as was a black coat with a hole cutout on the bust and a giant buckle on the waist. As the show progressed, the detailing got more intense. A fitted zip-up dress with pleats that could open and close with zippers, Naomi Campbell's knit dress with a sculptural beaded circular neckline, and a dramatic gabardine cape were stellar examples. While Campbell may have closed the show with a zippered dress, it was a beaded pannier gown that was the ultimate show-stopper. It's no easy feat filling Abloh's shoes, but Kamara shows he's up to the task.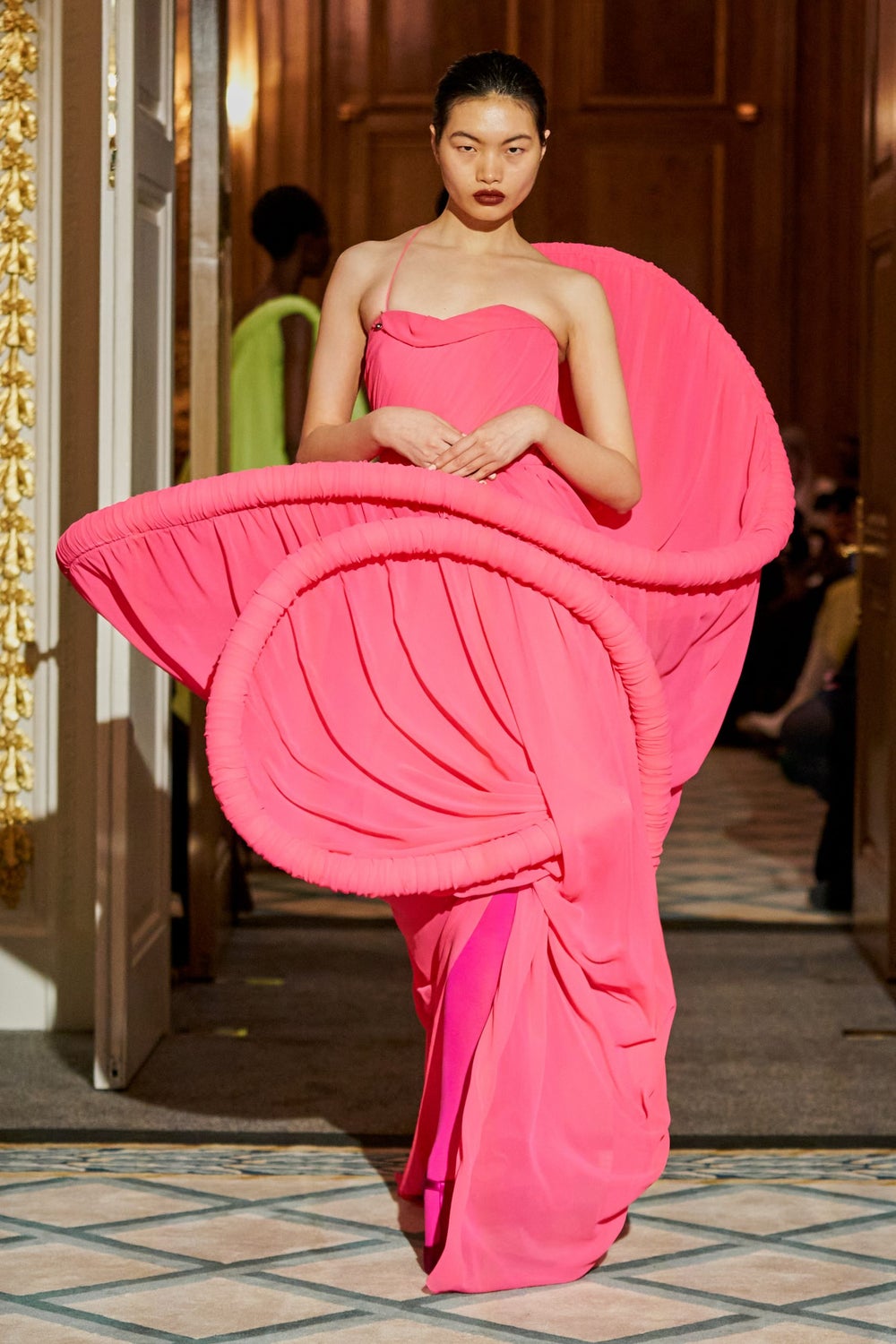 ROKSANDA/ILINCICGORUNWAY
Roksanda
Roksanda Ilinčić's collection celebrated workmanship in perhaps her most conceptual collection to date. Inspired by the Japanese visual artist Atsuko Tanaka, she sent down a series of avant-garde creations like architectural evening dresses in black, fuchsia, and blue featuring large padded tubes surrounding the gowns at various angles. The latter was an ode to the artist's 'Electric Gown'. A voluminous crinkled taffeta gown with silver foil accenting was an absolute winner.
Meticulously draped satin dresses followed; a red number with an abstract print on the bust and flowing blue silk cape and another in pink, styled abstractly with the fabric covering half the head, were both knockouts. Woolen coats were elevated by needle-punched threads in bright crimson and yellow – another display of complex craftsmanship. Meanwhile, exaggerated proportions came as tailored separates where a mint green blazer with an extended tail and a beige skirt forming a U-shape stood out.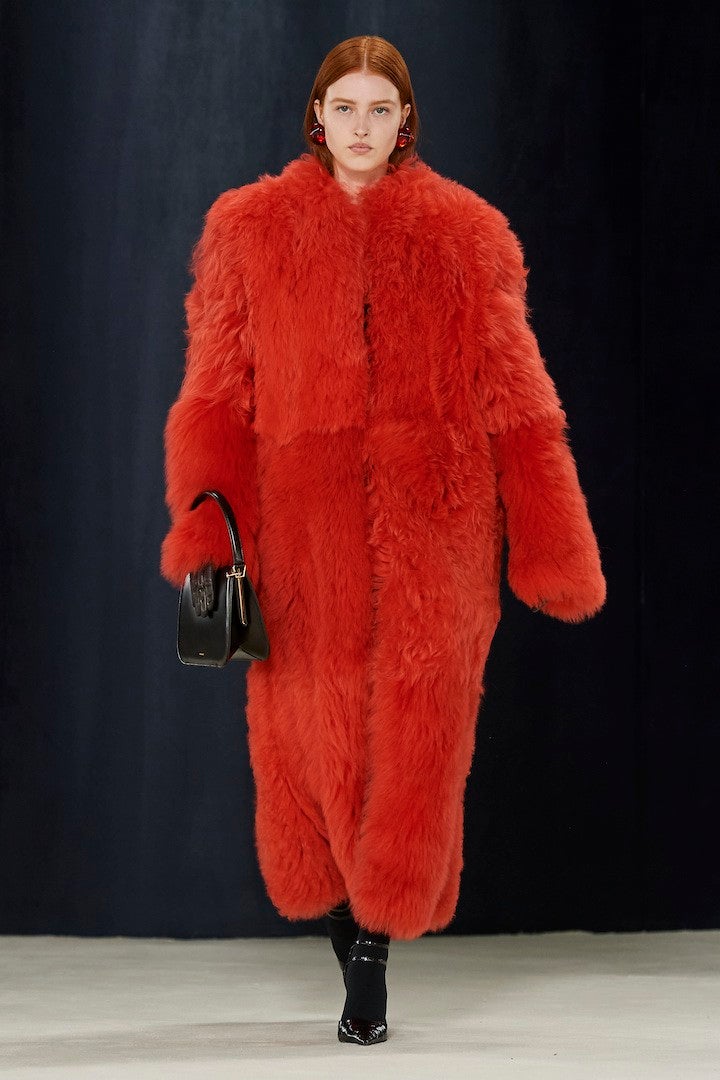 WGSN
Salvatore Ferragamo
Fashion devotees were wild for Maximilian Davis's debut collection for Ferragamo last season, and the house has ignited red carpet heat as well from cool girls like Zendaya, Michaela Coel, and Julia Garner. Hollywood has had a long relationship with Salvatore Ferragamo, the progenitor who famously designed shoes for films and silver screen stars like Gloria Swanson, Marilyn Monroe, and Audrey Hepburn.
This was brought to the fore in a 2021 documentary film by Call Me By Your Name director Luca Guadagnino entitled Salvatore – Shoemaker of Dreams. It debuted at Venice Film Festival. With 'Cinema' as the theme of its Fall/Winter 2023 collection, the longstanding association between the house and Hollywood is underscored in sophisticated, high-drama looks that, once again, set social media ablaze.
Read the full review here.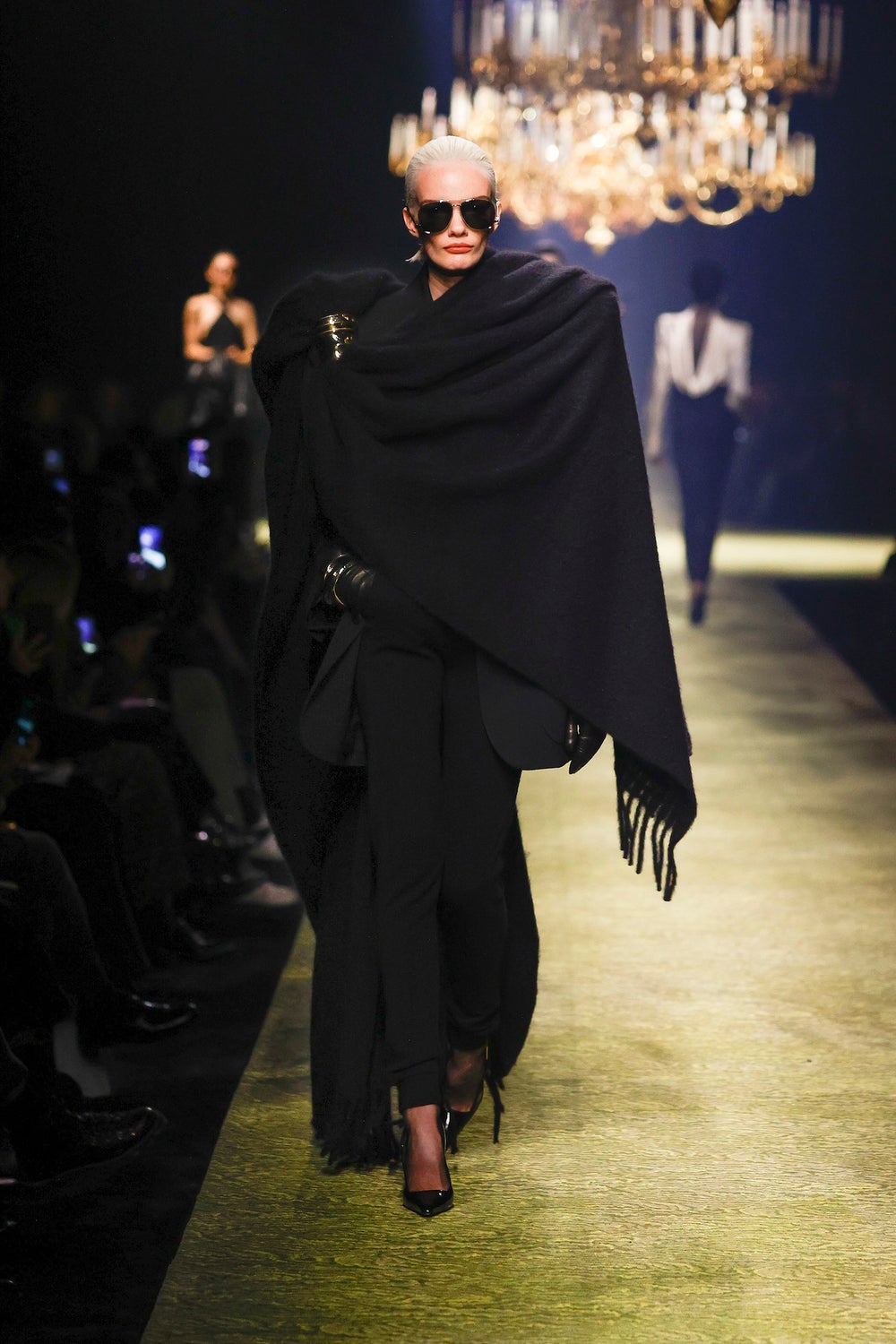 SAINT LAURENT
Saint Laurent
Do you know why shoulder pads became a thing? In the 1980s, when the trend first emerged, it was the thinking that wide shoulders created the visual illusion of a smaller waist. Dorothy Zbornak would like a word with designers on that point. Looking back on it now, the style looks a bit ridiculous. But what if you took the slight elevation and amplification of a traditional shoulder pad and maximized it? What if the zinging sharpness of a super-sized shoulder pad resulted in something downright elegant? Well, that's what we have at Saint Laurent Fall/Winter 2023. Anthony Vaccarello's concentration on distilling elegance for his collection landed him in surprising territory, and what's even more surprising is how well it worked.
Read the full review here.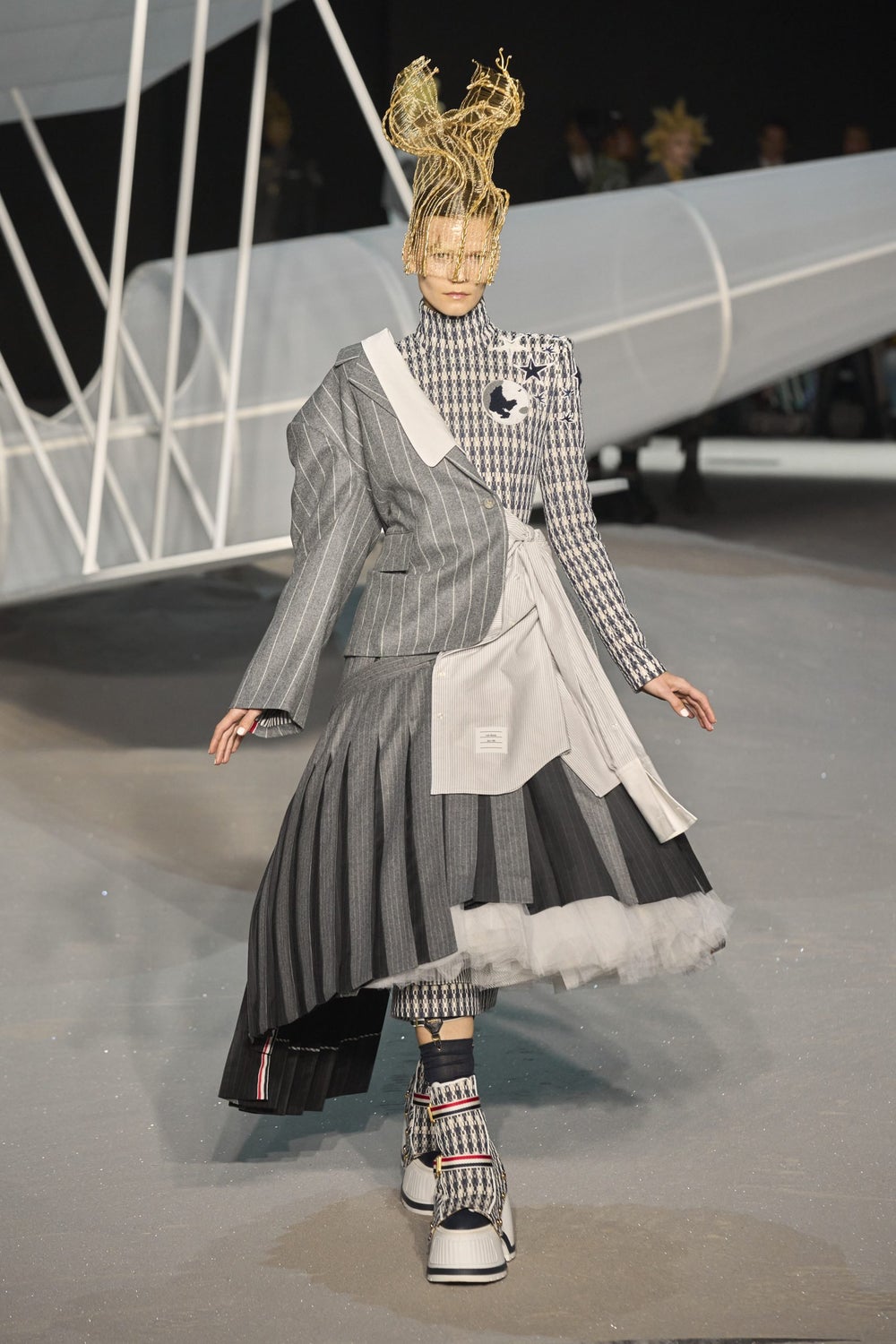 LAUNCHMETRICS
Thom Browne
The most viral show from NYFW was Thom Browne's, hands down. The CFDA chairman left no stone unturned when presenting his Fall/Winter 2023 collection. The set featured a crashed airplane with stars and planets hanging above. While most New York designers showcased wearable clothes, Browne turned the other way with his fantastical lineup, inspired by The Little Prince. Layering, as always, was key, as was complex garment construction. The opening look consisted of a corseted patchwork jumpsuit with sculptural sleeves worn over a duchesse silk dress with silk thread fringes. A series of intarsia dresses followed, all depicting the little prince's visits to the six planets.
A series of tweed looks were next, and the jackets came with ultra-exaggerated shoulders. Browne knows the difference between ideas and being commercial – he'd rather stick to the former – a great respite when luxury fashion seems to go the mass market way these days. Next came a series of deconstructed suits used as overlays – from ties to shirt sleeves and tartan – everything was amalgamated into one look. The finale? An ivory gown with a tweed bust and a skirt made from dinner jackets, shirts, and trousers. Brilliant. Absolutely brilliant.