Op-Ed
What Does Posting on Social Media Really Achieve in Times Like These?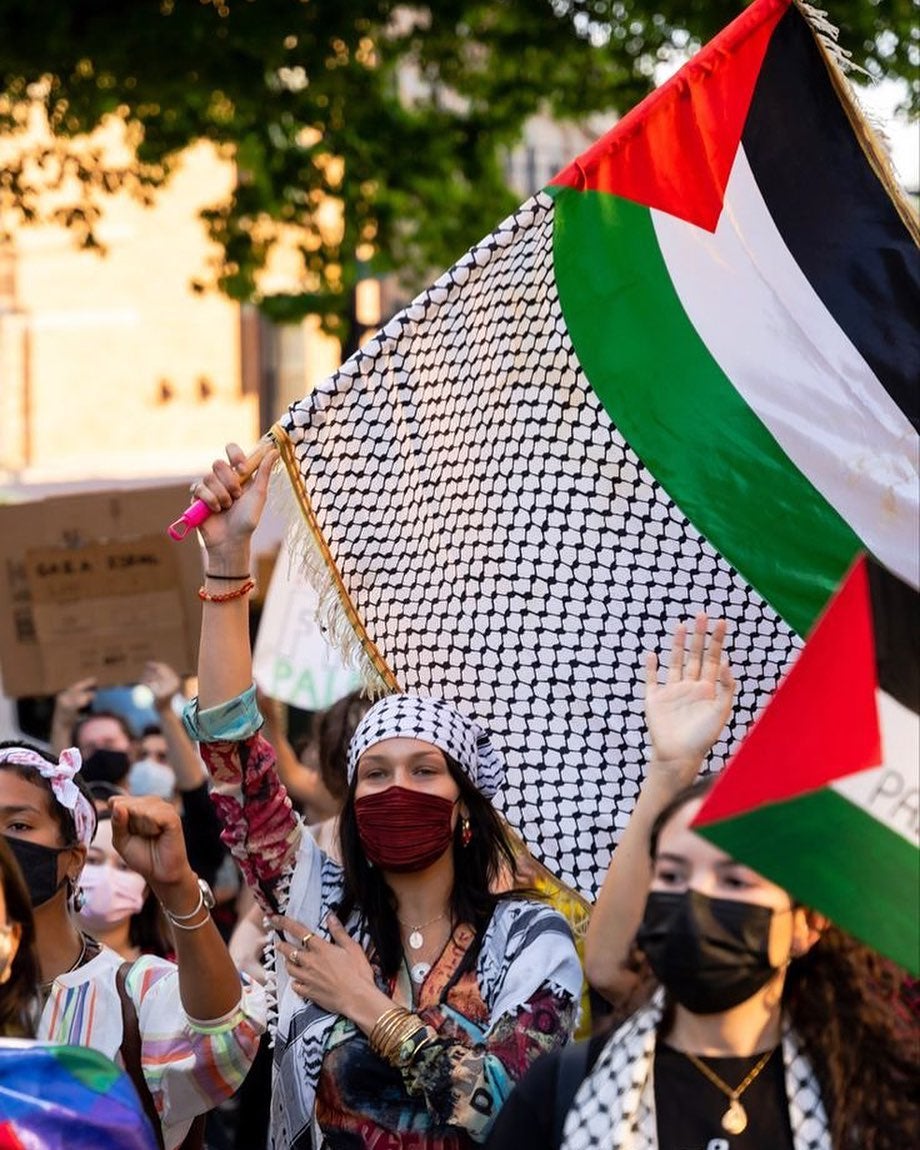 @BELLAHADID
by Grace Gordon
7-minute read
May 16, 2021
Does social media activism really work? In light of what's happening in Palestine, Savoir Flair investigates the actions we take on social media and what impact they really have on social justice.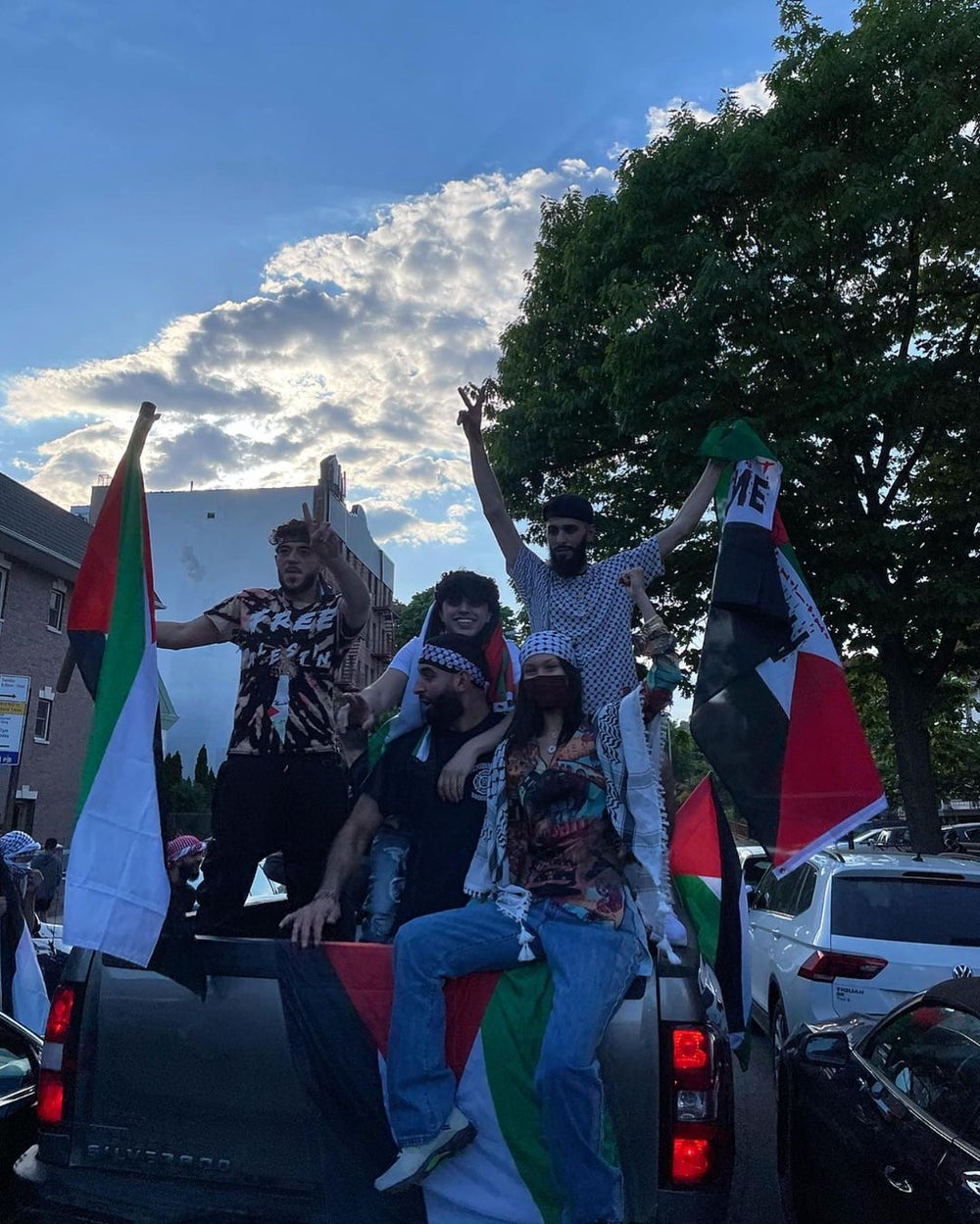 @BELLAHADID
In the past few years, the global connection offered by the Internet has brought trauma and protest movements to our front door like never before. We've seen Occupy Wall Street, the Orange Revolution, the Arab Spring, May Day rallies, the Women's March, and Black Lives Matter happen in real time, spurning many to join the cause via their social media platforms or through on-the-street activism. Now it is Palestine's turn for justice. But when it comes to social media, and hitting "send" on a story or post that supports a movement, you may be left feeling empty and despondent, not sure if what you're doing really helps in times like these. As we sit watching the horrors unfold from phone and computer screens, a sense of helplessness takes over.
Charred skies, blood in the streets, missiles screaming overhead, entire families, neighborhoods, and homes gone in the blink of an eye. What is happening in Palestine is an outrage. Yet, we're not here to dispense a history lesson. If 72 years of modern strife and two millennia of ancestral land disputes, colonization, and military occupation haven't made you curious enough to crack at least one of a thousand history books or access the infinite knowledge provided at your fingertips by the Internet, don't expect us to summarize it all in a neat little package for you. We will say that new tensions, spurned by old turmoil, had led to a human rights catastrophe, which has united Palestinians from every stratum of society for the first time since the uprising in 1987.
Although some of the efforts have been stymied by algorithms and "glitches", you have likely seen the #SaveSheikhJarrah and #FreePalestine hashtags flooding your social media. You may have seen footage of widespread protests in support of the Palestinian movement take the streets of Sydney, London, Chicago, and even Kuwait. You may have also noticed a backlash against those that stay silent, or who make ill-informed attempts to enter the online debate. These consequences may have left you hesitant to participate, and unsure whether or not you should contribute in the first place.
We're here to help.
First things first, check your privilege. If you're not in the region or you have the luxury of living in safety and peace here, your first step is to look inward and recognize that you are living a privileged existence. You might rationalize that it's okay to be ignorant about what's happening between Israel and Palestine because it doesn't affect you or your loved ones, or because you treat the conflict in the Middle East like a foregone conclusion.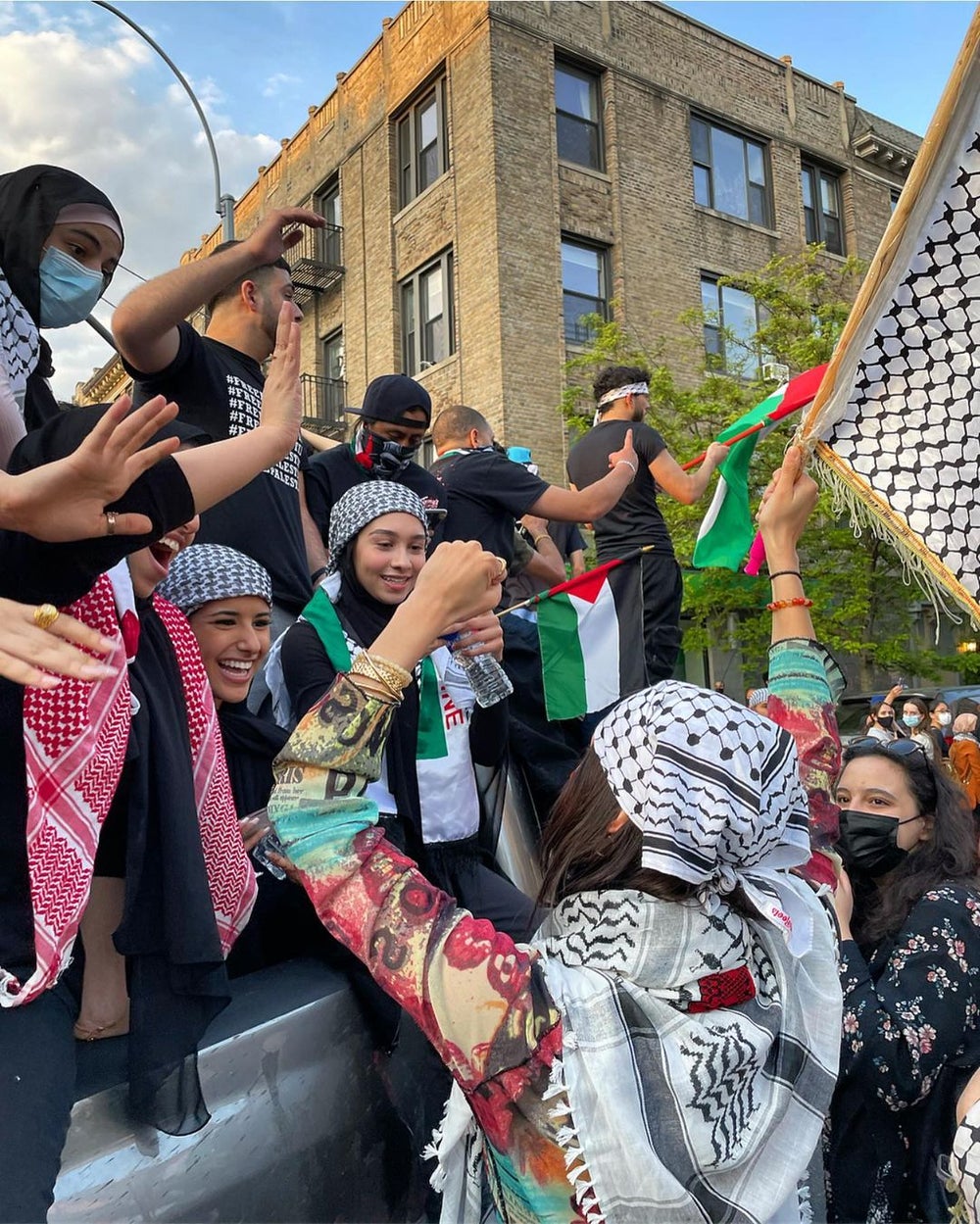 @BELLAHADID
Media has worked to pacify us to the notion of human suffering in the region. But in a globalized world, these issues need the help of everyone for amplification and awareness. Though they might not have immediate or tangible impact on your life, they affect the global community. All social change starts from within. Those sayings you've heard a thousand times: "Be the change you want to see in the world," "Think global, act local," and "Injustice anywhere is a threat to justice everywhere," might fail to resonate anymore, but they are still valid for reminding us of the need for humans to find it in themselves to participate in activities that benefit their communities.
Next, once you are ready to participate, you must also be willing to risk a backlash. I've personally lost dozens of followers when I started posting about Palestine, but I knew the choice I was making when I started, and I accept all the consequences of my actions. There are many who will label you a "keyboard warrior", a "slacktivist", or an "armchair activist", denoting that actions taken on social media don't affect real change. They are wrong.
A study by the Public Library of Science (PLOS One) finds "that these peripheral players actually play a critical role in extending the reach of social movements — even doubling them." Professors Sandra González-Bailón of the Annenberg School for Communication at the University of Pennsylvania and Pablo Barberá from New York University conducted the aforementioned study by analyzing tens of millions of tweets related to protests in Turkey (2013 Gezi Park), and the United for Global Change movement (led by Indignados and Occupy). In the study, they found that social media awareness campaigns significantly impact change. González-Bailón lent perspective, saying, "Of course, social media doesn't push you to risk your life and take to the streets, but it helps the actions of those who take the risk to gain international visibility."
In an interview with Portland Monthly, Associate Professor of Sociology at Oregon State University Kelsy Kretschmer stated, "The power of images communicates needs in a new way… social media matters a lot for that, the same way national news broadcasts mattered a lot in the 1960s. That changes how many people are willing to participate." It's essentially like monkey see, monkey do. There is strength in numbers, and the more people that join together to protest the violent actions Israel is conducting against Palestine and the more pressure that is applied by the global community, the higher the chance becomes that real change can occur.
Let's say you've made it this far into the article and are armed with the knowledge that your participation on social media can impact the movement. It's time for action, but what should you post? What is vitally important about this mission – should you choose to accept it – is that the Palestinian people are not asking for donations and financial aid, they are asking for the amplification of their voices and stories.
One of the first steps you can take is to learn the appropriate terminology to use when you signal boost online. For instance, Palestinians do not use the term "evicted" from their homes when it comes to Sheikh Jarrah, but rather that they were forcefully dispossessed of their homes by order of the Israel Supreme Court. They argue that this is a violation of International Humanitarian Law, which sets out that occupying settlers cannot impose their own set of laws in occupied territory. Palestinian protesters have also rejected the use of the words conflict, clashes, both sides, two-sided, complicated, and complex to describe the events, as they would suggest that the innocent victims of the air strikes and police brutality were complicit by participating in them willingly.
Second, find stories, videos, and posts by Palestinians living in the violently affected areas and repost them. There are many other methods for helping, like donating to reputable charities (preferably those run by Palestinians who distribute funds and resources directly to the people), and by signing petitions that request that your government representative take action to stop the human rights violations happening in Palestine. You will find a list of these vital resources below.
Third, when you take these steps, you may risk being shadow-banned by your social media platform. Shadow banning is when the platform will block or partially block a user's content from being seen by their followers. Shadow banning has been enacted against certain hashtags like #FreePalestine and #SaveSheikhJarrah. However, there are ways around this. One of the intrepid members of our editorial team found that by breaking up her Instagram stories about Palestine with selfies or pictures of her dog, her viewer numbers would stabilize. Other suggestions were provided by Sanad Zaqtan (@szaqtan on Instagram), giving words alternate spellings like "P&lestine" or "Sh**kh J*rr*h". You can also personally request that your friends interact with your stories to increase the likelihood that they will be seen on the home page, and finally, one of the best methods is to share news from multiple (legitimate) sources so that you diversify the types of content being shared.
And finally, in the words of Savoir Flair's Editor-in-Chief Haleh Nia, "Stay strong. Use your voice."
How You Can Help
PETITIONS
Petition to US State Department and Department of Defense to Israel's forced displacement of Palestinians from East Jerusalem
Petition to the UK Parliament to support justice for the people of Palestine / condemn Israel's actions against Palestine
Petition to the United Nations Security Council to stop the bombing of Palestinians
Petition to Google to restore Palestine to Google Maps
Broad petition by Amnesty International to Petition governments around the world to take action
DONATIONS
Palestine Children's Relief Fund
Muslim Relief – Palestine Appeal
Medical Aid for Palestinians
Gaza Fund Relief by LaunchGood
Islamic Aid – Palestine Appeal
Anera Fund for Gaza