Paris Couture Week
The Arab Designers Who Keep on Giving at Paris Couture Week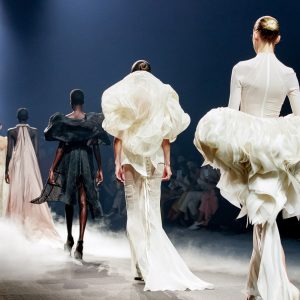 by Hanadi Merchant-Habib
5-minute read
July 7, 2023
The Arab Designers Who Keep on Giving at Paris Couture Week
Couture Week has always been a stage for the world's most inspired talents to showcase their designs and craftsmanship. It unveils the pulse of global fashion, reimagining and redefining the boundaries of style. This season, the influence of Arab designers was palpable, casting an elegant shadow over the City of Lights.
There were several major moments for our homegrown designers: Mohammed Ashi presented his first collection on the official Couture calendar, making him the first-ever Saudi (and first-ever GCC) designer to showcase in the city. Meanwhile, Fan Bingbing walked the runway for Georges Hobeika in a beautiful blue ball gown, creating a significant moment for the designer. In another unexpected turn, Zuhair Murad unveiled a predominantly black collection, exuding an eerily beautiful aesthetic.
A vibrant palette of creativity and innovation was offered by Arab designers, who left an indelible mark on the runways. Below, Savoir Flair guides you through the five talents who made the most notable impact.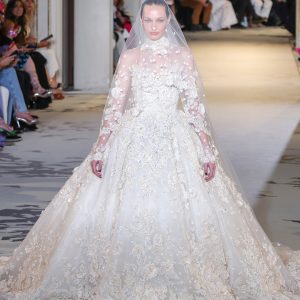 GETTY IMAGES
Zuhair Murad
Zuhair Murad's collection brought a gothic and medieval fantasy to life. Inspired by eerie abandoned buildings, Murad incorporated spiderweb detailing on a sparkling silver embellished number, a black train adorned with big black flowers, and a bat-winged neckline on a semi-sheer gown. The collection featured embroidered bats and large spider motifs crawling on leather jackets. In contrast, Murad stayed true to his love of romanticism with dreamy silk and sheer lace gowns, gracefully pleated and embellished with 3-D embroidery or roses. Among our favorites was the purple gown with sheer gloves adorned with roses and plumes on the bust. While the collection predominantly embraced black, Murad's bride glided along the runway in an ivory gown.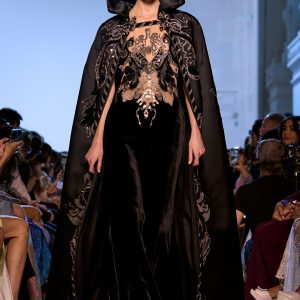 FILIPPO FIOR/GORUNWAY.COM
Elie Saab
Elie Saab embarked on a journey to the Middle Ages for his Fall/Winter couture collection. The collection showcased capes, thrown over gowns or intricately stitched onto the sleeves of dresses. Notably, a fierce black velvet cape featuring gold embroidery and angled power shoulders caught attention, while a chic and feminine nude pink chiffon gown with sequins and feathers exuded elegance. The addition of hooded capes created an aura of mystery, evoking images of powerful queens plotting revolutions centuries ago. The collection also featured softly draped sparkling evening wear, including a simple chiffon column gown with rows of sequins and a demure off-shoulder black gown with metallic detailing and a voluminous skirt. For those seeking a touch of edge, Saab presented a black hooded dress with a gold armor-like bodice and matching sleeves, as well as a jacket gown with trailing sleeves.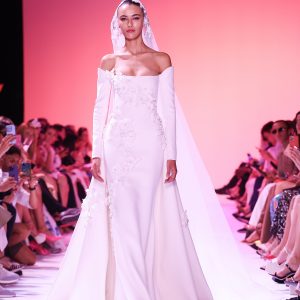 GETTY IMAGES
Georges Hobeika
The Georges Hobeika show garnered admiration for multiple reasons. Firstly, our favorite Saudi model, Amira Al Zuhair, closed the show. She floated on the runway wearing a minimalistic white off-shoulder gown adorned with embroidered matte flowers that trailed like vines. Additionally, Fan Bingbing made an appearance, captivating the audience in a voluminous blue ball gown with endless layers of tulle and a soft waist belt. The collection celebrated hope and optimism through vibrant colors and joyful nature-inspired motifs, primarily in pink, lilac, and blue. Silhouettes were playful, featuring an ivory skirt with a nearly-there bustier made from purple cords, opera gloves, and a slouchy pink jacket paired with bright yellow trousers. Crystal-encrusted dresses in various volumes, such as a blue fishtail gown bursting with sparkling gems forming floral motifs, and a dress with cap sleeves and multi-colored crystals, caught the eye. Tulips and dragonflies were recurring motifs, with two large tulips covering a model's breast on an evening gown and the insect hanging from the model's ears. This season, Hobeika's craftsmanship stood on par with French couturiers.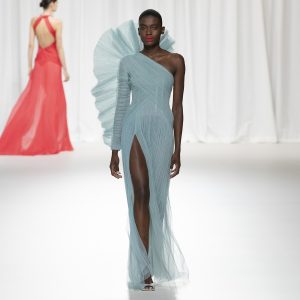 RAMI AL ALI
Rami Al Ali
Rami Al Ali drew inspiration from French artist Henri Matisse for his couture collection. Referencing Matisse's cutout works, Al Ali presented a lineup of whimsical eveningwear. The show opened with a sheer white gown adorned with giant pink ruffles along the neck and abstract cutouts on the dress. Throughout the show, famous Matisse shapes were embroidered on evening dresses, including one-shouldered tops with cascading ruffles embellished with Matisse's birds. While the collection showcased meticulous craftsmanship, it veered off course towards the middle, becoming typical glitzy red-carpet dresses without a cohesive theme. Nevertheless, the blue one-shouldered dress with a sculptural ruffle protruding from the sleeve stood out as a favorite.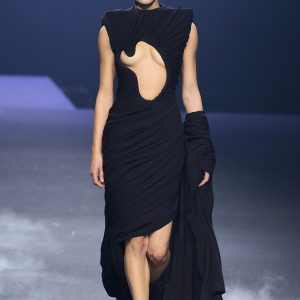 GETTY IMAGES
Ashi Studio
Mohammed Ashi made his nation proud as the first-ever Saudi creative to present officially on the Paris Couture Week calendar. This long-awaited moment showcased his extraordinary talent. The show opened with corseted dresses that displayed Ashi's signature architectural appeal. Followed by a series of gowns, standout pieces included a brushed mohair number and a silk gown held by an oversized diamanté necklace. Ashi fearlessly incorporated sheer looks on the runway, featuring see-through slip dresses and garments with exposed breasts. Notably, a black dress with geometric shoulders and a cutout bodice, as well as a sparkling silver metallic corset top with a plunging neckline, exemplified his daring approach. Towards the end, the collection embraced more voluminous and red carpet-ready looks, with the black organza dress stealing the spotlight. Ashi showcased great potential in his debut show, although it may take him a season or two to find his footing in Paris.