Paris Couture Week
The Schiaparelli Dream Is One We Never Want to Wake up From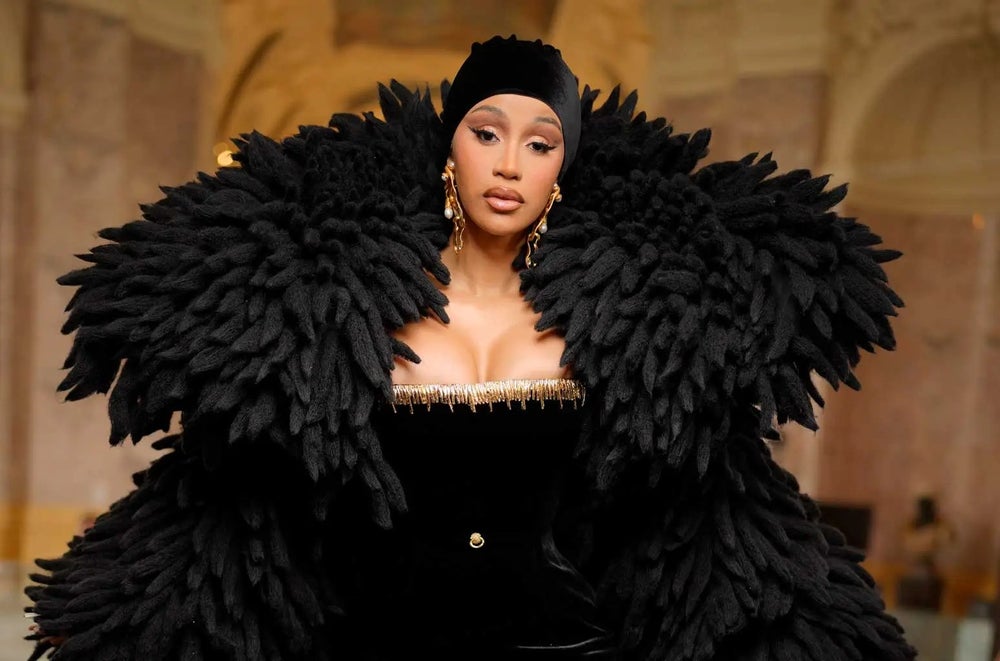 by Grace Gordon
3-minute read
July 4, 2023
The Schiaparelli Dream Is One We Never Want to Wake up From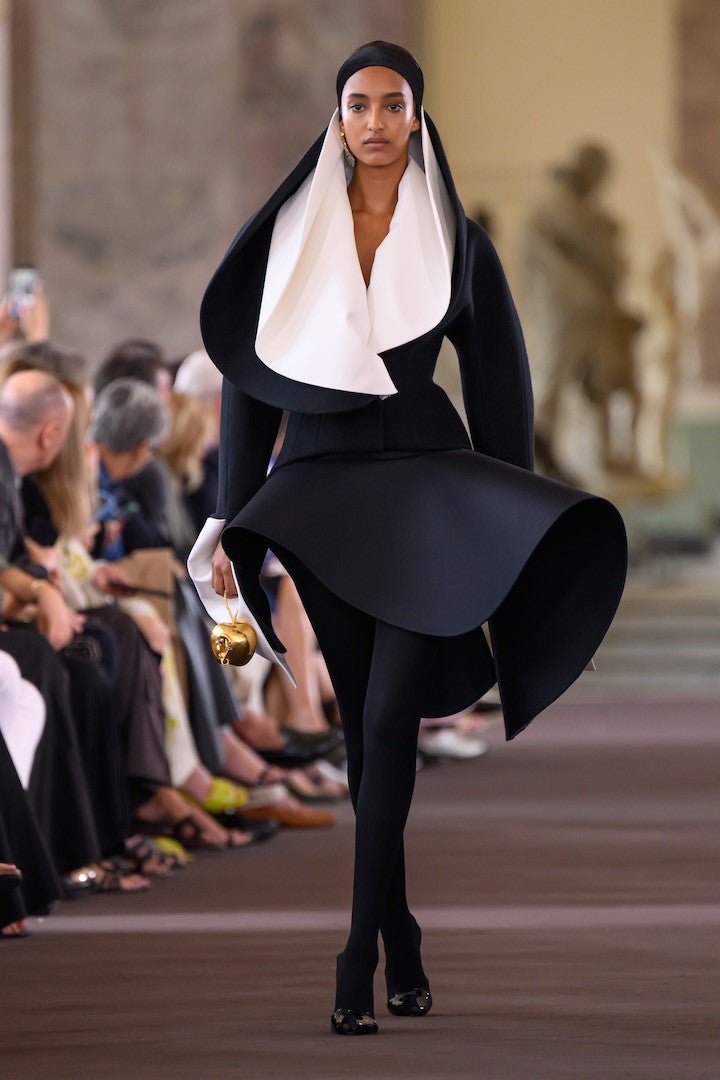 look 1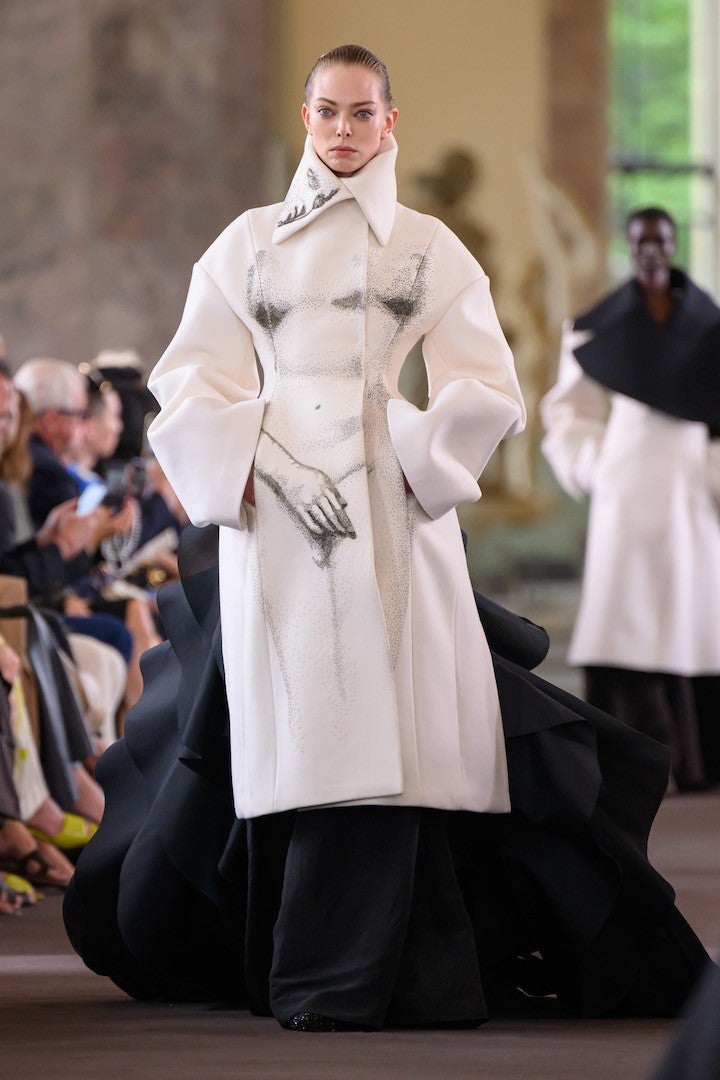 look 2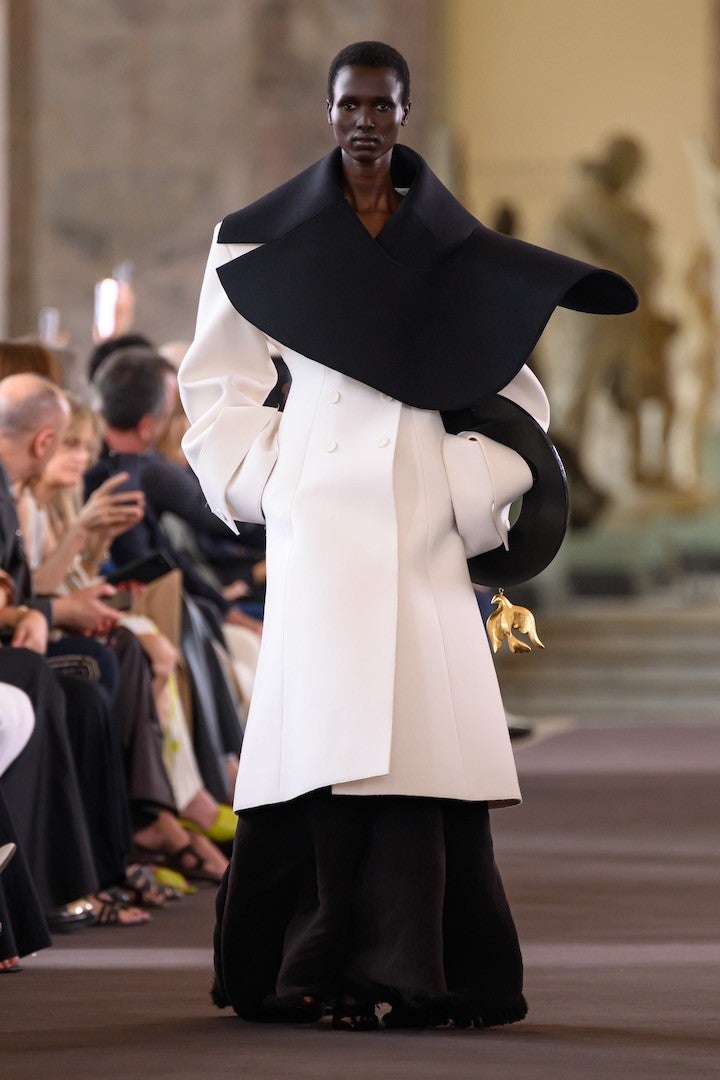 look 3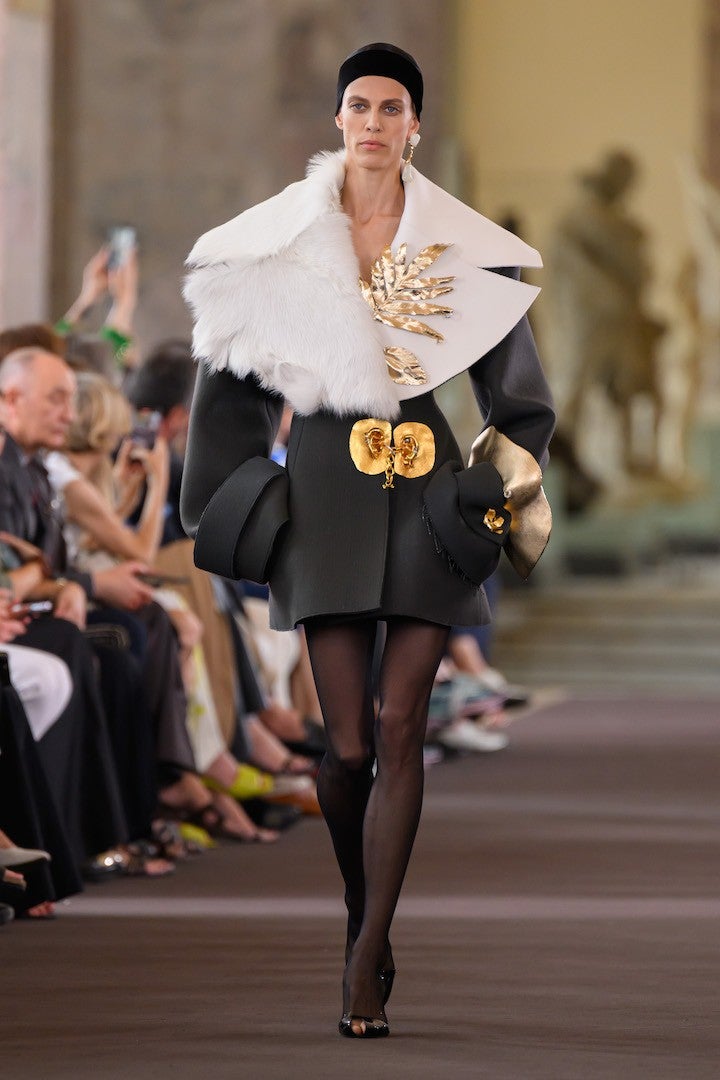 look 4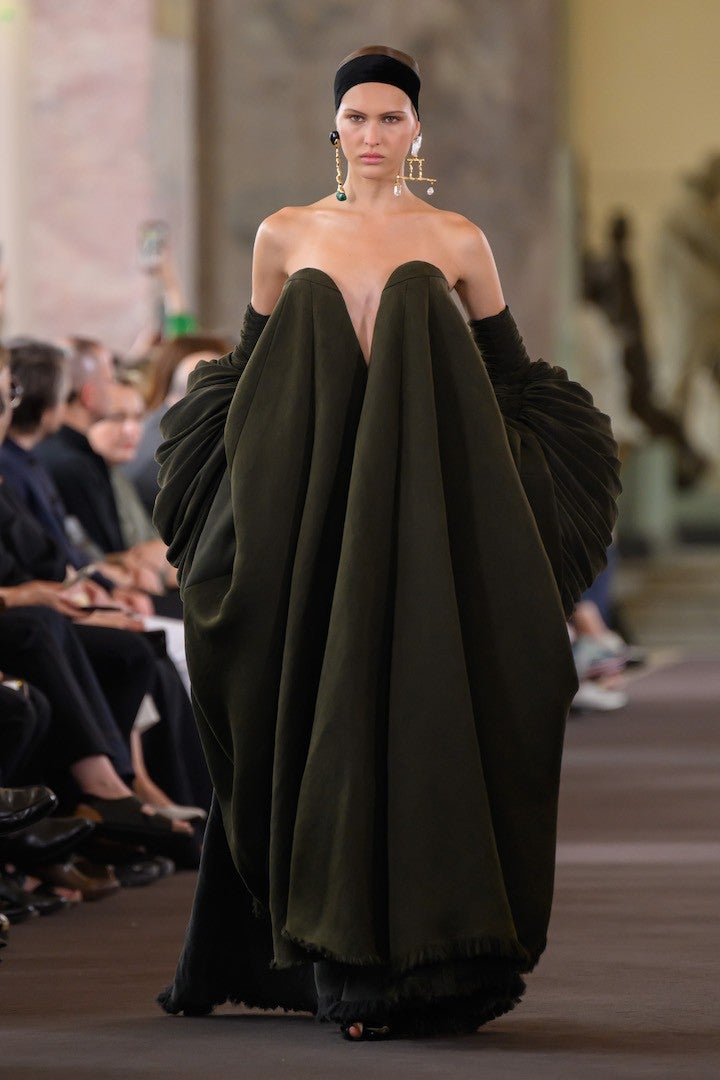 look 5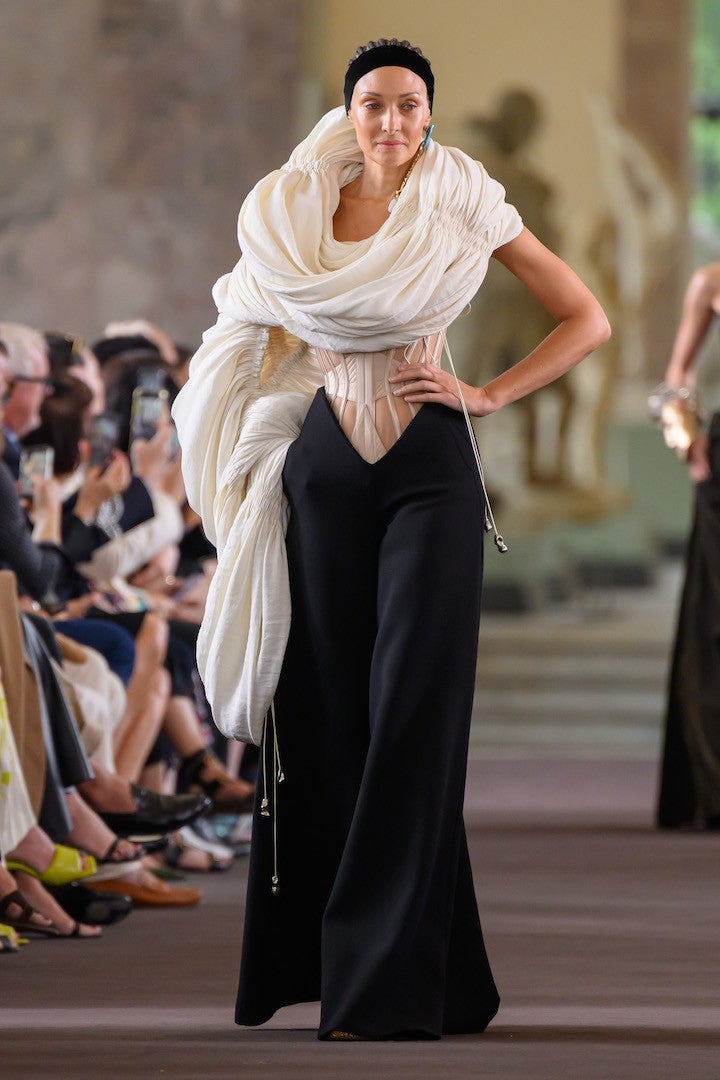 look 6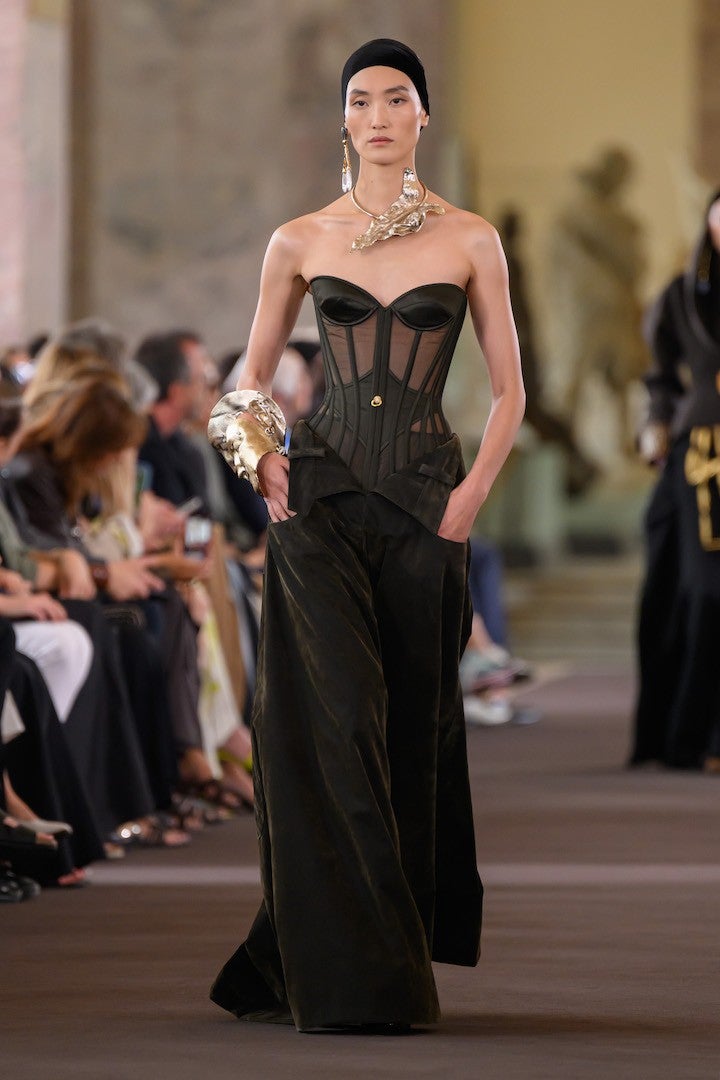 look 7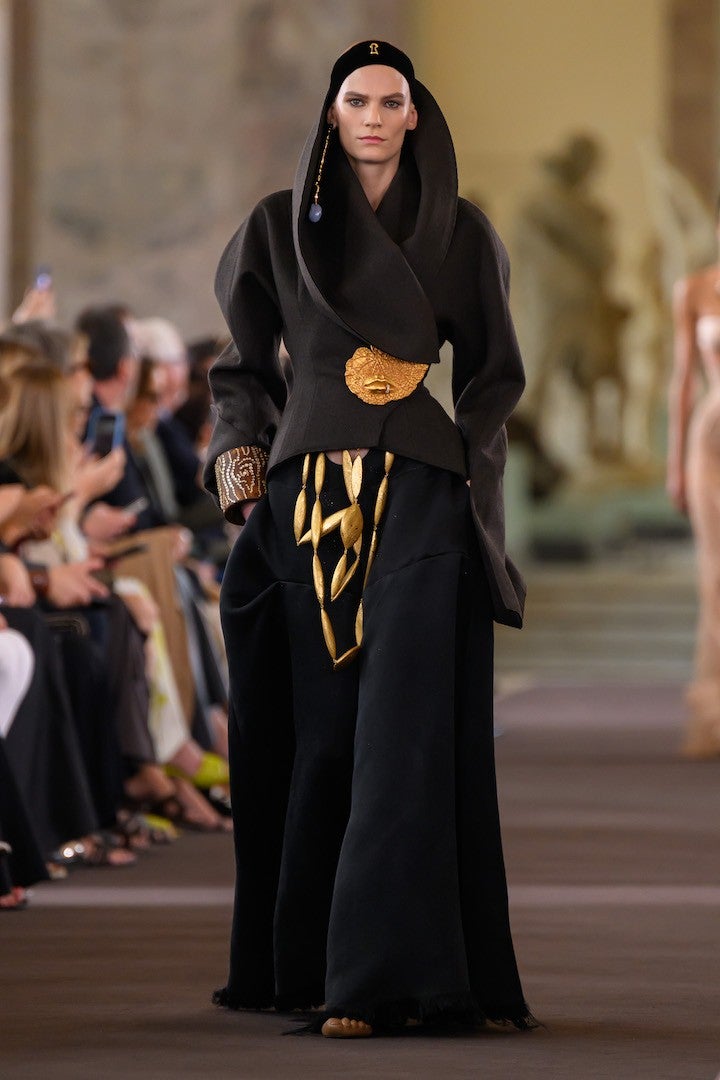 look 8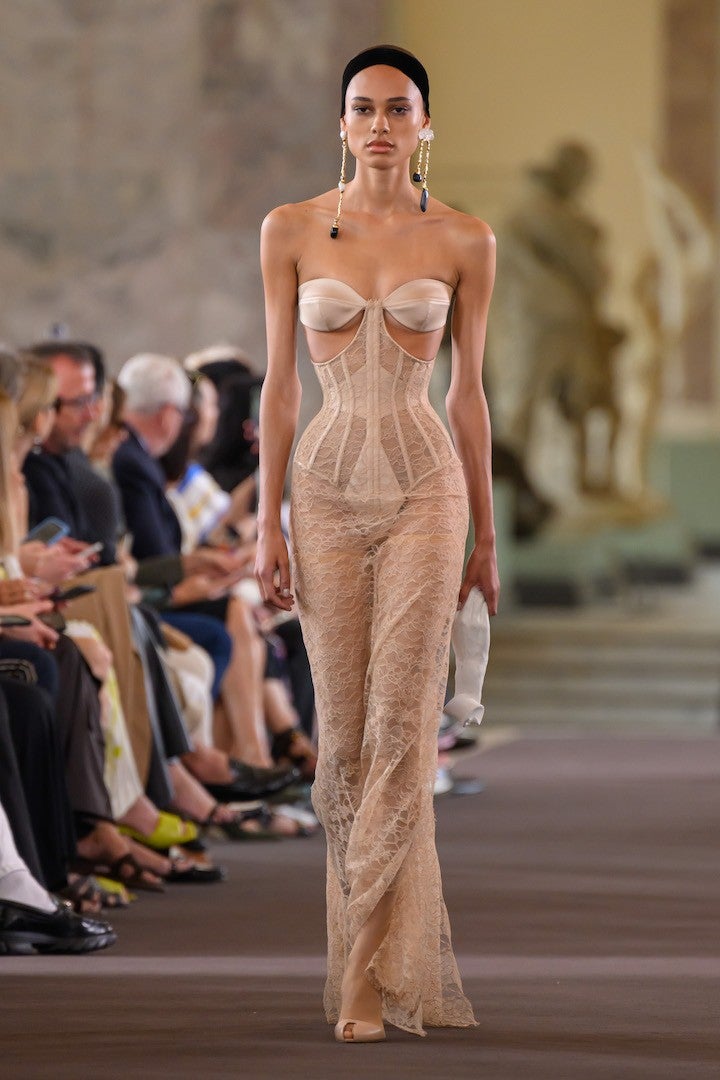 look 9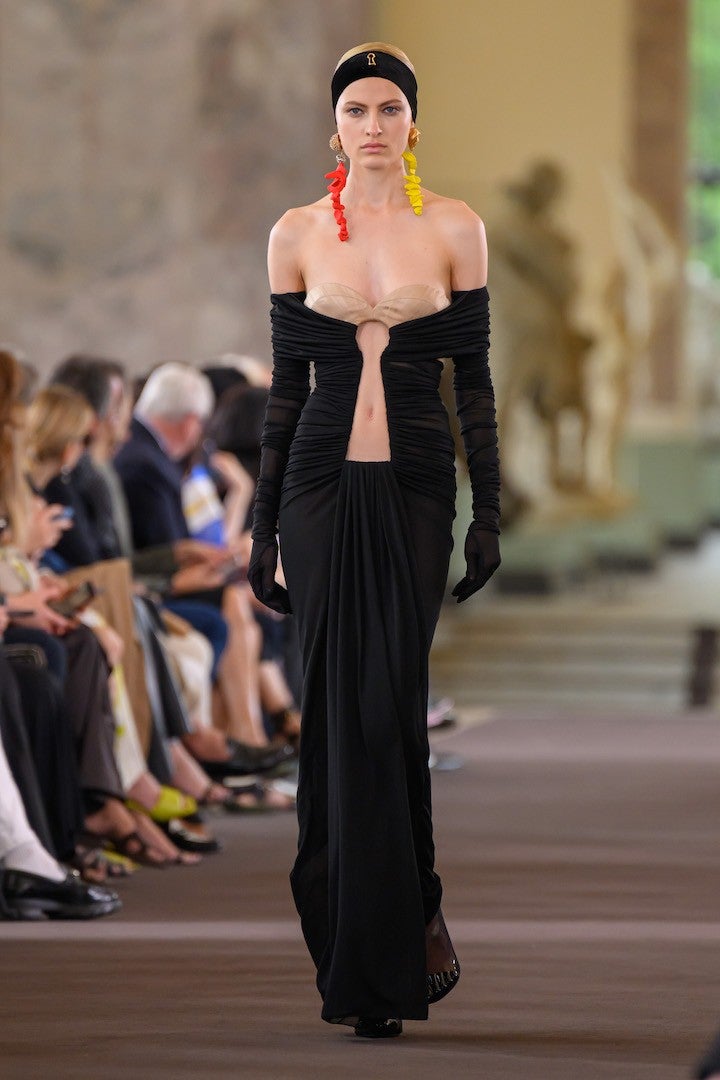 look 10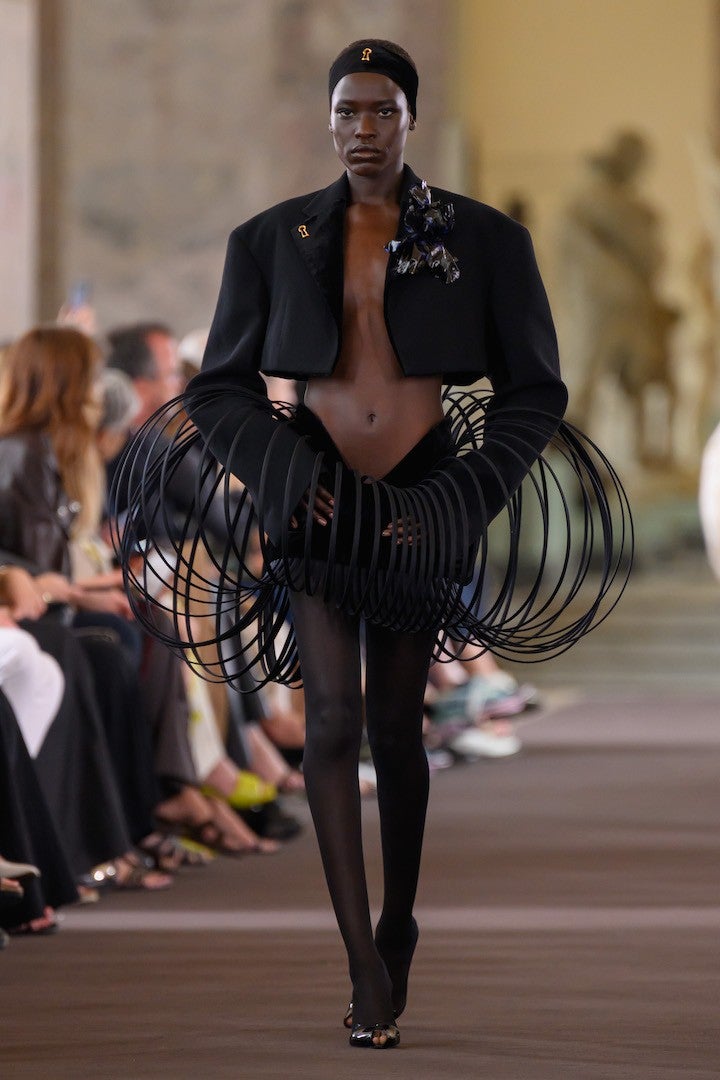 look 11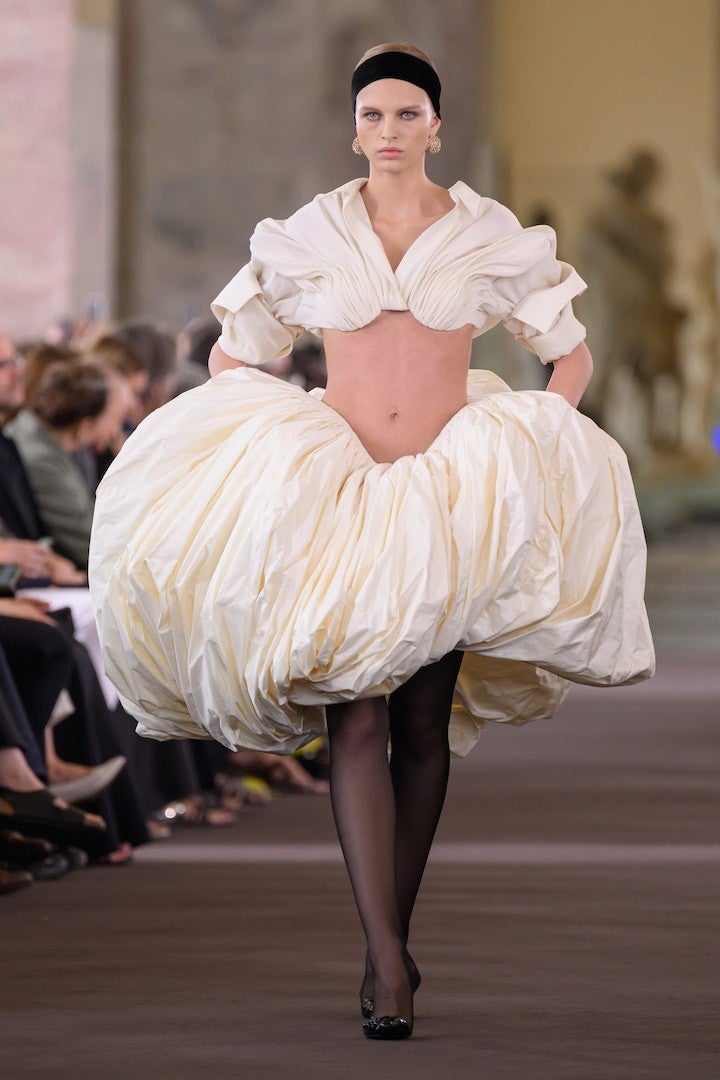 look 12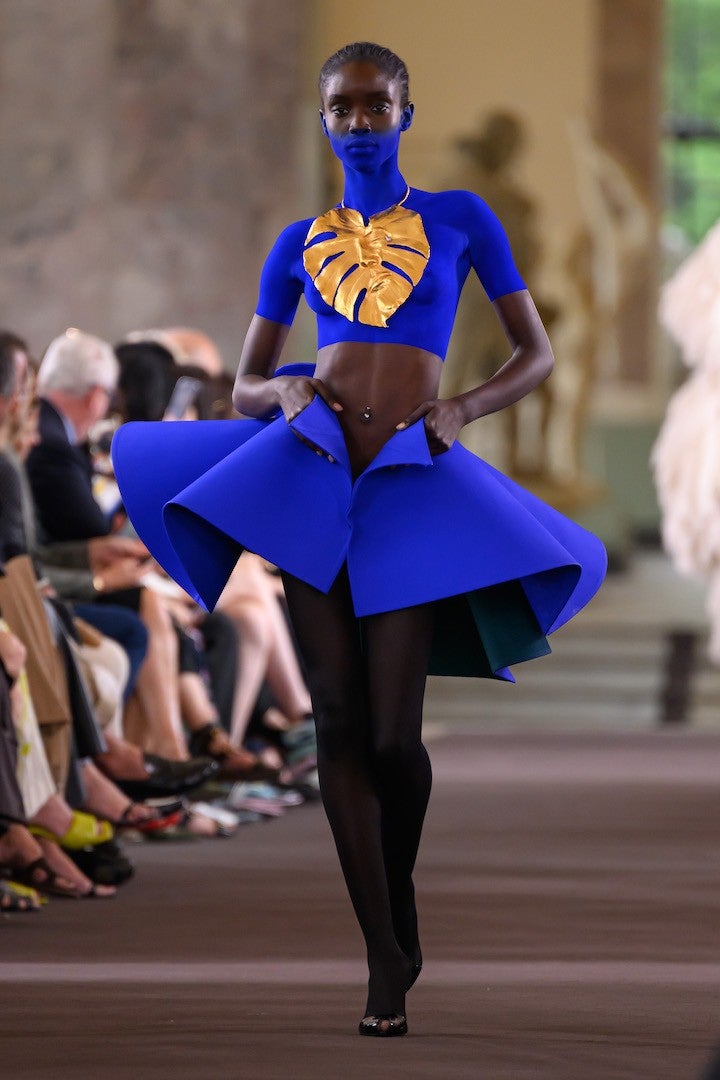 look 13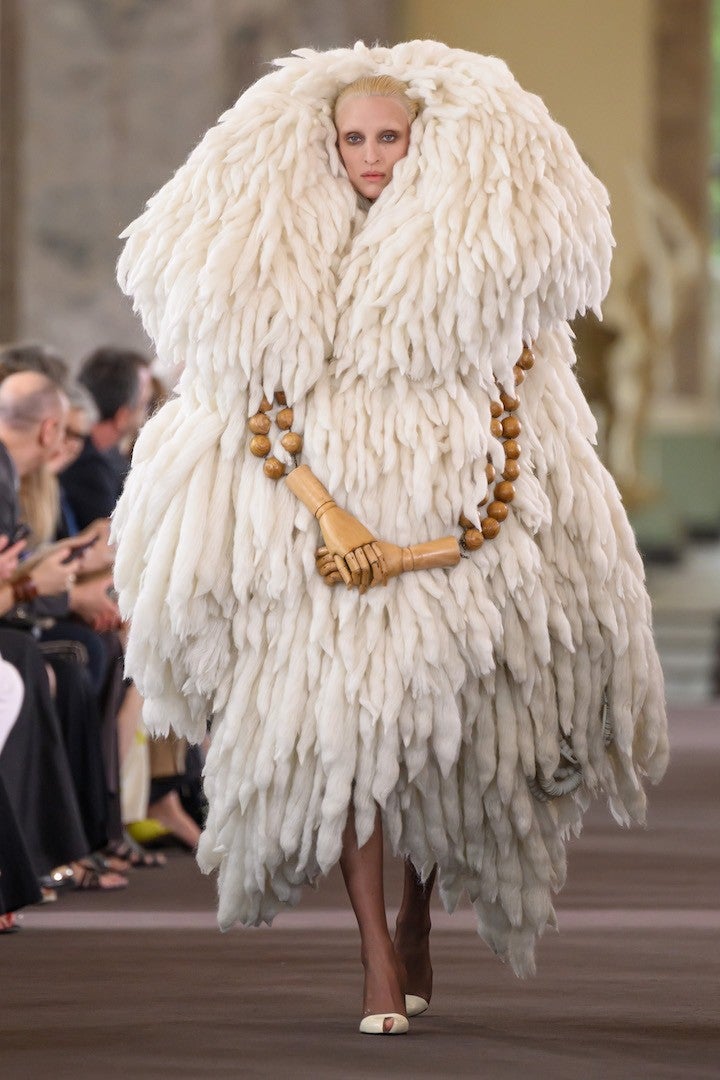 look 14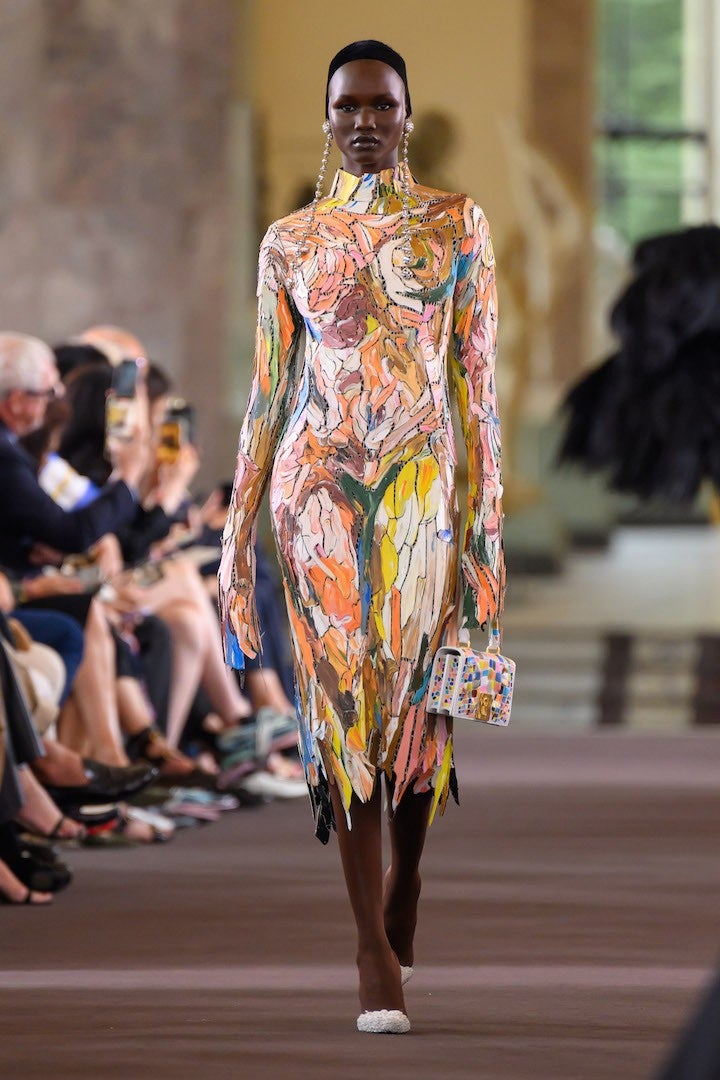 look 15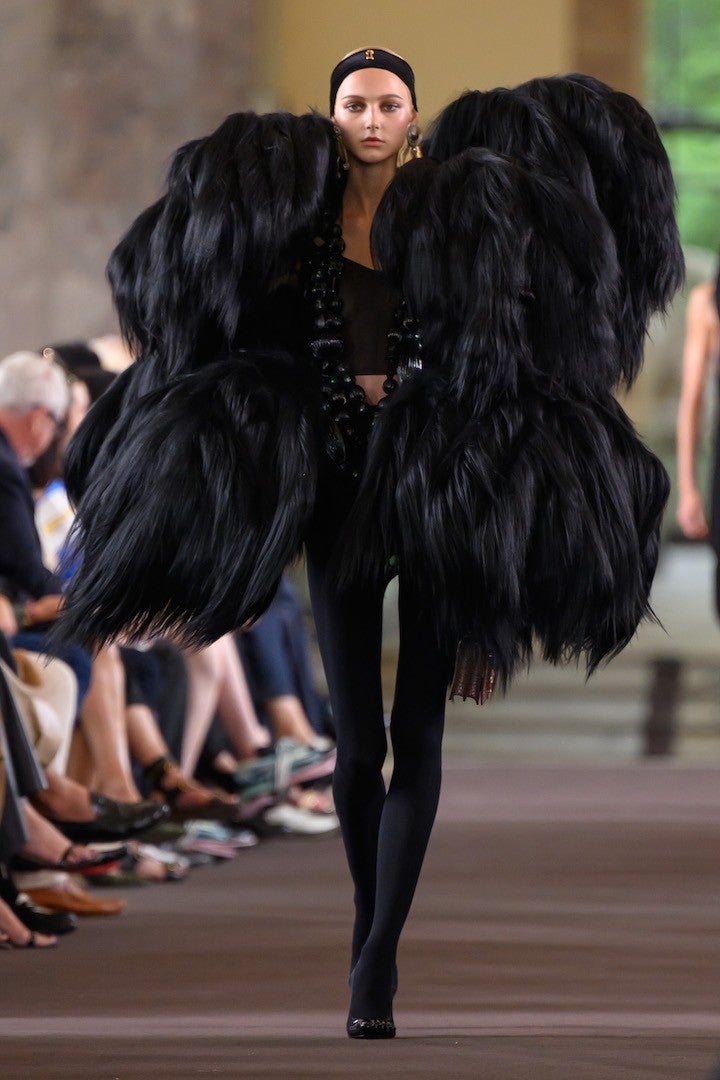 look 16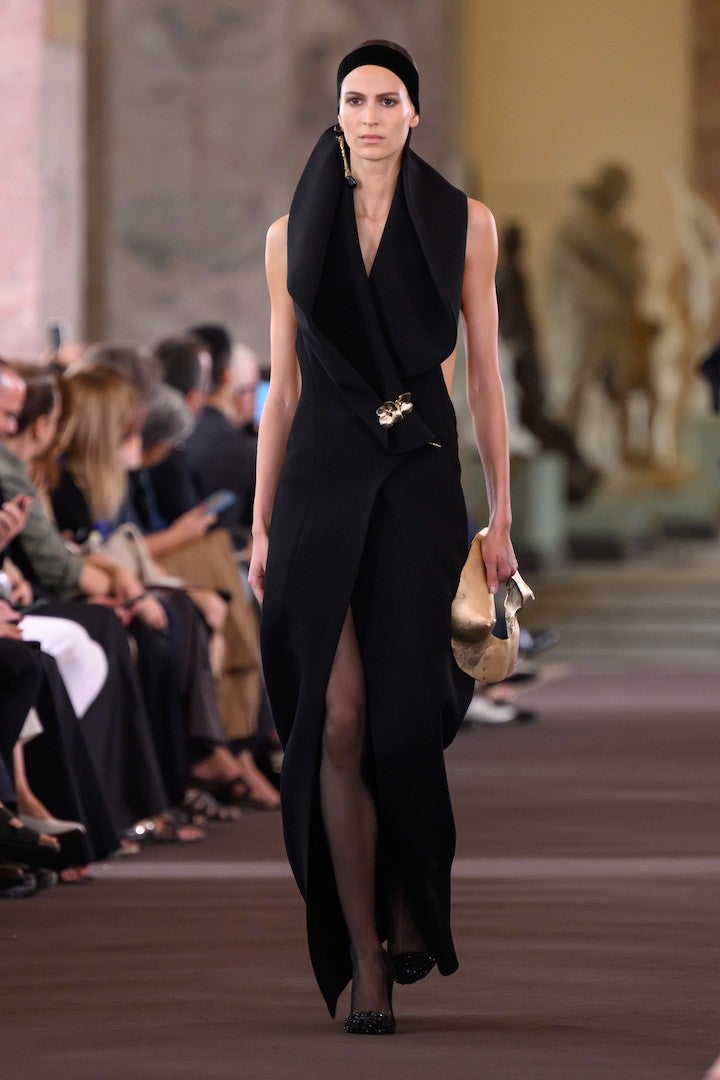 look 17
look 18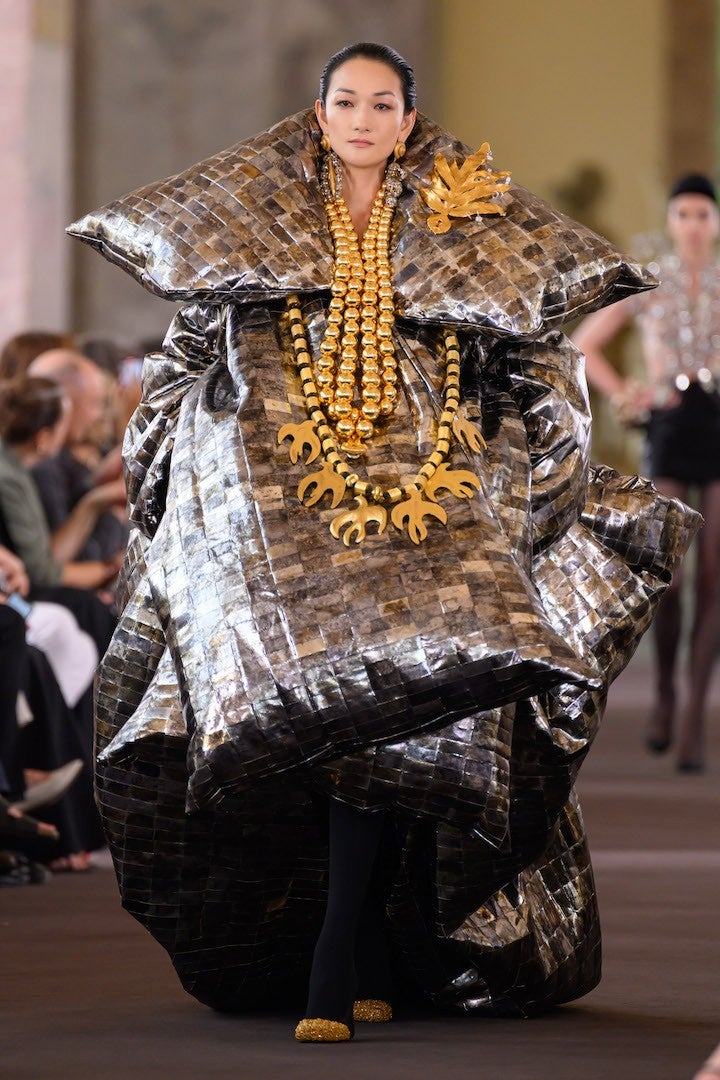 look 19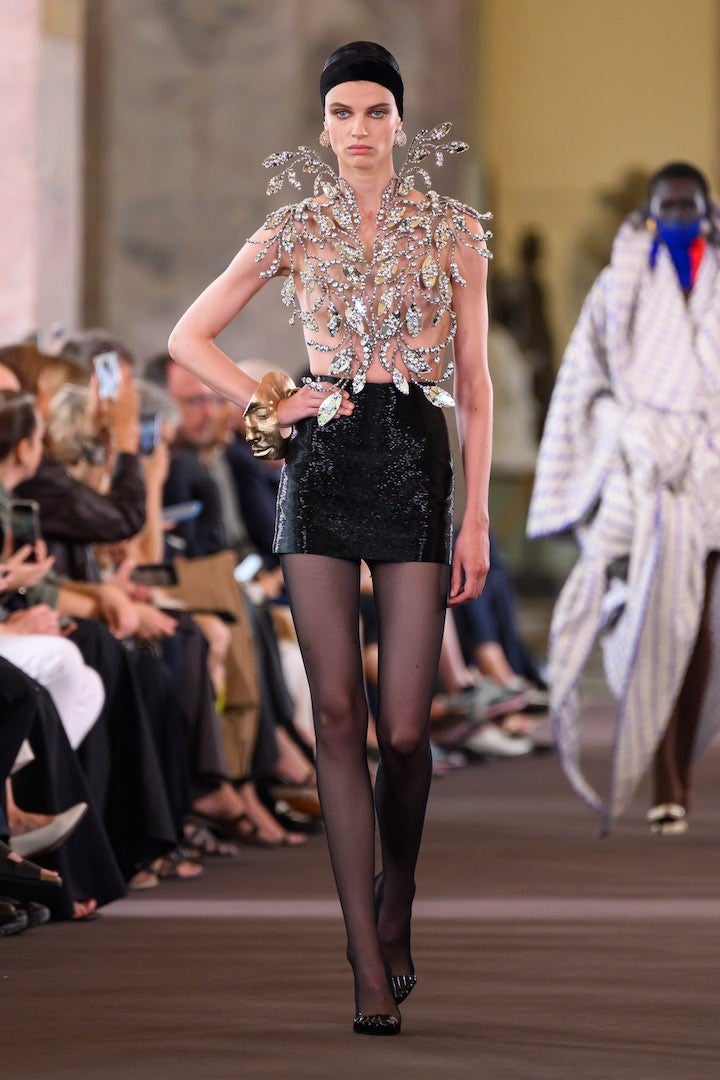 look 20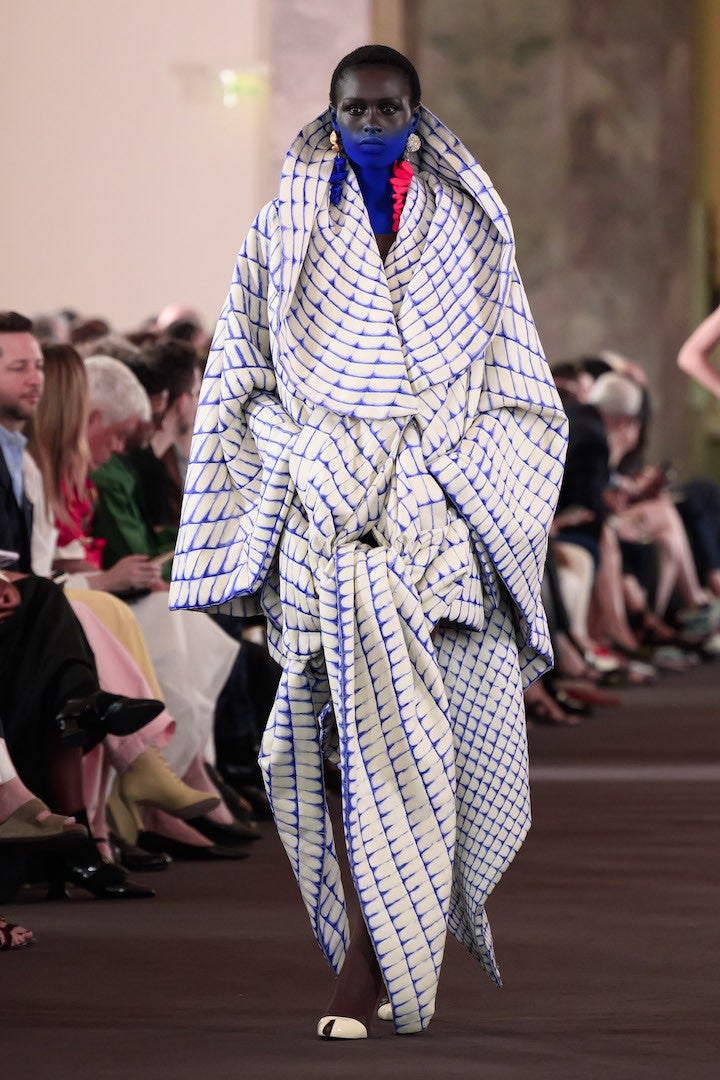 look 21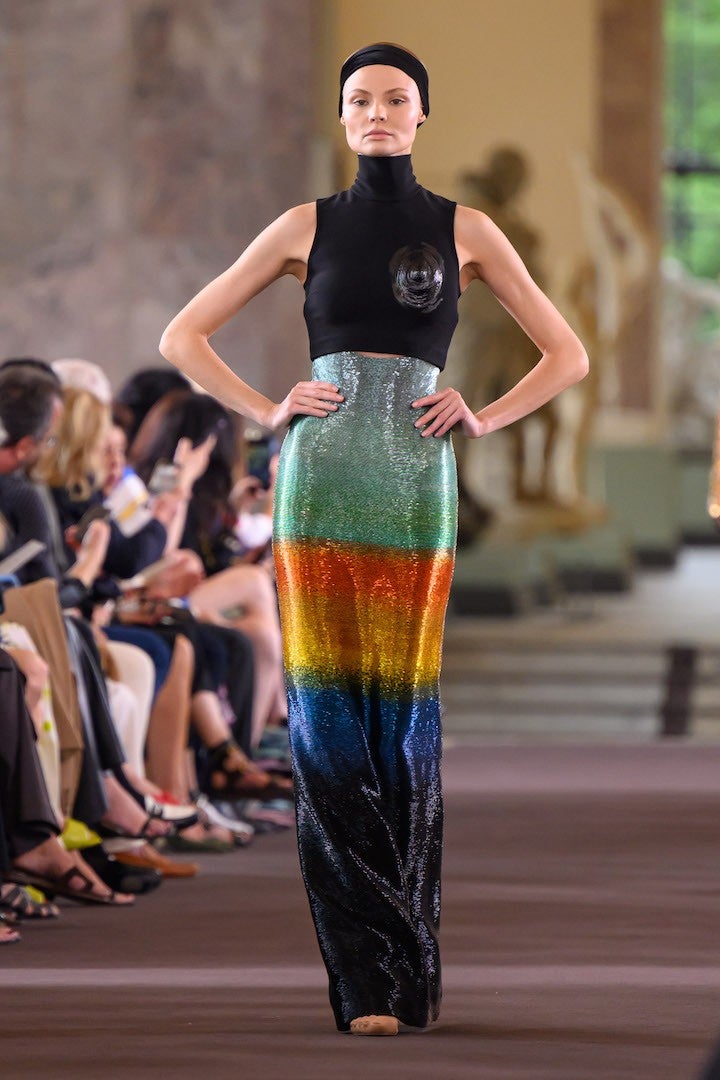 look 22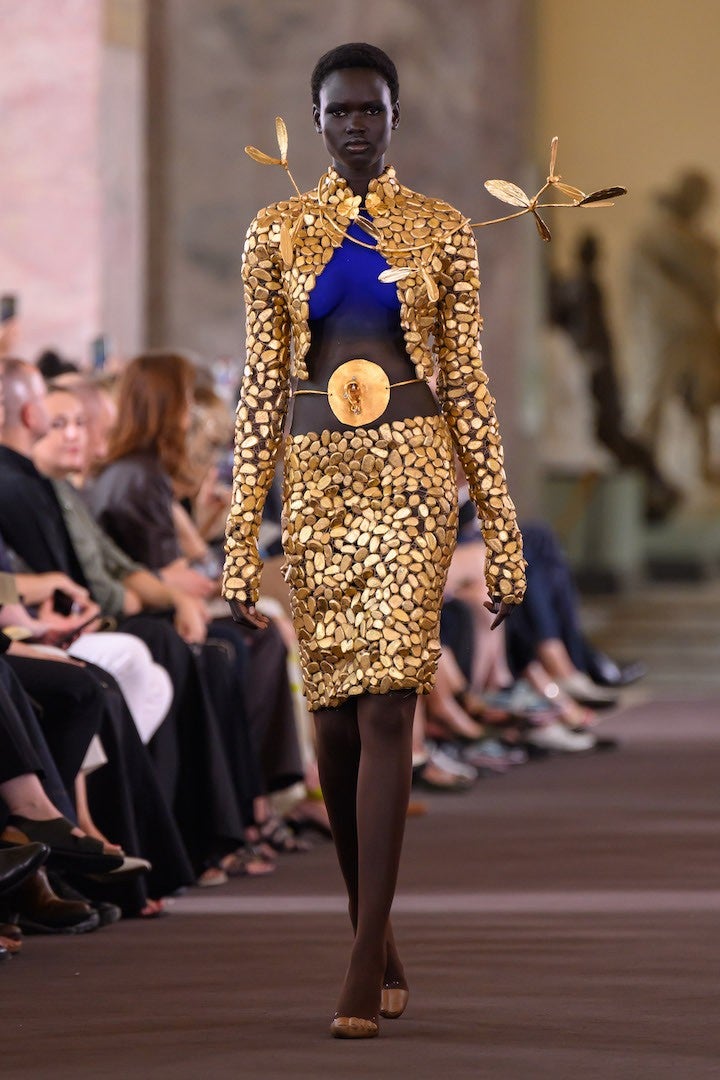 look 23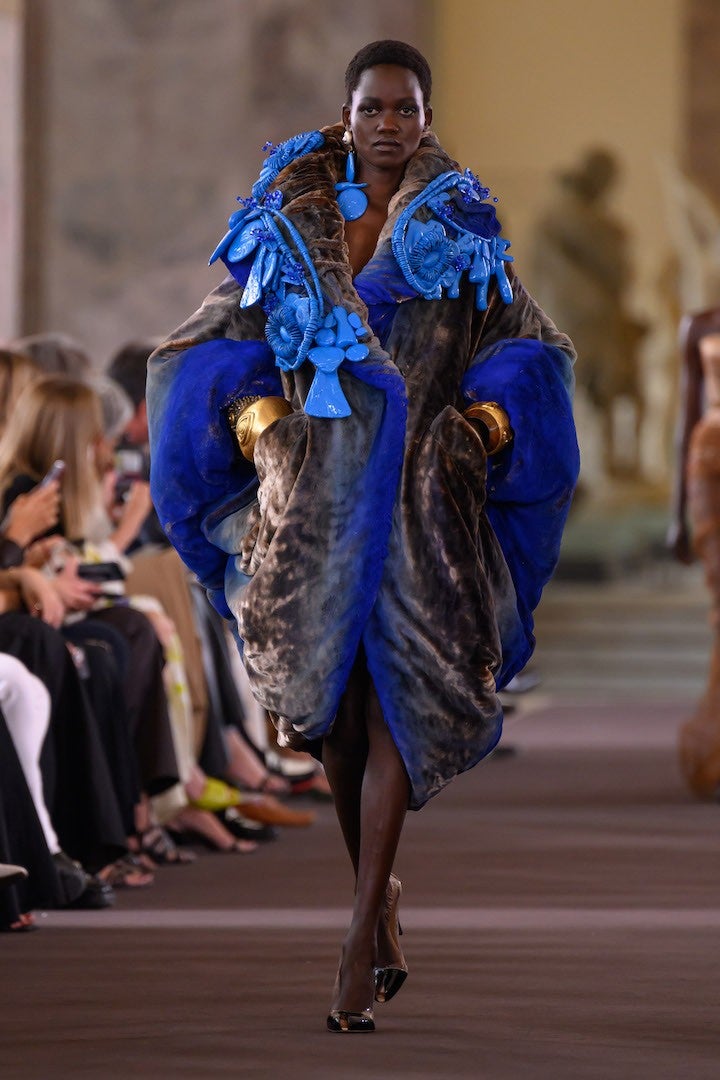 look 24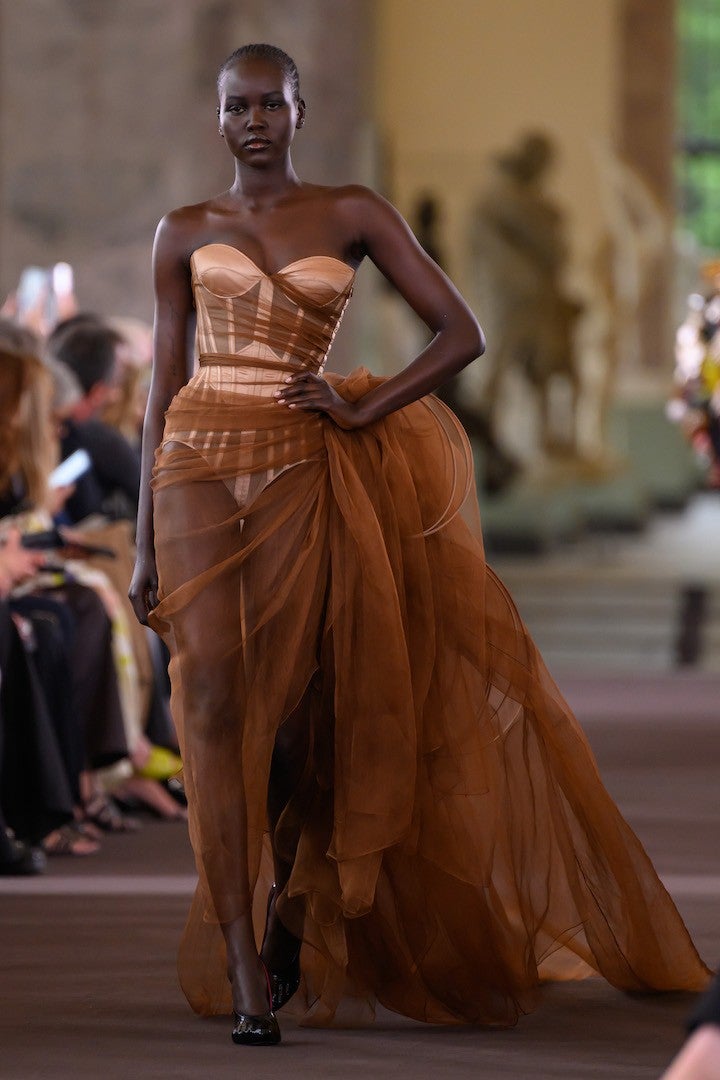 look 25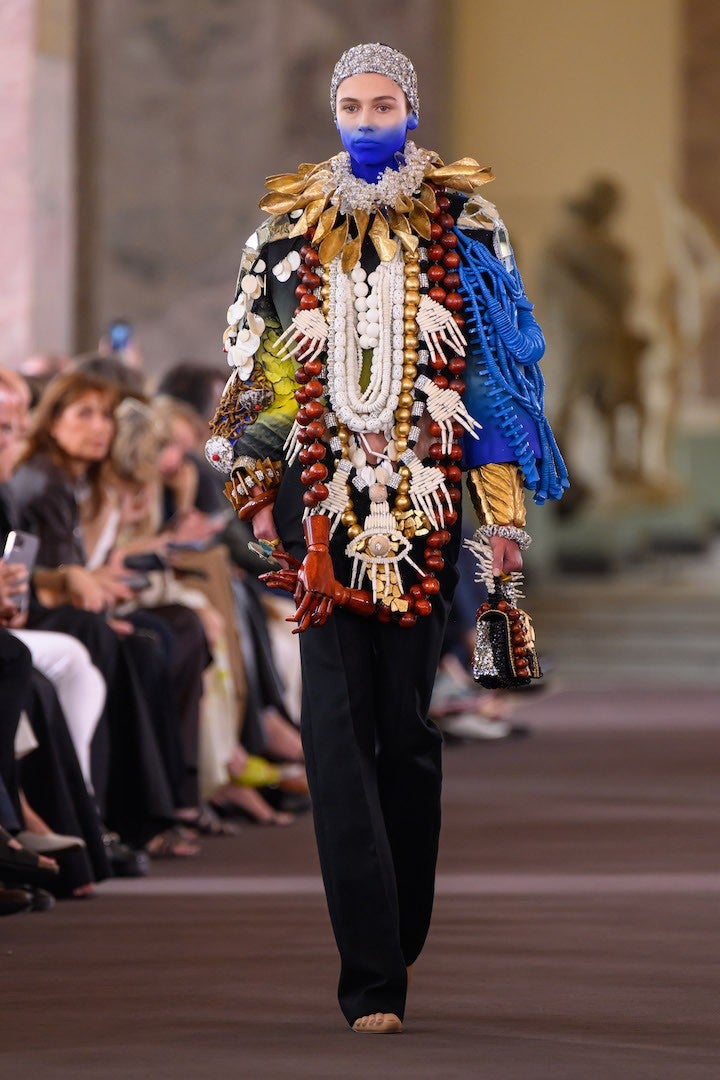 look 26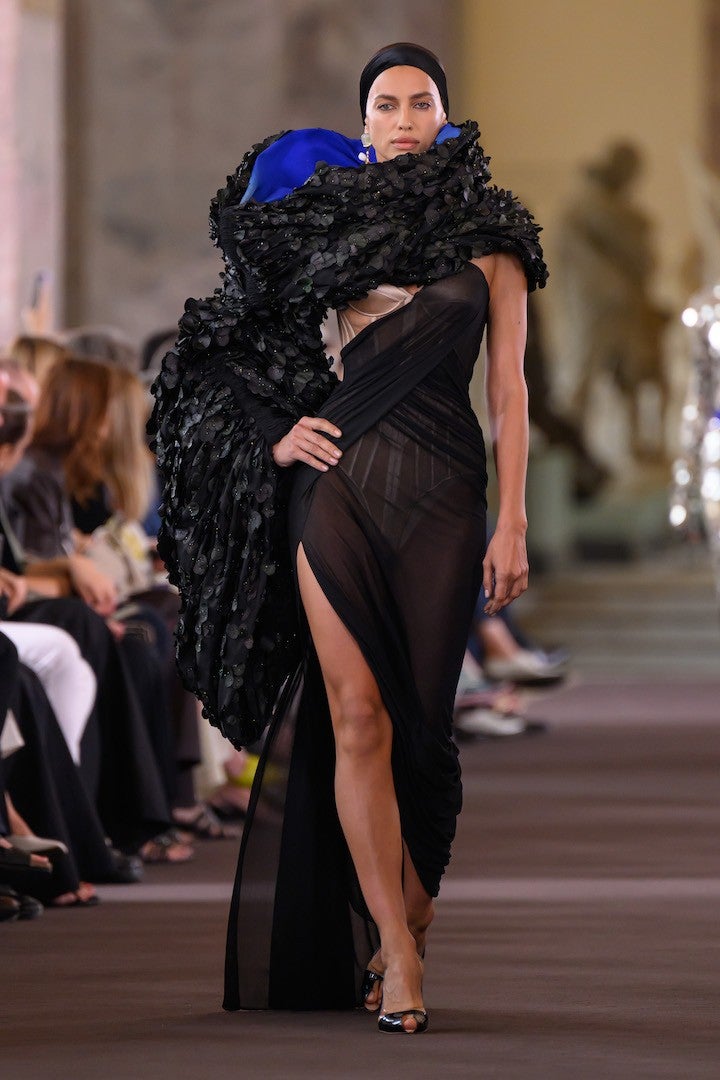 look 27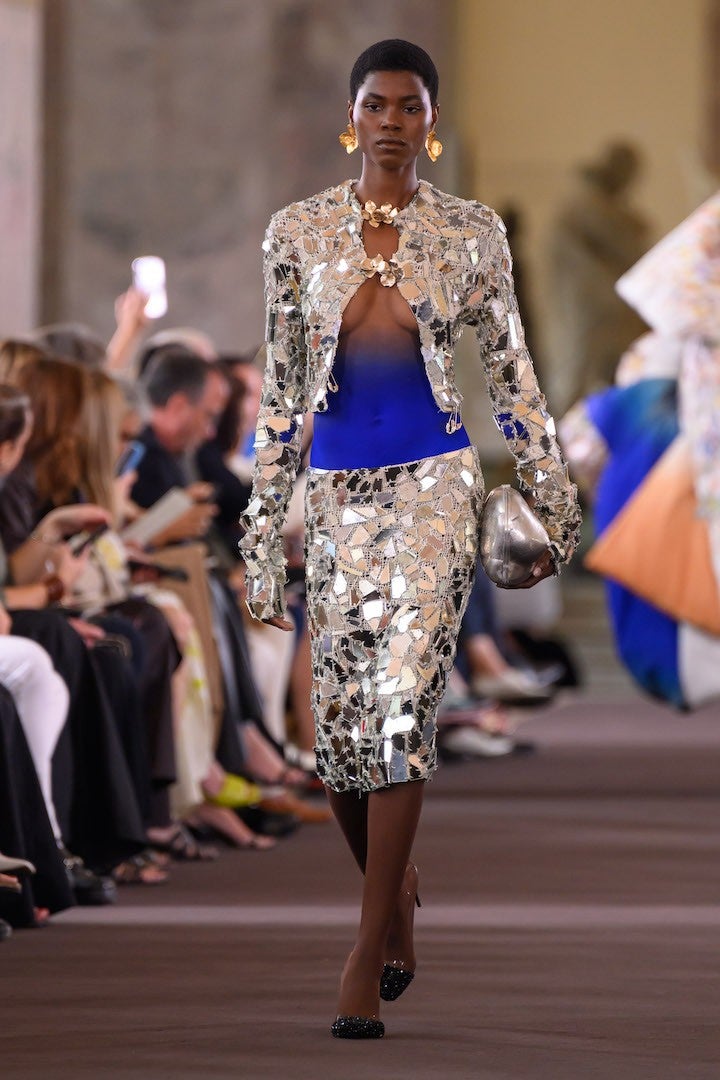 look 28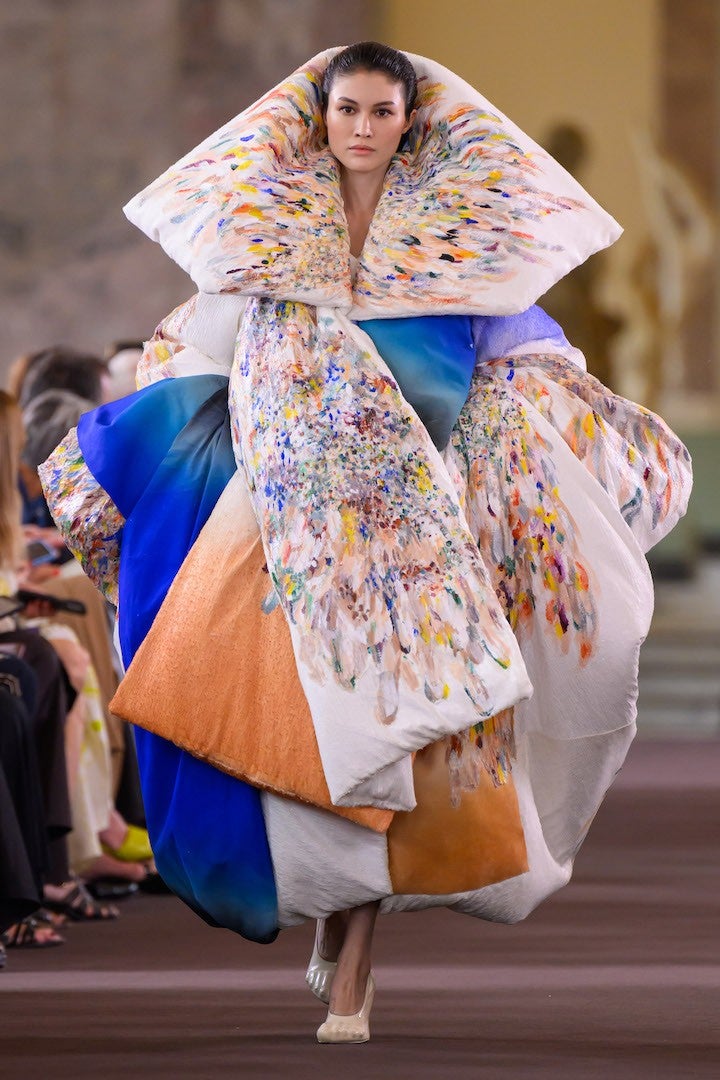 look 29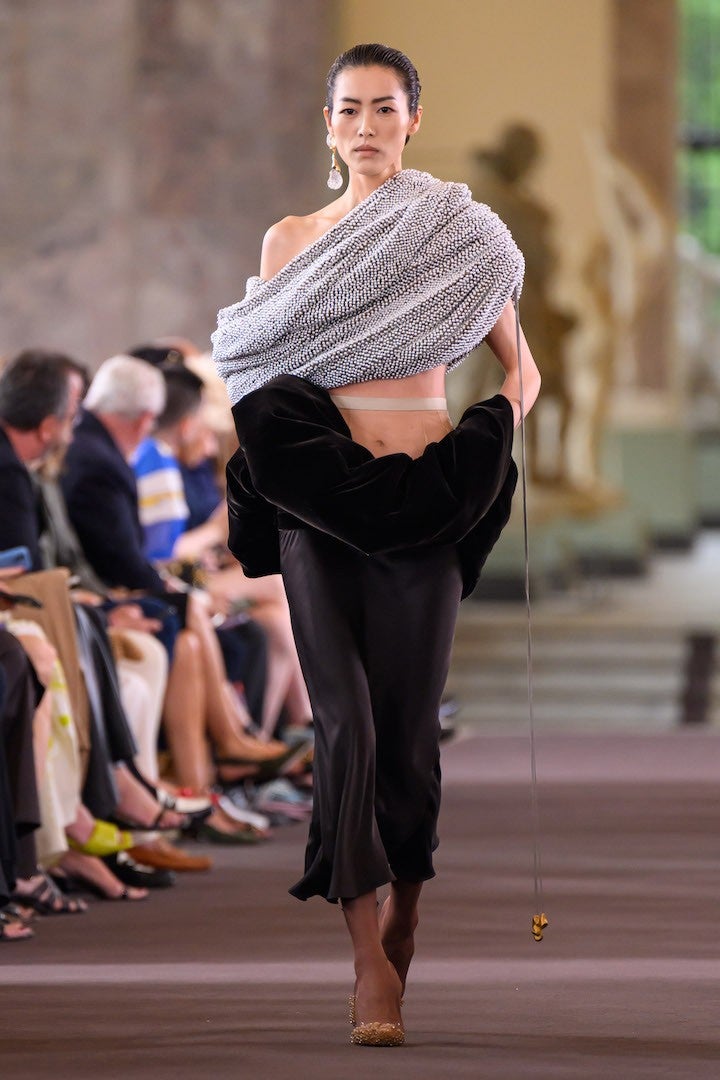 look 30
Surrealism is the word most often attached to Schiaparelli, from the founder's work with artists like Salvador Dalí and Jean Cocteau to the present-day factory of warped perceptions à la Daniel Roseberry. At this point, it hardly needs to be explained anymore. However, at this stage, I'm guessing we take what surrealism really means for granted, having been semantically saturated with the term for so many years. The reason that surrealism resonates deeply, bringing with it the strange sensation of both the familiar and the distorted, is that it comes from the realm of dreams. Dreams, those often-ignored messages from our subconscious, are broadcast in vivid images and wild scenarios that often make us scratch our heads in the morning and shrug off in benign bewilderment. Last night, I dreamed that I was talking to Tim Blanks at a music festival, except he had lost so much weight that I suspected he'd been injecting Ozempic. It turns out the chaotic music festival we were at was Fashion Week. What did it mean? Did it mean anything at all?
Surrealism gives imagery to the imagination. It is a language of codes and riddles that ultimately summarize that the lived human experience is wonderfully bizarre in all of its textures and unexpected twists and turns (and therefore, unsummarizable). No one in fashion, it seems, understands this better than Daniel Roseberry. He is a skillful artisan of the subconscious, who teases out the surreal from fashion's well-mined territory of fabric manipulation and embellishment. For those of us who, upon hearing the bellwether term "quiet luxury", are filled with a sense of dread, the wonderful, spectacular, odd, and destabilizing world he creates with his design has been a balm to the soul.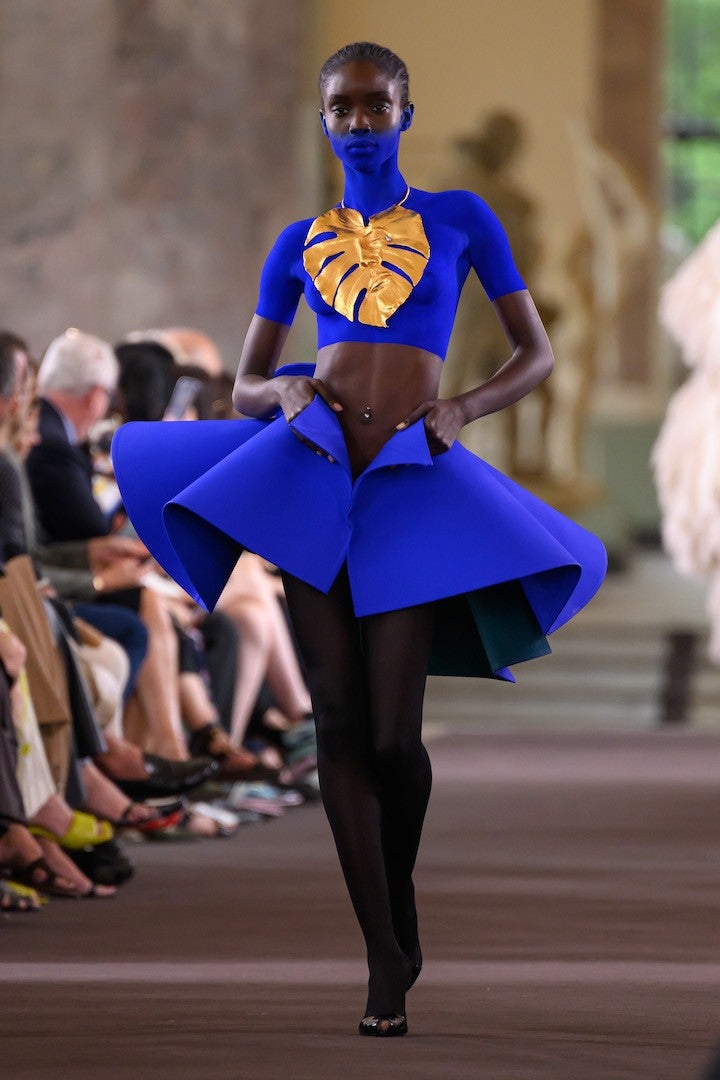 SCHIAPARELLI
In his show notes for Schiaparelli Fall 2023 Couture, he pens the following paragraph, "We live and create fashion in a time when creativity, internet-breaks, and celebrity gags come at us weekly, daily, and now by the hour. Some of these aren't even created by human hands or minds. Most all of them are forgotten by tomorrow. It's why I wanted this collection to be aggressively, unmistakably human - and to be rooted in artistic references that feel timeless. To dress, decorate, but most importantly, to create, is as primitive as any instinct we have." I feel like he has lifted those very words from my own private journal. 'Yes', my soul responds, 'exactly'.
Is this an essential wardrobe? It is if you're a dreamer.
For this collection, he imagined "a Surrealist's interpretation of a woman's essential wardrobe." What might she wear? How might she bend the fabric of reality to her own bidding? He called upon a stable of artists to bear his idea forward: Yves Klein, Salvador Dalí, Jack Whitten, Joan Miró, Sarah Lucas, Lucien Freud, and many others. They couldn't be more different in their artistic oeuvres, and save for Dalí, none of the rest are surrealists. However, he employed elements of their work to craft a collection so stupendous as to undo even our already high expectations of surrealism. Craft is a key word here. All of this was done with human hands, in an exaltation of pure humanism.
Klein Blue came to the fore on a jaw-dropping look worn by Matty Falls. She is dipped in the electrifying hue from chin to rib cage, while her skirt unfolds below and is grasped closed by her hands. The hits just kept coming. Tanya Dziahileva appeared in a white coat featuring a woman's torso painted on the front. The wittiest element was its painted hand, depicted as if inside a coat pocket. Chrystèle Saint Louis Augustin wore a ruched ivory piece that draped in such an achingly beautiful but precise way as to recall marble sculpture. It was paired with a breath-defying boned corset and over-wide pants that dipped into a 'V' at the center. Another corset featured a pierced gold belly-button ring accent. Lace, poufs, feathers, and shaggy fur were rendered in shocking volumes. One top (honestly, I don't even know if it's a top — it defies categorization) was a tensile trellis strung with crystals. Another look featured shattered mirrors. Throughout it all, Schiaparelli's signature gold jewelry accents dazzled, either hammered into massive bangles featuring Roman-esque faces, dangling as baubles the size of Christmas ornaments, or acting as closures (who doesn't need a dual human ear closure on their coat?)
Is this an essential wardrobe? It is if you're a dreamer.