Fashion Week
These Were the 10 (Absolute) Best Shows at Paris Fashion Week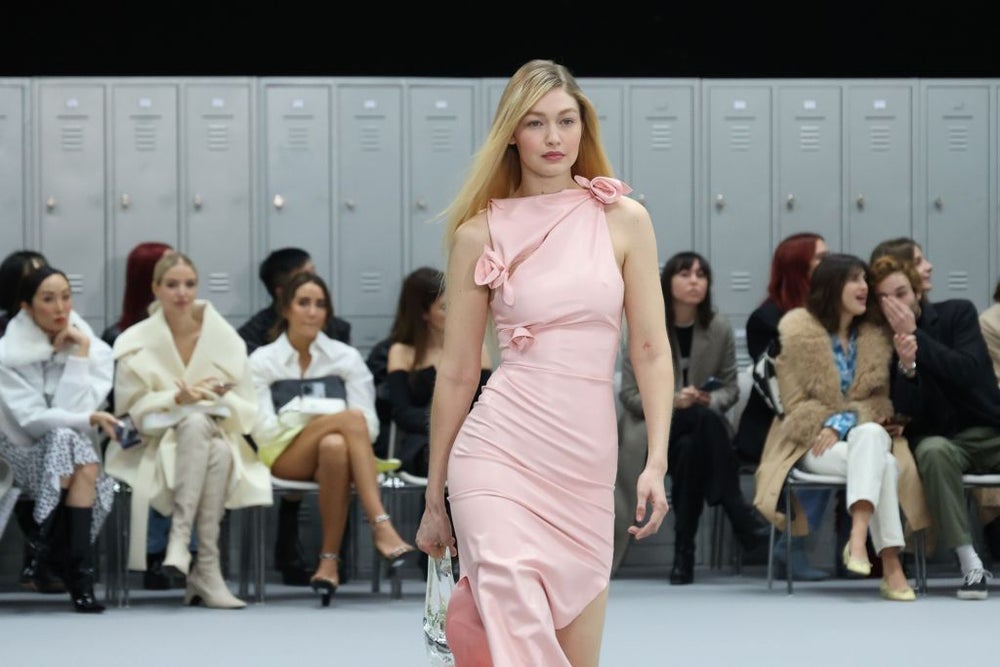 by Hanadi Merchant-Habib
10-minute read
October 6, 2022
These Were the 10 (Absolute) Best Shows at Paris Fashion Week
This was not your typical post-pandemic Paris Fashion Week. After a few years of uninspiring and rather lackluster collections, the city's foremost designers are Back with a capital B amid one of the most interesting seasons in recent memory. Fashion-wise, there was plenty that fueled us. From Loewe's abstract balloon shoes to Coperni's internet-breaking spray-on dress, Savoir Flair weighs in on the top ten shows (listed alphabetically) of the week.
Balenciaga designer Demna (who now prefers to go solely by his first name) isn't in an optimistic mood. And deservedly so. While other designers worked hard to shield us from the horrors of the modern world, Demna's vision of a post-apocalyptic present day was both terrifying and riveting. Tons and tons of mud filled the show space as a custom-made scent (made to mimic the "smell of decomposition") filled the air. Models strutted down in clothes that were tattered and old, their faces looking haggard and beat-up.
As one of the most prolific creatives in the world, Demna's collections often come secondary to his important narratives on society at large. Even a surprise runway appearance by Ye, formerly Kanye West, couldn't deflect from the loud-and-clear messaging. We're battling climate change, suffering from income inequality and hyperinflation, and living with the very real threat of the return of fascism and nuclear war. These are not ordinary times. And so Demna didn't put on an ordinary show.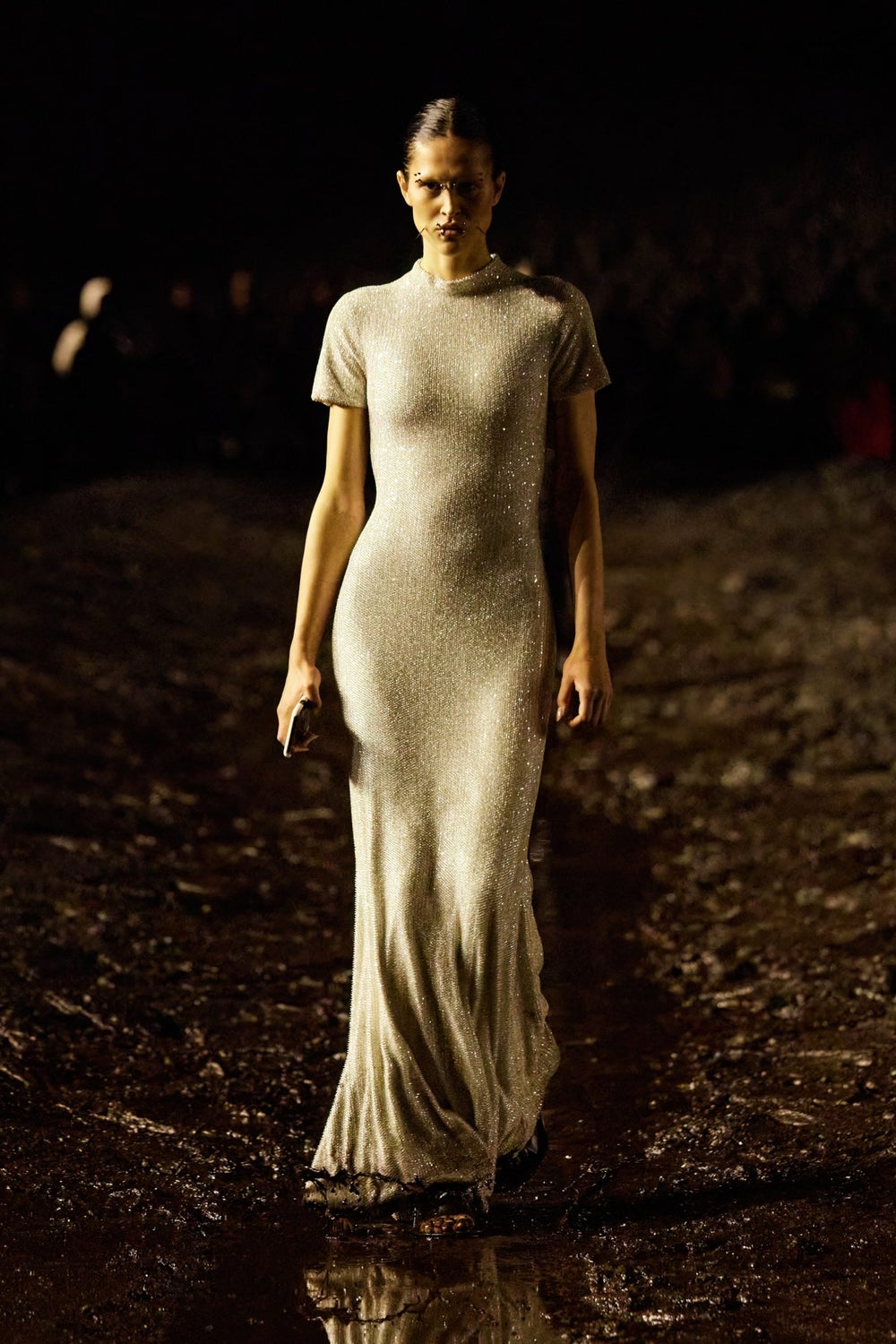 BALENCIAGA | LAUNCHMETRICS SPOTLIGHT
There's really something very nostalgic about frocks, and Cecilie Bahnsen invokes that feeling like nobody else. For her second collection in Paris, she sent down more of her signature cloud-like dresses that bring pure joy. A white number in fil-coupé in-laid with hydrangeas or the lavender metalassé short dress were both knockouts. This time around, she also experimented with Japanese denim – and so the ivory-tailored denim trouser with heavy top stitching worn with a cropped sculptural jacket showed the experiment paid off. Elsewhere, a powder-blue Mackintosh jacket with an organza overlay was quite the showstopper. The highlight of the show was no doubt her collaboration with sneaker brand ASICS. Using past season stock, each pair was one-of-a-kind and hand-embellished in her studio.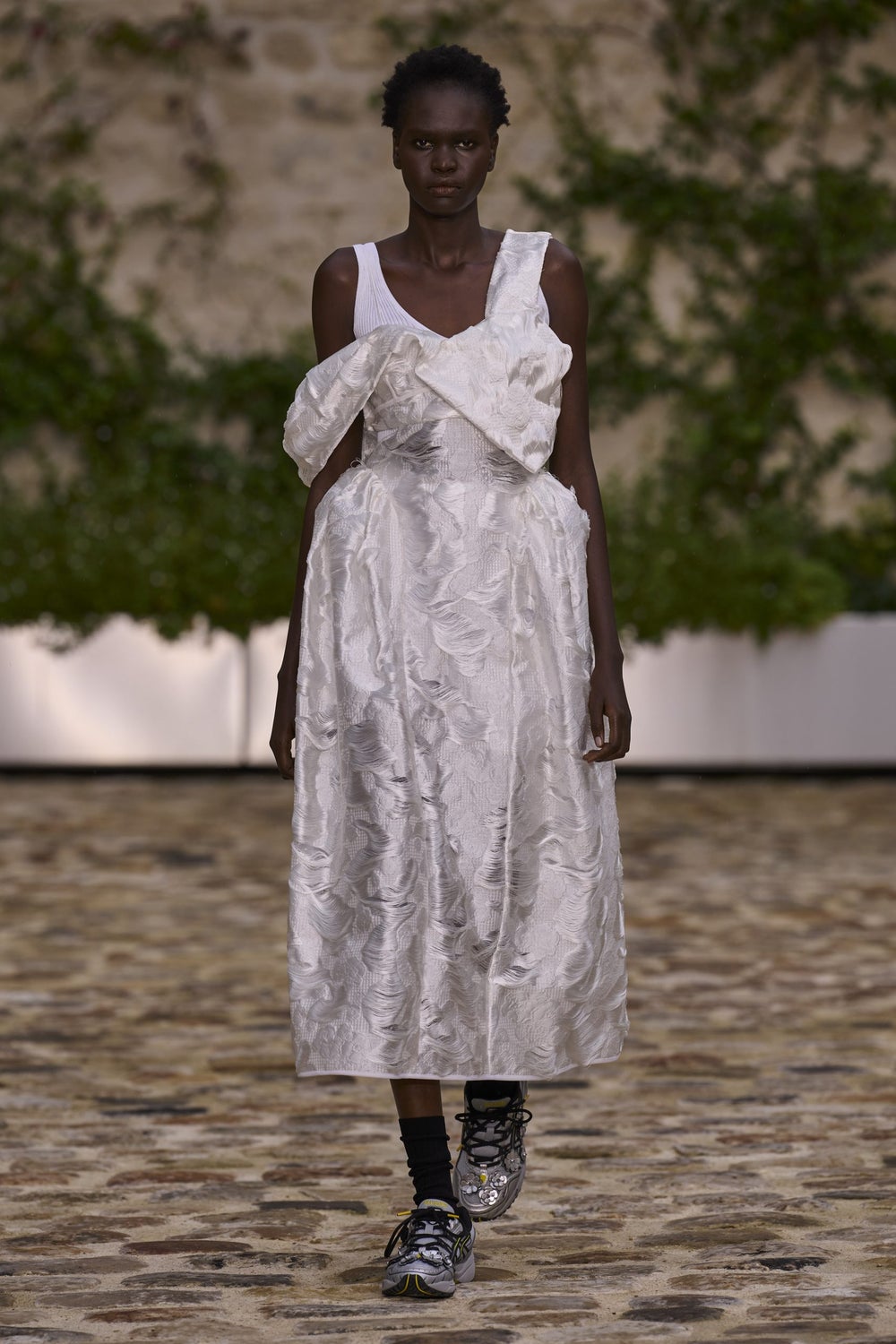 CECILIE BAHNSEN | LAUNCHMETRICS SPOTLIGHT
Sébastien Meyer and Arnaud Vaillant sure know how to create viral magic. A dress that was liquid in a canister minutes before turning into Bella Hadid's perfectly form-fitted outfit nipped in all the right places – now that's going down in fashion history. Spectacle aside, there were some great clothes at Coperni. Sexy slip dresses in black with cutouts on the bust, cropped jackets with ultra-futuristic shoulders, and floral bodycon tops were all really cool. Low-slung tailored trousers followed. A black pair came with lace-y underwear peeking out and was reminiscent of a more refined version of Gwen Stefani's signature looks from the 2000s. And then there were two dresses – a maxi and a mini – both made with hundreds of pieces of embroidered glass – and boy, did we love them.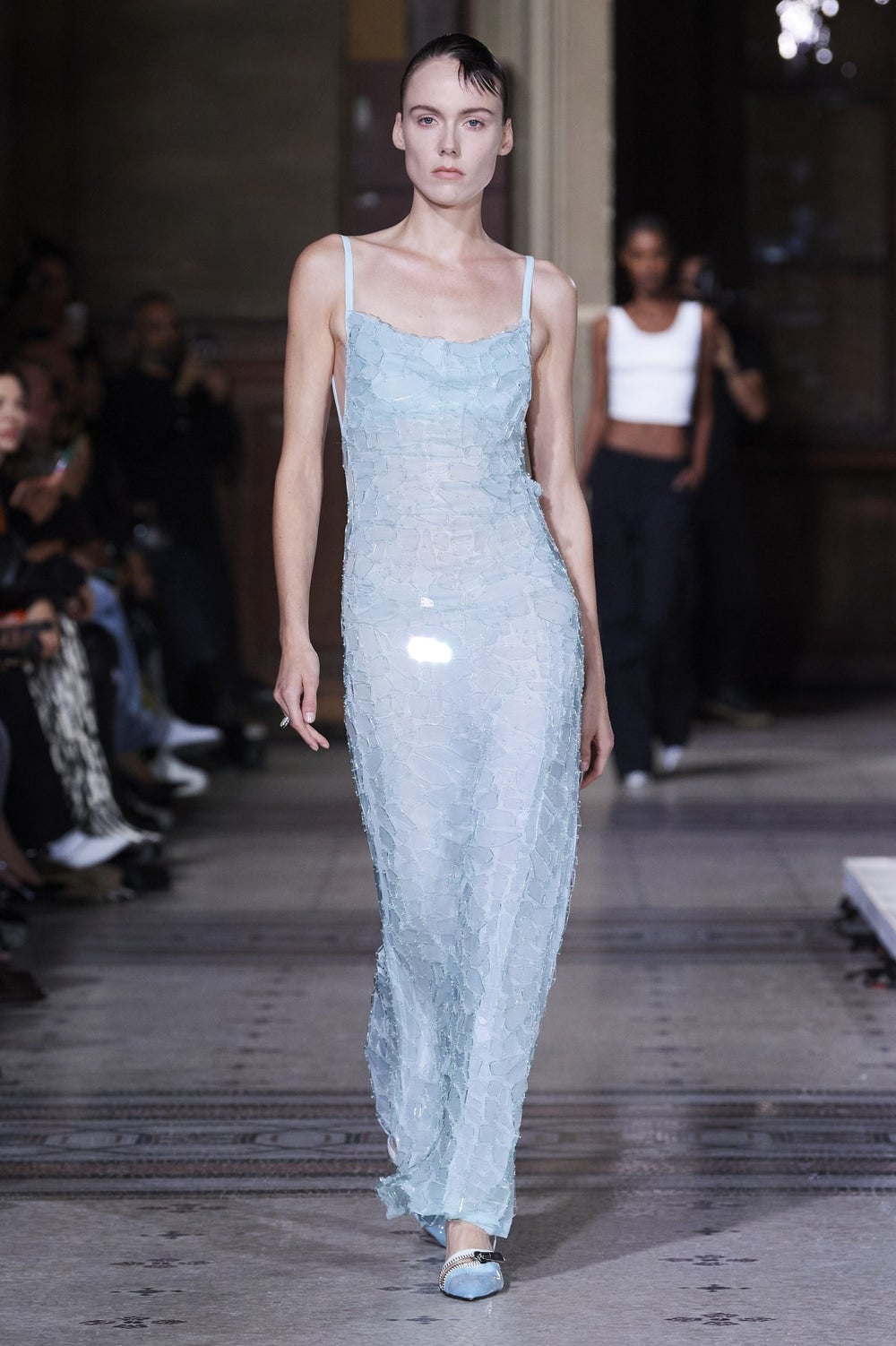 COPERNI | LAUNCHMETRICS SPOTLIGHT
There was unmissable couture-like craftsmanship at Dior, even though it was a ready-to-wear show. How else does one explain the artistry behind those cage skirts and dresses? The black strapless number with floral lace paired with black leather gloves, in particular, was excellent. Inspired by the Queen consort, Catherine de' Medici, there were archival references dating back to the 16th century. A floor-length lace dress with puffy sleeves reminiscent of what a noblewoman might have worn in court really stood out. Except, Maria Grazia Chiuri's girl left her dress open from the waist down and paired hers with tiny shorts and perforated knee-high shorts. A fine amalgamation of the past and present. Elsewhere, there were plenty of fun skirts – a floral printed one with drawstrings and another pleated leather number with smock detailing were our favorites. With nary a 'Bar Jacket' in sight on the runway, Chiuri more than made up for it with the newspaper-printed trench coat and some very, very desirable sporty cropped bombers.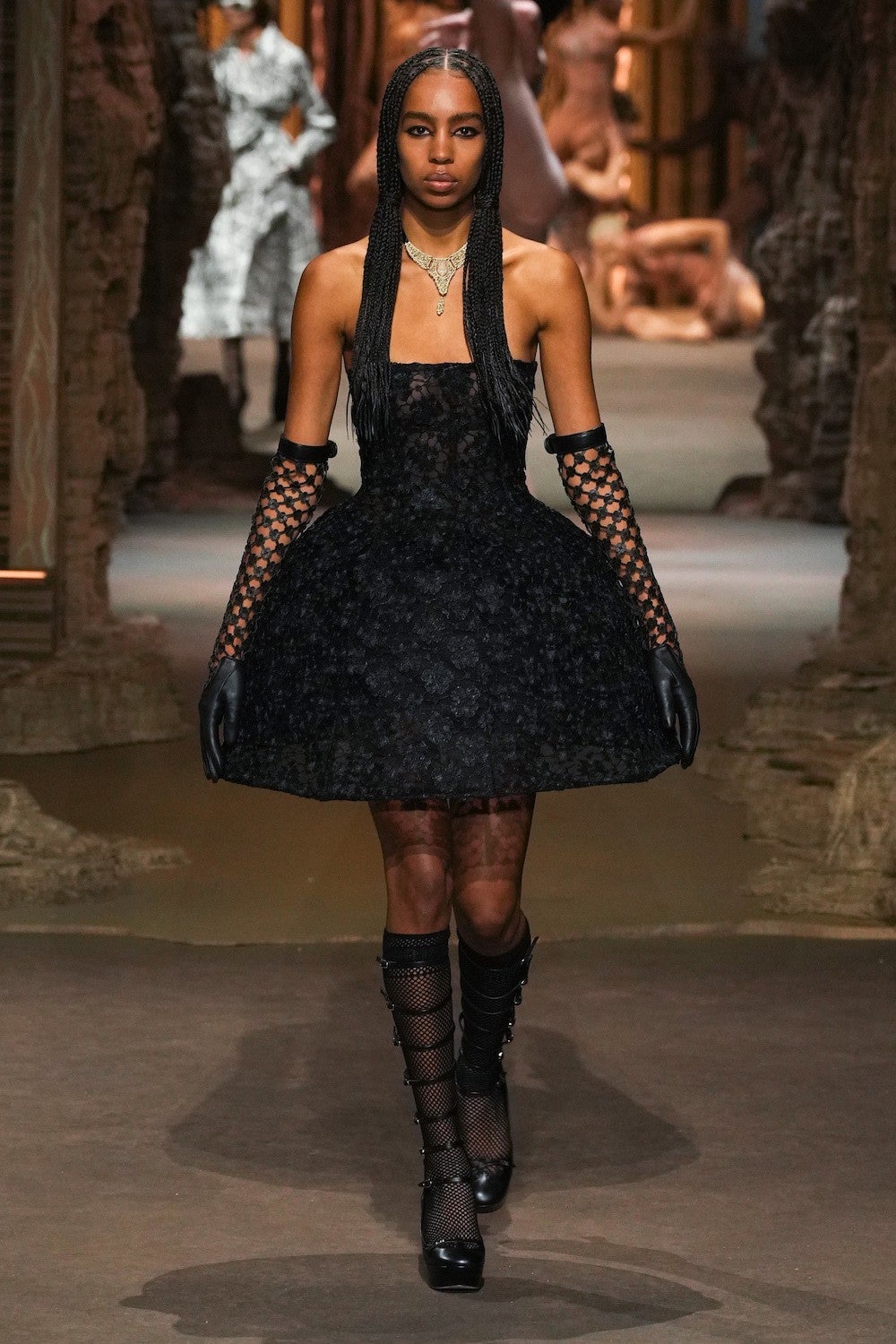 DIOR | LAUNCHMETRICS SPOTLIGHT
At Hèrmes, the mood was sporty-chic from the get-go. References to deserts and camping equipment were seen throughout the show – on cutout dresses, there were ropes binding three different parts of the dresses together, and on utilitarian jackets, there were cords on both the hood and the sleeves. A series of dresses in the most beautiful earthy palette followed – all very fluid and easy to wear, complete with sporty touches. A sleeveless terracotta dress caught our eye – with a fitted bodice, the bottom half came with zipper detailing so the wearer can zip it up or leave it loose depending on her mood. Given that this is Hèrmes, leather wasn't too far behind. And so Nadège Vanhee-Cybulski sent down a series of covetable looks. A tan leather vest with contrasting top-stitching and a perforated dark chocolate-colored leather trench were absolute knockouts. As for the strappy flatforms? Don't be surprised if they're hard to come across in stores next season. They were THAT good.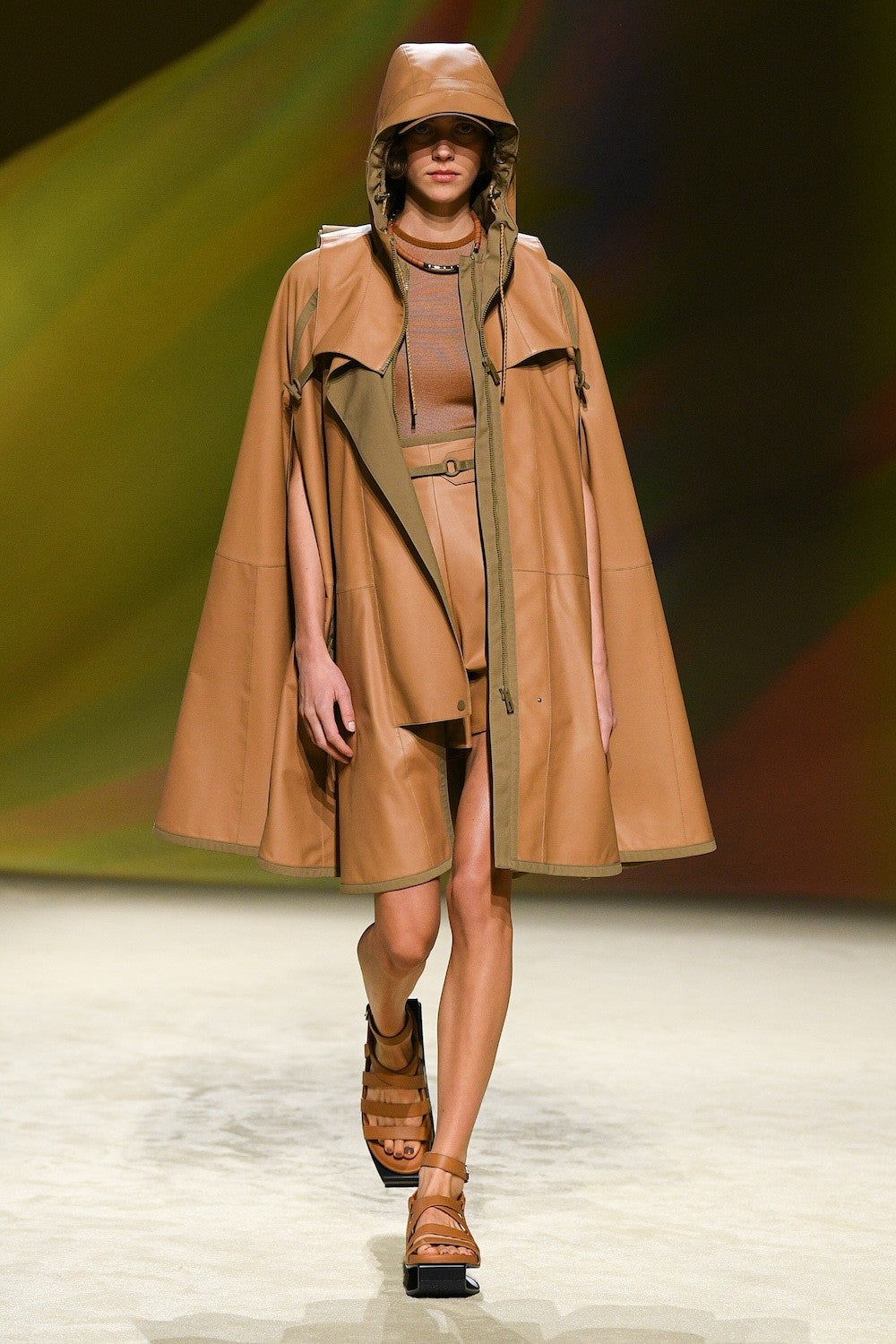 HERMÈS | LAUNCHMETRICS SPOTLIGHT
Isabel Marant gave us all the hits that make us devoted Marant fans. Plenty of bohemian looks rocked the runway – think flowy blouses in various lengths, cute baby-doll dresses, and short skirts. Although, just because these were effortless pieces doesn't mean they were devoid of detail. The patchwork tops and dresses spoke well of the craftsmanship, as did the miniskirts with embellishments. Baggy cargos, parachute trousers, and leather pants with oversized pocket detailing followed – all very covetable and cool. The je ne sais quoi factor in Marant's clothes is exactly why she does so well. So off we go to put Gigi Hadid's bleached camo jacket from the runway on our wish list — and perhaps that crochet swimsuit too.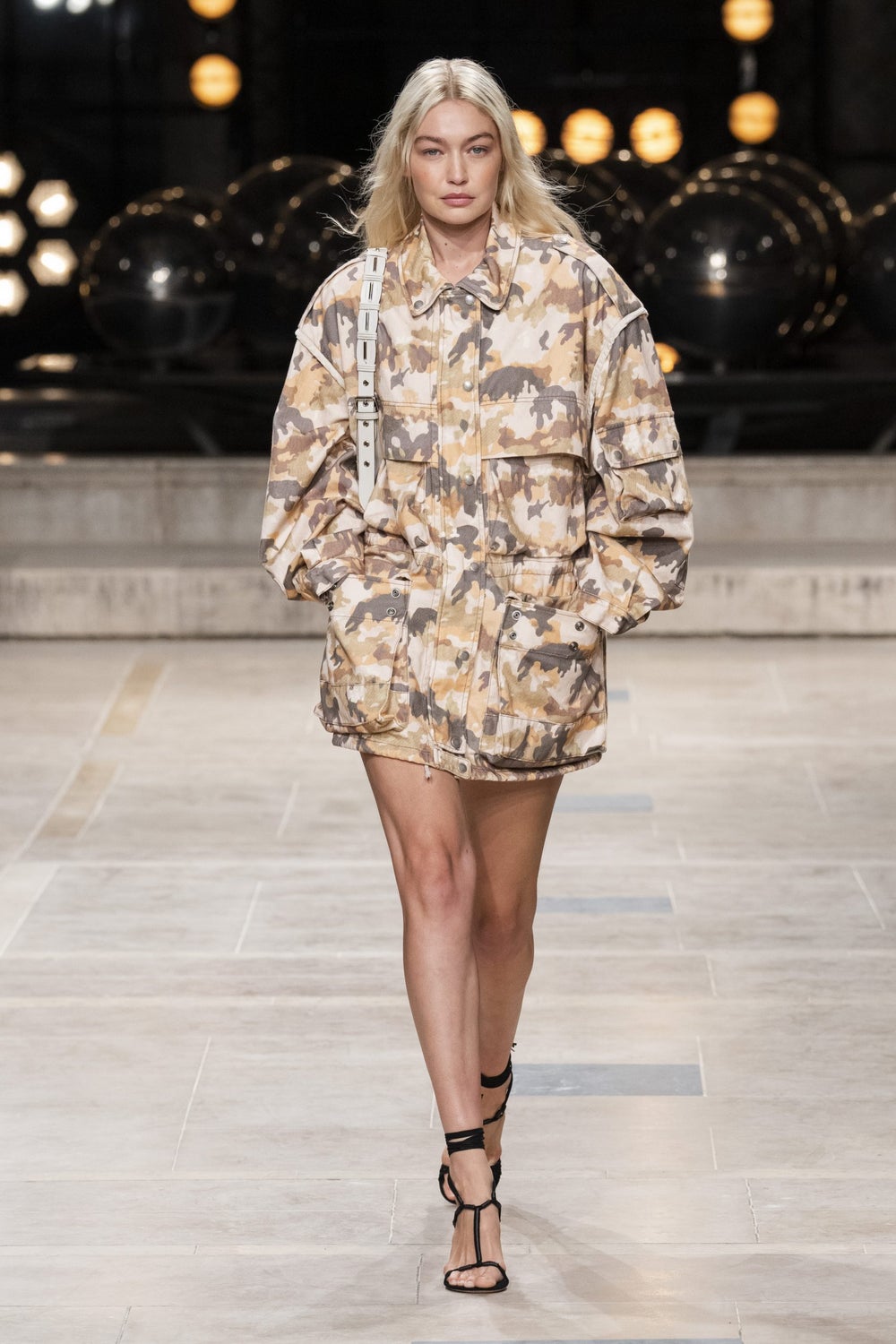 ISABEL MARANT | LAUNCHMETRICS SPOTLIGHT
With JW Anderson's Loewe, anthurium was the word of the day. On the models, the flower came as tops in red, white, and green, and on slip dresses, they came as a bra cup covering a single breast. Elsewhere, they served as decorations on strappy sandals. Come next spring, we predict them to be sold out. With Anderson, whimsy is never too far behind – so there were shoes made entirely of balloons, a video game pixelated sweatshirt, and breastplate-type tops worn under cardigans. Other experimental creations included a series of dresses with a draped effect – except the fabric hung from triangular wires – the black lace-y number, in particular, stood out. The star of the show was no doubt the pannier dress referencing vintage undergarments from a bygone era – in turquoise, it was fit for a modern-day princess.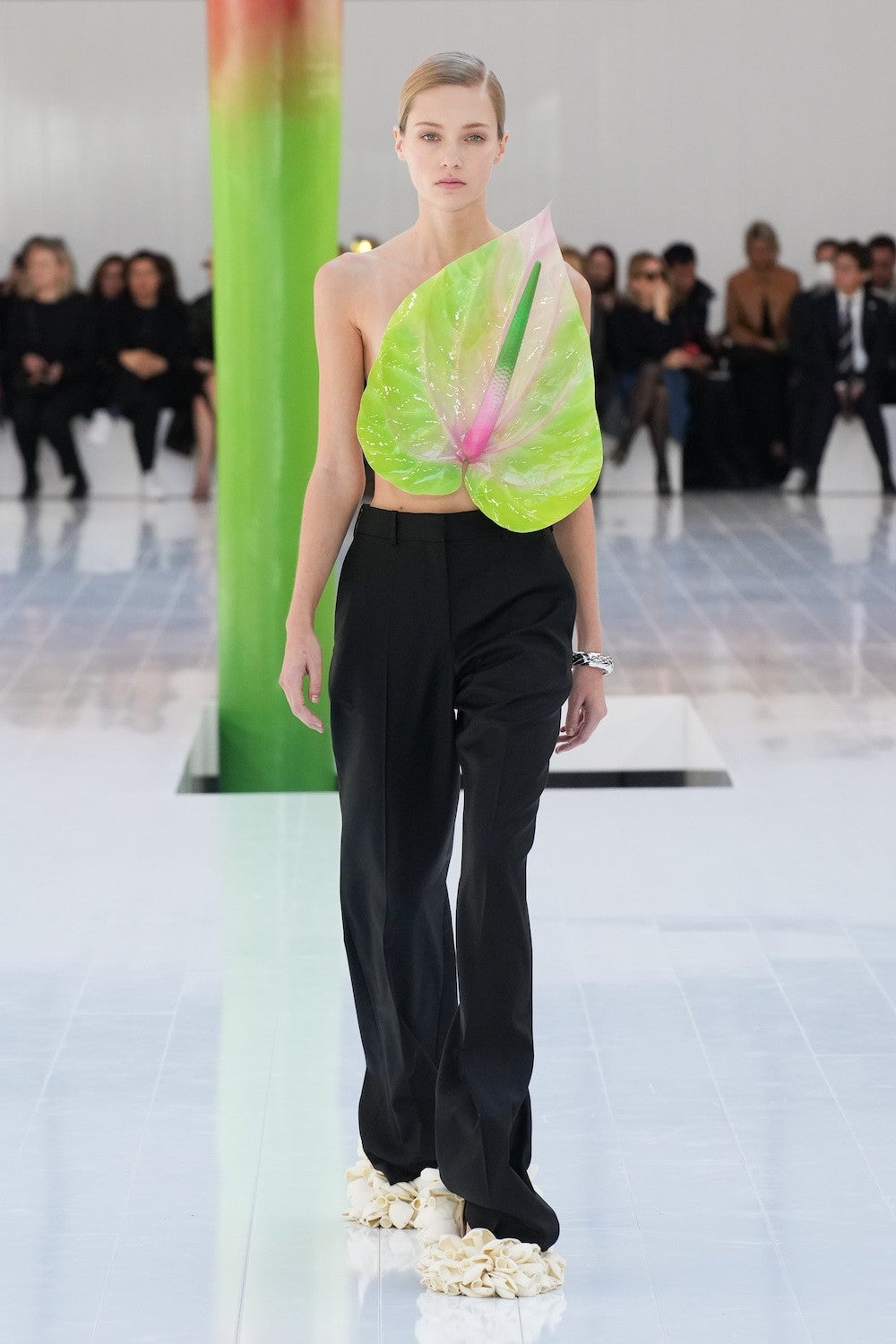 LOEWE | LAUNCHMETRICS SPOTLIGHT
You've got to give major credit to Anthony Vaccarello for modernizing archival Yves Saint Laurent designs to perfection. Case in point: the hooded dresses from 1969, a.k.a. the capuches. His version included a lineup of stellar silk jersey column dresses. The green one in particular, with one sleeve slashed off (half the back was too) stole the show. A minimalist maroon number styled with distressed gold cuffs was equally sublime. He also has a thing for shoulders – so they were exaggerated – no surprises there. Floor-sweeping leather jackets (the burgundy one especially), woolen coats with big lapels, and cropped biker jackets all came with larger-than-life shoulders and all likely to sell out before they even hit the stores. And don't blame us for making a beeline for the vampy satin pumps with the ankle strap. Vaccarello's YSL is unapologetically empowering, and we're here for it.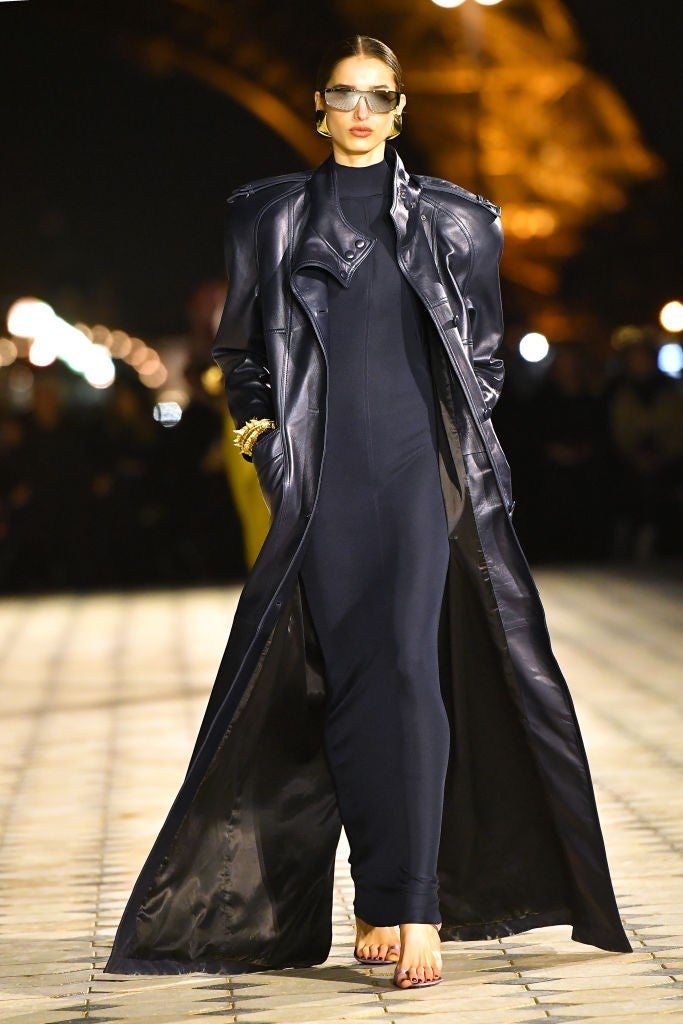 SAINT LAURENT | LAUNCHMETRICS SPOTLIGHT
Daniel Roseberry skipped a full-fledged show for the Spring collection and opted for a presentation instead. Sticking to his more-is-more formula, the clothes had all the excesses we have become accustomed to seeing at his version of Schiaparelli. Plenty of looks with gilded noses and mouths serving as decorations were present. Other surrealist elements included a strapless dress with ribs embroidered on it. Naturally, every look was tailored to perfection – from the evening gown in hammered silk, to the crisp white shirt, and even the denim. However, what really stole the show was a swimsuit– not the one that only covered one breast. A black number with an abstract human torso à la Yves Klein painted on it in gold – it was all kinds of sublime.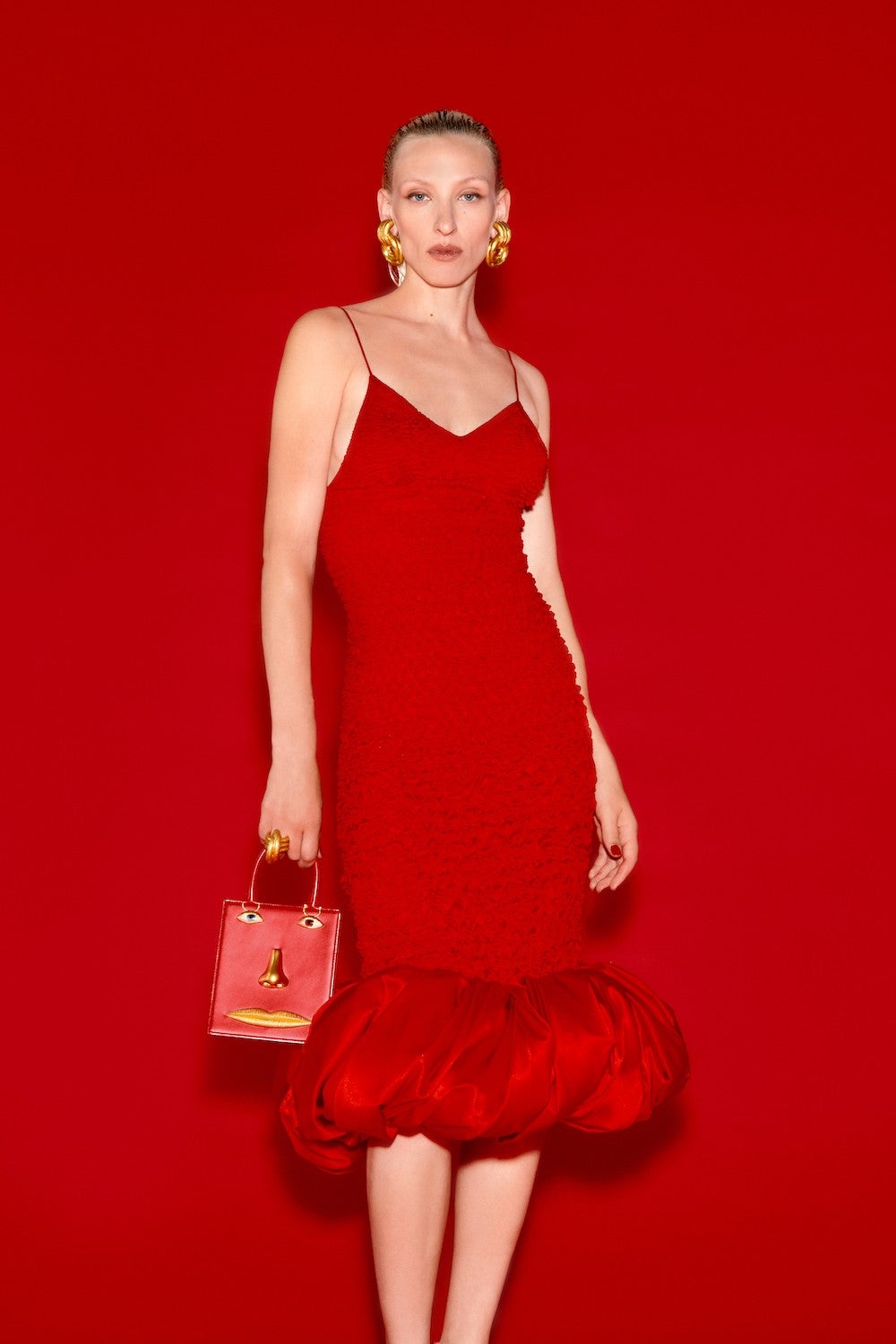 SCHIAPARELLI
For Victoria Beckham, this show was particularly emotional. The teary-eyed designer made a quick appearance on the runway to wave to the audience before running back in. After all, it was her first-ever show in Paris. It was clear she upped her garment construction game before the presentation. The proof? A beautifully tailored gauzy orange pantsuit dresses ruched at the waist and a deconstructed slip dress with fringes. The collection, according to her, was a celebration femininity, so clothes were sliced deliberately to reveal a bit of flesh. Case in point: a short, body-con scalloped hem top worn over a matching skirt with swishing tassels or a lavender evening dress with a thigh-high slit and soft ruffles. Although this was a very important collection for her, she was still having fun. Cue: those lace-y opera gloves with VB monogram all over and the heavily fringed bags reminiscent of locks of blonde hair. From presenting her first collection in a suite at the Waldorf in New York to the runways of Paris, Beckham has come a long way.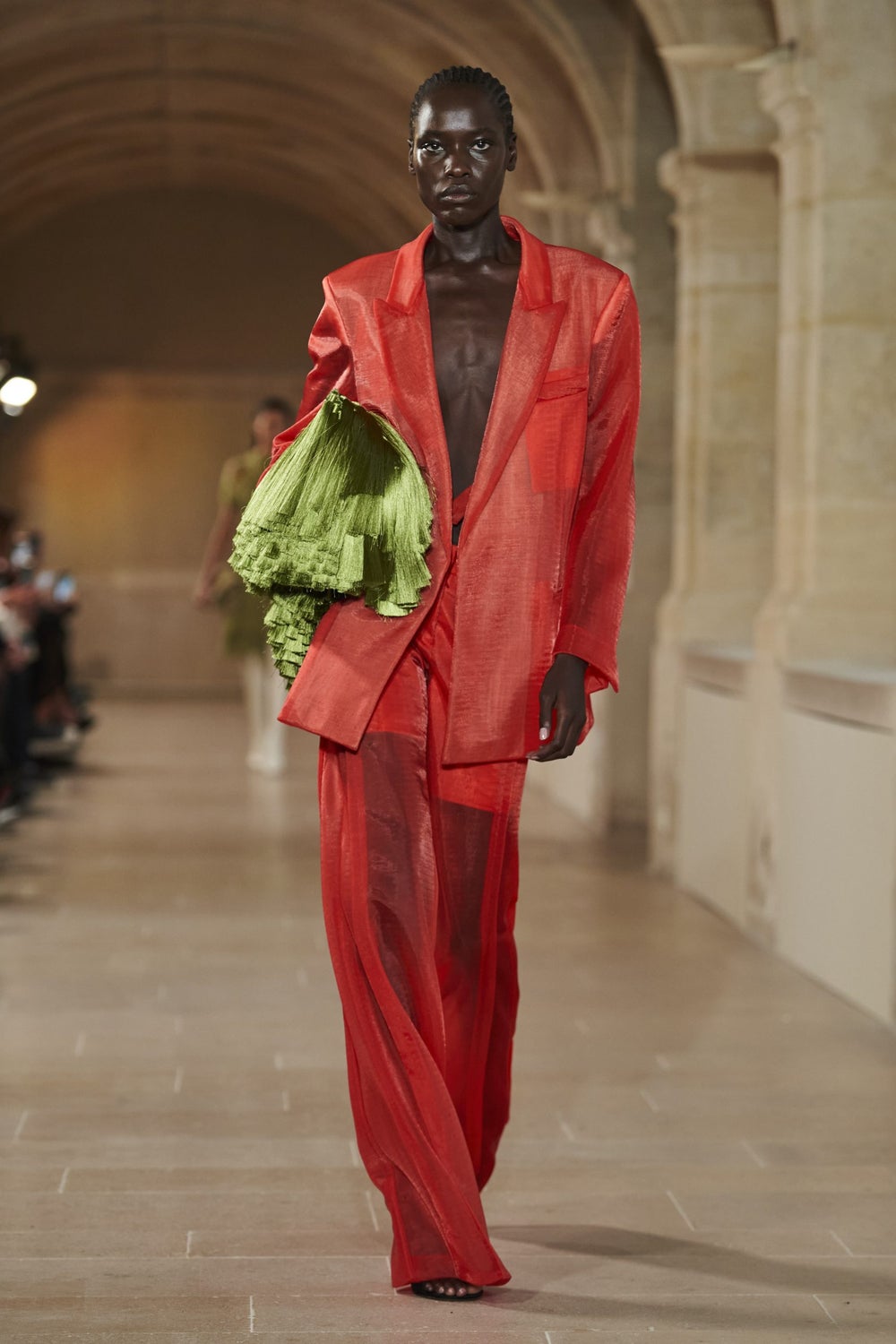 VICTORIA BECKHAM | LAUNCHMETRICS SPOTLIGHT